Unless you're a big fan of Nordic crime fiction, Oslo is probably not the first city that springs to mind when you think of literature.
And there's a bigger problem: independent bookstores are becoming rarer than giant pandas these days. The literary scene is dominated by chains but if you know where to look, you'll see that Oslo is still home to some truly magical bookstores and literary venues. Let us guide you to the best bibliophile experiences in Oslo.
Cappelens Forslag
This bohemian bookstore in central Oslo is a true monument for literature. It's very small, but it boasts a well-curated selection of rarities and signed first editions from the likes of Burroughs and Bukowski.
The books are in Norwegian and English, although you won't find any of the newest bestsellers here, and you can forget about 50 Shades of Grey and Harry Potter.
As with other independent bookstores, financial troubles loomed over this store for a while until one of its owners came up with an idea to save it from closure. He put together the Conversational Lexicon – a homage to the obsolete encyclopaedia – with entries written by famous people, including Jarvis Cocker. There are two editions available and they're mostly in Norwegian but some entries are also in English, Danish, Swedish and Russian.
Of course, no bookstore is complete without it's own cosy café. There aren't any fancy cakes or sandwiches here, though; you can literally only get coffee or tea. Look out for the monthly concerts and literary events held at the bookshop.
Bernt Ankers gate 4
cappelensforslag.no
Is the Oslo Pass worth buying?
Read this guide to see how much you could save during your trip!
Tronsmo
There's a reason Tronsmo has been going strong since 1973. American poet Allen Ginsberg, who paid the place a visit, hailed it as "the best bookstore in the world".
Conveniently close to the National Theatre, the surprisingly modern looking store started out promoting leftist ideologies and their selection of books nowadays still reflects that history – as special attention is given to books focusing on pressing social issues, from race relations to globalisation.
But Tronsmo is much more than books on politics: there's a whole section dedicated to the Beat movement, a great selection of comic books and an impressive collection of music books and queer literature. Around half of the books are in English, so this store is a definite must for all travelling bibliophiles.
Universitetsgata 12
tronsmo.no
Eldorado bokhandel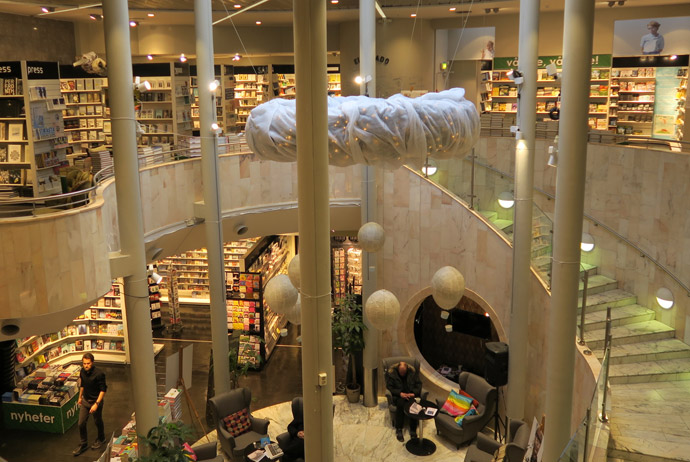 The centrally-located Eldorado bookstore is difficult to miss – its huge dome-shaped sign is a definite eye-catcher. This is the biggest independent bookstore in Oslo and rather than centring around a specific theme it offers everything from children's literature to coffee table books books on art and music.
The store has a great selection of books in English and ample seating space so you can kick back and relax while browsing the tomes on offer. You'll even find free coffee (supplied in Thermos flasks) when manoeuvring through the nooks and crannies of the bookstore.
If you're the kind that prefers to pay for their coffee then there's a small crêperie attached to the store as well.
Torggata 9A
eldo.no
Litteraturhuset
Right behind the Royal Palace, Litteraturhuset ('the house of literature') is an ideal meeting place for bookworms. Besides providing free office space for authors, it also functions as a venue for literary events with world-renowned writers often paying a visit: in the past this place has hosted everyone from Zadie Smith and David Lynch to Haruki Murakami.
In addition to literary events, the venue also holds debates and political discussions, many of them in English – keep an eye on their website for future events. The first floor also hosts a cosy café and a small bookstore to make the literary experience complete.
Wergelandsveien 29
litteraturhuset.no
Deichmanske Bibliotek
Book lovers will undoubtedly find their way into at least one public library on their way around Oslo. The Deichmanske library has many branches across the city, but if you have time only for one, then head to the main building in the city centre while it's still there – the construction work has started for a new library at the port area, due to open in 2020.
The neoclassical library is spacious and the interiors are charming and old fashioned. There's a lot of seating distributed across the floors, making it easy to find a quiet spot. Although only Norwegian citizens can borrow the books, anyone can enter and browse freely. Most of the books are, of course, in Norwegian, but you'll also find books and magazines in English, Spanish, Arabic and several other languages. Rather than those fancy soulless libraries, this one is like an old book, a bit dusty and shabby, but with plenty of heart.
Arne Garborgs plass 4
deichman.no
You may also enjoy: Free things to do in Oslo
Map of bookshops in Oslo
Like what you've been reading? Get our best tips by email!