The highest mainline railway in Northern Europe, the scenic rail journey from Bergen to Flåm is one of the highlights of a visit to Norway – and a great way to get a taste of the fjords.
The first part of the journey, on the main Bergen to Oslo line, skims past boathouses and red painted cabins before climbing to Norway's craggy, windswept uplands. Its remotest sections see few signs of human life, and it becomes clear just what a feat of engineering it was to build this line at the end of the 19th century.
After changing trains at Myrdal (867m above sea level) onto the private Flåmsbana, you head down into the wild Flåm valley. On this final 20km leg, the train has four sets of brakes in case the worst happens as it threads its way down the mountainside. There's even a switchback turn in the middle of a tunnel to keep the journey interesting.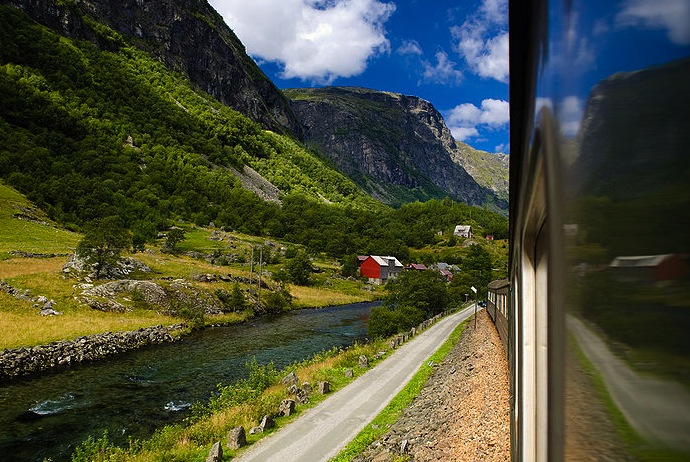 After fifty minutes, you reach your final destination of Flåm on the shores of the Aurlandsfjord, a branch of the famous Sognefjord.
The journey: Bergen to Flåm
The full journey from Bergen to Flåm (four trains daily) takes between 2hr 34min and 3hr 33min using the fast Bergen to Oslo service – or 5hr 12min if you take a local train.
The fast train stops at Arna (boarding only); Dale, home of the eponymous traditional knitwear; the winter resort of Voss, where skiers jump off the train and schuss off; and Myrdal, the junction station for the Flåmsbana.
Myrdal is where Flåm's farmers used to bring their livestock to summer pastures, though no-one lives here permanently today. Pretty much the only building is the station with its Café Rallaren (open May until the last weekend in September), where you can hire a bike (June to Sept; around 350 NOK/day) and freewheel the 20km down to Flåm – OK, more like hang on for grim life to the handlebars with the brakes on. You can leave the bike at Flåm station.
From Myrdal, the Flåmsbana has ten departures daily from May to September, and four to six daily from October to April. Stops include the thundering 140m-high Kjosfossen waterfall, where the train halts for a photo opportunity, and Berekvam, where you can get off and hike down the old road into the valley in two to three hours.
What to do in Flåm
While the journey is easily doable as a day trip, it's worth staying overnight in Flåm to enjoy the fjord in peace once the day-trippers and cruise passengers have left. This also gives you time to head out on a guided kayaking trip with Njord Sea Kayak, or go cycling or hiking.
The tourist office has free maps, with trails of various lengths from 45min to five hours. There are lots of sightseeing trips and fjord cruises too, including a dramatic ferry trip from Flåm to Gudvangen past orchards and farmsteads into the Unesco-listed Naerøyfjord. Return on the same ferry or the cheaper and quicker bus (five daily).

Where to stay in Flåm
A 300m walk from the station, Flam Camping og Vandrerhjem (open April to October) is a pine-clad, lodge-style hostel with bunks in a dorm (340 NOK), singles, twins, triples and quads, plus grassy pitches for tents (135–225 NOK; 10% discount for HI members).
Alternatively, try Heimly Pensjonat (open late May to mid-September), a quiet guesthouse 500m walk from the station. Converted from a 1930s home and renovated in 2018, it has 22 small rooms (from 945 NOK), some with fjord views, and all with private bathroom.
There are also some spectacular, affordable rentals available over on Airbnb.
Prefer to take a tour?
If you're heading from Bergen to Oslo and would like to ride the Flåm railway, this one-day self-guided tour is a nice option. It lets you enjoy spectacular scenery along the way and includes all of the bus, boat and rail tickets you need for the entire journey.
When to go
Several thousand people a day can descend on Flåm (resident population: 450) on summer weekends. Don't let this put you off, though – there are plenty of ways to avoid the worst of the crowds.
It all comes down to timing: travel in spring or autumn, or at least midweek in the busy months of June to August. Winter's an option, too, when the deep turquoise of the frozen waterfalls along the route is unforgettable.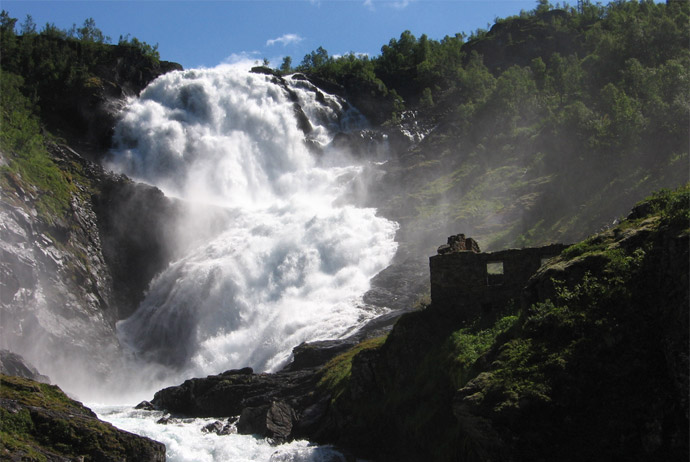 Buying tickets: Bergen to Flåm
You can buy tickets up to 90 days in advance and reserve a seat from Bergen to Myrdal on long-distance Bergen to Oslo trains (not local trains). There are no seat reservations on the Flåmsbana. Check the ACP Rail website to find departure times, book online and get an e-ticket sent straight to you.
Interrail and Eurail passes are valid from Bergen to Myrdal (paid seat reservations essential), and will get you a 30% discount on single tickets from Myrdal to Flåm (single 390 NOK; return 550 NOK). However, if you are coming back by train too, this works out at only 4 NOK cheaper than buying an ordinary return.
Without a pass, Bergen to Flåm costs 678–708 NOK return, depending on the time and date of travel. Cheap, advance-purchase Minipris return fares of 639 NOK (non changeable, non-refundable) are sometimes available online.
Take a look, too, at the Norway in a Nutshell circuit, which costs from 1600 NOK. Bergen to Flåm is just a part of it, so check whether the set itinerary matches with where you want to go.
See also:
Visiting Bergen on a budget
A guide to Scandinavian rail passes
Like what you've been reading? Get our best tips by email!