Bergen has some amazing places to stay, from glamorous contemporary hotels to stylish floating houses and penthouse apartments. It's not the cheapest city to stay in, though, so we have also included some great choices for budget travellers. They may not have the luxurious extras of an upmarket hotel, but they are all clean, good-value and some of the cheapest places to stay in Bergen.
Floating House
This amazing floating house really has the wow factor. Just 20 minutes' walk from Bergen's old wharf, Bryggen, it sits right out over the waterfront, with large picture windows and a wrap-around balcony to maximize the views. This sleek modern house has six bedrooms, with chic wooden floors and stylish Scandi décor.
Bergen Børs Hotel
The stylish Bergen Børs Hotel is in Reykjavik's former stock exchange, which has been beautifully converted to house this smart hotel, with many of the original feature still in place. Right in the centre of the city, by the Fischmarket, it's just a short walk from all of Bergen's main sights.
Traditional wooden house in Bergen's backstreets
For a true taste of the historic city, why not stay in this lovely apartment in an authentic wooden house in the backstreets of Bergen? Set on the narrow cobbled streets of the historic Klosteret district, just a ten-minute walk from Bergen's main square, this pretty old house dates from 1836.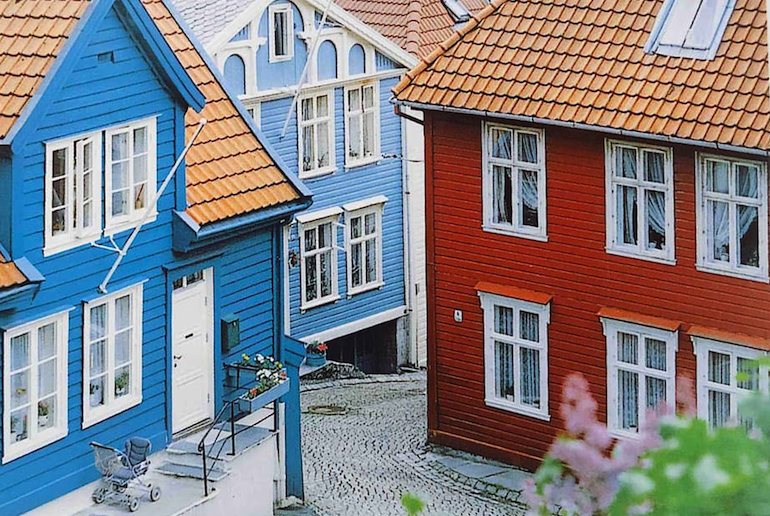 Although the building retains all its traditional charm, inside it's comfortable and warm with contemporary décor and all modern comforts.
Apartment with Bryggen views
You can't get much more central than this smart apartment with wonderful views over the waterfront and the historic Bryggen. It's clean, comfortable and well-equipped, with three bedrooms and views from the kitchen, living room and one of the bedrooms – perfect for a family.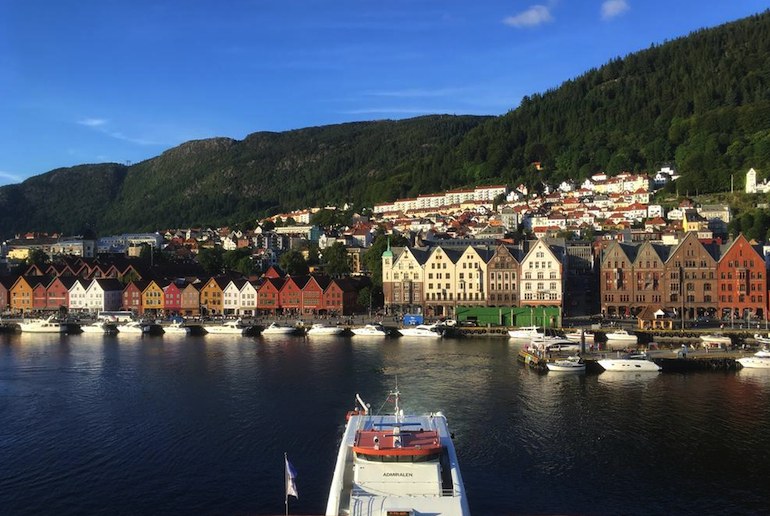 Hotel Norge by Scandic
If you're looking to push the boat out and enjoy the city's most luxurious hotel, the Hotel Norge is a good bet. The original hotel dates from 1885, but it was completely rebuilt in 2018 with a smart contemporary design and plenty of glass, high ceilings and light, airy spaces.
Many of the rooms have floor-to-ceiling windows with views over the town, while others have balconies and views over the park. It's not cheap, but worth a splurge for a night or two of luxury.
Arty penthouse
There are stunning views over the harbour and rooftops from almost every room of this arty luxury penthouse in the centre of the city. With two bedrooms and three balconies, it's light, spacious and well-equipped – there's even a jacuzzi in the bathroom. There are wooden floors covered in rugs, with designer furniture and antiques dotted around, and the walls are full of colourful artworks.
Apartment with views
With lovely views over the city and fjord from its balcony, this smart one-bedroom apartment is bright and clean. Its white-washed, wood-panelled interior is very Scandi chic and comfortable.
It's a bit of a walk from the city centre in a leafy suburb, but the bus into town stops nearby and it's a great location for doing some walking in the nearby hills of Løvstakken, Løvstien and Damsgårdsfjellet. After a hard day's hiking in the hills, you can relax on the balcony with a glass of wine and take in the views over the fjord.
Best for budget travellers
Hotel Citybox Danmarksplass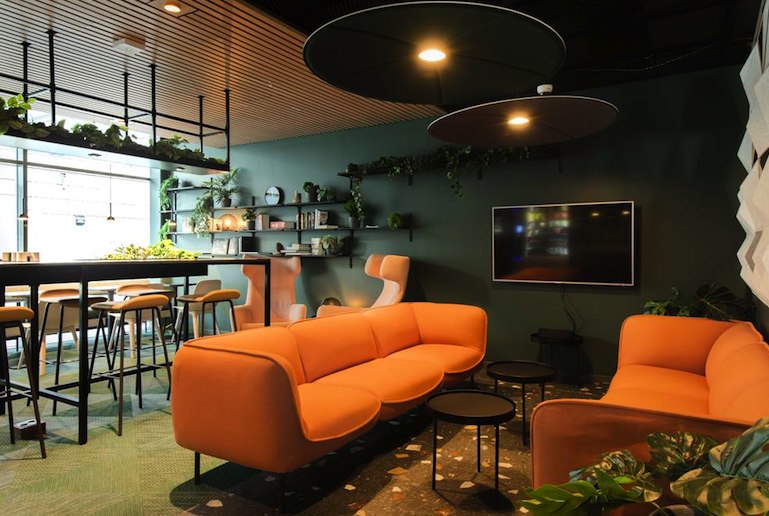 It may not look like the most glamorous option from the outside, but this budget design hotel is certainly one of the cheapest places to stay in Bergen. Inside, the basic rooms are clean, comfortable and stylishly decorated and there's an attractive lounge/breakfast area downstairs. It's not right in the centre of the city, but it's just three stops by tram to the waterfront and the heart of the city.
Marken Guesthouse
Bergen is not known for its bargain hostels, but the Marken Guesthouse is a real find. Close to the station, but in a quiet street and just a five-minute walk from the waterfront, its location is unbeatable.
The hostel itself is clean and well-decorated with dorm rooms, double rooms and family rooms with private bathroom, fridge and kettle – and there's are full cooking facilities in the communal kitchen. Best of all, a bed in a dorm with distance views of the mountains costs from around £27 a night.
Cosy room with views
This cosy room is a 20-minute bus ride from the city centre in the quiet neighbourhood of Årstad, close to Løvstakken, for hikes and picnics. You get your own room with amazing views from the window, but the bathroom and the rest of the apartment is shared with the owner and her two cats.
The rooms and apartment are clean and comfortable – and at £30 a night for two people, it's a real bargain.
See also:
Visiting Bergen on a budget
25 cheap and free things to do in Bergen
The best hostels in Oslo