Nestled amidst majestic mountains and home to colourful wooden houses, Bergen is the gateway to Norway's breathtaking fjords.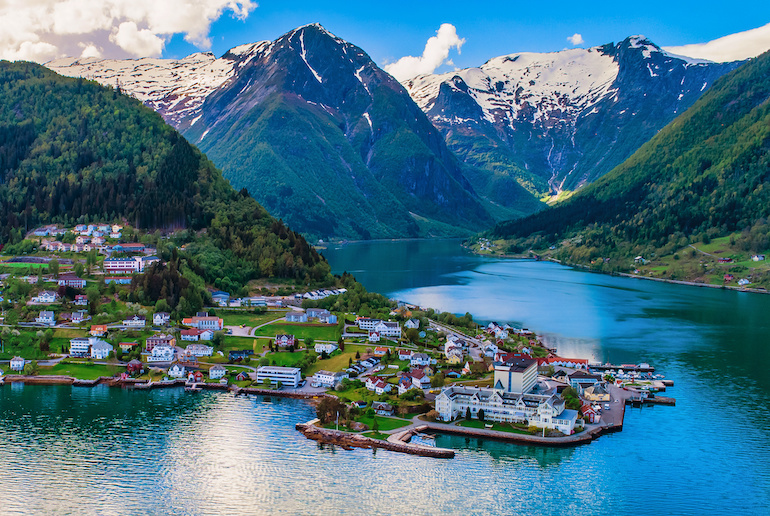 The city itself is charming, but it's taking a cruise that really lets you see the nearby fjords in all their grandeur.
Prepare to be captivated by cascading waterfalls, towering cliffs and serene glacial landscapes, all while cruising through clear turquoise waters.
Taking a fjord cruise from Bergen is honestly a pretty extraordinary experience that will leave you in awe of nature's wonders. But what kind of trips are available, and how do you get started?
Fjord cruises offer a unique opportunity to explore and appreciate some of Norway's prettiest fjords.
Why start in Bergen?
So, what makes Bergen the ideal starting point for your fjord cruise?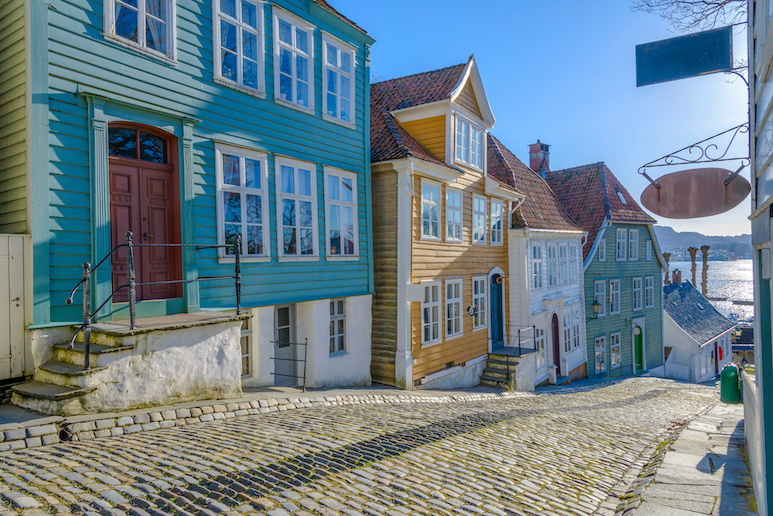 Well, the location is important. Situated on the southwestern coast, close to some of the best fjords in Norway, Bergen is THE hub for organised fjord cruises.
These fjord cruises have gained tremendous popularity among tourists, especially those visiting from abroad, and lots of restaurants and hotels have sprung up to cater to their needs.
Not only that but the city offers a treasure trove of cultural and historical attractions to explore before or after your cruise.

You can stroll through the Unesco-listed Bryggen Wharf, with its vibrant Hanseatic buildings that tell stories of the past, or visit the lively fish market for a taste of local flavours.
And don't miss the chance to take a funicular ride up to Mount Fløyen for panoramic views of the city and surrounding landscapes.
For more on what to do in Bergen, read our Bergen guides.
Which fjords can you visit from Bergen?
These are the main fjords that you can visit on a fjord cruise from Bergen:
Sognefjord: Norway's longest and deepest fjord, the Sognefjord is home to majestic cliffs, tranquil waters and charming villages like Flåm and Balestrand. (Flåm can also be visited on this epic train trip).
Hardangerfjord: With its orchards, waterfalls and the famous Trolltunga rock formation, Hardangerfjord is a well-known fjord that presents a blend of natural beauty and cultural heritage.
Geirangerfjord: A Unesco World Heritage Site, Geirangerfjord boasts dramatic mountain peaks, waterfalls such as the Seven Sisters and the Bridal Veil, and the charming village of Geiranger. It is often considered one of the most beautiful fjords in Norway.
Nærøyfjord: Another Unesco World Heritage Site, Nærøyfjord is a narrow fjord renowned for its steep cliffs and pristine natural surroundings.
Which cruise should you join?
When choosing a fjord cruise, there are several factors to consider. First, decide on the duration of the cruise to fit your schedule and preferences.
Also consider the size of the vessel, as smaller ships often provide more intimate rides, and think about which kinds of things you want to see on the trip. Some cruises only take a quick tour around one fjord before returning to base, while longer ones allow you time to stop and explore.
You should definitely take into account the time of year, as the landscapes and weather conditions vary hugely from season to season. Summer is really the best time – there's never any guarantee of sunshine, but at least there is plenty of daylight.
For more on the fjords and which ones to visit, read our guide to the 16 best fjords in Norway.
If you need some tips for specific cruises, check out the options below.
5 of the best fjord cruises from Bergen
Scenic fjord cruise to Mostraumen
This is one of our favourite cruises, a fjord adventure from Bergen that showcases the breathtaking beauty of the Osterfjord.
This exceptional cruise offers comfort, stunning views, and unforgettable moments in the heart of Norway's natural wonders.
Duration
3.5 hours
Cost
NOK 790 / US$ 76 per person
Highlights
Discover the allure of the Norwegian fjord landscape, enjoy the thrill of being near a cascading waterfall, relax on the sun deck or inside the cabin, and view rare and exciting wildlife.
Full-day cruise to Flåm via the Sognefjord
This is one of the most popular cruises and for good reason! You get an entire day cruising from Bergen to Flåm, and explore the Sognefjord along the way.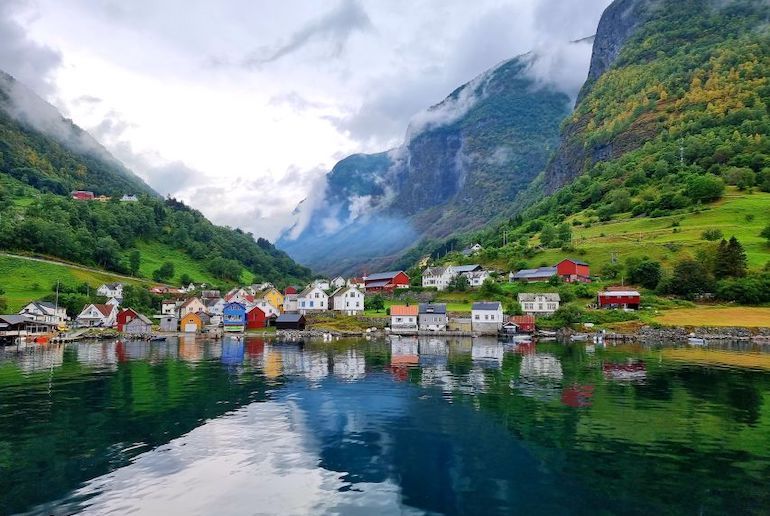 You will also pass by cosy coastal villages, and get a chance to explore the picturesque village of Flåm and the renowned Flåm Railway.
Duration
12 hours
Cost
NOK 2600 / US$ 256 per person
Highlights
Cruise from Bergen to Flåm, explore Flam at your own pace, and sail through the majestic Sognefjord.
Viking ship sailing experience and sightseeing trip
If you want a truly unique cruise adventure, we recommend this one.
You'll get to board a traditional Viking-style ship and discover the historic waterfront of Bergen, as well as the surrounding fjords.
You may even get a chance to hoist the sail and navigate the ship!
Duration
1.5 hours
Cost
NOK 900 / US$ 87 per person
Highlights
Marvel at the Viking ship design and construction, feel the exhilarating sensation as the ship's square sail catches the wind, and take in the views of Bergen and the surrounding fjords.
Sightseeing fjord cruise to Alversund Strait
We highly recommend this cruise for a picturesque fjord experience. Embark on a journey from Bergen to the Alversund Streams and admire the magnificent and varied fjord landscapes of the Nordhordland region.
Duration
3 hours
Cost:
NOK 590 / US$ 60 per person
Highlights
Cruise by the wharf and the Bergenhus fortress, navigate through an archipelago of islands, and gaze at the remarkable Alversund channel.
Mostraumen fjord cruise
On this tour, you'll set sail from Bergen and enjoy splendid views of the iconic Bryggen from the water.
Cruise along the scenic 27-km-long Osterfjord, surrounded by towering mountains, as it gradually narrows into the enticing Mostraumen strait, where mighty currents flow.
Duration
4 hours
Cost
NOK 750 / US $73 per person
Highlights
Cruise serenely along tranquil lakes, and embrace their cool and peaceful ambiance. Be amazed by the grandeur of the steep cliffs, majestic mountains and vast open natural landscapes that unfold before your eyes.
What to expect on a fjord cruise from Bergen
It's pretty simple! Most day cruises leave from the one of the piers along the central harbour in Bergen.
Once you're on board, prepare for a captivating opportunity as you sail through iconic fjords like Sognefjord or Hardangerfjord.
Cruises typically take a few hours, though some last a full day, providing ample time to take in the majestic landscapes and savour the views.
Some cruise boats also have a rooftop deck, onboard dining and wildlife viewing opportunities, so check the description before booking to ensure your preferences align with the offerings.
Top tips for a fjord cruise from Bergen
And finally, for a smooth and enjoyable fjord cruise experience, here are some practical tips to bear in mind:
Bring layered clothing, including a waterproof jacket, comfortable shoes for walking, and sunscreen.
Don't forget your phone or camera to make sure you capture the best pics of the stunning landscapes.
The best time to go on a fjord cruise is during the summer months of June to August when the weather is milder and daylight hours are longer. However, be prepared for crowds during peak tourist season.
Book in advance! Fjord cruises can be popular, so book your tickets in advance to make sure you get on the cruise you want.
It sounds obvious but if you're prone to sea-sickness, bring sea-sickness tablets!
Follow safety guidelines. This means listening to the crew's instructions, staying within designated areas, and being careful when near the edges of the boat.
See also:
25 cheap and free things to do in Bergen
Buying the Bergen card: is it worth it?
Visiting Bergen on a budget