Until a couple of decades ago, crossing the water between Copenhagen and Malmö always involved a flight or a ferry ride.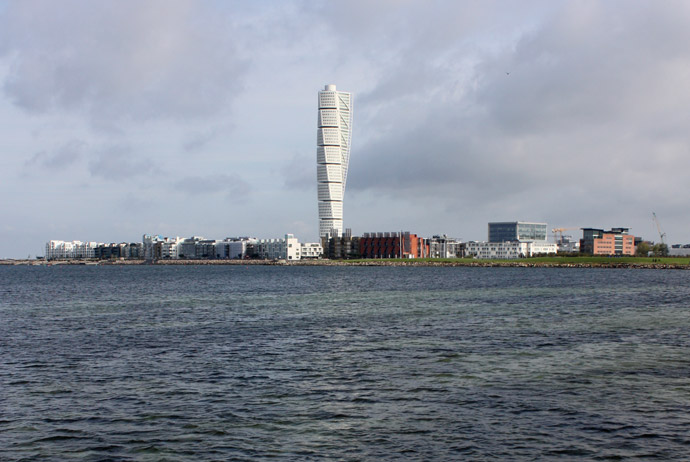 That all changed in 2000 with the opening of the vast Öresund Bridge, an engineering marvel, which fans of Nordic Noir know simply as The Bridge.
The bridge has drastically cut journey times between Sweden and Denmark, making it possible to hop from one country to another in lightning-quick time.
And the wider impact of the bridge between Copenhagen and Malmö has been huge, with many locals now commuting between the two countries each day.
For tourists, there's also an obvious advantage; day trips from Denmark to Sweden (or the other way around) are now a realistic possibility.
Indeed, local authorities are now marketing Malmö and the rest of Skåne as a part of 'Greater Copenhagen'. Try this guided tour from Copenhagen to Sweden if you'd rather not go it alone.
There are several different ways of getting to Malmö from Copenhagen. How long the journey takes and how much it will set you back depends on which of the following options you plump for:
By train
By bus
By air
By car
By taxi
What about passport checks?
Going by train
The fastest option is to go from Copenhagen to Malmö by train.
Commuter trains depart from København H (the city's central train station) roughly every 10–20 minutes, taking around 40 minutes to get to the centre of Malmö.
Prices for the trains between Copenhagen and Malmö start from around 130 SEK each way.
You may be able to get across the bridge ever-so-slightly faster (like, one or two minutes faster) by travelling aboard one of SJ's fast trains (snabbtåg).
Note that these trains are less frequent, however, and the tickets can be slightly more expensive at around 160 SEK for a single ticket.
You'll find times for these services, and the commuter trains mentioned above, on the ACP Rail website. Just use their simple booking tool and you'll get an e-ticket delivered right away.
Taking the bus
Taking a bus across the Öresund Bridge is almost always the cheapest option. There are a few different services to choose from.
Reliable private bus company Flixbus runs around 7 buses across the bridge each day, with prices starting at about 99 SEK.
The buses depart from Copenhagen's main train station, arriving at Norra Vallgatan 60 near Malmö Centralstation around one hour and 15 minutes later. Tickets are available to book online in English.
There's free wifi onboard all Flixbus services and, depending on where you sit, you might have access to a plug socket which you can use to charge your phone or laptop.
Another alternative is Vy/Bus4You, which runs four or five services a day from Copenhagen to Malmo.
Prices are slightly more expensive than Flixbus, with fares starting at around 139 SEK, but there's free wifi, decent legroom and electrical sockets next to every seat.
The buses leave from the Vy/Bus4You stop on Ingerslevsgade, near the centre of Copenhagen, and arrive at Norra Vallgatan in central Malmö around an hour later.
The Vy/Bus4You loads in Swedish but you can easily translate it to English: just click the menu in the top right corner of the screen where it says 'Meny' and then choose English (it's the same process on mobile and desktop).
Many Flixbus and Nettbuss services make a brief stop at Copenhagen Airport on their way towards the bridge.
Whichever bus you go with, take your passport with you just in case and keep it in an easy-to-reach place.
Flying from Copenhagen to Malmö
It isn't possible to fly direct from Copenhagen to Malmö – and even if it were possible, doing so would be pretty pointless. You'd spend more time getting to and from the airports than it would take you to simply travel across the bridge.

Driving from Copenhagen to Malmö
If you've been driving in Denmark and want to take a car into Sweden (or vice versa), you could consider driving across the Öresund Bridge.
Just be aware that prices for taking vehicles across the bridge are high – around €65 for a one-way trip in a small car (or €130 for a return journey).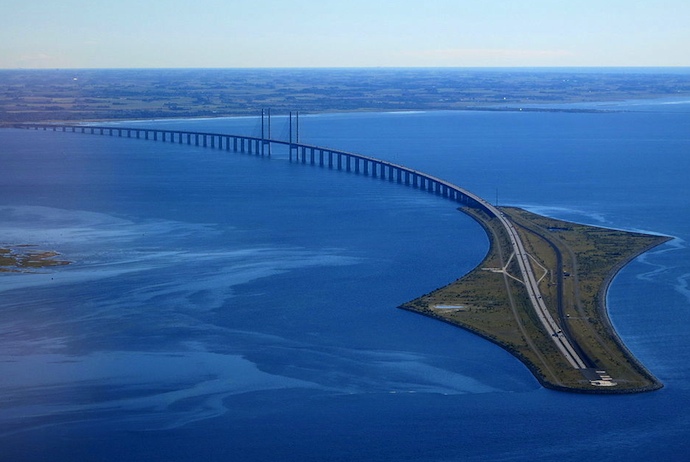 If it's your own car you won't have any worries but if you're renting one then you should check with the hire company first that it's to OK to take it across the bridge and into a different country.
Some rental agreements allow you to cross international boundaries (often for an extra fee) but others will fine you for doing so. We have more tips on renting a car in Sweden here.
You can pay in cash at yellow tollbooths at the bridge using Danish kroner, Swedish kronor or euros. Credit and debit cards are also accepted.
The BroPas
If you are making a return trip or planning to cross the bridge more than once within a year, you'll save money by buying a BroPas (Bridge Pass). The pass costs €45 a year and cuts the price of the toll to €24 per car per trip.
It also allows you to register your number plate in advance so that you can drive straight through the toll station. For more information on tolls, the BroPas and the prices charged for larger vehicles, see the Öresundsbron website.
Taking a taxi
If you're really feeling flush, you can always get a taxi from Copenhagen to Malmö.
Metered cabs in downtown Copenhagen and at the airport will take you across the bridge and into central Malmö, but you should be prepared to shell out a lot for the convenience.
Expect to pay 930 DKK / 1200 SEK for a one-way journey from Copenhagen Airport to Malmö – more if you're coming from the city centre.
If you're stuck you may be able to team up with other passengers and split the fare. (NB Uber is no longer operate in Denmark.)
A word of warning if you're getting a taxi – either book ahead or agree the fare with the driver before you get in! We've had reports of tourists being overcharged by unscrupulous drivers.
By ferry
Since the opening of the bridge in 2000, the nearest ferry route between the two cities runs from Helsingør in Denmark to Helsingborg in Sweden on Forsea ferries, a 20-minute journey.
However, it's a 45-minute train trip from Copenhagen to Helsingør, and a similar journey time from Helsingborg to Malmö, so only true ferry-fanatics would chose this option over crossing the bridge.
If you do want to take to the waters, a better bet might be to do a guided tour which includes time in Helsingør, the ferry trip, a visit to Lund in Sweden, then onto Malmö before returning to Copenhagen via the bridge.
Passport checks between Copenhagen and Malmö
There are currently no formal border checks on the bridge, however valid ID is required to enter Sweden, so always take your passport with you, even if you're only visiting for the day, and regardless of which mode of transport you use to make the crossing.
Swedish police still make ID checks on buses and trains entering Sweden, and do so sometimes at the bridge toll booths too, so always have your passport with you.
FAQs
How long does it take to get from Copenhagen to Malmö?
That depends on how you travel. By car, it takes about 10 minutes to drive over the bridge from Denmark to Sweden. The full journey from the centre of Copenhagen to the centre of Malmö, however, takes about 50 minutes depending on the time of day and the traffic.
The fastest train takes about 35 minutes from the centre of Copenhagen to the centre of Malmö, but of course, only a few minutes of the journey is spent on the actual bridge itself.
How long is the Copenhagen to Malmö bridge?
The Øresund bridge itself is about 8km long, with the suspension bridge section running for 490 metres.
However there is a further 4km stretch that runs over the man-made island of Peberholm, plus a 4km-long tunnel that links Pederholm with the Danish mainland.
So the full road and rail link that connects Sweden and Denmark is 16 kilometres long.
How far is it from Copenhagen to Malmö?
The Malmö to Copenhagen distance is surprisingly short – less than 30km as the crow flies. However, by road, from the centre of Copenhagen to the centre of Malmö it's around 42km.
How far is it from Malmö to Copenhagen airport?
If you are flying to Malmö, it makes more sense in the vast majority of cases to get a flight to Copenhagen, then take the train or bus from there into Malmö.
Far larger than Malmö airport, Copenhagen's Kastrup airport lies very close to the bridge, and is served by a much greater variety of international flights and routes than Malmö's airport.
Trains runs every twenty minutes or so from Kastrup into Malmö and the journey takes about twenty minutes. There are also regular buses into the city. See our guide to getting to Malmö has more on what to expect when landing at the airport.
Can you walk from Copenhagen to Malmö?
No. Pedestrians are not allowed to cross the bridge between Copenhagen and Malmö.
Can you cycle across the bridge from Copenhagen to Malmö?
Surprisingly for such bike-friendly cities, there is no cycle path over the bridge and bikes are definitely not allowed to use the road.
The Oresundstag trains can usually take up to nine bikes per train, though SJ trains don't take bikes unless they're foldable.
There may be an additional fee of around 60 SEK per bike, although a scheme allowing bikes to be carried for free on trains in the south of Sweden is currently in place.
In 2017 a pilot ferry scheme was set up to carry bikes and pedestrians from the Copenhagen suburb of Dragør, across the Öresund to Limhamn in Malmö.
It was a popular success, but has not been continued due to funding issues. However, it is hoped to restart the ferry in the future: check the website for the latest updates on its progress.
Malmö vs Copenhagen
Both Malmö and Copenhagen are likeable outdoor cities, easy to get round and well worth a visit. Copenhagen, of course, is the capital of Denmark so has more sights, such as the Tivoli Gardens, the Amalienborg Palace and the unique free town of Christiana.
Malmö's attractions are more low-key but include some great vintage shops and markets plus cutting-edge architecture – and it's considerably cheaper than its Danish neighbour!
However, given the ease of travel between the two cities, you don't have to decide which one to visit – you can easily see both, even in a short trip.
You may also like:
The best guided tours in Copenhagen
Events in Copenhagen
Free things to do in Copenhagen
Malmö travel guide
Second-hand shopping in Malmö
RECOMMENDED HOTELS IN MALMÖMORE HOTELS
Like what you've been reading? Get our best tips by email!