Sweden's close relationship with its Nordic neighbours means that border checks are generally pretty relaxed – if they exist at all. There's only a very small chance you'll be asked to show your passport when crossing by land, but you should carry it just in case.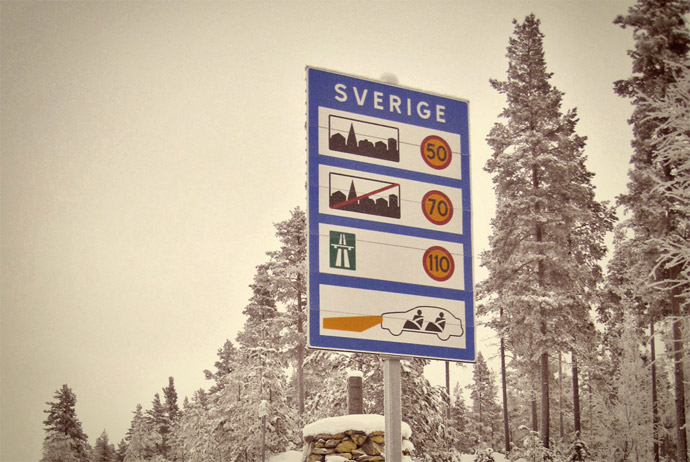 Overland travel from Denmark, Norway and Finland
Denmark
There are two main ways to get from Denmark to Sweden.
Stena Line ferries run across the sea, connecting Frederikshavn with Gothenburg (a second service runs from Grenaa to Varberg, further down Sweden's west coast). Details of ferries from Gothenburg to Denmark are here. If you're looking for a Stena Line offer code, be careful: lots of sites claim to have them, but few seem to really work. Stena Line says it sends out official codes from time to time, but you'll have to subscribe to its newsletter to get them.
The alternative to taking the ferry is to cross using the sea-spanning Öresund Bridge, famously featured in the crime drama series The Bridge, which runs from Copenhagen to Malmö. Buses, trains and cars all use this border crossing.
Norway
Sweden's border with Norway is incredibly long and incredibly porous. It's surprisingly easy to drive from one country to another and the roads are well maintained, even in the wintertime. Buses and trains also cross from Norway to Sweden at various points along the border. In July 2014, passport checks were suddenly introduced at crossings into Norway, apparently in response to a terrorist threat. The best advice is to travel with your passport at all times.
Finland
Sweden's border with Finland is part land, part sea. The land crossings are rather inconveniently located in the northern reaches of both countries.
Part way down the length of Sweden at Umeå, Wasaline boats run across the Gulf of Bothnia to and from the Finnish town of Vaasa. There has been talk of a vast bridge being built across the sea here (at 70km in length, it would be Europe's biggest) but for the time being, it remains just talk.
Tallink Silja Line ferries run to Stockholm from both Helsinki and Turku, while Viking Line ferries run to Stockholm from Helsinki.
Overland travel from elsewhere in Europe
Ferries run to the countries south and east of Sweden. Unless you're travelling with a car, it will be considerably quicker (and probably cheaper) to fly instead. Our guides to Malmö, Gothenburg and Stockholm have more information on specific ferry routes.
Germany
There are several direct services from Germany to Sweden. From Kiel, boats depart for Gothenburg, arriving around 15 hours later. Ferries also run to the Swedish port of Trelleborg, on the south coast, from Rostock (six hours) and Sassnitz (four hours). For more on these routes, see the Stena Line website.
Poland
Polferries has boats running from Świnoujście to Ystad, in the far south of Sweden. The same company also has ferries from Gdańsk to Nynäshamn, just outside Stockholm.
Unity Line, another Polish firm, has boats from Świnoujście to Ystad and Trelleborg, 30km south of Malmö. Finally, Stena Line takes care of connections between Karlskrona, in the southeast of Sweden, and Gdynia.
Estonia and Latvia
If you want to avoid flying, Tallink Silja Line has ferries to Stockholm from both Tallinn (Estonia) and Riga (Latvia). If you choose either of these routes you'll need to allow plenty of time; both journeys are in the region of 17 hours.
Like what you've been reading? Get our best tips by email!