If you're planning on travelling from Stockholm to Copenhagen, the first thing to bear in mind is that the two cities are a very long way apart.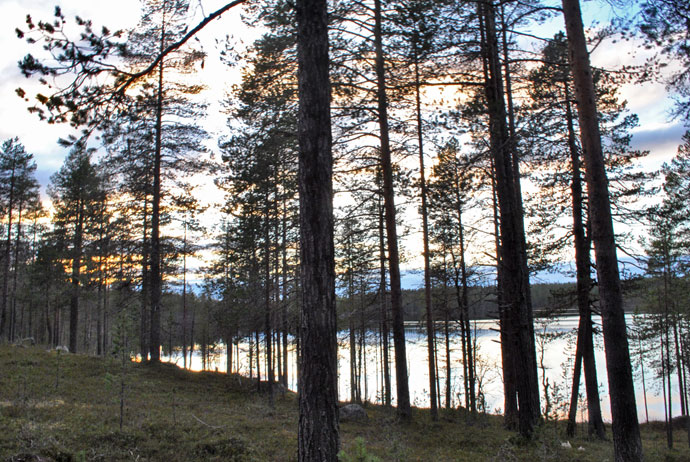 It might not seem far on the map, but there's more than 650km of countryside between the Swedish and Danish capitals.
Despite the distance, it's still possible to make the journey comfortably within one day, and it's normally possible to do so without spending a huge amount of cash.
Flying between Stockholm and Copenhagen is obviously the fastest option, but tickets can be expensive. Travelling by road or rail is not only greener, but will also give you the chance to absorb some great scenery along the way.
Here, we've rounded up some of the different options for making the trip. These all work in both directions, so will still be useful if you're heading into Sweden from Denmark.
Note that on the booking sites mentioned below, Copenhagen is often referred to as 'Köpenhamn' (the Swedish word for Copenhagen).
By bus
By train
By car
By plane
By ferry
By bike
Breaking the journey
By bus from Stockholm to Copenhagen
Two private companies – Flixbus and Vy bus4you – run comfy buses between Stockholm and Copenhagen. Only Flixbus offers a direct service, however.
If you take the Vy bus, you'll need to change buses in Gothenburg. Often there's a wait time of an hour or two between the first and second legs of the journey.
Flixbus services start from City Terminalen in the centre of Stockholm, and arrive at the main train station in the centre of Copenhagen. You can buy tickets for the direct service (around 9–10 hours) on the Flixbus website.
There are usually three direct buses a day, two during the day, and one overnight.
The buses operated by both companies are comfortable enough to make long journeys bearable, with on-board toilets and free wifi.
Flixbus offers a basic fare and you can pay extra to change your seat, block out the seat next door or add extra legroom. Vybus also offers customers the chance to buy more expensive seats with extra legroom (just choose the 'plus' option on their website).
Fares on both buses are fairly similar and both companies offer dynamic pricing, so you'll pay more if you book last minute or at busy times.
In our opinion, the best option is Flixbus for the simple reason that its journey times are shorter and that it goes direct, with no need to change buses.
Journey time: 9–18hr
Approximate cost: 439–700 SEK one-way
By train
It's quicker than taking the bus, but travelling from Stockholm to Copenhagen by train might still involve making a change en route. That said, there are several direct trains from Stockholm to Copenhagen each day.
Tickets are available through the Omio website. Services depart from Stockholm's central station and pull into Copenhagen around five hours later (on direct services).
Indirect services take about 5 hours, 30 minutes and involve a quick change in Lund, Malmö, Alvesta or Hässleholm.
Comfort-wise, the train is hard to beat. First-class seats are available, but even the standard class carriages are usually clean and comfortable.
Whether you get a good price will, to a large extent, depend on when you buy you ticket – plan ahead for the best fares.
The easiest way to see schedules for trains running between Copenhagen and Stockholm is to visit the Omio website. Fares are listed there in English, or any other currency you prefer, allowing you to book online and have an e-ticket sent straight to you.
Journey time: 5hr–6hr
Approximate cost: 400–1000 SEK one-way
Driving between Stockholm–Copenhagen
If you're planning on driving between Copenhagen and Stockholm, make sure you allow plenty of time. Even in traffic-free conditions, you can reckon on the journey taking at least seven hours.
The good news is that the route itself is extremely good. One long motorway (the E4) covers the 555km stretch from Stockholm to Helsingborg, on Sweden's west coast.
From there you pick up the E6 south to Malmö for an hour or so, then the E20 across the Öresund Bridge.
Driving from Sweden into Denmark across the Öresund Bridge is easy, but not especially cheap.
It costs 720 SEK (around US$68) to take a private car across, one-way. If you are doing a return trip, it's cheaper to buy an ØresundGO pass, which gives you unlimited discounted trips over a year.
For all the details about crossing the Öresund Bridge by car, read our guide Getting from Copenhagen to Malmö.
If you're driving a hire car, be sure to check the terms and conditions – some contracts prohibit drivers from taking their cars outside the country of origin. This guide has lots of tips on finding a reasonably priced hire car.
What to see and where to stop en-route
The good thing about driving is that it gives you the flexibility to stop off where you like, and the route passes through some attractive towns as well as running alongside the pretty Lake Vättern, Sweden's second largest lake.
A good half-way stop-off point is the town of Jönköping, on the southern shores of Lake Vättern.
An old medieval trading centre, it has a long sandy lake beach and some well-preserved wooden medieval buildings.
If you want to break the journey and stay overnight, the waterfront Vox Hotel is a good bet with lake views.
Towards the end of the journey (around 6 hours from Stockholm), the historic harbour town of Helsingborg also makes a good stop.
It's a pleasant town, with a maze of cobbled streets, the remains of a medieval castle and an attractive harbourfront.
Home to some lively bars, cafés and restaurants, it's just 20 minutes by ferry across the Öresund to the town of Helsingør in Denmark, home of Kronborg castle, the setting for Shakespeare's Hamlet.
If you want to stay the night, Vasatorps Matologi B&B just outside town is a pretty timbered guesthouse in an old farmhouse.
Journey time: 7hr 30min–9hr
The quick option: flying
If you're short on time and you want to quickly get between Stockholm and Copenhagen, your best bet is to fly.
Norwegian and SAS both fly direct between Stockholm Arlanda and Copenhagen's main airport, Kastrup, with a journey time of around one hour and 10 minutes.
Both airlines offer basic value fares, plus a pricier option that includes a choice of seat and luggage.
For full details of how to get to and from Stockholm's Arlanda airport, see our guide Getting from Arlanda to Stockholm.
Alternative airports
Stockholm also has three other airports – see our Stockholm guide for details of all Stockholm's airports – though none offer direct flights from Copenhagen.
It is possible to fly from Arlanda or Stockholm's Bromma airport to Malmö, from where you can get the train to Copenhagen.
However, these flights are not usually any cheaper and once you've factored in the train fare from Malmö to Copenhagen you're unlikely to save any money.
Journey time: 1hr 10min
Approximate cost: 700–2000 SEK (one-way)
Stockholm to Copenhagen ferry
There is currently no ferry between Stockholm and Copenhagen. If you really want to involve a boat ride, the best option is to take the train to Gothenburg, and then take the ferry to Frederikshavn in Denmark (3 hours 30 min).
From there you can ride one of the hourly trains to Copenhagen (5 hours 40 min).
By bike
Both Denmark and Sweden are good countries for cycling, with decent cycle paths and a healthy attitude to cyclists!
The best route is to follow Eurovelo 10 from Stockholm along Sweden's southeast coast to Copenhagen, via Kalmar and Malmö.
Alternatively, you can take the shorter (700km), but more hilly cross-country route, which runs inland via Växjö.
Note, that bikes are not allowed over the Oresund bridge, so you'll have to put your bike on the train for this stage. For more on taking your bike on the train over the Öresund bridge, see our guide.
You'll need to allow at least a week to cycle from Stockholm to Copenhagen, though you may want to take longer and allow yourself some stops along the way.
Breaking the journey between Stockholm and Copenhagen
If you have time to spare and like the idea of breaking the journey, there are some great places to stop between Stockholm and Copenhagen.
Gothenburg and Malmö particularly are worth a look around – if you're travelling by bus or train, it's likely you'll pass one or both of them.
Gothenburg is an attractive waterfront city, known for its harbour and islands. If you've got a couple of hours to spend here, we recommend taking the Paddan boat tour, which cruises round the city's canals and sights before heading out into the harbour.
For more boat trips, including cruises out to the archipelago, see the best boat trips and canal tours in Gothenburg.
The pleasant waterfront city of Malmö is also worth exploring. Its old town square, Stortorget, was once Europe's largest market square, and the city is now known for its striking contemporary architecture and vibrant cafés and bars.
To get some insider info on the city, we suggest taking a guided walking tour with a local who'll show the best of the old and new in Malmö.
For more ideas on what to do in Malmö on a budget, check out our guide, 22 free things to do in Malmö.
For all the info on what to see and do when you arrive, check out our destination guides:
Stockholm
Gothenburg
Malmö
Copenhagen
What is the best way to get from Stockholm to Copenhagen?
So, what is the best from of transport between these two capital cities? We've complied a useful table of the pros and cons of all the different ways to get from Stockholm to Copenhagen.
| | | |
| --- | --- | --- |
| | Pros | Cons |
| By bus | Cheap | Long journey time |
| By train | Cheap and quick | Not many! |
| By car | Flexible, cheap | Long journey time |
| By plane | Quick | Expensive |
| By ferry | Fun | Slow |
| By bike | Healthy and fun | Long journey time |
In our opinion, taking the train is the best option when trying to get from Stockholm to Copenhagen. It's quicker than the bus and costs about the same.
It's cheaper than flying and once you've factored in getting to the airports and check-in time, flying won't be much quicker than taking the train.
The trains are comfortable, reliable, with regular services and they are the greenest form of transport – except for cycling, of course!
So, we think the train wins hands-down!
See also:
Getting around Stockholm
Getting from Copenhagen airport to the city centre
Gothenburg to Copenhagen