Copenhagen is probably the most cycle-friendly city in the world. Bikes get priority over other types of traffic; purpose-built bicycle bridges cross the water; and it's not uncommon to see businesspeople biking to meetings, coffee in hand.
More than 60% of people living in Copenhagen go to work or school by bike, and cycling is the preferred mode of transport for shopping trips, days out and even nights at the bar.
All of this means that, snow or shine, you'll see streams of locals pedalling from place to place. And if you're visiting as a tourist you should definitely get involved; riding a bike in Copenhagen gives you the chance to get around quickly, cheaply and without all the hassle of public transport.
You won't have any trouble finding a set of wheels. Many hotels and hostels offer their guests rental bikes. Cheap-to-borrow public bikes – called City Bikes – can be found all over Copenhagen and Frederiksberg.
However, the city's bike lanes, bell chimes and traffic lights can seem chaotic to first-timers, and the usually reserved Danes can get a little flustered if you don't follow certain rules and conventions. Routes North writer and Copenhagen resident Anne Veith has some tips to make your two-wheeled exploration safe and stress-free.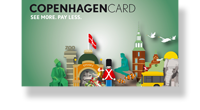 Is the Copenhagen Card worth buying?
Read this guide to see how much you could save during your trip!
The golden rules for cycling in Copenhagen
Always keep to the right
If you only take away one cycling tip from this post, let it be this. The biggest mistake made by newbies on Copenhagen's bike lanes is to wobble down the middle of the track, hogging too much space – to the obvious frustration of hurried locals. Cycle on the right-hand side (as close to the pavement as you can) and you'll fit in quite nicely. Stay where the pace is nice and slow and you'll also be able to admire beautiful views as you cruise from one neighbourhood to another.
Follow the traffic lights
Larger junctions have separate traffic lights for cyclists. They're slightly smaller than the regular ones and they have a bike symbol at the top. These lights don't necessarily follow the lights for cars, so be on your guard.
Watch out for the bus stops
There are rules around buses and bus stops, but not even the Danes seem to really understand them. If you're a first-time cyclist in Copenhagen, the best advice we can give is this: if bus stops, you stop. After that, wait until any disembarking passengers have crossed over the bike lane before carrying on your way. The last thing you'd expect when stepping off a bus is to get hit by a set of handlebars.
Light it up – and don't use your phone
In Copenhagen it's mandatory to have lights on your bike after dark. If you're renting one of the City Bikes, you won't have to worry too much as they're built into every cycle. It's illegal to use a mobile phone while cycling, even if it is for navigation.
Don't forget your insurance!
It's no good exploring Copenhagen on two wheels if you don't have travel insurance. Believe us when we say that having a good policy in place can make a world of difference if something goes wrong. For lots of different reasons, including the fact that they will insure you even if your trip has already started, we recommend World Nomads.
Other stuff to look out for when cycling in Copenhagen
You may see or experience some confusing things when you're cycling along Copenhagen's bike paths. Here are a few worth looking out for.
'The high five'
Although it would be a nice icebreaker, Danes aren't randomly trying to high five people on the bike lane. Like a high five, however, this simple, left-hand-in-the-air gesture is not to be ignored. It means 'I'm stopping' and is used to avoid collisions. However awkward you feel high fiving the air, being the cause of a multi-bike collision is even more awkward. Use the signal!
The turning signal
Turning left or right? Stretch out the relevant arm with an open palm to show which way you're going. Few people seem to bother with this signal in Copenhagen but it is actually required by law – and it'll help your fellow cyclists, too.
The constant ringing
The bike bell is how cyclists in Copenhagen interact with each other. In short, it means 'You're doing something wrong' and more often than not it will be because you're taking up too much space for them to pedal past. So, cycle close to the pavement.
Rush hour in Copenhagen
Here's a neat timelapse video showing the ebb and flow of Copenhagen's bike traffic.
Like what you've been reading? Get our best tips by email!