One of the main reasons we started Routes North was to show that Sweden can be an affordable place to visit. Even in Stockholm, which has a reputation for being expensive (including among Swedes), it's possible to keep things cheap.
To prove the point, we pieced together this action-packed, two-day itinerary that includes some fun sights in and around Stockholm. Follow it closely and you should head home with a full belly, a bunch of good memories, plus change left over from 1030 SEK.
At the time of writing, that's equivalent to $120, €110, or £80 – not a lot of money for any European capital, let alone one in Scandinavia.
Of course, you could feasibly do things even cheaper by couchsurfing and surviving on three-minute noodles. Likewise, by cramming in lots of museums, staying in swanky hotels, going clubbing, or eating your own body weight in meatballs, you could easily spend a lot more.
The point is, it's possible to get a good feel for the Swedish way of life and explore some interesting parts of the city without needing to sell the contents of your backpack first (or even sleep on a stranger's sofa).
To make all of this money-saving business a bit easier, it's worth trying to arrive in Stockholm during the week, when accommodation prices are slightly lower.
What you'll need to keep below the magic £80 budget:
– A set of bed linen and a towel (otherwise you'll have to pay to rent them)
– A refillable bottle (tap water in Stockholm is clean and safe to drink)
– Return flights (not included here, 'cos we don't know where you live)
– A bit of an open mind
Day one
Get into the city centre
There are three airports serving Stockholm, but the chances are you'll land at Arlanda, which handles the bulk of international flights. (If that's not the case, see our main guide to getting into Stockholm for detailed advice.)
The careful budgeting starts as soon as your feet hit the ground, so give the taxis and expensive Arlanda Express trains a wide berth, and head just outside the terminal to catch the dedicated airport bus (Flygbuss), which has comfy seats and free on-board wifi. Open return tickets are available online for 198 SEK (you'll pay a bit more if you buy aboard the bus, so it's worth planning ahead). Best of all, these airport buses arrive at City Terminalen, slap bang in the middle of the city.
Dump your bags
Just because you're doing Stockholm on a budget, that doesn't mean you have to stay somewhere grotty. City Backpackers, one of the freshest and cleanest hostels in Stockholm, is an easy ten-minute walk north from the bus terminal.
Bunks in the 12-bed dorms cost 240 SEK a night during the week, and there are nice clean shower rooms and toilets out along the corridor. There's also a decent-sized kitchen for preparing meals, and a sociable common room with free wifi and shared computers. Remember to bring your own towel and a set of bed linen if you want to avoid paying extra.
Dump your bags at the hostel (there's a luggage room available if you arrive too early to get into the room) and then forget about them until later. It's time to start exploring.
Say hello to Gamla Stan
Walk east from the hostel's main entrance and after a couple of hundred metres you'll hit Drottninggatan, the shop- and restaurant-lined street that runs south through Stockholm's commercial heart, Norrmalm. If you're already feeling the first rumbles of hunger, refuel with a korv med bröd (Swedish hot dog) from one of the stands you'll pass along the way (10 SEK).
You'll know you're nearing the fantastical old town, Gamla Stan, when the little souvenir shops selling Swedish flags and plastic Viking helmets start outnumbering the big fashion brands.
Time for some serious sightseeing
Have your camera ready as you near Drottninggatan's southern end, as you're about to get your first glimpse of Stockholm's beautiful waterways. Join the crowds of tourists snapping pictures of Riddarholmskyrkan, the church where the Swedish kings and queens of yesteryear are buried, then head across the bridge to the huge stone building up ahead.
This is the Swedish parliament building, where laws that affect people across the nation get the go-ahead. Free tours of the parliament building are offered in English (1pm–3pm daily in summer; 1.30pm on Sat and Sun from October–June).
After the tour you'll probably be in need of a caffeine fix, so head past the touristy cafés on Stora Nygatan to the little espresso shop called Caffellini, tucked away on nearby Västerlånggatan. This is a real locals' place, with cheap, strong coffee (from 10 SEK) that'll perk you up nicely for the rest of the day's sightseeing.
Absorb the leafy quiet of Gamla Stan's narrow back streets as you loop around towards Stortorget, the old town's main square, which is edged by colourful gabled buildings.
Most of Stockholm's museums and attractions charge an admission fee but the excellent Medieval Museum, just beyond the vast Royal Palace, is completely free. Set below ground level with old artefacts arranged around the last visible section of the old city walls, it gives a great introduction Stockholm's early history.
Dinner, beers and a sauna
If your feet aren't too worn out, make a detour to K25 for your evening meal. This is a cheap, lively food court that caters to a mostly young crowd with everything from sushi and seasonal salads to Vietnamese-style baguettes sold from independently run stalls – reckon on around 70 SEK for dinner.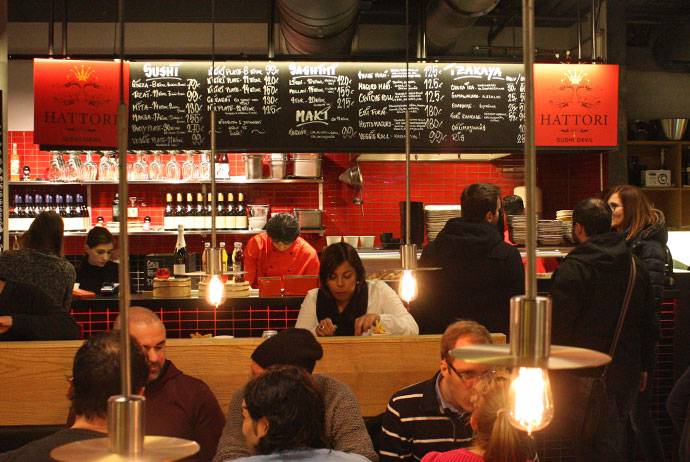 Leave K25 in time to grab a Swedish beer (8 SEK), from Systembolaget on Vasagatan, a block south of your hostel. Systembolaget is the only retail outlet in Sweden with permission to sell drinks stronger than 3.5%, and makes for a bit of an unusual shopping experience if it's your first time in the country.
You'll want to make sure you're back at City Backpackers in time for its free nightly sauna session (gents can sweat it out until 7pm, when the girls-only session begins).
If you get hungry again later on, the hostel's kitchen has free pasta to go with your beer. Otherwise, hang out with other hostel-goers until it's time to turn in for the night.
Day one summary
| | |
| --- | --- |
| Return bus ticket: | 198 SEK |
| Hostel (two nights): | 480 SEK |
| Snacks: | 10 SEK |
| Coffee: | 10 SEK |
| Dinner: | 70 SEK |
| Beer: | 8 SEK |
| – – – | |
| Total spent: | 776 SEK |
| Amount remaining: | 254 SEK |
Day one map
Day two
Start day two of your Stockholm odyssey in the most Swedish way you can: aboard the bus to Ikea. Free shuttles leave from Vasagatan 10, right outside the main train station every weekday. Departures are on the hour, every hour, from 10am–7pm.
Unless you're really keen on your flat-pack furniture, there's no need have a look around the store itself – it's the same as every other Ikea in the world (that is, huge and impossible to leave). The real reason we're here is food. Lots and lots of Swedish food.
When you arrive at the store, head straight up to the cafeteria on level three, which does a huge daily brunch (9.30am–11am) for 59 SEK per person. Pickled herring, meatballs, fresh fruit, bacon and pancakes are all available and – quite frankly – it's unlikely you'll find a cheaper way to eat breakfast anywhere else in Stockholm. You'll need to get the first bus from the city centre to ensure you have plenty of time for eating.
On two wheels
Buses bound for the city centre leave Ikea at 30 minutes past the hour. Once you arrive back in Stockholm, return towards City Backpackers, where you can rent a bike (a bargain at 50 SEK for four hours) and begin discovering Stockholm on two wheels.
There are designated cycle lanes all over the city, making bike rides safe and stress-free, and the journey west through Kungsholmen and across the water to the island of Långholmen will show you a completely different side to the city, free from tourist crowds.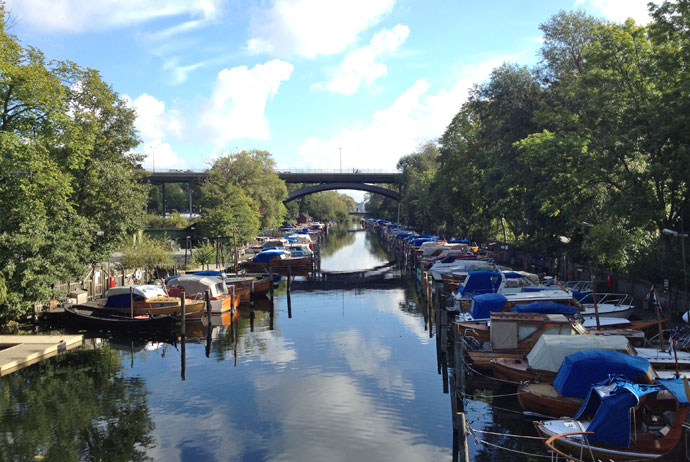 Beautifully leafy, Långholmen itself is home to a former prison turned youth hostel. It also has a small beach on its northern shore that's perfect for a quick dip – though unless you're in town during the height of summer, when it's warm, you might want to keep your clothes on.
Next, head south across the bridge to Hornstull where you can recharge with a sugar-topped cinnamon bun from the slick gluten-free bakery Friends of Adam (20 SEK), before cycling further into Södermalm, Stockholm's hippest district. The area you're heading for is immediately south of the street called Folkungagatan (it's known locally as SoFo). It doesn't really matter which route you take to get there, but you might prefer to cycle via Mariatorget, home to the glitzy Hotel Rival, which is owned by one of the guys from ABBA.
A bit of window shopping
Once you reach SoFo, chain your bike somewhere out of the way and go window shopping – the independently run shops here stock everything from dusty old books to eye-wateringly expensive vintage furniture.
Grandpa at Södermannagatan 21 does a good line in arty posters and knitwear, while Pet Sounds at Skånegatan 53 has a cracking collection of records. Almost every street around here has a decent coffee shop, so you'll have no trouble finding somewhere to sit back and watch the hipsters wander by.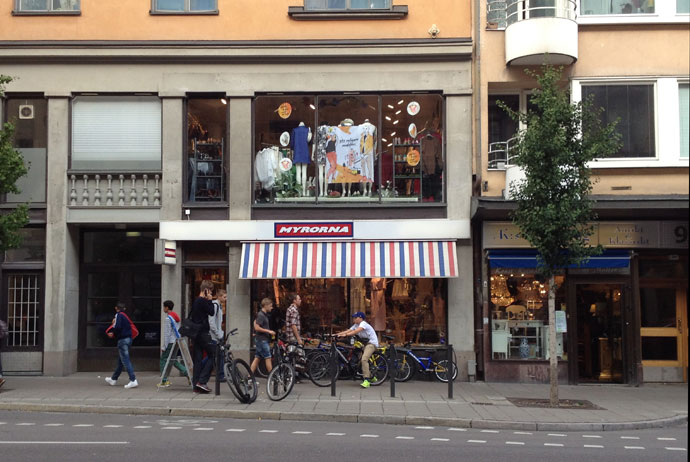 By now you won't have much time left before you need to return your bike, so head back towards Norrmalm, enjoying free views of Gamla Stan along the way. Leave the bike at City Backpackers and get freshened up for a proper evening meal.
Flippin Burgers, 600m north of the hostel, is such a popular place that there's usually a queue to get in. The good news is that if you're travelling alone you should be able to skip the line and perch up at the bar for one of their amazingly good burgers (90 SEK), which are made with ingredients from local producers. If you fancy blowing your budget, the bar has some real treats on offer, like milkshakes laced with Jack Daniels. When you're done here, head back to the hostel, or continue the night elsewhere.
A quick tip: if you're in Stockholm during winter and it's too snowy to cycle (or if you'd rather just save your energy), buy a couple of one-way tunnelbana (subway) tickets with the money you would have spent on the bike hire. Just take the green line south from T-Centralen to Medborgarplatsen and you'll be in the heart of Södermalm.
Day two summary
| | |
| --- | --- |
| Brunch: | 59 SEK |
| Bike hire: | 50 SEK |
| Snacks: | 20 SEK |
| Coffee: | 10 SEK |
| Dinner: | 90 SEK |
| – – – | |
| Total spent: | 229 SEK |
| Amount remaining: | 25 SEK |
Day two map
Day three
It's time to go home, and you successfully survived two days in Stockholm on a grand total of 1005 SEK! That's around $115, €108 or £78 at the time of writing, and still well within our target budget. You'll probably want to eat before you head back to the airport, so if you're feeling happy with your efforts so far and don't mind going a fraction over budget, fill up at the hostel's little café which does basic breakfasts for 40 SEK. The bus back to the airport is a ten-minute walk away.
How to upgrade your trip (if you feel like splashing out)
The above itinerary is deliberately stingy and there's a good chance that, having travelled all the way to Stockholm, you'll want to check off some of the city's paid-for attractions too. If you can afford to spend a little more, these little extras are a great way to upgrade your trip without going overboard.
Visit the Vasa Museum
Widely regarded as Stockholm's best attraction, the Vasa Museum is well worth the admission fee.
Lunch at Nystekt Strömming or Kalf & Hansen
The food cart called Nystekt Strömming does classic Swedish grub to take away, like Baltic herring served up with mashed potatoes. For something a little more modern but equally cheap and Nordic, try Kalf & Hansen in Södermalm.
Get an SL card
Save energy for sightseeing by getting yourself an SL card, which allows you to travel on Stockholm's buses, trams and subway trains.
Alternative places to stay
If you can't get a bed at City Backpackers, there are a few other hostels that are worth a look. Af Chapman floating hostel is set aboard a beautiful 19th-Century sailing ship, right in the heart of Stockholm. Skanstulls Hostel is a good budget option at the southern end of Södermalm. Otherwise, Tre Små Rum offers private rooms in Södermalm with access to a shared kitchen.
Head over to our main hostel guide for more ideas on where to stay.
Like what you've been reading? Get our best tips by email!