Usually sleepy and peaceful, the small town of Jokkmokk puts on an impressive winter market at the start of February each year. It's a tradition that's been maintained for more than four centuries, and the market still attracts traders from far and wide.
Even outside of market time, Jokkmokk is one of the best places in Swedish Lapland to go shopping for traditional Sami arts and crafts. Much of what you'll find in the town's dinky shops and galleries is locally made, and many products reflect the way Sami people used to live their lives, long before the arrival of snowmobiles, chainsaws and 4x4s.
The best shops are fairly spread out, so we've added a map below to help you find them.
Sámi Duodji
The best place to buy authentic Sami handicrafts in Jokkmokk is Sámi Duodji, a modern shop and gallery specialising in products that are handmade using natural materials – from local wood to reindeer horns and leather. Also available are colourful Sami textiles and dainty pieces of handmade jewellery.
Porjusvägen 4
Jokkmokkk
+46 971 128 94
sameslojdstiftelsen.com
Mon–Fri 10am–5pm
Gamla Apoteket Jokkmokk

This beautiful old pharmacy dates back to 1901 and has now been converted into a kind of cultural centre. As well as organising activities for Jokkmokk's residents, it regularly hosts exhibitions featuring local artists – and many of the works are available to buy. Read more about Gamla Apoteket here.
Västra Torggatan
Jokkmokk
+46 971 120 80
gamla-apoteket.se
Mon–Fri 11am–6pm, Sat 10am–4pm, Sun noon–4pm
Ájtte

Ájtte, also known as the Swedish Mountain and Sami Museum, is the best place in Swedish Lapland to learn about Sami history and culture. Touristy trinkets take up a big section of the onsite gift shop but there's also some nice, locally made glassware. Our guide to the Sami museum has loads more information on what to expect.
Kyrkogatan 3
Jokkmokk
+46 971 170 70
ajtte.com
Hours vary
Hantverksbutiken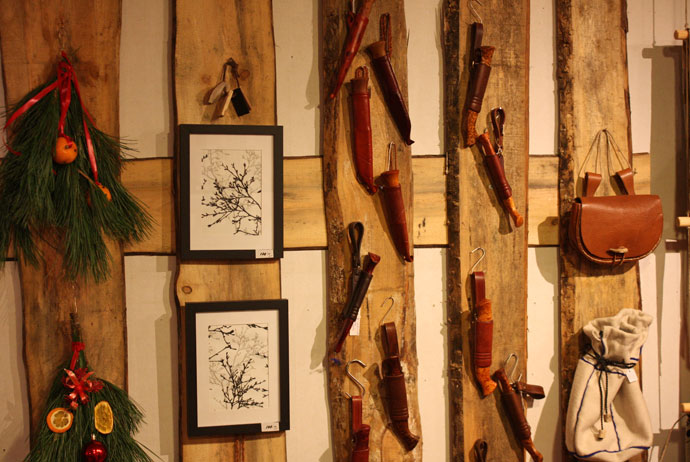 Packed with fox skins, knitwear and balls of wool in every imaginable colour, Hantverksbutiken (the handicraft shop) is a fun place to look around. Hanging on the walls are neat leather handbags and traditional-style Sami knives – handy if you're planning a camping trip in Lapland.
Porjusvägen 10
Jokkmokk
+46 703 714 629
facebook.com/hantverksbutikenjokkmokk
Mon–Fri 10am–5pm, Sat 10am–2pm
Jokkmokks Tenn
Keeping the thousand-year-old tradition of Sami jewellery making alive, the little workshop called Jokkmokks Tenn creates pretty necklaces from pewter. There are also more modern-looking rings and bracelets that combine real silver with traditional Sami designs.
Järnvägsgatan 19
Jokkmokk
+46 971 554 20
jokkmokkstenn.com
Mon–Thurs 6.30am–4pm, Fri 6.30am–1pm
Map of the best places to go shopping in Jokkmokk
Last updated: February 2015
Like what you've been reading? Get our best tips by email!