For the most part, trains in Sweden are comfortable and crowd-free – and usually they run on time. On the best long-distance services, you'll also get free wifi, decent amounts of legroom and access to a buffet car selling drinks and snacks.
But perhaps you want to experience something a little more… retro. If so, it's worth trying to get a seat aboard the Blue Train (Blå Tåget). With a modern locomotive pulling a row of classic, 1960s carriages, it's a fun alternative to Sweden's modern intercity trains.
These services started running in 2011 with the aim of making train journeys more enjoyable. And we've got to say, it worked – riding the Blue Train feels like going back to a time when travel was a lot less stressful.
The wood-panelled interiors are bright and airy with comfy blue seats to sink into, and there's a sociable piano bar where you can drink a cold beer, listen to live music, and watch as the countryside whizzes by outside. Even in second class, you'll get access to free (limited) wifi and there are lots of places to recharge phones and laptops.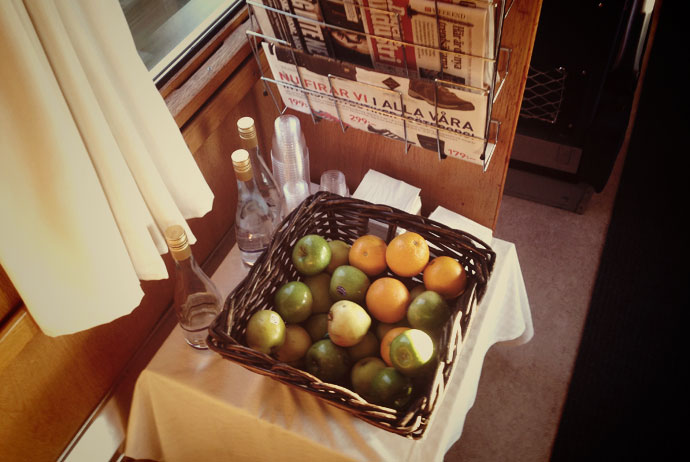 If you fancy it, you can book yourself in for a meal at the train's smart restaurant, where the kitchen turns out costly three-course dinners.
The Blue Train operates from Thursday to Monday, travelling from Gothenburg to Stockholm and back. On Mondays, Thursdays and Fridays, the train also calls at Uppsala. Although the carriages are old, the Blue Train covers the busy Gothenburg to Stockholm stretch in around three and a half hours – that's just half an hour slower than the quickest trains on this route.
Best of all, ticket prices for the Blue Train are pretty reasonable. Expect to pay around 400 SEK for a one-way journey between Stockholm and Gothenburg, or 800 SEK if you want to travel first class. As always, you should try to book ahead if possible (see our guide to travelling Sweden on a budget for more).
You can check timetables in English and book tickets on the SJ website. Alternatively, you can book directly with the Blue Train (Blå Tåget).
Need advice on what to see and do when you arrive? See our guides to Gothenburg and Stockholm.