Accommodation, food, transport and sightseeing tours: when you start adding up all of the ingredients, a lengthy visit to the Swedish countryside can seem like a recipe for financial ruin. There is another option, which may not immediately spring to mind when planning a long-term Scandi adventure: WWOOFing.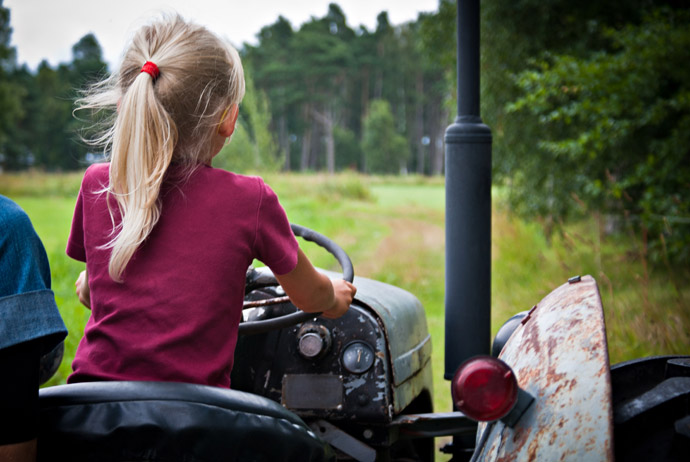 WWOOFing, you say?
Before you start barking, here's a quick intro: WWOOFing (World Wide Opportunities on Organic Farms) lets you stay on working farms around the world. In exchange for 4-6 hours of work on the farm each day, you'll get a room and food, which is often organic (and sometimes straight from the field).
Many WWOOF hosts are full-scale organic farmers, but some just grow their own veggies and need help weeding, chopping wood, or generally tidying up. Many farms also act as B&Bs, which gives WWOOFers the added satisfaction of a free stay among paying holidaymakers. When you're not helping out at the farm, you're free to do a bit of hiking, biking, sailing, or any other outdoorsy activity that floats your boat.
Go WWOOFing in Sweden and you'll find there are plenty of options for travellers looking to keep their costs down or simply escape to the countryside for a while. Want to stay near the Arctic Circle, helping to care for sled dogs? No problem. Fancy staying with a host who's passionate about Vikings? You got it.
There are also market gardens, quaint sheep farms, and chilled-out artists' collectives. In fact, whatever kind of farming or cultural experience you're looking for, you'll probably find it in Sweden.
Getting started
It's worth doing your homework to find the right farm. Are your hosts vegetarians, yogis or teetotallers? What animals do they keep? Do you have any of the same interests as the owners? Do they welcome families? Do they speak good English? You're probably going to spend a bit of time with them, so try to make sure the people are as nice as the scenery.
You'll also want to know what sort of work the hosts need help with, and what you can expect in terms of meals and accommodation. If you're unsure about anything, ask: it's better to be clear about the arrangements before you arrive in the middle of the Swedish countryside.
To actually contact hosts you'll have to pay a one-time €25 fee to become a member of WWOOF Sweden. This fee gives you access to contact information for all of the Swedish hosts for one year, and allows you to leave them reviews.
Five ideas for WWOOFing in Sweden
Train sled dogs in Lapland
Gargnäs, 170km west of Skellefteå
Putting the 'woof' in WWOOFing, this is one of a handful of hound-based options in Swedish Lapland. The hosts prefer longer-term stays, but the payoff is big for dog lovers: your duties include socialising, training, and caring for 40 Alaskan huskies. The big question is: do you go in summer for the round-the-clock daylight, or in winter for the dog sledding?
Establish an arts hub
Uddebo, 100km southeast of Gothenburg
Between Gothenburg and Jönköping in the small town of Uddebo, the so-called Djinadon Organization is creating a new project in an old school. It's a space for arts, music, courses and performances. Spend a while here and, if you fancy it, you can become a djembe-drumming apprentice. In exchange for getting involved, they're looking for help with renovations and gardening, as well as long-term assistance when it comes to coordinating the centre's programming.
Experience island life
Gustavsberg, 27km east of Stockholm
A half-hour bus ride from the Swedish capital, Skeviks Farm is a large, multi-use venue in the Stockholm archipelago. With help from WWOOFers they host conferences, weddings and courses, and grow more than 1000kg of veggies annually. They also keep cows, sheep and pigs. When you're not welly-deep in the mud, you can use the farm's running track and gym to keep fit – bikes and kayaks are also available for use. WWOOFers here are usually part of a team of 15-20 volunteers.
Learn about winemaking
Fjärås, 43km south of Gothenburg
There's a big buzz about viticulture in Sweden at the moment. At this farm (around 50 minutes from central Gothenburg using public transport) you have the chance to learn all about making wine in northern climes. The farm is only two years old but it welcomes WWOOFers all year round. In the wintertime, the focus shifts from wine to the production of birch syrup and foie gras from (non force-fed) ducks.
Discover permaculture
Tyresö, 22km south of Stockholm
Around 20 minutes from central Stockholm, this place is a real little oasis with koi carp, fruit trees and even tropical plants. Like other permaculture farms, it's big on thoughtfulness and ingenuity: there's an earth-sheltered underground greenhouse, along with snail-eating ducks and an aquaponics garden which uses fish poo to fertilise the plants. Nice!
Like what you've been reading? Get our best tips by email!