Forget bumpy bus rides and overpriced domestic flights: if you want to see Sweden comfortably, cheaply and with a can of delicious beer in your hand, Interrailing is the way to go.
Trains travel the length and breadth of the country and they're usually pretty reliable, even up in the far north of Sweden, where they spend large chunks of the year battling through ice and snow.
But what can you hope to see along the way? Are the sleeper carriages comfy? And is getting an Interrail or Eurail pass actually worth the investment? All aboard for answers!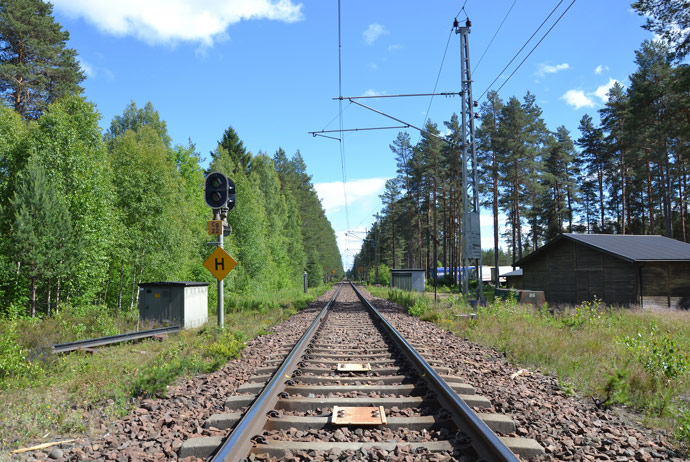 What are the trains like?
Interrailing in Sweden is a pretty stress-free experience. With a spare week or two you can visit the country's three biggest cities – Malmö, Gothenburg and Stockholm – without ever needing to take an overnight trip. The trains are frequent and fast, and even standard class is nice and comfortable.
If you want to travel further north in Sweden, to central parts of the country, to the main ski resorts, or up into Swedish Lapland, you'll almost certainly use a sleeper train. But more on those later.
Whether you want to snooze or admire the gorgeous scenery, remember that journey times are often very long: Sweden is a big country and what looks like a small distance on the map can actually turn into a 10-hour train ride.
Here are some sample journey times:
| | | | |
| --- | --- | --- | --- |
| From | To | Distance | Approx. journey time |
| Stockholm | Gothenburg | 400 km | 2hr 50min–4hr 40min |
| Kiruna | Stockholm | 955 km | 16hr 30min–17hr 30min |
| Malmö | Gothenburg | 240 km | 2hr 20min–3hr 20min |
| Stockholm | Umeå | 630 km | 6hr 20min–9hr 10min |
You could buy individual tickets for each leg of your journey through Sweden but if you're planning on taking a lot of trips within a set period of time then getting an Interrail or Eurail pass might be the best option.
Interrail or Eurail?
Confusingly, there are two different types of rail pass available to foreign visitors who want to see Sweden by train (sorry Swedes, you can't buy one of these passes for your own country!).
Interrail passes are for European citizens and people currently living within Europe, while Eurail passes are for everyone else. Prices vary depending on the passenger's age – if you're 25 or under you'll get a nice discount.
With both types of rail pass you have the option to travel only within Sweden or through several different countries. Go for a multi-country option and when you're done exploring Sweden you'll be able to cross into neighbouring countries like Norway, Finland and Denmark (which, let's face it, is the best thing about Interrailing). You can check ticket prices on the ACP Rail website.
How do the passes work?
Lots of different Interrail and Eurail passes are available. The cheaper ones limit you to a few days' travel within one country over a set period of time, while the top-end passes give you unlimited train travel across Europe for up to three months.
You can travel as far as you like each day but the pass will (probably) be stamped each time you use it, so you'll need to plan your journeys carefully. You might decide that it works out better value to cover lots of ground on a couple of long journeys, rather than using the pass to make lots of short trips.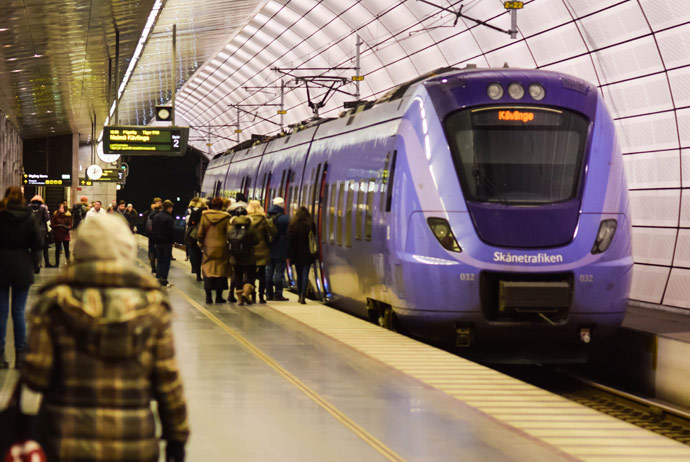 Which Swedish trains can you use?
Interrail and Eurail tickets are valid on nearly all Swedish railway routes, including night trains and high-speed services run by the government-owned train company SJ.
The passes are also valid on most of the country's private train services, such as the Arlanda Express airport shuttle in Stockholm and the Öresundståg, which runs from Copenhagen to Malmö. There are exceptions – for example, you can't use your rail pass on the MTR Express service between Stockholm and Gothenburg.
The main types of trains
Commuter trains
Commuter trains (pendeltåg) operate near big cities like Stockholm and Gothenburg. There's no buffet car and you don't need to arrange a seat in advance.
Inter-city trains
These trains cover longer distances and have separate first- and second-class areas. They also have on-board bistros serving drinks and snacks.
High-speed trains
Sweden's fastest trains (called X 2000 or SJ 3000) cover some of the most popular routes, such as Gothenburg to Stockholm. There's wifi on-board.
Night trains
Long-distance night trains with sleeper carriages cover south-north routes such as Stockholm to Kiruna. On these trains you can choose between a regular seat or a lie-flat bed.
Reserving seats and cabins
Even if you have a rail pass, you'll need to reserve a seat on some Swedish trains.
The general rule is that you must make a reservation on all long-distance trains, high-speed trains and night trains. It's also wise to book a place if you're going to be travelling for a couple of hours or more on an inter-city service, though this isn't actually compulsory.
There is a fee for each reservation you make, ranging from 35 SEK for short journeys to around 375 SEK for night trains. Actually making the reservation can be a bit of a pain – either call SJ on +46 771 757 575, use the ACP Rail website (there's an extra fee), or head to your nearest Swedish train station.
Timetables
The best starting point for planning train journeys within Sweden is SJ.se (it's available in English). The site lists the train routes that Interrail and Eurail passes are valid on, and also includes routes into Denmark and Norway.
Night trains in Sweden
SJ's night trains have a few different sleeper carriages. Some are more comfortable than others. The type you're most likely to encounter (and the one that most people with Interrail and Eurail passes stay in) is the six-person 'couchette' cabin – known in Swedish as a liggvagnskupé.
These cabins are fairly cramped and not ideal if you end up sharing with a bunch of snorers, but at least you can lie flat and get a bit of rest during the night. Sheets are included and you can choose between mixed- and single-sex cabins.
Stepping up a notch, the three-bed compartments are a little more spacious. They also have luggage racks and sinks (toilets are outside the rooms). The most luxurious and expensive option is to book a private cabin for yourself.
If you have a standard rail pass and want anything other than the most basic type of sleeping space, you'll have to pay a surcharge. Reservations are essential and cost extra.
If you don't mind getting a bit of a numb bum, you can skip the sleeping carriages altogether and sit in a regular train seat.
Food and drink
Drinks, snacks and even full meals are available on most long-distance trains in Sweden. Look out for the knife-and-fork symbol when reserving a seat – these services all offer refreshments.
Travelling with a bike
Regular bikes are not allowed on SJ trains. Folding cycles are allowed, though.
Is it worth buying an Interrail pass?
If you're planning to make a lot of train trips (or even just a couple of long journeys) then it's definitely worth getting yourself an Interrail or Eurail pass.
A one-way journey from Stockholm to northern Sweden could easily cost you 800 SEK, which is around half the cost of the cheapest one-country Interrail or Eurail pass. So even if you made just one more long journey within Sweden, you'd probably earn your money back.
Another major advantage of buying an Interrail or Eurail pass is that you will be immune to price fluctuations (most train tickets in Sweden, like airfares, become more expensive the closer you get to the day of departure).
Other perks include discounted ferry journeys, free trips across to Copenhagen and Copenhagen airport, and free bus rides in places where trains are not available – like the stretch of land between Luleå and Haparanda, right on the Finnish border. There's also a discount on journeys from Malmö to Berlin aboard the Berlin Night Express, which operates during summer.
How much do Interrail passes cost?
To check prices or buy a train pass just head over to the ACP Rail website.
Interrail itineraries within Sweden
Here are a few itineraries to help you see Sweden's best bits with a train pass.
The big three
Days of rail travel allowed: 3
Validity period: 1 month
Rail pass cost: around $200
Check out Sweden's three biggest cities (Stockholm, Gothenburg and Malmö), staying in each place for as long as you like.
Central Sweden
Days of rail travel allowed: 4
Validity period: 1 month
Rail pass cost: around $220
Ride the scenic Inlandsbanan train line through the very heart of Sweden, calling at picturesque towns such as Kristinehamn, Mora, Östersund and Gällivare.
End to end
Days of rail travel allowed: 8
Validity period: 1 month
Rail pass cost: around $340
Travel the full length of the country, from the rolling farms of the south to the wild mountain scenery of Swedish Lapland.
Interrail trips through Scandinavia
If you like the idea of covering all of the Scandinavian countries in one train-based extravaganza, take a look at these itineraries. You'll need a global or multi-country pass to make them work.
Scandinavian cities
Days of rail travel allowed: 5
Validity period: 15 days
Rail pass cost: around $300
Take the train to some of the best Nordic cities, including Stockholm, Copenhagen and Oslo.
Norway, Sweden and Denmark
Days of rail travel allowed: 6
Validity period: 2 months
Rail pass cost: around $420
See the northern lights, go gallery-hopping, photograph the fjords, or try wild camping.