No palm trees, no coconuts and no warm, tropical breezes. It's true: Sweden is a bit of an unusual choice for a honeymoon. But if you fancy something out of the ordinary, with a good mix of outdoor adventure and gorgeous scenery, all topped off by long, romantic evenings snuggled by the fire, it might just be worth considering. Here's our pick of the most romantic places in Sweden.

Harads
Why Harads
It's tiny and around 80km northwest of the nearest big city (Luleå) but the Swedish village of Harads has found its way into glossy travel magazines the world over. The big attraction? The Treehotel. This is one of the coolest places to stay in Scandinavia, with dreamy tree houses strung up between tall pines. Choose to spend your honeymoon in the saucer-shaped UFO, the perfectly camouflaged 'mirrorcube', or the twig-wrapped tree house that's been made to look like a snug little bird's nest.
What to do
Clad with sweet-smelling timber and decorated with minimalist furnishings, these little tree houses are the embodiment of Nordic cool. If you feel like lazing in bed all day and enjoying views across the forest from beneath the duvet, you can. Otherwise, head out into the great outdoors for some horse riding, dog sledding, or hiking. There's always a hot sauna (also built among the trees) to retreat to in the evening.
Where to stay
Choose one tree house to hide yourselves away in for the duration of your honeymoon in Sweden, or hop between a few different ones during your stay. If you want to keep costs down a bit then there's a cheaper, more traditional pensionat (guesthouse) that's run by the same couple and located on the same big plot of land.
When to go
Summers this far north are endlessly bright and cheery, while winter days are almost guaranteed to be topped with great big dollops of snow. Go during the winter and you'll also have a chance to spot the northern lights.
More info
Check rates for the Treehotel on Booking.com
Stockholm
Why Stockholm?
Stockholm is about as good looking as capital cities get. And although relatively small, it crams in the romantic backdrops and photo opportunities in a way that few other cities can. Cobbled lanes, needle-like spires, candlelit cafés and cathedral-sized museums and galleries are all an important part of the mix, but there's also a flashier, more contemporary side to the city where smart interior design boutiques, fashion houses and gourmet delis lure in locals who are keen to flash the cash.
What to do
Tear yourselves away from the main beauty spots in Gamla Stan (the old town) and you'll find loads more to keep you amused. Go kayaking together for a new perspective on the city, go swimming off Långholmen, soak up some serenity in the Stockholm Archipelago, rummage through Södermalm's vintage stores, or check out some of Scandinavia's best museums and galleries. The Vasa Museum, Moderna Museet and Medeltidsmuseet are all perfect half-day excursions.
Where to stay
Stockholm isn't cheap, but it rewards visitors with some really memorable sleeps. Berns is an old Stockholm institution with prize-winning views of the city from its top-floor suites. Right in the heart of the old town, Sven Vintappare is a charming little hideaway, and the perfect retreat after a day of pounding the pavements. If you really want to push the boat out, consider hiring MS Monika, a yacht from the early 1900s, which bobs around in a leafy part of Kungsholmen.
When to go
Spring, autumn and winter can all be appealing, but summer is when Stockholm really comes into its own. The days are extra long, and the parks and gardens are in full bloom.
More info
Our main Stockholm guide has more info on what to see and do.
Swedish Lapland
Why Swedish Lapland?
Swedish Lapland feels a million miles from the rest of Europe, thanks to its fairy-tale scenery and snow-covered forests that'll have you thinking that you've stumbled into Narnia. It's cold, sure, but magical, otherworldly, and intriguing. Share sleigh rides and saunas with your loved one, then fall head-over-heels in love with the magnificent northern lights.
Where to stay
The Icehotel in Jukkasjärvi is still the place for couples to be. Cuddle up in a fantastical suite that's made completely from ice, with a cup of warm lingonberry juice in your belly and a couple of thick reindeer skins beneath you to keep the chilly ice at bay. It's too cold in here to even contemplate getting amorous though, so book a few nights in a more traditional hotel too – Máttaráhkká Northern Light Lodge near Kiruna is a nice, out-of-the-way option. There are also warm rooms at the Icehotel itself, but they're pricey for what you get.
What to do
See the northern lights, ride snowmobiles across the frozen river, learn how to carve ice together, meet reindeer, discover Sami culture, or drink Swedish vodka in a bar where everything's made of ice. If you're not quite at the honeymoon stage yet, you can even get yourself married in the Icehotel's chapel (it's also made out of ice).
When to go
The Icehotel opens in December and remains that way until the ice starts to melt – usually in early April. The snow begins to fall in Swedish Lapland much earlier, usually from October onwards. You can (theoretically, at least) see the northern lights whenever it's dark, though poor weather and a lack of solar activity can make things more difficult.
More info
How to do the Icehotel on a budget
The Icehotel explained
Our guide to Jukkasjärvi
Gotland
Why Gotland?
A favourite among wealthy Stockholmers, the Baltic island of Gotland is popular for a reason. Go during the winter and the whole place is ghostly quiet, but arrive during the main summer rush and you might struggle to get a room. The capital Visby is a fantastically well-preserved medieval stronghold that simply oozes history. When you tire of getting lost among its half-timbered houses, duck into candlelit restaurants with wonky ceilings and warped walls for some hearty Swedish food, washed down with plenty of local beer.
What to do
Away from Visby, Gotland has some excellent beaches and some surprisingly impressive caves – hire a car and you'll have no trouble finding crowd-free beauty spots. The much smaller island of Fårö, home to some weird-looking sea stacks, has a real edge-of-the-world feel to it.
Where to stay
Just a little way from the centre of Visby, Snäckbacken 8 has modern, apartment-style accommodation with sea views. For something older and more traditional, try Hotel Helgeand Wisby or Mullbärsgårdens Bed and Breakfast – both are close to the centre of town.
When to go
Summer is ideal, but try to avoid week 29 (in mid July) when the annual influx of rich brats from Stockholm causes prices to skyrocket.
The west coast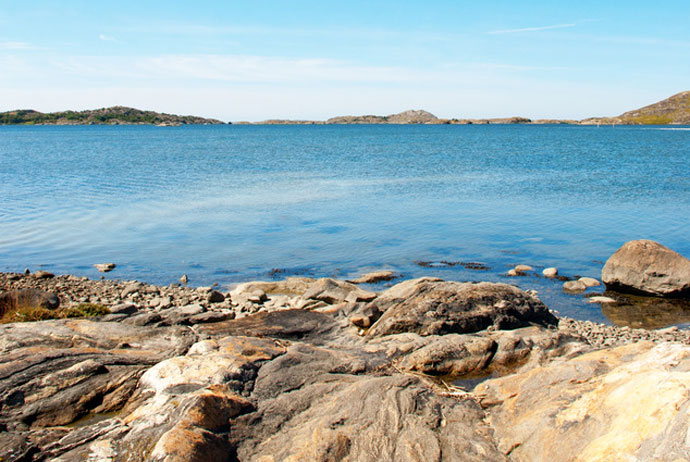 Why the west coast?
Sail boats, low-slung islands and more fresh seafood than you could ever hope to eat: the west coast of Sweden is paradise for couples looking to escape the bustle of the big city. If all the peace and quiet gets too much then Gothenburg, a short journey away, has enough fun attractions to keep you busy for a few days.
What to do
Join a shellfish safari, go skinny-dipping, sunbathe on smooth granite rocks, pick mushrooms in the forest, or go island hopping – either by sailboat or with the reliable local ferry services.
Where to stay
Gothenburg itself has plenty of honeymoon-friendly places to stay. Our picks for a romantic hideaway include design-conscious Avalon and the flashy Upper House, both of which are within easy reach of the main sights. When it comes to staying at places further along the coast, try one of the hotels on Marstrand, or Väderöarnas Värdshus on the remote Weather Islands, where there's a chance of seeing wild seals.
When to go
Winter on the west coast has a certain rugged charm, with bruised grey skies looming over the choppy waves – but the constant windy squall is enough to put a dampener on any romantic vibe. Summer is usually glorious, while spring and autumn are extremely changeable. Plan for rain, sleet and shine.
Need more ideas for your trip to Sweden? Start here.