In need of a pick-me-up? There are some great coffee shops and cafés in Gothenburg, but the same ones seem to crop up in travel articles again and again. And while it's true that if you go to Haga you'll find big cinnamon buns and some cosy places to fika, there's a lot more to Gothenburg's coffee scene.
Here are some suggestions for cool, off-the-beaten-track cafés to seek out next time you're in town. Scroll down to see all of the coffee places on one map.
Kafé Marmelad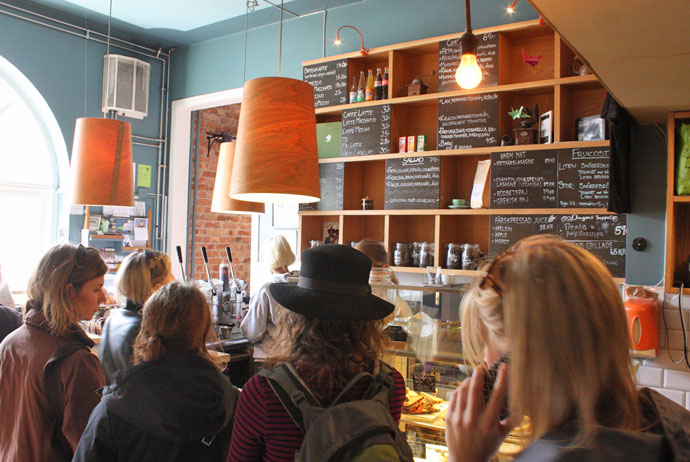 Sweet treats await at Kafé Marmelad, a popular hipster hangout on tree-lined Mariagatan, a quick tram ride southwest of the city centre. It's a laid-back place with coffee that kicks like a mule, plus noticeboards advertising local gigs, courses and art exhibitions. Good breakfasts, healthy salads and seats out on the street (in summer, anyway) help to seal the deal.
Mariagatan 17, Majorna
Mon–Thurs 10am–9pm, Fri–Sun 10am–8pm
Take tram 11 or 3 to Mariaplan
Röda Sten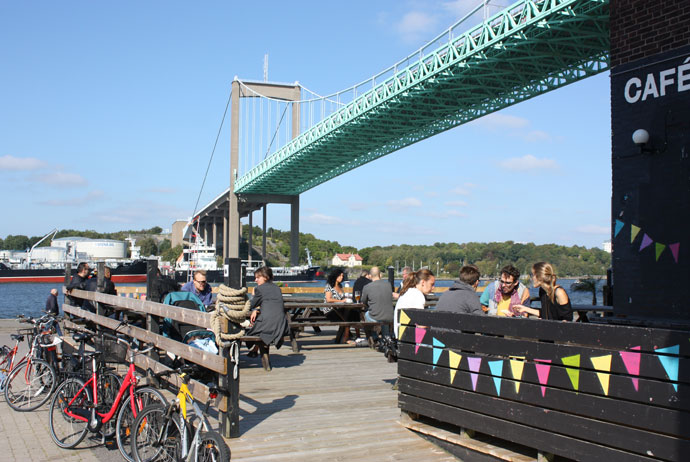 Gothenburg's coolest contemporary art gallery, located in an old boiler house by the river, is also home to a top-notch café. Decorated with shabby second-hand furniture, it sells fresh cakes and pastries, iced coffees and some great vegetarian food. A few different beers and wines are available too and the terrace at the back – with views over the water – is perfect on sunny days.
Röda Sten 1
Mon–Fri 11.30am–6pm, Sat & Sun noon–6pm
Take tram 3 or 9 to Vagnhallen Majorna
Is the Gothenburg Pass worth buying?
Read this guide to see how much you could save during your trip!
Mahogny Coffee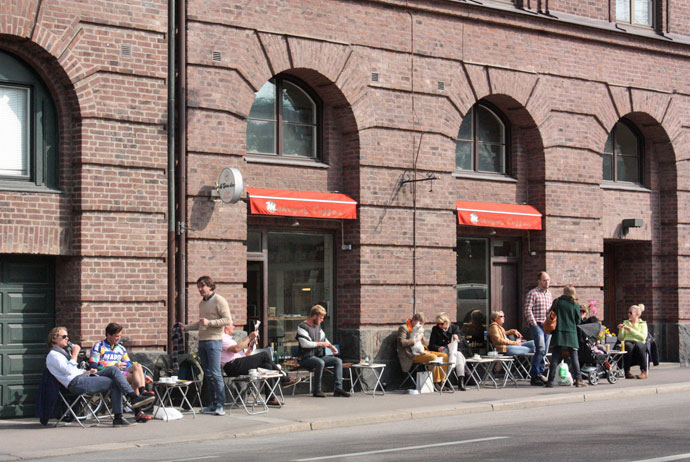 Mahogny is a proper coffee lovers' place in a mostly residential part of the wealthy neighbourhood called Johanneberg. The espresso is great, there's salt liquorice for sale in little paper bags, and the seats out the front are ideal for a bit of people watching. Even though it's within walking distance of the centre, you might well be the only tourist here.
Gibraltargatan 4
Mon–Fri 7.30am–6pm, Sat 9am–4pm, Sun 10am–4pm
Take tram 7 or 10 to Kapellplatsen
Bar Centro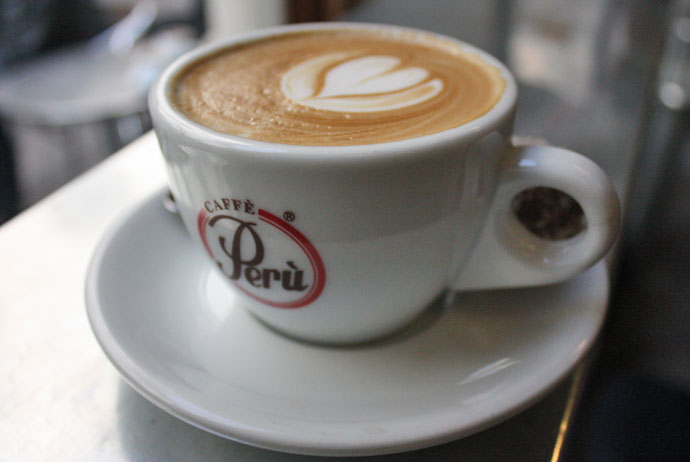 Lots of people visit Bar Centro during the evening, when it serves full meals with natural wine, but it's also worth a look during the daytime, when it feels more like a smart Italian espresso bar. Good, strong coffees are served from behind a counter loaded with pastries and Swedish chokladbollar (chocolate balls). Note that this place is cash only, hence the list of handwritten IOUs on the wall.
Kyrkogatan 31
Mon–Tues 6am–9.30pm, Weds–Thurs 6am–10.30pm, Fri  6am–late, Sat 8am–late, Sun 8am–5pm
Take the tram to Brunnsparken or Kungsportsplatsen
RECOMMENDED HOTELS IN GOTHENBURGMORE HOTELS
Kafé Zenit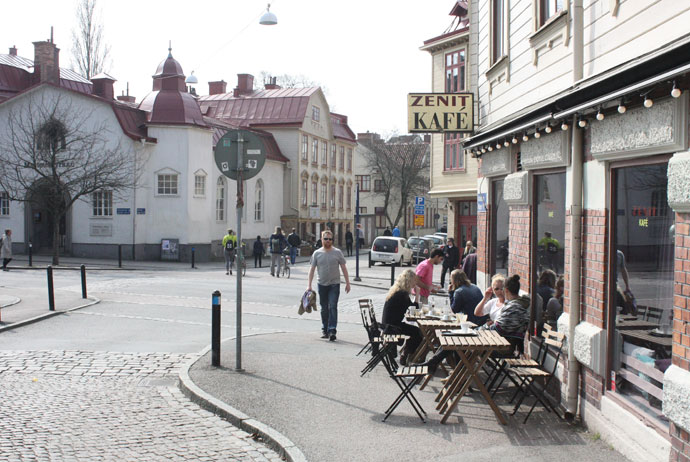 Long popular with students looking to get caffeinated over cheap cups of tea, Kafé Zenit has undergone a bit of a transformation in recent years, and now attracts more of a mixed crowd. It's still a solid option for a lunchtime snack in Majorna: grab a wrap, salad or grilled sandwich, then sit either inside beneath glowing lampshades and lanterns, or on the willow-shaded square across the street.
Allmänna Vägen 11, Majorna
Mon–Thurs 9am–8pm, Fri–Sun 9am–7pm
Take tram 3, 9 or 11 to Stigbergstorget
Brogyllen
For a more traditional kind of Swedish coffee break, try Brogyllen, just across the canal from the City Museum. The freshly baked cakes and pastries here are about as good as it gets, and the surroundings are surprisingly lavish – it does get very busy though. You'd do well to acquaint yourself with some of these classic Swedish fika snacks before joining the queue.
Västra Hamngatan 2
Mon–Thurs 7.30am–8pm, Fri 7.30am–7pm, Sat 8.30am–5pm, Sun 9.30am–5pm
Take tram 1, 6, 9 or 11 to Domkyrkan
Bönor & Bagels
Best known for its hunger-busting soup and bagel deals, Bönor & Bagels also does good lattes and cappuccinos in friendly, relaxed surroundings near Slottsskogen park. The salads and vitamin-packed smoothies are reasonably priced, considering this is one of the city's most exclusive areas, and the terrace out front is one of the nicest among dozens on Linnégatan.
Linnégatan 48
Mon–Sat 10am–6pm, Sun 11am–6pm
Take tram 1, 2 or 6 to Olivedalsgatan
Café Santo Domingo / Dirty Records
Organic Dominican coffee lures caffeine fiends to this combined record shop and café on Andra Långgatan. While gentrification slowly works its way up and down the street, this place remains pleasingly tatty, and still attracts a nice mix of music fans, young parents and coffee addicts.
Andra Långgatan 4a
Mon–Thurs 9.30am-6.30pm, Fri 9.30am–9pm, Sat 11am–4pm
Take the tram to Järntorget
Da Matteo
Okay, so it's hardly off the beaten track. But this former riding house on Magasinsgatan is one of the best places to get a flavour for Gothenburg's coffee culture. The beans for the coffee served here are roasted just across the parking lot out front, which is home to a few hipster-friendly food carts. There's also an onsite bakery taking care of all things fika. Expect a young, fashion-conscious crowd.
Magasinsgatan 17A
Mon–Fri 7.30am–6pm, Sat 8am–6pm, Sun 10am–5pm
Take tram 1, 2, 6, 9 or 11 to Grönsakstorget
Need more suggestions for places to eat and drink? Check out our main Gothenburg guide.
Map of cafés in Gothenburg
Like what you've been reading? Get our best tips by email!