Dancing, feasting, drinking and a seemingly endless supply of sunlight: there's a lot to like about Midsummer in Sweden.
With the possible exception of the weeks leading up to Christmas, the other big festival on the Swedish calendar, it's the best time of year to be a foreign visitor in the country.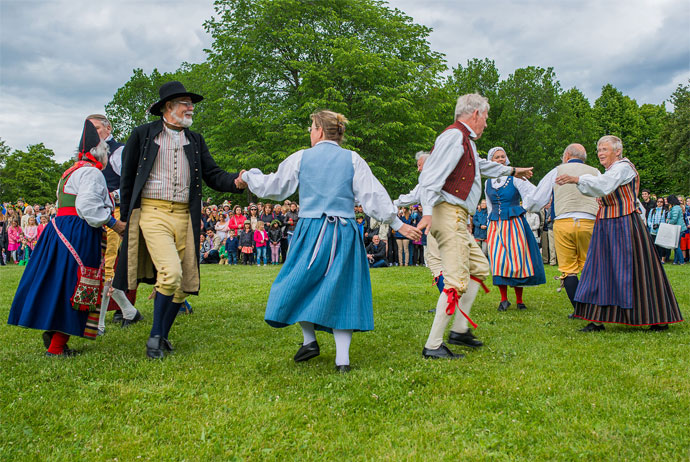 Midsummer – or midsommar – is still a huge deal across Sweden, with people young and old getting together to celebrate, either at large community events or smaller gatherings of friends and family.
Almost everyone gets to finish work early on Midsummer's Eve, leading to a mass exodus from cities like Stockholm and out into the countryside, where meadows full of wild flowers are at their most beautiful.
What's Midsummer all about, then?
Swedish Midsummer traditions are thought to have their roots in pre-Christian, sun-worshipping cultures. The time of year around the summer solstice, when the darkness of night is replaced by a magical twilight, would have held special significance for people in northern climes.
Despite later attempts by the church to transform Midsummer into an entirely Christian festival, it's the pagan symbols that have stood the test of time.
Women and young children still put wild flowers in their hair, and communities across the country still decorate phallic midsommarstänger, or maypoles, for people to sing and dance around.
The best known of all the songs performed is Små Grodorna (Small Frogs). Its lyrics (The little frogs, the little frogs, are funny to observe/No ears, no ears, no tails) have very little to do with Midsummer, but nobody seems too worried.
Midsummer food and drink
The other part of the traditional Swedish Midsummer celebration involves eating and drinking copious amounts, ideally outside, and ideally without rain or mosquitoes to dampen the mood.
The classic midsommar lunch is eaten around a table stacked with boiled potatoes, different types of pickled herring, crispbread and salads, though these days just about anything goes.
What starts off as a civilised feast can often end up getting rowdy, thanks to the large amounts of bitter-tasting snaps consumed throughout the meal – not to mention the accompanying songs, which inevitably end with everyone taking a gulp of the strong stuff.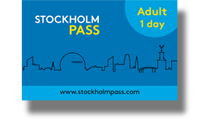 Is the Stockholm Pass worth buying?
Read this guide to see how much you could save during your trip!
When is Midsummer?
Celebrations in Sweden take place on the day known as midsommarafton – that is, Midsummer's Eve.
Until the 1950s this meant the 23rd June, but the rules have since been changed so that Midsummer is always celebrated on a Friday, to help fit in better with the working week.
Midsummer 2018: Friday 22nd June
Midsummer 2019: Friday 21st June
Midsummer 2020: Friday 19th June
Is everything shut during Midsummer?
The Friday (Midsummer's Eve) is the main event, so many shops are closed altogether, or only open for short periods.
In larger cities like Stockholm, Malmö and Gothenburg many restaurants, petrol stations and big supermarkets will still be open, though your options will be limited in rural areas. The same applies on the Saturday (Midsummer's Day).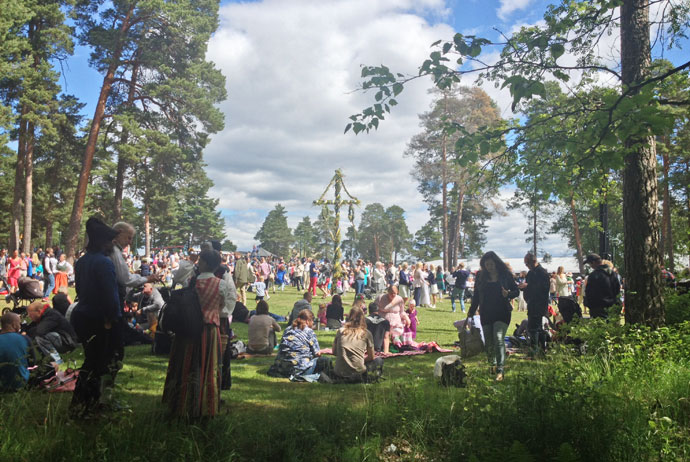 What's the weather like at Midsummer?
It could be gloriously sunny, but there's a running joke in Sweden that the weather on Midsummer's Eve is often the same as at Christmas.
Realistically, snow is very, very unlikely, even in the north, and there's a good chance you'll be basking in warm weather.
Daylight-wise, the sun sets for just a few hours in Stockholm and Gothenburg. In Swedish Lapland, the sun stays above the horizon right around the clock.
The best places to celebrate Midsummer
The best way to experience Midsummer is with a group of Swedes.
Unless you're lucky enough to have been invited to dinner with some Swedish friends, your best bet is to head to one of the public gatherings which are held in parks and town squares around the country.
These tend to kick off fairly early on Midsummer's Eve – aim to get there for around midday.
Midsummer celebrations in Stockholm
If at all possible it's worth leaving Stockholm for the countryside, as that's where you'll find the really traditional Midsummer celebrations.
If you're short on time or just don't fancy leaving the big city, however, there are a couple of places you can try on Midsummer's Eve:
Skansen
Stockholm's huge open-air museum, Skansen, puts on the city's biggest Midsummer celebration.
There's been some kind of Midsummer festivity taking place here since 1892, and the tradition continues today with three days of dancing, folk music and wreath making, starting on Midsummer's Eve.
Go early (before 10am) to avoid the worst of the queues. This year the maypole will be raised at 2pm on Midsummer's Eve.
There's more on this year's Midsummer celebrations at Skansen here. If you want to stay near Skansen, Scandic Hasselbacken is a family friendly option with comfy rooms.
Entry to the park is 220 SEK on Midsummer's Eve (children under 15 years old enter for 60 SEK). To get there, take a tram bound for Waldermarsudde from Sergels Torg and get off at Skansen.
Vitabergsparken
To experience Midsummer on a smaller scale in Stockholm, head to Vitabergsparken, a small park on the eastern side of Södermalm, for the usual dancing, singing and snacks.
It's free to get in, with the celebrations running until around 4pm. Entry is free and it's fairly easy to reach from the city centre; bus #3 from Slussen stops on Gotlandsgatan, near the park's western edge.
NB: This event was cancelled in recent years and has not yet been confirmed for 2019!
Akalla By
Akalla By is a good option if you want to enjoy traditional Midsummer celebrations away from the hustle of the city. It's easy to reach using public transport (just take the T-bana to Akalla).
Djurönäset
If you want to escape the city but still stay near to Stockholm, you can always celebrate out in the archipelago.
Djurönäset Konferens & Hotell, which is accessible from the city centre by road, usually puts on a traditional Midsummer lunch, complete with pickled herring and all the trimmings. Rooms are available on Booking.com.
Midsummer celebrations in Gothenburg
Slottsskogen
Gothenburg's main park, Slottsskogen, is one of the best places in Gothenburg to celebrate Midsummer.
Expect games, dancing and picnicking around the maypole. One of the city's best hostels – also called Slottsskogen – is just around the corner offering dorms and private rooms. Entry to the park is free for everyone.
Trädgårdsföreningen
Close to Gothenburg's central train station, the park called Trädgårdsföreningen is a nice place to watch the Midsummer celebrations. Entry is free and the park is off Slussgatan, just south of the train station.
The coast

If you'd rather celebrate away from the city and stay right near the coast, try Säröhus Hotel, around half an hour's drive south of Gothenburg.
Extras like champagne, snacks and scrubs are thrown in during the Midsummer weekend (rooms can be booked here) and there are traditional Midsummer celebrations at Bassängbacken, a short walk away.
Half an hour further south, the Midsummer festivities at Tjolöholm Castle attract around 5000 people.
And for the best Midsummer parties in Sweden?
If you're looking for the best place to celebrate midsummer in Sweden, our advice is to head to the countryside.
Dalarna, in the central part of the country, has some spectacular scenery, with rolling green hills broken by shimmering lakes and red wooden cottages.
Lots of the hotels here put on special midsummer offers: try Tällbergsgårdens Hotell, right near Lake Siljan, or nearby Klockargården Hotell.
Towns and villages around the lake put on some of the country's best Midsummer parties – try Leksand, Rättvik or Mora.
Almost every village in these parts has its own maypole and the celebrations are usually spaced out, making it possible to celebrate Midsummer a few times within the same week. Just pace your snaps carefully!
Don't forget insurance – even if your trip has already started!
It's no good visiting Sweden for Midsummer if you don't have adequate travel insurance.
Even though Sweden is safe, we strongly recommend getting a decent policy in place for your trip.
It really can make a world of difference when things go wrong. For lots of different reasons, including the fact that they will cover you even if your trip has started, we recommend World Nomads. You can get a quote below.
Also read:
Sweden travel guide (perfect for first time visitors!)
The ultimate guide to camping in Sweden
Where to see the midnight sun in Sweden
Special places to stay in Sweden
TOURS AND ACTIVITIES IN SWEDENMORE TOURS
Like what you've been reading? Get our best tips by email!