Karlstad is the surprisingly lively capital of western Sweden's Värmland region. It's home to one of the largest coffee brands in the Nordic countries, as well as a successful ice hockey club and Sweden's largest rally event.
Okay, okay: so it might not be as dynamic a city as Stockholm or Gothenburg. But what it lacks in size it makes up for in heart. As our guide shows, you'll still find plenty of things to do in Karlstad all year round. Here are some budget-friendly activities to get you started.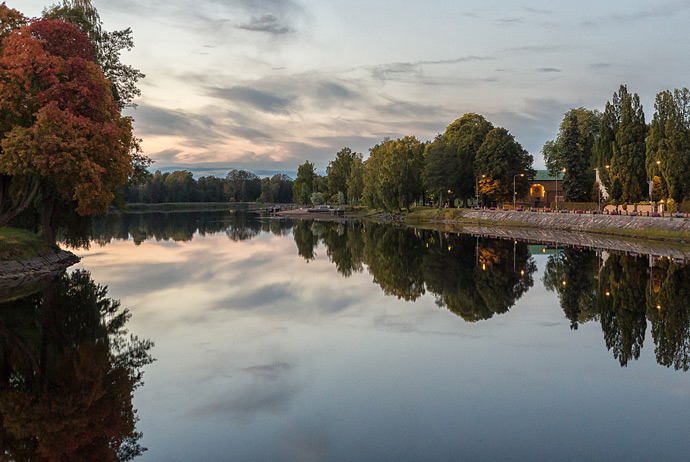 Get a caffeine hit at Karlstad's coffee factory
There's no better way to start off your visit to Karlstad than with a cup of strong Swedish coffee brewed by one of the country's best-known coffee brands, Löfbergs. Simply follow your nose to the factory at the Inner Harbour.
The adjacent café, Rosteriet, is a pleasant place to indulge in a morning fika, but if the sun's out then grab your coffee to go and njut av solen (enjoy the sunshine) harbourside. Expect to pay around 38 SEK for a cappuccino, or join one of the free tasting sessions that take place at 1pm on Tuesdays.
Hop on your bike
On weekdays from June to September, you can borrow a bike for free. Just head to Solacykeln in the yellow hut that stands on the main square. You'll need to show photo ID, leave a contact number and return the bike by 6pm.
Karlstad offers a multitude of cycle paths, including the Klarälvsbanan beginning at Kroppkärr, just northeast of the city centre. The cycleway is built over a disused railway track and provides a relatively easy and picturesque route past fields and farms.
Take a snap of Sweden's oldest stone arch bridge
Östra bron (or Gamla stenbron) dates back to the 18th century. It's only accessible to buses but if you're visiting in summer you can take the popular båtbuss (boat bus) beneath it and continue on a peaceful journey along the Klarälv river.
Close to Östra bron you'll find Gubbholmen, a small island in the middle of the river where you can enjoy a free workout at the popular outdoor gym.
Soak up some vitamin D
Karlstad's symbol is a smiling sun, so it's no surprise that the city has plenty of spots to absorb some rays. If you've got young kids in tow, head to the city park Mariebergsskogen for a picnic, a visit to the petting zoo or a spot of mini golf.
Teenagers will prefer to hang out at the beach at Bomstad, around 9km west of the city, close to Ikea and the Bergvik shopping centre. Alternatively, do as the locals do and simply find a grassy area near the river or by the lake in Sundsta, a short walk north from the city centre.
Climb Kronoparken's water tower
About 7km northeast of the city centre you'll find the university and the neighbouring area of Kronoparken. The water tower on Sommargatan is open throughout July for visitors.
After ascending 234 steps you'll get a majestic birds' eye view of Karlstad and the surrounding Värmland forest. There's also fika (of course) as well as games for kids.
Sample local produce at a Christmas market
Karlstad's Christmas markets have that country vibe that you won't get in the larger cities like Stockholm and Gothenburg. Admission to the largest one in Mariebergsskogen is around 40 SEK but the one at Alsters Herrgård costs just 20SEK and is a much cosier event. A free bus travels between Karlstad's main square and the market. Most stalls take Swish but bring cash with you just in case.
Watch Rally Sweden
Sweden's largest rally event takes place every February. If you've got some wheels of your own head out to rally locations in Torsby, Hagfors and Sunne to watch some of the action.
Otherwise, the prize-giving ceremony in Karlstad's main square is a big event with plenty of celebration. Keep a close eye out for the Prince of Sweden and Duke of Värmland himself, Carl Philip, who is usually in attendance.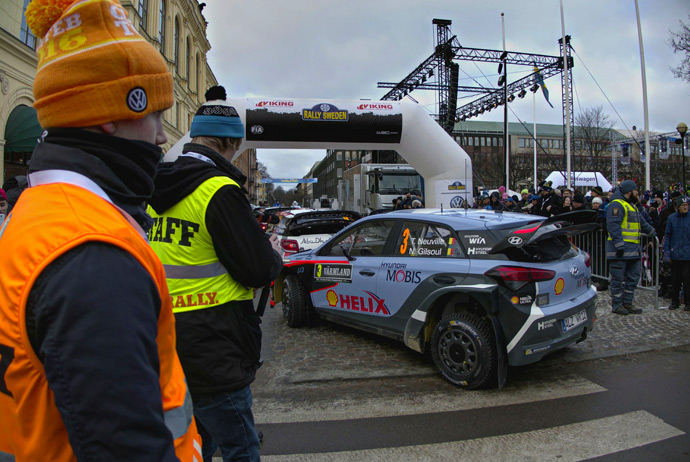 Attend a festival
Putte i Parken takes place in July every year and admission is free. Big Swedish and international acts such as Kent, Paramore and La Roux have performed here.
The Island Festival in August costs a fair whack but you can enjoy the music for free by the Klara River in Sundsta. Värmland Pride is held in September and various venues throughout the city offer up musical and dance acts, DIY activities, theatre, art installations, workshops and lectures.
Cheer on FBK
Färjestads Bollklubb, or FBK for short, has won the Swedish Hockey League nine times, most recently in 2011. Win or lose, FBK fans are ardent and vocal supporters. Some see them as a rowdy bunch but they certainly add some extra excitement to the matches.
Watching FBK play a home game in Karlstad is an experience not to be missed. Standing tickets start from 90 SEK, a third of the price of seated tickets, and buses (25 SEK one way) travel between the main square and Löfbergs Arena, around 3km north of the city centre. That's right, the company behind that cup of coffee you had upon arrival sponsors the ice hockey arena – and the local team.