One of the things we love about Copenhagen is that behind the city's well-polished façade, with its green parks, clean streets and good-looking locals, there's another Copenhagen to discover – one that's thick with the smell of booze and smoke, and alive with the sound of songs and stories.
Since 2007, smoking has been banned in indoor spaces in Denmark. The only exception to the rule is bars, cafés and clubs that are smaller than 40 sq m in size. As it turns out, Copenhagen has plenty of these little places. Spread out all over the city centre, they only have space for around 10 tables but are usually open long after midnight.
Their low prices, friendly staff, good music and grungy interiors are just some of the reasons why locals choose them for a night out. Here are some of the best cafés, dive bars and clubs for smoking in Copenhagen (or just hanging out).
Klaptræet
Kultorvet 11
Around 100m southeast of Nørreport station you'll find Klaptræet, an elegant bar and coffeehouse with a great variety of hot and cold beverages, plus plenty of burgers and snacks.
The place is divided into smoking and non-smoking areas, but wherever you choose to sit, the large windows will offer you a nice view of the pedestrianised shopping street out front.
The prices are not the lowest in Copenhagen but when you consider how central it is, they're really not bad at all. When night falls, coffee cups are replaced by cocktail glasses and the music gets louder, especially from Thursday–Saturday, when special events take place and DJs spin uplifting tunes.
Hvide Lam
Kultorvet 5
If you'd like to check out a really old Danish bar, head just around the corner from Klaptræet where you'll find Hvide Lam. Every night, the sound of jazz music spills out from this quirky watering hole at number 5.
The bar's been on the same spot for about two centuries. Step inside and the chances are you'll spot a gang of old jazz veterans playing the double bass, saxophone, guitar and piano, with locals soaking up the atmosphere until the small hours of the morning. If you want to grab a table we'd suggest heading in early, as the place is quite small (and regulars usually reserve some of the tables).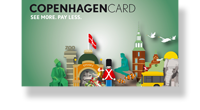 Is the Copenhagen Card worth buying?
Read this guide to see how much you could save during your trip!
Bo-bi Bar
Klareboderne 14
Close to Hvide Lam on Klareboderne, you'll find Bo-bi Bar. On a narrow street in the heart of the city centre, Bo-bi has been serving booze since 1917 and over the years it's become a real favourite among Danish journalists and writers.
The moment you enter the historic bar you'll realise that the decoration has not changed much in the past 100-or-so years. Framed paintings hang from walls decorated with red and gold wallpaper, while faded tablecloths and threadbare curtains create a homely feeling that locals seem to love.
Bo-bi Bar attracts bohemians from every age group – stay here long enough and it's only a matter of time before someone strikes up a conversation (or a cigarette). While smoking is allowed inside the bar, using your mobile phone isn't. Cameras are also frowned upon, but if you're really keen you might be able to convince the bartender to let you take a few snaps.
Byens Kro
Møntergade 8
As Bo-bi Bar closes its doors at 2am (even on weekends), many of its customers move just around the corner for one more beer at Byens Kro.
Plenty of amateur and professional artists exhibit their paintings at this bar. The large wooden tables are often shared by more than one group of friends, making it easy to meet people. If you don't feel very sociable you can just choose a table for two at the corner of the bar. Either way, you'll probably see locals playing traditional Danish dice games (and betting with beers and shots). Join one of these groups and you might just end up drinking for free.
Moose Bar
Sværtegade 5
From Monday–Thursday Byens Kro closes at 3am but if you're in the mood for another drink, don't worry. On the next street you'll find Moose Bar – it's one of the few bars in Copenhagen that stays open until 6 or 7am, even on weekdays.
When you first enter this place you might be disappointed by how small it looks, but it does open up a bit once you get past the bar. With graffiti-painted walls, cheap beer and loud rock music, it's no wonder so many locals finish their night up here. The central location (Sværtegade 5) makes it easy for you to get there from most parts of the city (and not get lost in the way back to your hotel or hostel). Generator Hostel, one of the city's best cheap digs, is just a three-minute walk away.
Floss
Larsbjørnsstræde 10
Another good late-night bar in Copenhagen is Floss. Its two floors gets packed every day until 2am, uniting people with a shared passion for strong beer and good music. Head downstairs if you want to practice your pool skills, or if you just want to relax on one of the comfy couches.
Café Salonen
Sankt Peders Stræde 20
For more Copenhagen nightlife walk to the north of Floss and in just two minutes you'll find Café Salonen. This 1960s style café-bar, complete with vintage posters and checkerboard floors, gets full with 20-somethings from early morning till after midnight.
Its location makes it the perfect place for a pitstop while exploring the city centre, or for a quick drink before heading back to your room. At 9pm the kitchen closes and the lights get dimmer, transforming the cosy cafe into a smoky bar while rock 'n' roll hits fill the air until 1am.
Tjili Pop
Rantzausgade 28
If you're looking for somewhere a bit more chilled out, head to the café called Tjili Pop. It's a bit out of the way, between Nørrebro and Frederiksberg, but it has a great reputation and serves up delicious desserts and drinks every day.
With quirky objects dotted around the place (including an old typewriter and a vintage bicycle), Tjili Pop is divided into three spaces – sit at the shared wooden tables, on the comfy couches, or in the smoky room at the back. Every week, special events and live concerts take place in the afternoons, so keep an eye out for updates on their Facebook page.
Drone
Nørrebrogade 184
Finally, if you want to finish off your night sweating on a dancefloor, Drone is the place to head for. It's situated at Nørrebrogade 184 (the long queue in front of the entrance is a sign you're at the right place).
On the first floor the music is quiet enough that you can talk with your friends over a drink, but things get wilder downstairs. As you start descending, the thick smell of smoke and alcohol gives you the first hint of what you're about to experience. The music down here runs from shoegaze and rock'n'roll to electronica and techno, so there's usually something for everyone.
Update 13/02/2017: Drone Bar seems to have closed down.
Like what you've been reading? Get our best tips by email!