Smartly dressed staff, the gentle clinking of glass bottles… and the strange feeling that you're doing something naughty: welcome to Systembolaget, Sweden's alcohol monopoly.
In Sweden, all supermarkets and convenience stores are forbidden from selling alcoholic drinks that exceed 3.5% in strength.
This means that if you want to kick back with a glass of red wine or have a couple of cheeky gin and tonics, you'll need to go to a bar. The only alternative (if it hasn't already closed by the time you get there) is to go shopping at Systembolaget – Sweden's alcohol monopoly.
Why does Sweden have an alcohol monopoly? And why, why, why doesn't it sell cold beer? Our guide to surviving Systembolaget will give you all the answers you need.
What the heck is Systembolaget?
Systembolaget (literally, 'the system company') is a nationwide chain of stores. Run by the government, they are the only shops in Sweden with permission to sell strong drinks.
Through a combination of restrictive opening hours and seemingly bizarre rules (like not allowing the sale of crates of beer) its stated aim is to minimise alcohol consumption and improve public health.
Of course, Systembolaget also nets the Swedish government a tidy profit and locks consumers into buying at set prices. If you want to buy a bottle of wine to drink at home, there's basically nowhere else you can go – unless, like some Swedes, you make frequent trips to Germany, where prices are lower.
Finding a branch of Systembolaget
Almost every Swedish town and city has at least one branch of Systembolaget, though in some parts of the north distances between stores can still be huge. In Stockholm and Gothenburg, it's never much effort to find a shop.
You'll know you've stumbled across a branch of Systembolaget when you see the classic green and yellow sign. It looks more like the logo for an insurance company or a bank than the nation's booziest store.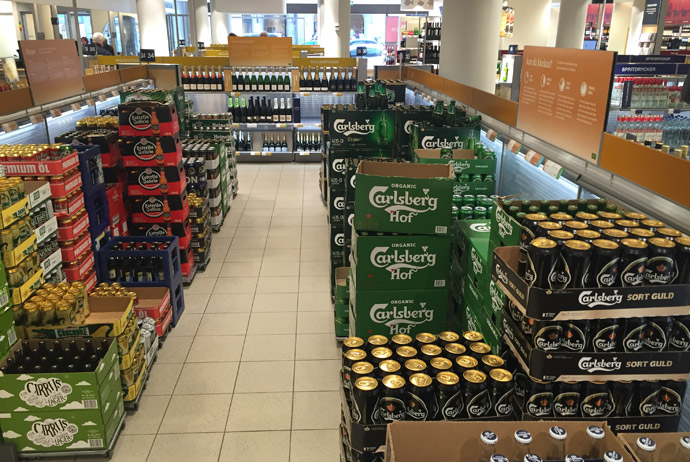 What's it like inside Systembolaget?
Things have brightened up a bit in recent years but there's still a strangely utilitarian feel to Systembolaget stores and on quiet days it can feel like you're being a bit naughty by stocking up on booze.
The stores are divided up into different sections for wine, beers and spirits and have posters that proudly boast about Systembolaget's achievements in encouraging responsible drinking (if you've ever been to a Swedish party, you may not agree). There's no music, so the gentle clinking of glass bottles provides the soundtrack.
Tell the neatly dressed staff members at Systembolaget what you're planning to eat for dinner and they'll usually be able to offer advice on what drinks match well. They can also order drinks in for you on request.
What can you buy?
All Systembolaget stores have a good selection of drinks, including craft beers and some pricey wines. There's no limit on how much you can buy in a single visit, but there are some important things you should know:
• You can't buy cold beer. Even on a hot summer's day, you'll have to buy your beer at room temperature and take it home and cool it down before you drink it. Systembolaget's argument is that if some beers were cooled down, it would give the brewery that produced them an 'unfair advantage' over others.
• The same applies to wine. No chilled rosé for you, sorry!
• There aren't any special offers or money-off deals.
• You can't buy sealed crates of beer. You can however buy 12 cans of beer in a tray (and as special offers are forbidden, you'll just pay 12 x the cost of a single can).
• Not everything inside Systembolaget contains alcohol. As part of the monopoly's campaign to promote healthy drinking habits, it has increased the amount of non-alcoholic wines and beers it sells. Look out for the word alkoholfri, which means 'alcohol free'.
• Systembolaget's famous plastic bags, which you're sure to see being carried on every high street, cost money. Grab one before you pay the cashier and they'll add it to your bill.
Are the drinks expensive?
Compared with the USA and the UK, yes, Systembolaget is quite expensive. But it's not nearly as expensive as Swedish bars and restaurants. You can get a half-decent bottle of red wine for around 100 SEK, while Swedish beers cost around 10–15 SEK per 330ml can.
When is Systembolaget open?
For anyone who likes a tipple, the simple answer to this question is: 'not often enough'.
The main thing to remember is that Systembolaget is always closed on Sundays. The shops also close in the early afternoon on Saturdays, which means you'll often see Swedes engaged in a last-minute dash to the bottle shop as they try to stock up for the rest of the weekend.
Our advice: avoid Friday evenings and Saturday afternoons. There are often big queues, not just at the cash registers, but also to get into the actual shop. This advice is especially important to follow before major holidays like Christmas and Midsummer. Go early or expect long queues and some seriously depleted shelves. On weekdays you can expect branches of Systembolaget to open at around 10am and shut at around 7pm.
Systembolaget is closed: what are my options?
If Systembolaget is closed, your options are limited to restaurants, bars and nightclubs. These sell alcohol until late at night (even on Sundays) but naturally, they charge a lot more than the bottle shops.
You'll also find weak beer (folköl) for sale at pizza shops, convenience stores and supermarkets. To get around the law, many famous brands such as Carlsberg and Guinness sell weaker versions of their beers to these outlets. Unfortunately, you can't get take-outs from bars and restaurants in Sweden (if you buy a bottle of something, you have to drink it onsite).
How old do you have to be to buy booze at Systembolaget?
You have to be 18 to drink in Swedish bars, but the minimum age for buying alcohol at Systembolaget is 20. ID checks are pretty much guaranteed if you are under 25 years old, though, so make sure you have your driving licence or passport handy.
Why do Swedes accept this strangeness?
Systembolaget has been a part of Swedish life since the mid-1950s and the idea of a monopoly is still supported by the majority of Swedes, who fear that liberalising the market will lead to an increase in problem drinking.
One recent study suggested that 77% of Swedes support the monopoly. And even though that study was commissioned by Systembolaget, we believe the results; mention Systembolaget and most Swedes will proudly remind you that the store has a very good selection of drinks.
Five drinks to buy when visiting Systembolaget
You'll find drinks from all around the world at Systembolaget but there are a few Swedish tipples that are well worth buying when you visit. Put these in your basket for a true taste of Sweden.
Beerbliotek Black IPA
Hailing from Gothenburg, Beerbliotek is one of the new breed of cool Swedish breweries turning out delicious craft beers. The brand's Black IPA is a dark, bitter brew that's perfect for cold nights in.
Carlshamns Flaggpunsch
Punsch is a super-traditional liqueur made from arrak, and has been consumed in Sweden in one form or another since the 1700s. Carlshamns Flaggpunsch is one of the best-known brands, and can be bought for around 75 SEK a bottle. Although it still has the Swedish flag on the bottle, these days it's actually made in Finland. It's a bit sweet, a bit spicy, and as the name suggests, it packs a decent punch.
Mack by Mackmyra
Think single malt and you're more likely to imagine Scotland than Sweden. But in the past few years the Nordic nation has been branching out, producing some fruity, malty tipples of its own. A bottle of this tasty Swedish whisky (46%) will cost you around 300 SEK.
Pistonhead Kustom Lager
A bright, fruity and hoppy lager from central Sweden, this brew is the ideal accompaniment to a summer's day by the lake. At around 11 SEK a can, it's decent value, too.
Värmdö Kryddsnaps
Snaps is the drink that gets brought out for special occasions in Sweden, be it Midsummer's eve or the classic Christmas feast. Coming in at 40% and around 300 SEK a bottle, this lightly spiced, golden coloured drink is sure to warm your cockles.
Further reading:
Swedish souvenirs worth buying
Sauna etiquette in Sweden
Celebrating crayfish season in Sweden
Midsummer: the ultimate guide
Like what you've been reading? Get our best tips by email!