Who doesn't love a Swedish smörgåsbord? This tempting table groaning full of tasty hot and cold dishes is a treat for the eye and for the stomach.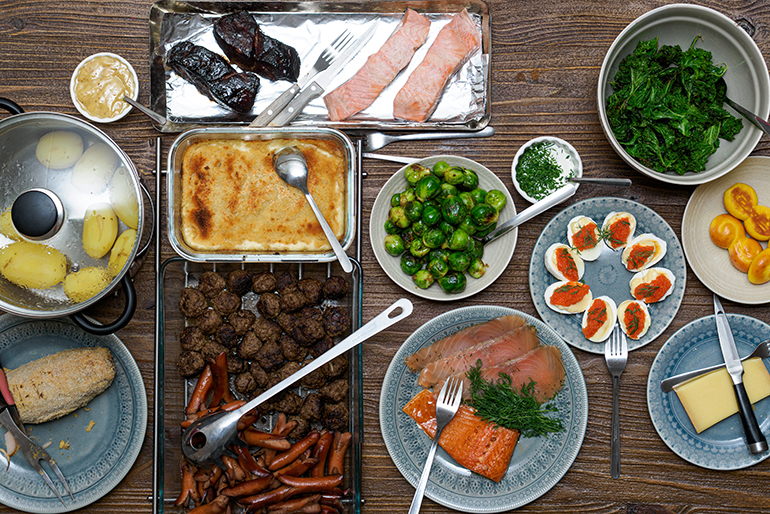 But what does a traditional smörgåsbord consist of? And what's the difference between a buffet and a smörgåsbord?
Read on to find out all you need to know about this delicious Scandinavian feast, from the origins of smörgåsbord to how to pronounce it.
What is the meaning of smörgåsbord?
The word smörgåsbord is Swedish and its etymology comes from the words smörgås, meaning "open sandwich" or "buttered bread" and bord meaning "table". So, the definition of smörgåsbord is literally a table full of open sandwiches.
However, a true smörgåsbord doesn't actually have open sandwiches in it at all, but rather a selection of different plates and dishes of food.
Although the origins of a smörgåsbord are Swedish, it can be found throughout Scandinavia with Norway, Denmark and Finland all having their own versions of the meal.
It's not to be confused with the Danish smørrebrød, which comes from the words smør (butter) and brød (bread), and actually is an open sandwich – ie: one slice of bread with a variety of toppings such as egg, prawns, smoked fish, cheese or meat.
So, what is a smörgåsbord menu?
The traditional smörgåsbord menu consists of cold plates laden with different kinds of fish and seafood. Prawns, smoked mackerel, cured salmon and fish roe often feature, but the mainstay is pickled herring, served in a variety of ways.
Hard-boiled eggs and cold meats, such as salami, liver pate, smoked ham and sausage also feature, usually accompanied by pickles, onions or mustard.
For the hot dishes, a classic smörgåsbord example in winter would be meatballs, roast pork and mini sausages (called prinskorv – or 'prince sausages') accompanied by a warm spiced red cabbage dish. In summer, light dishes such as quiche and mushroom pie with salad are often served.
The cheese plate usually features three different types of cheese – a blue, a hard cheese and a soft cheese, accompanied by grapes and pickles.
A smörgåsbord also includes, of course, a selection of salads, such as beetroot or celeriac remoulade, plus rye bread and crispbreads.
Once you've tackled all the above, you'll be pretty stuffed but a good smörgåsbord often ends with coffee plus a light berry cake or small chocolate or marzipan sweets.
Smörgåsbord vs buffet: which is best?
Essentially, a smörgåsbord and a buffet is the same thing and you may well even hear the term referred to as a smörgåsbord buffet. However, there are differences in how they are served.
With an all-you-eat buffet, the tradition is often to stuff your plate full of as much food as you can fit on it, while a smörgåsbord is more of tapas-style small plate meal, where you just take a little of each dish at a time, then come back for more later.
You eat each dish separately, though you can, of course, add bread, pickles or dill and mustard sauce to your plate.
In Sweden, all the smörgåsbord plates are put on the table at the same time like a buffet and guests can help themselves, while in a Danish smörgåsbord, the dishes are served separately.
In both countries, the dishes are eaten in a specific order starting with the pickled herring, then the other fish and seafood plates, then the cold meats, followed by the warm dishes, salads and vegetables. After that come the cheeses, then desert and coffee.
Whichever type of smörgåsbord you have, the idea is that you take a little at a time, then come back for more.
A true smörgåsbord lasts a few hours with the guests returning to the table multiple times to help themselves to small portions of food. In between plates, chatting and sometimes even singing is the order of the day, especially after a few shots of aquavit or vodka.
Aquavit is the traditional accompaniment to a smörgåsbord, though it's acceptable to drink beer too if the shots are too much for you!
What is a julbord?
A Swedish julbord is the Christmas version of a smörgåsbord, that basically consists of everything a normal smörgåsbord has plus some festive extras.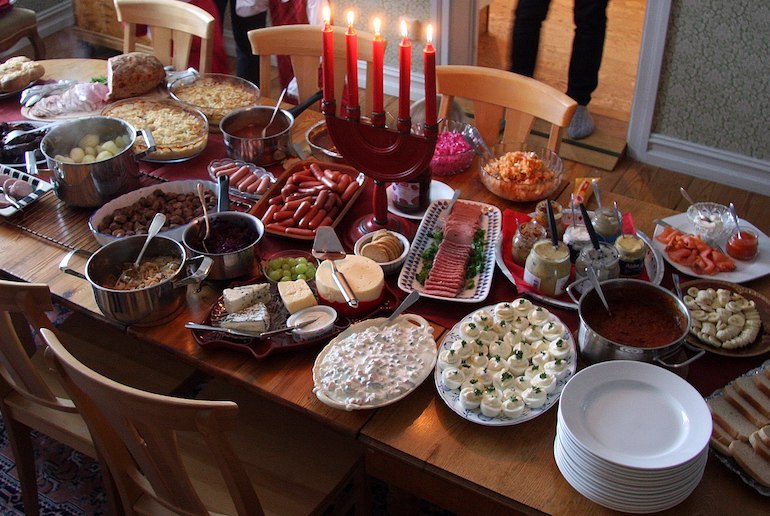 Janssons frestelse (Jansson's Temptation) is a popular julbord dish, which is a gratin made of thinly-sliced potatoes and onions baked in cream, with pickled sprats (or more commonly nowadays anchovies) added to give it a kick.
It's not very trendy these days, but dopp i grytan (dip in the pot) also features on the classic julbord – it's a type of fondue made from ham broth, that you dip bread into.
What is a smörgåsbord restaurant?
In truth, the best place to eat smörgåsbord is at home or with friends, but there are some restaurants that serve a selection of hot and cold plates buffet-style.
In Sweden, the Verandan restaurant in Stockholm's Grand Hotel Stockholm's Grand Hotel serves a decent smörgåsbord, with a lovely view of the waterfront. For SEK 625, you can sample a selection of tasty plates such as meatballs with lingonberry jam, gravadlax, salads and a variety of fish dishes.
A cheaper option is the café at Stockholm's Moderna Museet, which serves good-value typical smörgåsbord dishes which change daily for around 150 SEK. It too has a fabulous harbour views from its terrace.
How to pronounce smörgåsbord
Smörgåsbord (smore-gus-board) is pronounced pretty much as it's written, but the accents are important and change the sound slightly. Over the years the word has become corrupted (especially in the US) to be pronounced shmorgishborg, which means a mishmash of leftovers made into a dinner.
And if you're wondering how to spell smörgåsbord, well the correct Swedish way is smörgåsbord, though you will often see it written without the accents as smorgasbord.
Smörgåsbord thesaurus
The word smörgåsbord has now passed into general usage to mean a mixture or variety and can be applied to pretty much anything. Alternative words with a similar meaning are hotchpotch, miscellany, medley or mishmash.
See also:
Themed restaurants in Stockholm
Where to find the best meatballs in Stockholm
Stockholm for vegans and vegetarians