Located in southern Sweden, the province known as Småland is one of the country's most beautiful areas to explore, offering a taste of the 'real' Sweden beyond the big cities. It's also easy to reach from Stockholm and Gothenburg, making it an obvious choice for a bit of rural exploration on your trip to Sweden.
Småland offers everything from sprawling forests and glittering lakes to quiet farmsteads and picturesque coastal towns, and is well worth exploring if you have a few days to spare.
Apart from the huge number of outdoor experiences and activities on offer, Småland lets you discover renowned Swedish design, important industrial heritage, and a few grand castles and manors. Travelling between the main sites, you'll pass a seemingly endless number of deep blue lakes, peaceful viewpoints, and typical Swedish cabins in lovely rust-red colours.
When to visit
Getting there
Getting around
Where to stay
What to see and do
Budgeting for a trip to Småland
When to visit Småland
To make the most out of everything that Småland has to offer, both in terms of nature and activities, the best time to visit is from May to late September. April, when the trees and meadows begin to burst into life, is also a beautiful time of year.
Visit in October or March and you should prepare for every eventuality. It could be mild and sunny, or it could be icy and cold. The winter months are beautiful, and December is an especially good time to visit if you want to experience some proper Swedish Christmas traditions – you can expect to find cosy candlelit cafés, traditional Christmas fairs and plenty of tasty festive foods to make up for the cold weather.
January, February and March can all be snowy months, and although the roads remain open, you should always allow extra time for journeys.

Getting there
Småland's main cities make natural starting points for exploring the region. There are airports inVäxjö, Kalmar and Jönköping, but only Växjö Småland has enough international flights to make it a useful option when arriving from outside Sweden.
If you're flying to Gothenburg, Malmö, or any of the airports in Stockholm, the easiest way to reach Småland is by car. Alternatively you can take a bus or train to one of the main cities in Småland and then use local transport for shorter journeys.
For example, Swedish rail company SJ has daily services to Jönköping from Stockholm (via Skövde or Nässjö) and Gothenburg (via Falköping). Tickets for intercity train journeys in Sweden are available on the ACP Rail website.

Getting around
Småland is not as tiny as its name implies (små means small in Swedish). In fact, the region is about the same size as Belgium. It's divided into three main counties with the large-ish cities of Jönköping, Kalmar and Växjö acting as natural bases for travellers.
The easiest option is to rent a car, but with more time and flexibility you can get around surprisingly efficiently using the region's public buses. Cycling is another option but as the distances involved can be long, you should make sure you're well prepared before setting off (see this guide for more info on cycling in Sweden).

Where to stay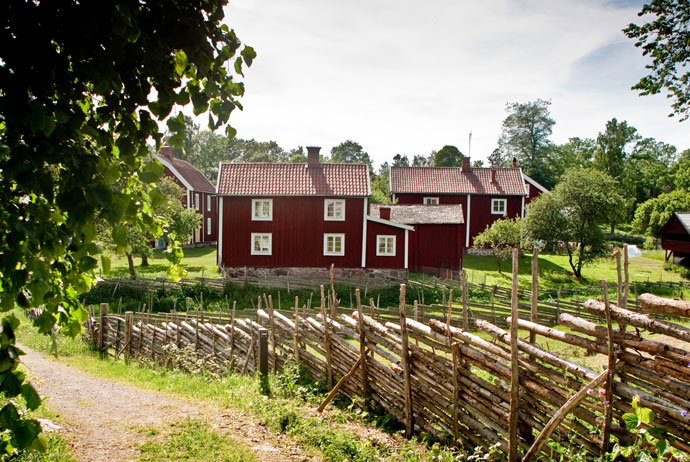 Jönköping, Växjö and Kalmar all have plenty of options when it comes to hotels. Renowned restaurant PM & Vänner in Växjö has its own hotel and is worth a stop. Over in Jönköping, Vox Hotel has a great reputation, or if you're spending time in Kalmar you could try Slottshotellet, a charming old town hotel with handsome gardens.
If your budget allows, you might also consider staying at one of Småland's many manor houses – some of these have been transformed into hostels or high-end hotels. Some have spas and most have decent restaurants. Need a recommendation? Try Gränsö Slott Hotel & Spa. By the Baltic Sea in the idyllic coastal town of Västervik it offers easy access to the beautiful archipelago just offshore (by boat or kayak!).
Renting your own red Swedish cabin is a more affordable option, especially if you're travelling with a fairly large group (you can search properties here).
Campsites and places to stop with a motorhome or caravan are found all over Småland, and these usually charge per night while providing creature comforts like showers and heated bathrooms. Remember that the 'right to roam' policy in Sweden, Allemansrätten, gives you the opportunity to put a tent up for a night in most places (with some exceptions) as long as you don't disturb nature or people living nearby. There's more on camping in Sweden here.
If you're looking for a more unusual place to spend the night, Småland won't leave you disappointed.
Try the old lighthouse Garpnes Fyr, or the spectacular treehouse called Korpaboet, which hangs six metres off the ground.

What to see and do
The forests, lakes and small tranquil villages are enough to keep most visitors happy, but Småland also has a rich history of design and industrial development, so themed attractions have sprung up to cater for the steady trickle of tourists passing through. If you're travelling with kids, you're in luck: Småland is home to some of the country's best theme parks and activity centres.
Visit the 'Crystal Kingdom'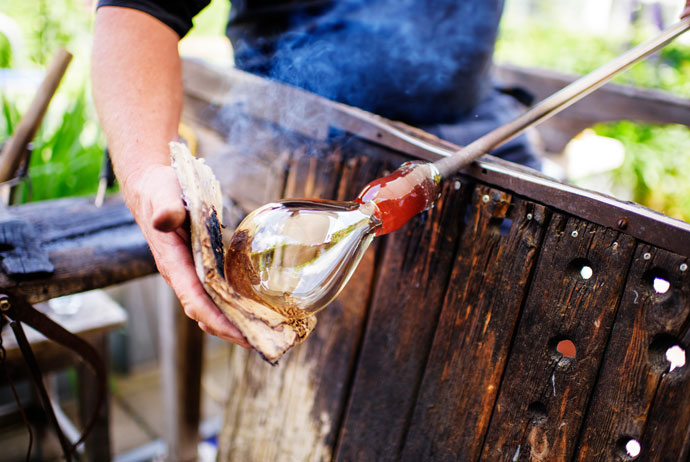 Parts of Småland have been associated with glassmaking since the 1700s and at one stage, 45 separate glassmaking factories were found in this part of the country. The 'Crystal Kingdom' (Glasriket) stretches between Växjö and Kalmar and there are lots of stops along the way allowing you to see experienced glassblowers in action.
The most famous brands include Kosta Boda and Orrefors, both of which have visitor centres and gift shops to stop at. Kosta Boda has even spun the glass concept into an upscale residence – the Kosta Boda Art Hotel – which sparkles with cut glass fixtures and fittings.
Feel the 'spirit of Gnosjö'
Småland has had a surprisingly big impact on Sweden's industrial and entrepreneurial development. The area around Gnosjö is proud of its innovations and successful businesses, and it's said that there is a special Gnosjöanda (Spirit of Gnosjö). You can learn more about local triumphs at two museums on opposite sides of town – Töllstorp Industrial Museum and Hylténs Industrial Museum.
See where Ikea started
The unassuming town of Älmhult, Småland, is where Sweden's most famous brand began back in 1943. There's still an Ikea store here, and the town also has a bright, well-curated museum detailing the company's past, along with some of its plans for the future.
Flatpack not your thing? Other local brands have jumped on the museum bandwagon. The Husqvarna Museum in Jönköping tells the story of the Swedish brand that now creates everything from tractors to chainsaws, while at Tandsticksmuseet in Jönköping you can find out all about the birth of the safety match (yes, there's a museum dedicated to matches).
Go cycling
If you want to get really close to nature in Sweden, cycling is a good choice. Småland has plenty of quiet roads and forest trails that make up for great adventures or relaxing tours to the nearest coffee stop.
In Jönköping, you'll find great cycling routes, guides and rental bikes at Cycling Jönköping. You can reach a former European mountainbike championship course and some road cycling routes with great views within minutes of the city centre.
If you're planning a longer stay, try Isaberg Mountain Resort near Hestra which has plenty of trails, plus bike rental, a great restaurant, cosy cabins and lots of other fun activities for the whole family.
Visit beautiful castles
Kalmar Castle and its history go back 800 years, and the fortress served as an important strategic hub during many violent years of war against Denmark. It's open to the public, and apart from the usual tours and exhibitions there are special activities for children, including dressing-up sessions, treasure hunts and the chance to meet the castle's 'princess'.
Further north near Jönköping, surrounded by the deep blue water of Lake Vättern, is the pretty island of Visingsö. Näs Slott, on the island's southern tip, is Sweden's first royal castle. The Visingsborg castle ruin are also found on the island Visingsö, hosting a yearly medieval festival.
Eight kilometres north of Växjö you will find another castle ruin beautifully situated by the lakeside. Kronoberg Castle was once a key fortification against the Danish but also served as a stronghold for domestic rebellions.
Hit the theme parks
Over in Vimmerby, the Astrid Lindgren theme park is one of the main attractions in Småland. Theatre shows featuring favourites like Pippi Longstocking are performed daily and you'll find lots of playgrounds and theme areas to explore. The children's 'film village' in nearby Mariannelund (called Filmbyn Småland) gives insights on the making of the Astrid Lindgren movies in the area.
The Wild West theme park High Chaparral in Hillerstorp has been around for a while and continues to add attractions. For something different, visit an elk park and get up close with the king of the Swedish forest. Kids can even feed the animals apples and give them a quick pet.
Enjoy the great outdoors
With around 5000 lakes in Småland, fishing is big business. There are lots of opportunities for sport fishing in the area, but in most cases you need a fishing permit first – these can be bought online at fiskekort.se.
Canoeing and kayaking offer a great chance to get onto the water itself, and you'll find casual rental places in many towns and cities (usually summer only).
Other outdoor activities include hiking in the Store Mosse National Park – a marshy area with boardwalks and trails – and riding Europe's longest zipline at Sweden Zipline (the lines run for a total of 4km!).

Budgeting for a trip to Småland
Smålänningar, the people of Småland, have a bit of an unfair reputation in Sweden for being very cost conscious. The good news for visitors is that prices here tend to be lower than in southern cities like Stockholm and Gothenburg.
A double room at a comfy hotel or B&B will range from 700–1200 SEK (more at really fancy places and spa hotels). Booking.com usually has the best selection of rooms and rates. If you stay in a Swedish cabin, be sure to book in advance – this is especially true in high season, when places tend to get booked out quickly.
Food can be expensive, with hotel restaurants and exclusive eateries charging sky-high prices for yummy, seasonal dishes. However, there are plenty of affordable, casual restaurants (eat your main meal at lunchtime, when prices are lower, if you want to save even more). The cheapest option is always to buy food from local supermarkets and prepare meals at your accommodation.
Our advice is simple: stick to the outdoorsy activities that make Småland so special, and you'll find that travelling here is far cheaper than in Stockholm or other big Scandi cities.
Like what you've been reading? Get our best tips by email!