Lund is as caffeine crazed as any other city in Sweden, and the large student population means there are plenty of cheap, friendly places to grab a cup of the strong stuff. Here are some of our favourite cafés and coffee shops in Lund – we've marked them all on a map below to make it easier to track them down.
Love Coffee
If you only have time for one cup of coffee in Lund, make sure you drink it here. Love Coffee roasts beans for cafés across town and has friendly owners who are only too happy to share their nerdy appreciation of the buzz-inducing beverage. They really do love coffee.
All the usual options are available inside the pleasingly simple café, along with pour-over and Aeropress brews and even espresso tonics (like a G&T, but with coffee instead of gin).
There aren't any meals on the menu but, this being Sweden, there's always something sweet on the counter. The gooey bulle (bun) we bought – sprinkled with crispy little nibs of cardamom and sugar – was one of the best we've eaten.
If you fancy it you can buy some of Love Coffee's beans to brew at home, or even join a home-brewing course.
Klostergatan 1L
+46 736 776 560
lovecoffee.se
Mon–Fri 9am–6pm, Sat 10am–5pm, Sun noon–4pm
St Jakobs Stenungsbageri
This top-end bakery sells mountains of organic sourdough bread, plus flaky croissants and mouth-watering pastries. It also does some of the strongest, most expensive coffees in town; the lattes here kick like a mule but will set you back 40 SEK apiece. A blend from the roasters at Love Coffee (see above) is also on offer.
The setting is a little shabby chic, with beat-up old sofas, pink throw cushions and exposed brickwork, but it's still a nice spot to recharge between museum visits.
Klostergatan 9
+46 461 370 60
stjakobs.se
Mon–Fri 8am–6pm, Sat 8am–4pm, Sun 8am–3pm
Coffee Break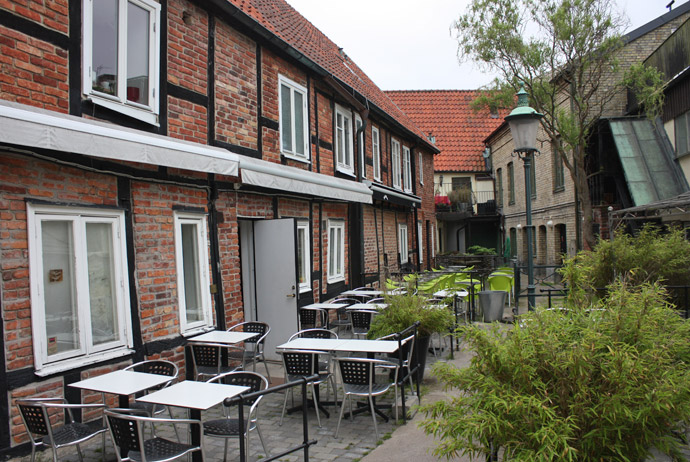 Coffee Break isn't the coolest café in Lund, but it is a genuine locals' hangout where pre-work coffees are slurped while reading the morning papers. Apart from the usual mochas and cappuccinos, there's tasty Fairtrade tea, plus chocolate muffins, sandwiches, bagels and wraps, with lots of gluten- and lactose-free options.
There's also small noticeboard near the entrance for catching up on local happenings, and a good-sized courtyard out the back for sunny days. Prices are a little lower than at trendier places in town – we paid 35 SEK for a very big (almost pint-sized) mug of coffee.
St Petri Kyrkogatan 3
coffeebreak.nu
+46 462 112 100
Mon–Fri 8am–8pm, Sat–Sun 9am–7pm
Patisseriet
Coffee smells start wafting out from Patisseriet early in the morning. It's a konditori serving cakes and pastries, including French-style macarons, and is a good place to see how the locals fika.
The other reason to come here is for a cheap and tasty breakfast – sourdough rolls with coffee and fresh orange juice cost just 45 SEK early in the morning. Later in the day, the café serves up baguettes loaded with smoked salmon and other fresh ingredients.
Klostergatan 3
+46 461 414 73
patisseriet.com
Mon–Fri 8am–6pm, Sat 9am–5pm, Sun 11am–5pm
Café Botan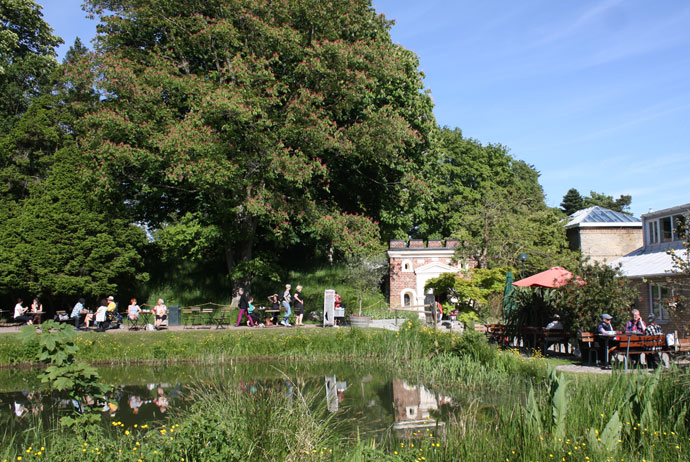 Run by the same folks as Patisseriet (see above) and open during the summertime only, Café Botan occupies a tiny crenelated building that's tucked away deep inside Lund's botanical gardens.
There's a lily-covered pond out front with benches dotted around the edge, providing the perfect spot for a cuppa or an ice cream while listening to the ducks splash around. Cheap salads and sandwiches are on sale if you're hungry. Make time for a look around the nearby glasshouse, which is home to some bloody big cactuses.
Botaniska Trädgården
botaniskatradgarden.se
Daily 10am–5pm (summer only)
Map of cafés in Lund
Need somewhere to stay? Check out our reviews of Lund's hotels.
Like what you've been reading? Get our best tips by email!