If you're planning a trip to Stockholm with the kids in tow, you'll notice how quickly things add up. But if you don't mind being flexible when it comes to location, there are some great, reasonably priced places to stay. What's more, kids visiting Stockholm are usually treated like royalty, and you'll find that most Swedes working at restaurants, hotels and attractions are eager to give little ones the red-carpet treatment.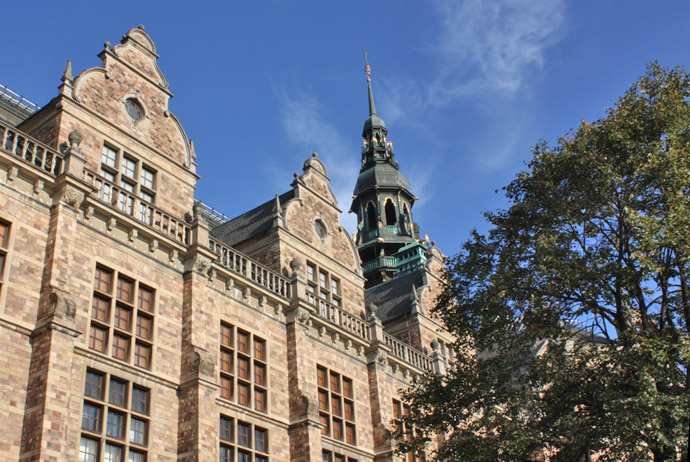 Where do you want to stay?
Your whole experience of Stockholm will be shaped by the part of the city you choose to stay in. Some areas of the city are greener and safer than others, with easy access to parks and play areas. Our advice would be to skip Norrmalm and Östermalm, which are both very central but experience the worst of the city's crowds and traffic jams, and instead pick one of the following areas.
Södermalm
Södermalm is the preferred stomping ground of Stockholm's well-to-do mums and dads, who come here to chat over expensive lattes and load up their vintage buggies with designer children's clothes. It's one of the city's coolest neighbourhoods to hang out in and has loads of good places to eat and drink, but prices for accommodation are relatively high – budget accordingly.
Gamla Stan
If you can put up with a steady stream of tourists then Gamla Stan is a reasonable option for families. It's undoubtedly the prettiest part of the city, with lots of museums and attractions to check out as you wander the cobbled streets. There isn't much traffic here either, but the steep slopes and uneven pavements might cause toddlers a few tantrums.
Kungsholmen
Kungsholmen offers a very good mix for families. There are plenty of places to go shopping and eat out, but there are also some nice parks and waterside walks. Another perk is that prices for accommodation tend to be a little lower than in more popular parts of the city like Gamla Stan and Södermalm. Actual sights are thin on the ground in Kungsholmen but if you get acquainted with the public transport network you can easily make trips from here to attractions right across the city.
Djurgården
Accommodation options on the island of Djurgården are extremely limited but it's one of the best places for families to make their base in Stockholm. Not only is it flat, it's home to a handy tram network and lots of tame cycle routes. The main draw, however, is the sheer wealth of things to do – many of the city's best museums are out here, and there's a great theme park that'll have kids whooping with excitement.
Långholmen
Another quiet, out-of-the-way option, Långholmen is a leafy island with barely any motorised traffic. There are some nice walking trails and sections of parkland here, and there's a safe, sandy beach at the top of the island – perfect for splashing about in summer. The hostel here, although located in a slightly spooky former prison, is a good option if you're travelling with kids.
Hostel or hotel?
If you're looking to keep costs down then it's worth considering a hostel. While some places are aimed squarely at solo travellers and groups of young backpackers, others offer family rooms with or without en-suite bathrooms. Another advantage is that these places tend to have kitchens, allowing you to rustle up cheap meals and limit the amount that you spend in cafés and restaurants.
If you go for a hostel, bear in mind that bed sheets and pillowcases are rarely provided. This is one of the most unusual (and annoying) things about Swedish hostels, especially if you arrive without sheets of your own and end up paying to borrow them. If you don't want to use up your entire luggage allowance by bringing sheets with you, consider buying some when you arrive – you'll find cheap sets at Ikea and department stores in central Stockholm.
Hotels generally work out to be a lot more expensive than hostels, especially if you have older kids who need their own rooms, but you may be able to get a good deal on a family room or a couple of separate rooms with interconnecting doors.
Some ideas for places to stay
Need some recommendations? Here are some of the best family friendly hotels and hostels in Stockholm. Each place has its own pros and cons, but they all go the extra mile to make families feel welcome.
Old Town Lodge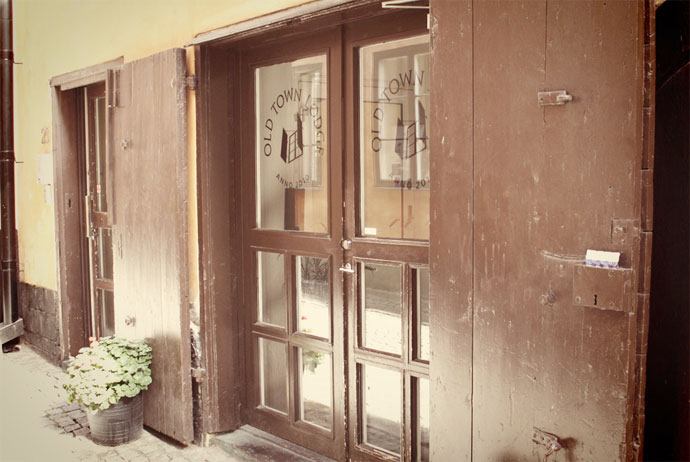 If you fancy staying in the heart of Gamla Stan, this cosy guesthouse in a 17th-Century building is a really good pick. It's a quiet, atmospheric place to rest your head for the night and there are private family rooms featuring double beds and bunks. There's also a guest kitchen. The location, hidden away on a narrow alley, is surprisingly sleepy for somewhere so central.
Read our full review of Old Town Lodge
Check rates on Booking.com
Zinkensdamm
In a quiet part of Södermalm, this long-running hotel and hostel is surrounded by greenery. It's not the flashiest of places but the cheap, family friendly rooms are available by the night, and some come with en suite bathrooms. There's a cheap café in the lobby, or you can make yourself breakfast in the well-equipped kitchen.
Read our full review of Zinkensdamm
Check rates on Booking.com
Långholmen Hostel & Hotel
This quirky former prison is out on the island of Långholmen, with clean, twin-bed 'cells' set around a bright atrium. There are also rooms designed for up to four people, making this a great pick for families. Older kids will enjoy looking around the on-site museum, which details the prison's history, and there's a café serving drinks and snacks. Kids will enjoy messing about on the sandy beach nearby.
Read our full review of Långholmen Hostel & Hotel
Check rates on Booking.com
Scandic Hasselbacken
Of all the hotel chains in Sweden, Scandic seems to make the biggest effort to keep kids happy. It's also the only big chain with a hotel on the island of Djurgården. Close to lots of museums and the Gröna Lund theme park, this place puts on a special buffet for kids and has a playroom where children can watch films and play video games. There's even a hedgehog called Sigge who acts as the hotel's mascot. Prices are relatively high here, but the location is hard to beat.
Read our full review of Scandic Hasselbacken
Check rates on Booking.com
Stockholm Hostel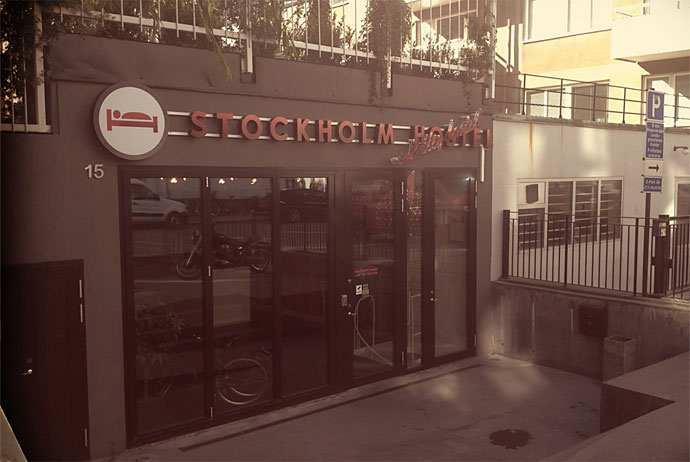 This clean, bright place in Kungsholmen is a little different from the bulk of Stockholm's hostels. The dorm-style rooms come with en suite bathrooms and can only be rented out by groups (there's no sharing with strangers here). There's also a total ban on alcohol, which means there's less chance of your little ones being woken up by rowdy partygoers. The location isn't the most central, but there are decent transport links to other parts of the city.
Read our full review of Stockholm Hostel
Check rates on Booking.com
MS Monika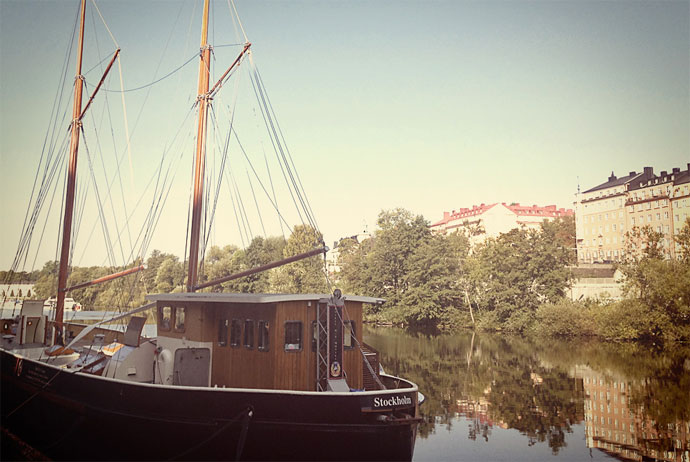 If you want to stay on the water then the hostel called Af Chapman is probably the cheapest option, but it's a little tired and is regularly overrun with school groups. For something more peaceful and personal, try MS Monika, a cute refurbished sailboat from the early 1900s. You can rent a single room or the entire boat, soaking up views of the city from the deck. DVDs and laptops are available to rent and there's even free wifi onboard.
Read our full review of MS Monika
Check rates on Booking.com
Need more tips? Check out our guide to seeing Stockholm with kids.
Like what you've been reading? Get our best tips by email!