It's that spooky time of year again! Though it's still more of a big deal in the US, Halloween is quickly becoming a favourite autumn holiday for Swedes who are keen to light up the dark evenings, even if it is with a pumpkin or two.
More and more Stockholmers are getting onboard with the Halloween fun, with pumpkin-themed festivities, parades and children's parties taking place across the city. Here are a handful of ways to get your spook on in Stockholm this year.
Join the Shockholm Halloween Parade
Scandinavia's largest Halloween Parade is held this year on November 2. This wild festival kicks off with opening ceremonies and costume competitions at Kungsträdgården, in the city centre.
The parade then fires up, heading out onto Gamla Stan's cobblestone streets (which can be spooky at the best of times!). It'll continue down towards the docks at Skeppsbron, before returning back to Kungsträdgården for more scarily good entertainment.
Dress up in your finest witch or vampire outfits and join the march. The whole event runs from 3.30pm to 6.30pm, meaning it's a good option for families – just be sure to dress warmly!
Shockholm is also hosting a few haunted contests over on Facebook, with prizes for the best 'haunted doggie costume'.
★ SUGGESTED DISCOUNT
Save with the Stockholm Pass
Get up to 50% off at Stockholm's top attractions, including the Vasa Museum, SkyView Stockholm and The Viking Museum, plus discounts on some of the city's best boat trips.
Try the spooky activities at Skansen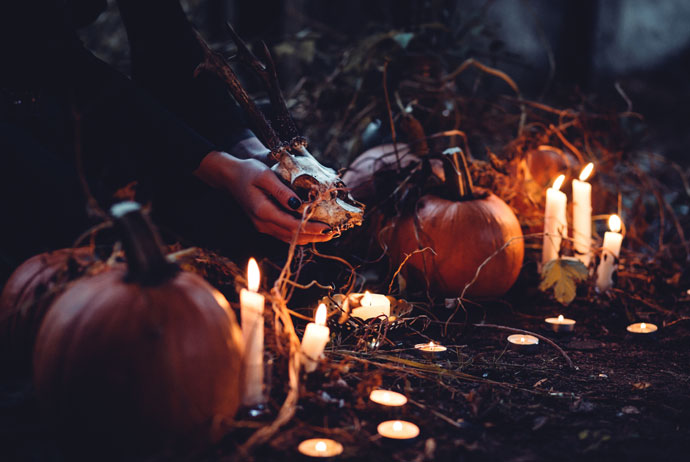 Everyone's favourite open-air museum is hosting a few spooky events as part of its autumn break programme.
Visit Skansen in the days before Halloween (26th–30th October) and you can take part in autumnal crafting sessions, eat fiendishly good food, or listed to weird and wild stories in spooky cottages. Tickets are available here.
Go on a Halloween cruise
Back for the ninth year due to popular demand, Halloweenkryssningen (the Halloween Cruise) is Sweden's biggest floating Halloween party. Hop aboard a Tallink & Elixe Cruise ship bound for Riga for a Baltic cruise of ghostly proportions.
Rock out on the dance floor to live DJs, put your costume skills to the test with onboard competitions, or just enjoy the enchanted company of ghouls, demons and vampires. This party cruise runs from 1st–3rd Nov, so grab your tickets quick as they sell out in a snap!
Try the Ghost Ship at Gröna Lund
Creepy festivities are making a return to the Gröna Lund amusement park this year. From Oct 18th–20th, and again from Oct 25th–Nov 3rd, the theme park will turn into a spooky graveyard-like affair, with pumpkins, witches and ghosts stalking the grounds.
Play it safe with the kids' corner, home to hay bales and ghost cars, or graduate to the Big Kid section to come face to face with a spooky sect in the park's latest scream attraction. Do you dare to enter?
Join a ghoulish ghost walk
Stockholm's Ghost Walk runs all year-round, but it's during Halloween that it's really at its spooky best. Since 2008, these guys have guided visitors on haunting tours of Gamla Stan and Södermalm.
Get shivers with 90 minutes of spooky tales of Swedish murder, disease, execution and ghastly ghouls. Even if you don't fancy joining a tour, look out for the guides in action, dolled up in their finest Garrick coats, skull-topped canes and top hats.
Visit Skogskyrkogården cemetery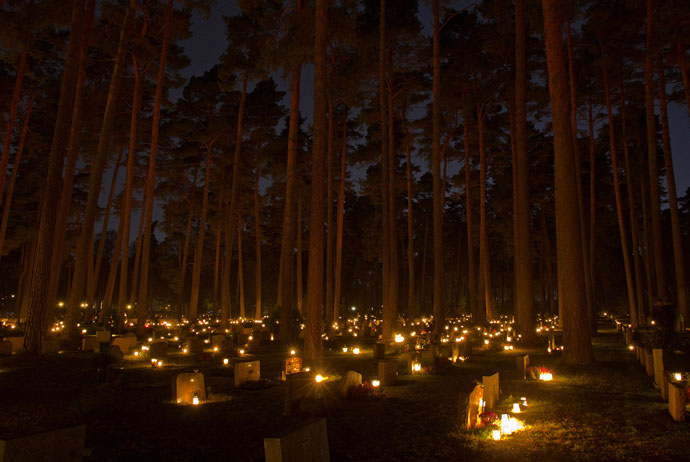 For something more traditional and a little less spooky, be sure to pay an evening visit to Skogskyrkogården, the city's largest cemetery and a Unesco World Heritage Site.
Designed by famous architect Gunnar Asplund, this beautiful stretch of green hills twinkles with candlelit gravestones at this time of year. On All Saint's Day (Allhelgonadagen, which falls on 1st November), Swedes flock to the grounds to pay their respects, adorn graves with flowers and candles, and listen to hymns. There's more on exploring the graveyard in this guide.
See also: 
Events in Stockholm
Free things to do in Stockholm