Stockholm is the biggest city in Scandinavia and people often end up changing planes at Arlanda, the main airport. If you're in the same situation you're probably wondering what there is to do when you land, and whether it's worth making a trip into central Stockholm between flights.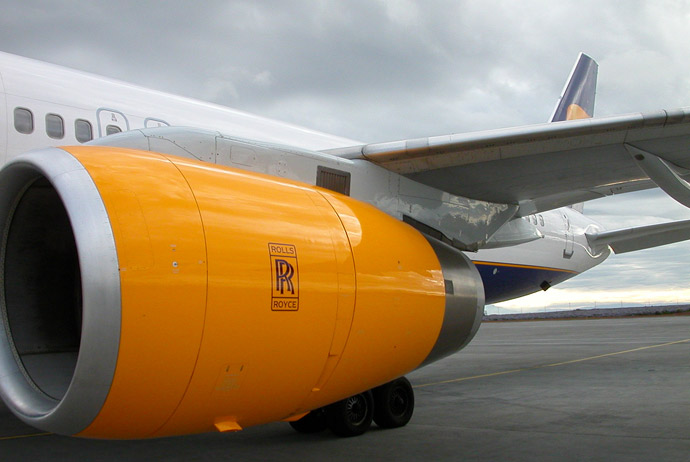 Here's the good news: as one of the Nordic region's biggest airports, Arlanda is a modern and relatively stress-free place to be.
No one's claiming that a layover here will be a life-changing experience, but there are definitely worse places to be stuck for a few hours while waiting for your next plane.
It's also fairly easy to get from Arlanda into the city centre – but more on that later. Here's all the info you need to make your stopover in Stockholm as enjoyable as possible.
Staying at the airport
If you have anything less than about five hours in Stockholm, our advice would be to stay at the airport.
The airside part of the building (i.e. the bit for passengers who've cleared security) has all the usual facilities, including restaurants, bars and shops.
But if you have time – and the right visa – it's worth getting yourself to the 'landside' area of the airport, where there's a lot more to see and do.
Refuelling… and rehydrating
If you're hungry or thirsty during your layover at the airport, your first port of call should be SkyCity, located between terminals four and five. It's like a big indoor shopping mall, with loads of places to eat, drink and generally kill time.
Options run from cheap fast food joints to fancy restaurants like Kitchen & Table, which is overseen by the Swedish celebrity chef Marcus Samuelsson.
There are also plenty of food options in the terminals themselves, such as the wonderfully-named Bastard Burgers in terminal 4. Unsurprisingly, this Swedish street food chain serves burgers, including a good variety of vegan ones.
But, if you'd prefer something more typically Swedish, Taste of Scandinavia in terminal 5 serves organic, locally-sourced traditional Swedish dishes.
And a useful feature of most of the airport restaurants is that they have a time guarantee, so you can check how long your meal is going to take before you order it.
Shopping
SkyCity is also the best part of the airport for shopping. It's a good (if expensive) place for stocking up on clothes, Swedish souvenirs and travel essentials. There's also a pharmacy, a bookshop and a Forex bank where you can change money to or from Swedish kronor.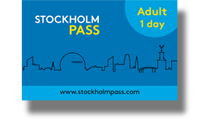 Is the Stockholm Pass worth buying?
Read this guide to see how much you could save during your trip!
Dumping your bags
This might not be a problem if your bags are checked in all the way to your final destination. But if you're waiting for a flight with another airline and want to dump your bags, there are handy left luggage facilities at the airport.
Bagport in terminal five (landside) runs a left luggage and storage service from 5am–11pm, where they'll take your luggage to your transport, or the check-in desk, wrap any purchases for travel and store any baggage.
Alternatively, there are left luggage lockers landside in SkyCity and terminals 2,4 & 5. Rates cost around 30–50 SEK per 24-hour period.
Getting some sleep
Take yourself to the landside section of Arlanda and there are some good options for sleeping. Quirkiest of all is JumboStay, right at the airport.
It's an old Boeing jumbo jet that's been converted into a hostel, with bright dorms and rooms squeezed into the fuselage.
Another good option is Rest and Fly, which you'll find near SkyCity in the main airport building. The rooms here are extremely compact but they're also clean and quiet.
The best thing about this place is that you can rent rooms out by the hour during the daytime, or pay for a 10-hour stay through the night.
Day rates are 150 SEK for the first hour (or 200 SEK for two people) followed by 50 SEK for each subsequent hour.
If you want a more traditional hotel, try Clarion Hotel Arlanda, which has runway views and a roof-top swimming pool, or the Radisson Blu Arlandia.
Neither option is especially cheap, however, and you may find better deals at one of the off-airport hotels like Connect Hotel Arlanda. It's a five-minute taxi ride away, and there's a free shuttle bus to and from the airport.
Can I sleep for free at the airport?
Arlanda is open all night (except terminal three) and is big enough that you should be able to find yourself a quiet place to curl up for a sleep, especially late at night.
There are benches and reclined seats dotted around the airport and as long as you're not in the way, it's unlikely people will bother you. SkyCity has some lounge chairs on its upstairs level, so head here for a bit more comfort.
Note that you may need a blanket or coat, however, as the airport air-con can be quite fierce.
What about airport lounges? Are they worth the money?
Airport lounges used to be the preserve of upmarket business travellers, but nowadays passes can be bought online quite cheaply, and many airlines offer access via their frequent flyer schemes.
Most airport lounges offer light snacks, drinks, newspapers, television, wifi, printing services and a quiet place to chill or have a nap, so lounge access can be quite good value if you make the most of the free food and drink.
Arlanda has six airport lounges, four in terminal five, one in terminal four and one in terminal two. Online pass prices with Lounge Pass start at £22, or sometimes you can buy day passes on the door for around 250 SEK if the lounge is not too busy.
Freshening up
Even if you don't have time for a sleep, there are a couple of other options for freshening up between flights and making your stopover more enjoyable.
You can get your hair cut, styled or coloured at Flygfrisören in SkyCity, or use the gym, sauna and swimming pool at the Clarion Hotel Arlanda, inside SkyCity.
It costs around 100 SEK per person or, if you're here in the morning, the gym, pool, relaxation and breakfast buffet for 200 SEK is a good deal.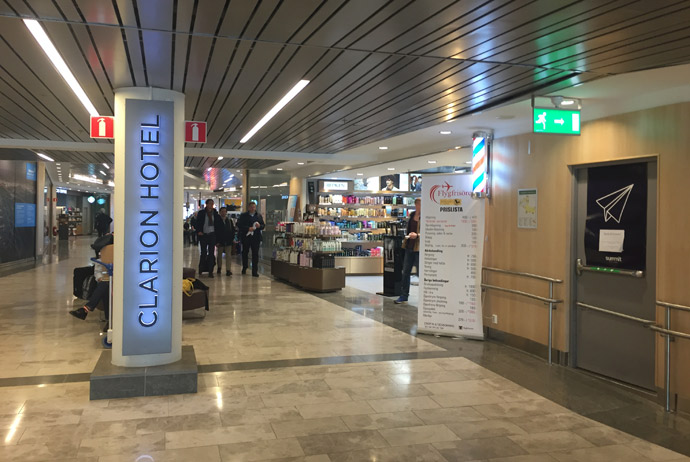 Fancy a swim or sauna? Arlanda's the place to do it.
If you just need a quick shower, head to Rest and Fly (a shower costs 85 SEK, and there's no need to be a hotel guest).
Seeing a doctor
Well, we all hope that this won't be necessary, but if you do need medical attention, the Airport Sky healthcare clinic in SkyCity is open Monday–Friday from 8am–5pm for nurse and doctor consultations.
It also offers vaccinations, so if you're travelling to an exotic country, you can use your stopover time to get your jabs done.
And for more alternative therapies, Flygterapeuterna in SkyCity, offers sports massages, acupuncture and chiropractic services, while Aktiverakliniken in SkyCity does massages and ultrasound scans.
For minor healthcare issues, Apoteksgruppen pharmacy has branches in SkyCity landside and terminal five airside. Its SkyCity branch can also dispense prescriptions.
Staying connected, getting info… and tying the knot
There's free (time-limited) wifi throughout the airport. Plug sockets for phones and laptops are also easy to find. If you need a paper map, there's a Visit Stockholm tourist information shop in arrivals.
There's also a chapel at the airport, where you can get married if you fancy it, or you can get hitched in one of the airport's VIP lounges.
Heading into Stockholm
Got a long time between flights? Comfy as the airport is, it's definitely worth making the journey into the centre of Stockholm during longer transfers. The options for eating, drinking, sleeping and having fun are all a lot better than you'll find at the airport.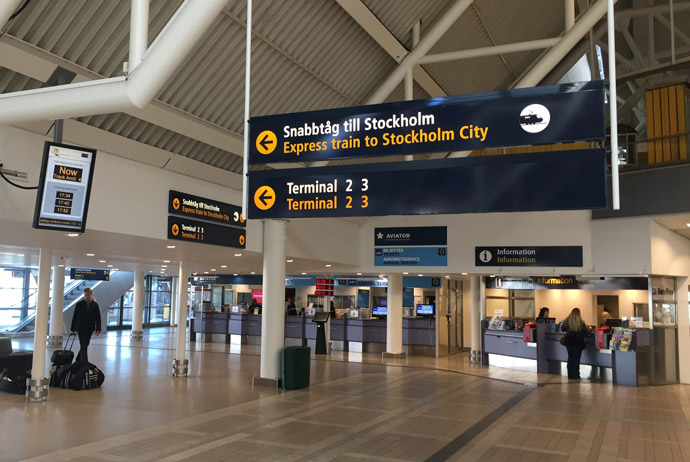 Arlanda Airport is just 40 km from the centre of Stockholm and it's well served by public transport.
As we mentioned above, you'll need a minimum transfer time of at least five hours between flights to make the journey into Stockholm worthwhile – even then, you'll only have a couple of hours to enjoy the city.
Bear in mind that although the journey itself is pretty quick (the fastest train will get you there in around 20 minutes) you'll have to allow time for checking in and clearing security on your return to the airport.
Getting to the city
Bus, train, taxi or helicopter? There are a whole load of different options for getting to the city centre from Arlanda. Our detailed guide has tips on the cheapest and fastest ways, and should help you decide on the best mode of transport for your trip.
Do you need a visa?
Even if you just want to get into Stockholm for a look around while you wait for your next flight, you're going to need a valid visa. If you're from another EU country or already have a valid tourist visa for the Schengen Area, you shouldn't have to worry – for all other types of visa, check ahead.
Note that some visitors – including those from Iran, Iraq, Bangladesh, Pakistan, Nigeria, Ethiopia, and Sri Lanka – must obtain a transit visa in order to change planes at Arlanda and other Swedish airports.
Check here for a full up-to-date list of which nationalities require airport transit visas.
Helpful guides for spending time in Stockholm between flights:
♦ Swedish souvenirs worth buying
♦ 110 free things to do in Stockholm
♦ Getting around Stockholm
♦ Stockholm Pass: is it worth buying?
♦ Finding cheap accommodation in Stockholm
♦ Where to stay: neighbourhood guide
♦ Stockholm prices: what to expect
♦ Stockholm to Copenhagen
Our main getting to Stockholm guide has info on connecting with other Stockholm airports, including Bromma, Skavsta and Stockholm Västerås.
See also:
The best Stockholm boats and cruises
Stockholm archipelago: five of the best islands to visit
Like what you've been reading? Get our best tips by email!