Stockholm's culinary prowess doesn't always get the attention it deserves. And actually, Swedish cuisine is more interesting than many first think. 
Stockholm is also home people from all around the globe, many of whom have imported their own cuisines and opened interesting places to eat in the city. 
Choosing where to eat in the Swedish capital can take time and effort, especially if you're only visiting for a short period. The best thing you can do if you're here for a couple of days is to join a tour.
If you're looking for people to guide you on your culinary adventure, check out the five food tours in this article.
What makes Stockholm such a good place for a food tour?
With plenty of tourists arriving in search of classic dishes, central Stockholm's a good spot for trying traditional Swedish food.
You'll find no shortage of bakeries offering cinnamon buns and other goodies that are staples of Swedish fika, for example.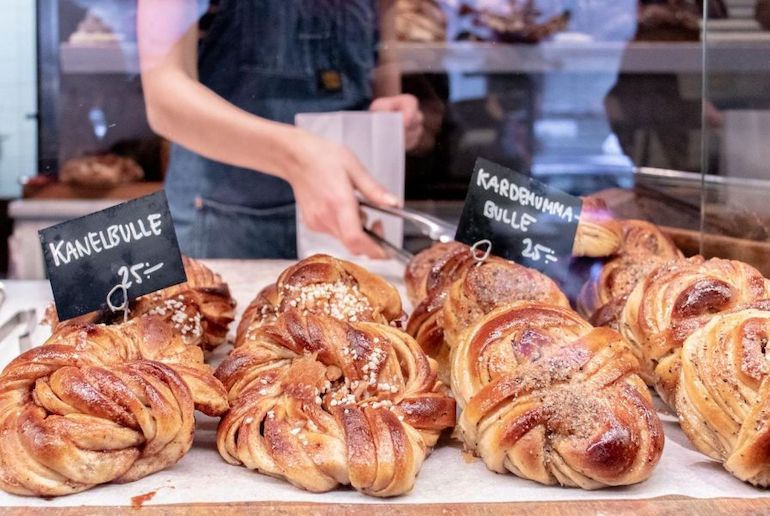 Swedish meatballs can be found too, but they're not really as widespread as you might think, beyond the most touristy parts of town.
There are some good restaurants offering their own take on the most famous Swedish dish, often served with lingonberry jam. 
While you might be keen to try plenty of husmanskost (traditional Swedish food), you're just as likely to encounter fresh, modern flavours too.
Really, Copenhagen was the founding city of the New Nordic cuisine movement, but the Swedish capital has tonnes of cool, upscale restaurants offering contemporary twists on everything from Arctic char to the famous Swedish smörgåsbord.
What can you expect from a food tour in Stockholm?
Food tours in Stockholm typically last for at least a few hours. And given that they're mostly indoors, they're less prone to cancellations due to bad weather than some other types of tours. 
Sweden has a big vegetarian scene, so veggies and vegans are usually catered for – as long as you let your guide know beforehand. 
Most Stockholm food tours are led by a knowledgeable guide, well-versed in the city's food scene. Moreover, you'll often get to sample several dishes throughout.
★ SUGGESTED DISCOUNT
Save with the Stockholm Pass
Get up to 50% off at Stockholm's top attractions, including the Vasa Museum, SkyView Stockholm and The Viking Museum, plus discounts on some of the city's best boat trips.
How much do foodie tours in Stockholm usually cost?
Food tours in Stockholm typically cost between $75 and $170, but some will set you back upwards of $200, usually depending on how much food is included.
Where do the food tours normally take place?
Many Stockholm food tours take place in the city's food markets, such as Östermalms Saluhall.
What are some classic Swedish dishes worth trying on a tour?
Sweden has several classic foods that are renowned worldwide. Of course, Swedish meatballs should be high on your list – but that's not the only thing you can try. Here are some other dishes you should have on your radar:
Kanelbullar: These Swedish cinnamon buns are often eaten during fika breaks at offices all round Stockholm. 
Semlor: Available from January to Easter, these cardamom buns are filled with almond paste and cream.
Gravad lax: Served on salads, bagels or rye bread, dry-cured salmon is popular throughout Sweden – and Stockholm is no exception. 
Sweets: Swedes love godis (candy), including Swedish fish. You'll find big, bright candy stores all over the city.
What are the best food tours in Stockholm?
So if you want to find out more about Swedish cuisine, here are our five favourite food tours in Stockholm.
Go on a Nordic food walk
This tour will take you to some of Stockholm's most famous markets and starts in upscale Östermalm. You'll get to sample multiple types of food from Sweden, including cheese and seafood.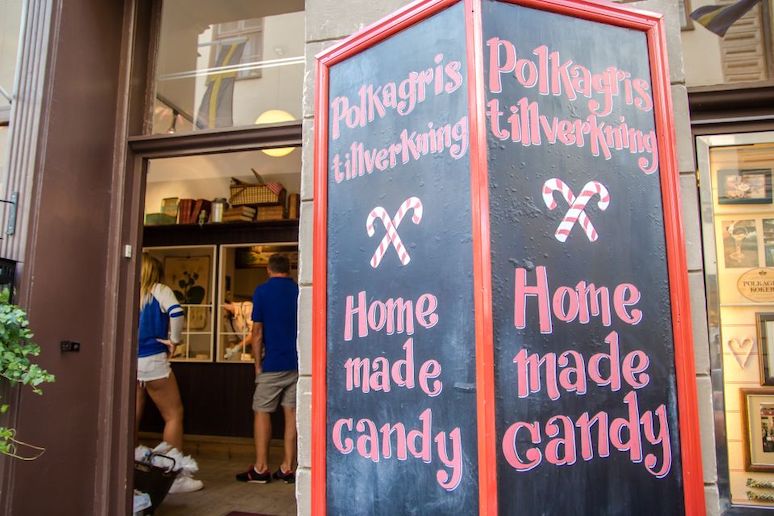 The walk takes in some of Stockholm's most beautiful districts – including Gamla Stan – and includes a trip to see how polkagris, Sweden's most traditional candy, is made.
Take a guided fika tour
Fika is one of the most coveted Swedish habits, and it typically involves coffee and a sweet treat – most often a cinnamon bun.
For more on this Swedish tradition, see our beginner's guide to fika in Sweden.
This tour takes you to some of the top places that Stockholmers enjoy one of these breaks – and you'll get to learn more about the tradition.
Of course, you'll also be able to try some of Stockholm's best pastries. Hot drinks and snacks are included in the tour price.
Dine out in the evening
The tours mentioned so far take place during the day, but Stockholm also offers lively nightlife. 
Going out for dinner is a rewarding experience, and this tour will take the decision-making out of finding a place to eat.
You'll start with a selection of Nordic tasting plates, then head to a nearby restaurant for the main course and a glass of wine.
Dessert and drink follow at one of Stockholm's most popular lounges.
Considering that eating out and alcohol in Stockholm are expensive, the tour price is reasonable.
Take a personalised, private food tour
Eating out can be sociable, but if you'd rather go on your own, you can book a private tour with your own dedicated host.
This is one of the best in the city, and your guide can pick you up from your hotel, or you can meet in a central location.
You can choose what you want to eat, with a sample of between six and eight local delicacies. The tour lasts for around three hours and includes a drink – alcoholic or not.
Explore Stockholm on a fab foodie tour
This tour allows you to try some of Stockholm's specialities in a 10-person group, lasting roughly four hours.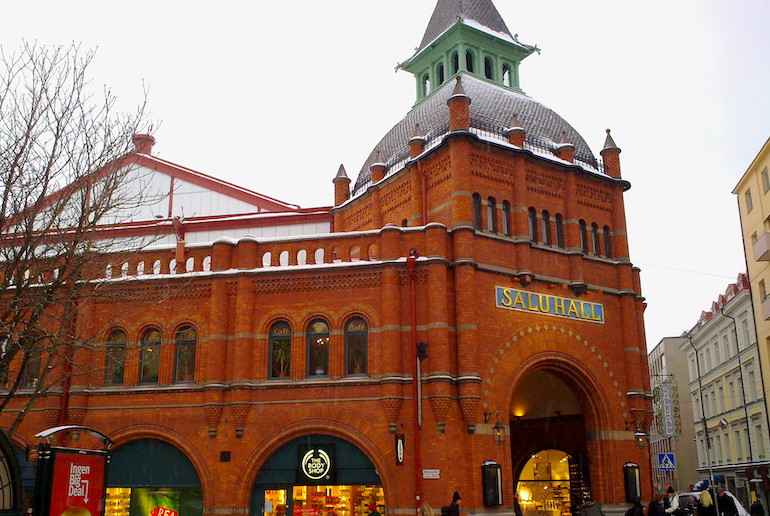 You'll start in Östermalm then move on to other food places, passing by some of the Swedish capital's best-known landmarks en route.
During the adventure, you'll also have the opportunity to sample some of Sweden's most popular beer, known as the Gold of The North, plus some Swedish candy.
FAQs 
I'm travelling alone, can I still join a tour?
Yes! Food tours are generally sociable, so perfect for solo travellers. Most tour guides will be more than happy to welcome you.
Are these tours suitable for bigger groups?
For the most part, the tours we've included are designed for smaller groups of 10–15 people. However, if you're in a big group, some tour operators can offer a private guide or organise a tailor-made tour for you.
What if my plans change? Are these tours refundable?
Many of the tours are refundable, as long as you let the tour company know at least 24 hours in advance. But do check the small print before you book.
If the operator cancels, you can rebook or get a full refund.
Is the food included on these tours?
Yes – all these food tours include samples of tasty Swedish dishes. Portion sizes will vary, but you'll typically be well-fed.
How much additional money should I expect to spend?
While these tours include food, tips are not included. And in some cases, you may want to purchase extra drinks or to go off-piste and sample something that is not included in the tour price.
Bearing these in mind and considering that you might want to buy souvenirs or candy and whatnot, an extra 500 SEK (approx 50 USD) should suffice. 
See also:
Surströmming: Sweden's stinkiest food!
What is a Swedish smörgåsbord?
Cheap food in Stockholm 
Swedish fast food