Iceland is the ideal location for ice climbers seeking a combination of natural splendour, excitement and challenge.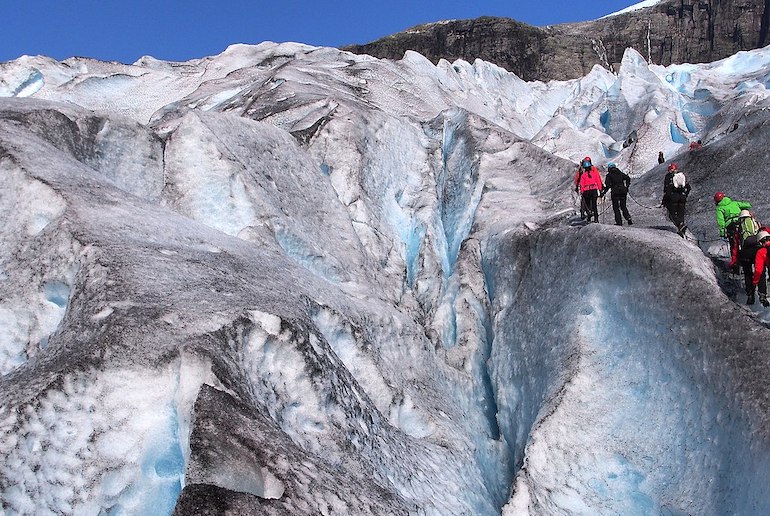 Ice climbing is an activity that's rapidly growing in popularity and is the ideal way to explore Iceland's stunning landscapes while engaging in a unique and thrilling sport.
We'll cover the best locations to go ice climbing in Iceland and the various climbing techniques you'll need to familiarise yourself with, and we'll give valuable tips and strategies for first-timers heading out onto the ice.
The best places for ice climbing in Iceland
There are a ton of locations to go ice climbing throughout Iceland, and each region offers its own unique challenges and rewards.
Vatnajökull National Park
The Vatnajökull Glacier, located in the Vatnajökull National Park, is the largest glacier in Iceland and one of the largest in Europe. As a result, it has become one of the most sought-after locations for ice-climbing enthusiasts.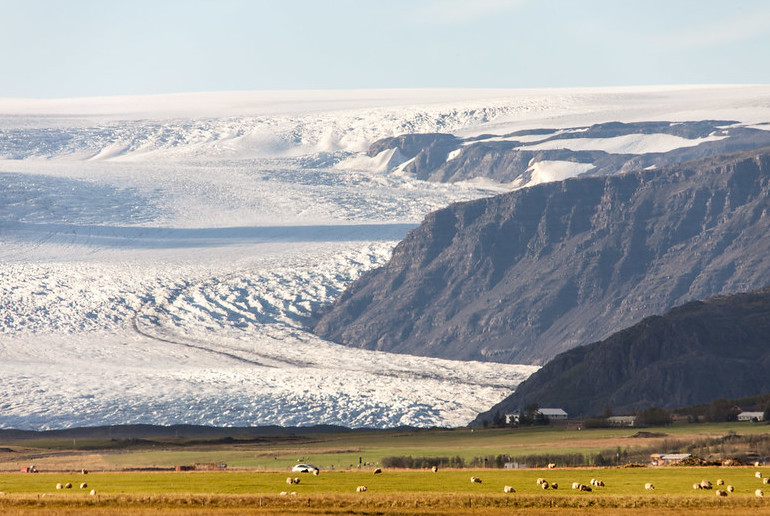 The Vatnajökull Glacier is located in the southeastern part of the island and is absolutely huge. It covers an area of approximately 7900 sq km (3100 square miles), which is about eight percent of the entire country. Impressive, right?
If you're looking to take on this massive glacier, there are several guided tours available.
This Ice Climb Tour in the Skaftafell National Park is great, even if you're a novice climber, as it includes instruction and will provide you with everything you need for your journey up the glacier.
So you can follow in the footsteps of Game of Thrones' Jon Snow and Batman in Batman Begins, and tackle this awesome glacier.
Sólheimajökull Glacier
Does Vatnajökull sound too intimidating? We don't blame you! The Sólheimajökull Glacier may be more up your alley.
Sólheimajökull is a smaller glacier located in the southern region of Iceland, which offers opportunities for climbers of all levels.
There are several climbing routes, ranging from easy climbs for beginners to more challenging routes for experienced climbers.
If you're just starting out, this guided glacier hike is perfect. In fact, you can bring the whole family as the hike is suitable for children aged eight and above.
Þríhnúkagígur Volcano
It's technically not a glacier, but this volcano offers its own unique ice climbing experiences. During the winter months, the volcano's crater is often filled with ice and snow which creates the perfect conditions for ice climbing.
Þríhnúkagígur is located just outside of Reykjavik, which makes it very accessible. It is also one of the country's most popular tourist attractions because of its otherworldly formations.
The best ice climbing tours in Iceland
Journey to the magnificent phenomenon of Sólheimajökull on this Glacier Hiking & Ice Climbing Day-Tour. On this tour, you'll be a part of a small group of hikers, making your experience very personalized.
On this half-day Skaftafell Ice Climbing & Glacier Hike, you'll get to climb a massive ice wall. Take in the mountain views and the incredible ice formations while you learn more about the Svínafellsjökull glacier from your guide.
Climb one of Iceland's most iconic peaks, Hraundadrangi Peak, on this 10-hour private climb. You will see some incredible views of Iceland's Northern Highlands, and get plenty of chances to take photos along the way.
This 12-hour private Glacier Hike with South Coast Excursion includes everything you need to take on Sólheimajökull. You'll follow expert glacier guides as you climb to the top. Your guides may also take you to surprise stops along the way – and lunch is included too.
Have you ever wanted to experience what it's like inside a blue cave? Going on this Blue Ice Cave Climb with professional photoshoot will give you the chance to climb inside one of Iceland's beautiful blue ice caves. This is an unforgettable and unique tour.
The types of ice climbing you can do in Iceland
There are a few different types of ice climbing that you will encounter in Iceland. The three most common styles are top rope climbing, sport climbing and traditional climbing.
Top rope climbing
Top rope climbing, or top roping, is a climbing technique that involves the climber being safely connected to a rope that runs through an anchor system located at the top of the climb and then down to a belayer stationed below.
This is the most accessible type of ice climbing, and it is usually recommended for beginners. It allows you to focus on learning the basic techniques of climbing without having to worry about falling.
Some of the equipment you will need for top rope climbing includes a climbing rope, ice axes, a safety harness, a helmet, climbing shoes, gloves and a belay device.
Sport climbing
Sport climbing, or bolted climbing, is a more challenging form of ice climbing that generally requires a level of skill and experience. Climbers using this technique in Iceland use pre-placed bolts or anchors for protection.
Equipment needed for sport climbing includes ice axes, crampons, a harness, a helmet, climbing shoes, gloves, quickdraws, a belay device and a rope.
Traditional climbing
Traditional climbing, or trad climbing, is the most advanced type of ice climbing you can try in Iceland. In this type of climbing, you have to place and remove your own protective gear as you ascend.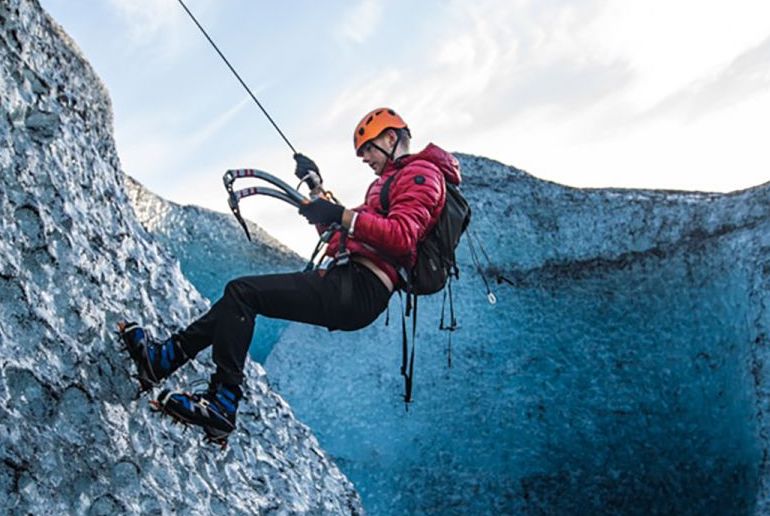 It's challenging because you need a lot of coordination. As you climb, you place screws into the ice to create anchor points. Then, you attach your rope to the screw and use it to climb higher.
The equipment needed for traditional climbing includes ice axes, screws, crampons, a harness, a helmet and a rope.
Tips for first-time ice climbers
Ice climbing can be a challenging sport which is why it's important to prepare yourself prior to your adventure. If you are new to ice climbing, here are some practical tips to help you get started and stay safe:
Dress accordingly: Make sure you bring warm, waterproof clothing, including layers. Hats, gloves, and thick socks are essential. Your climbing shoes should also be snug and warm to keep your feet comfortable.
Be prepared: Getting in shape and practising your climbing skills is not essential, but it's a good idea. You should also familiarize yourself with the climbing equipment. It's also sensible to bring food and water to keep you fuelled and hydrated throughout your climb.
Expect the unexpected: Be prepared for changing weather conditions. Iceland can have drastic and sudden changes in weather. If conditions become dangerous, your guide will escort you to safety.
Stay safe: Always wear a helmet and use the proper safety equipment (this is usually provided by the tour guide!)
Trust your instincts: If you feel uncomfortable or unsure about a section of the climb, don't hesitate to ask your guide for help.
Research your guide or tour company: Look for a guide or company that has experience in ice climbing. Certifications are always a plus. A good guide should be knowledgeable and able to communicate well.
Communicate with your guide: It's always important to discuss your expectations and goals for the climb with your guide before starting.
By following these tips and working with an experienced guide, you can enjoy the thrill of ice climbing while staying safe and having fun.
So, should I try ice climbing in Iceland?
Ice climbing can be an exhilarating feat, and we definitely recommend that you try it if you're in Iceland. Not only will you get your adrenaline pumping, but you'll also get to see some of the most breathtaking landscapes in the world.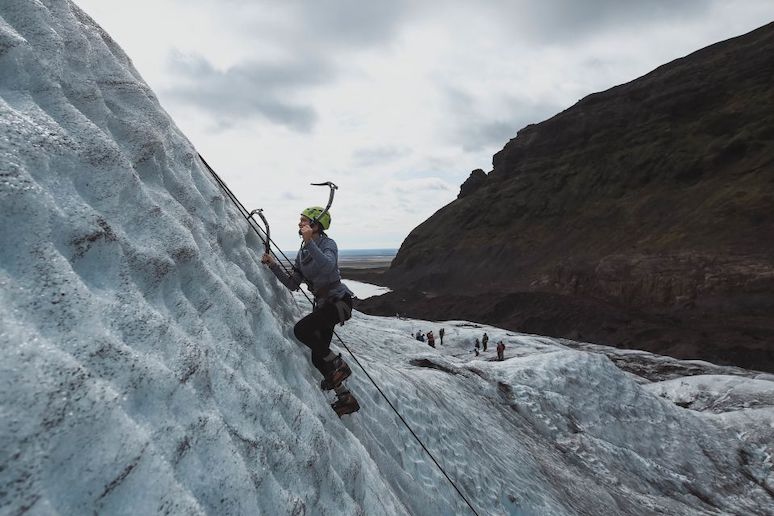 As long as you come prepared, follow the safety precautions and listen to your guide, you will be ready for this unique adventure of a lifetime.
For those of you who have been ice climbing in Iceland before or have any additional tips or recommendations to offer, we would love to hear from you.
Please share your experiences and advice in the comments section. Your insights could be incredibly valuable to other readers who are planning their own ice-climbing adventure in Iceland.
See also:
Best snowmobile tours in Iceland
Whale watching in Iceland
Best hot springs in Iceland