Do you like the idea of relaxing in a sled and whizzing across the snow being pulled by a team of huskies? Or, better still, driving the dog team yourself?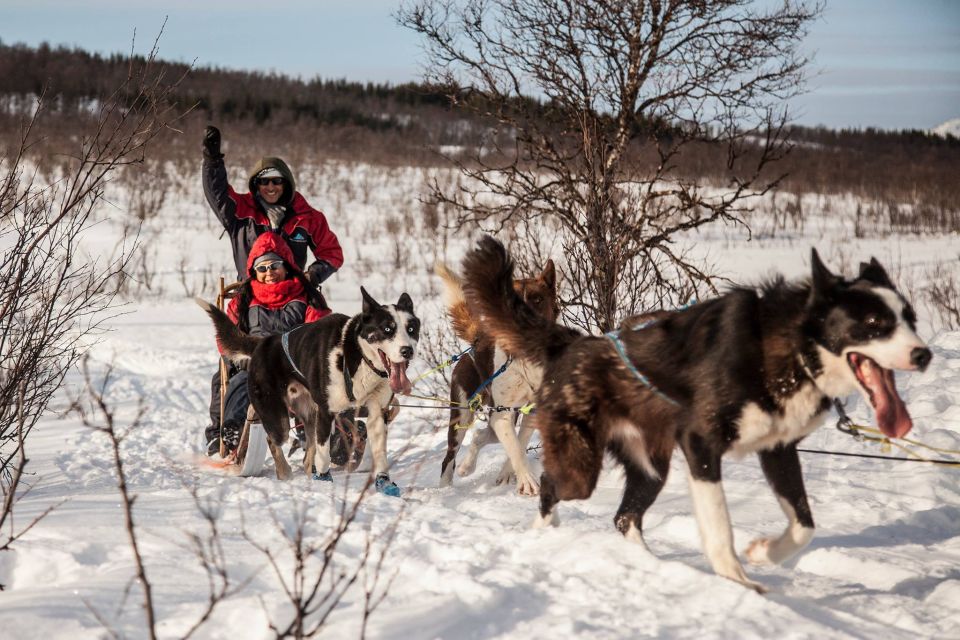 Tromsø in Norway is a great destination for dog-sledding, so read on to find out all about dog sledding and which are our favourite dog sledding tours in Tromsø.
Why is Tromsø such a good place for dog sledding?
Tromsø is a great place to try dog-sledding, because there are many different companies there who all offer a slightly different type of tour.
Since Tromsø is surrounded by such stunning countryside, and the area is pretty much guaranteed lots of winter snow, you don't have to travel very far to get to the place where you can go dog-sledding.

And even then, the trip there is picturesque and enjoyable!
Also, because there are several companies who run the trips, you can sometimes get reasonable deals.
How much does dog sledding cost in Norway?
Like everything in Norway, husky-sledding trips are not cheap. A four-hour trip with an experienced guide and the chance to drive the huskies yourself starts from around $200.
Cheaper half-day trips where you meet the dogs but don't actually get to drive the sled start from around $100.
Is dog sledding worth it?
Yes, the price of dog sledding in Norway is high, but most people agree that its a once-in-a-lifetime experience and is worth the money.
And if you opt for a combination tour, that saves on the price of doing two separate tours.
For example, in Tromsø you can do a dog sledding and northern lights combination trip which may well cost less than if you did two individual tours.
Is husky sledding in Tromsø cruel?
There is plenty of debate about whether dog-sledding is cruel. Some people believe that it's not fair on the dogs to keep them captive and make them pull a sled with someone on it.
Others think that, provided they are well looked after, the dogs enjoy racing along and find running exhilarating.
The good news is that in Norway sled dogs are subject to strict rules, and the industry is highly-regulated as to what you can expect from the dogs, and how you must treat them.
And it's also the case that many of the companies who run active dog sledding trips in Tromsø are long-established with high standards of animal welfare.
The best dog sledding companies in Tromsø have plenty of information on their websites about about the dogs' welfare, so do some research first.
Arctic Adventures, for example, has full details on how they treat their dogs, what their retirement policies are and how the dogs are cared for.
What to expect on a sledding trip from Tromsø
Dog sledding in Tromsø is always fun, though the trips themselves may vary from full-day tours to a simple visit to a puppy farm to make friends with the dogs.
You can either opt for a relaxing ride on a dog-sled or you can take the more adventurous option and have a go at driving the dogs yourself.
Whichever type of trip you choose however, transport is always included as well as expert tuition from an experienced guide and dog-handler.
Some trips also include a meal, though always check first what is provided and what you should bring yourself.
How hard is dog sledding?
You don't need any previous experience to have a go at dog-sledding in Tromsø and generally speaking, most people find driving the dog-sleds fairly easy.
The dogs are well-trained and usually very enthusiastic, so they tend to do most of the work for you! In addition, there are always expert guides and trainers on hand, if you need any help.
What to bring with you when dog sledding
warm clothing
hat
gloves
camera
socks
a high-energy snack (if food isn't included in your trip)
10 of the best dog sledding tours in Tromsø
Go dog sledding on Kvaløya island
This is the classic Tromsø dog-sled trip, where you meet the huskies at their kennel on Kvaløya island, just west of Tromsø, and learn how to drive the sled along a trail through stunning snowy landscapes.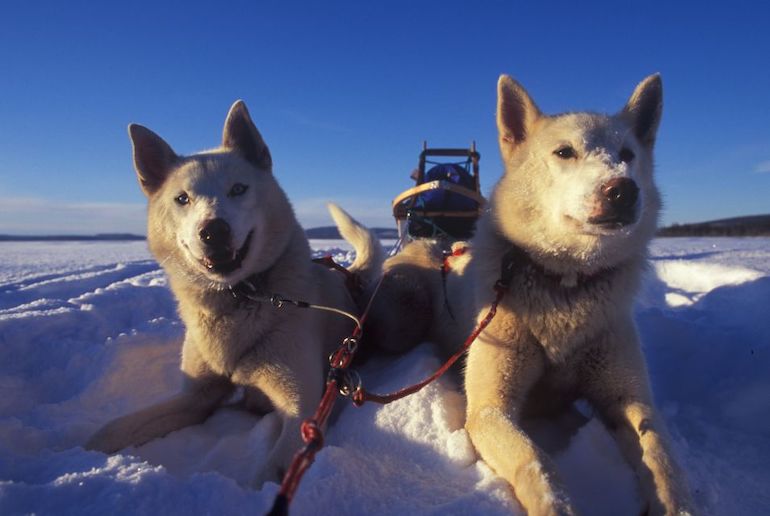 You can take it turns to be the passenger and driver, and you'll end your trip with hot drinks and chocolate cake round the campfire.
The company that runs this tour is known for having good standards of animal welfare, so you can be sure that the dogs will enjoy the trip as much as you.
Watch the northern lights from a dog sled
Combine two trips in one with this northern lights and husky trip. You don't actually get to drive a dog sled here, but you can make friends with some of the 200 huskies plus their fluffy puppies that live at the camp.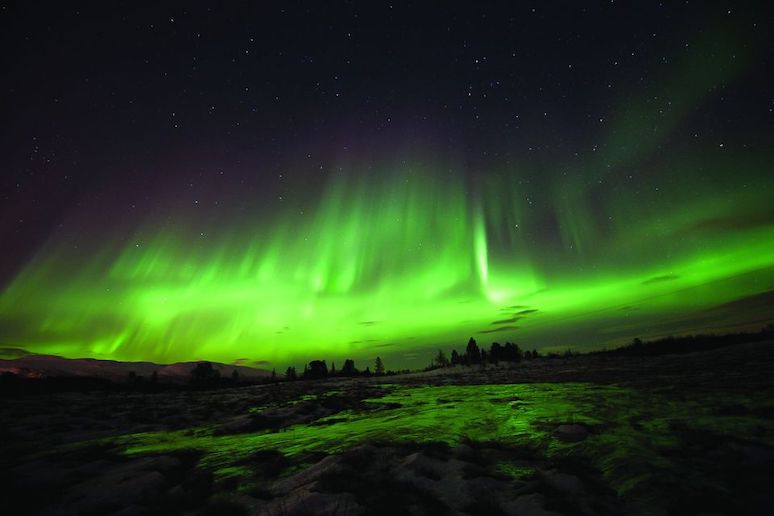 You'll sit around an open fire by the lavvo, a traditional Sami tent, while you eat a warming meal and look out for the northern lights above.
Learn the art of mushing
This fun half-day dog-sled tour teaches you the art of mushing and gives you the chance to drive the husky sled yourself.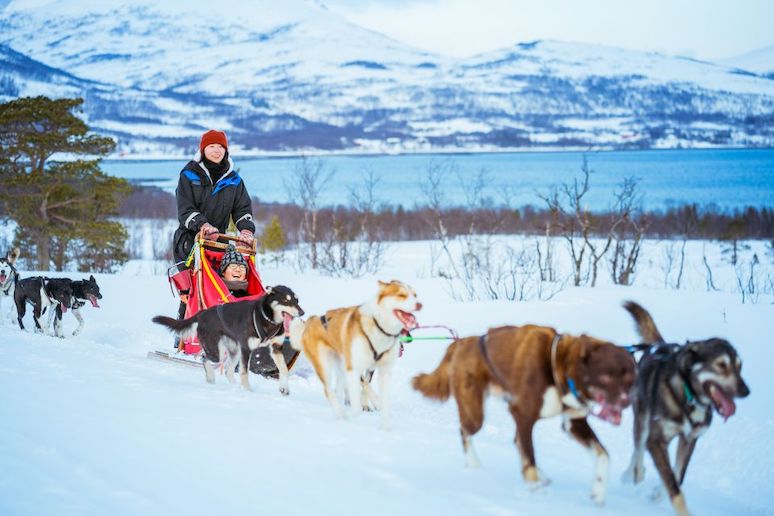 After gliding across the snow, you'll warm up with a tasty lunch round the campfire.
See the ice domes and drive a dog sled
Why not combine driving a dog sled with visiting the ice domes in the Tamok valley? These cool structures are remade every winter from blocks of ice.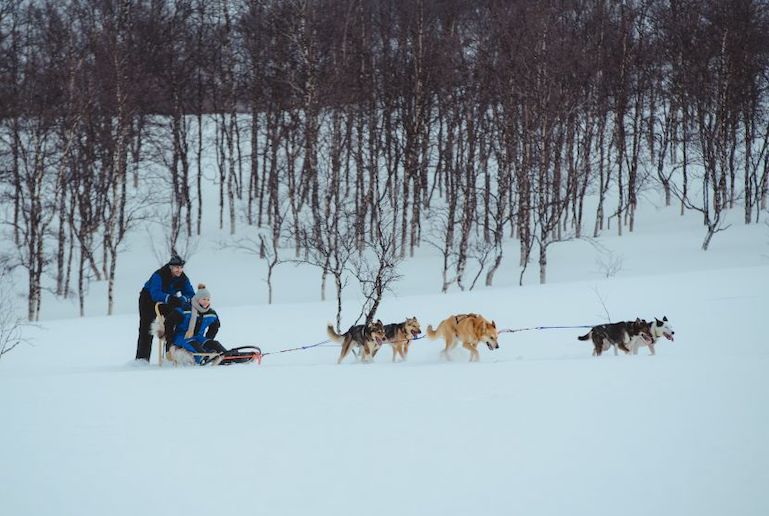 There's an ice restaurant, bar and hotel – and you can even watch a film in the cinema made completely from ice.
Go dog-sledding at Camp Tamok
Some 90 miles from Tromsø, surrounded by wilderness, Camp Tamok is a great place to try dog-sledding.
You can do a full-day dog-sled tour there with travel from Tromsø and a warm meal round the campfire included.
Drive a dog sled beneath the stars
Alternatively, why not go for the atmospheric evening tour, where you'll get to drive the dogs beneath the stars, then warm up round the fire in a traditional tent with a hot bowl of stew.
You may even get to see the northern lights on your trip.
Have fun with huskies at Breivikeidet
Take a scenic bus trip out to the camp in Breivikeidet, where you'll make friends with the huskies and experienced staff will teach you how to drive a dog sled.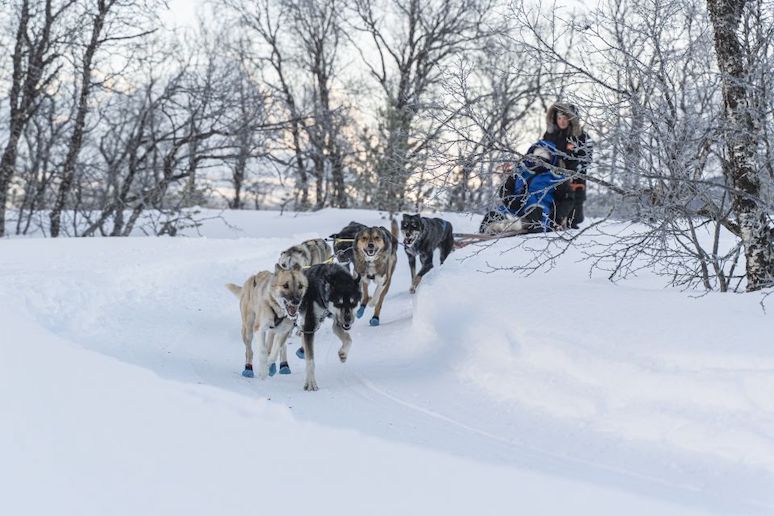 Go for a snowshoe hike
Glide across the crispy white snow on snowshoes, while exploring the island of Kvaløya.
This snowshoe hike doesn't include driving a dog-sled, but it does end up at a husky farm when you can meet and make friends with the fluffy, friendly huskies and their puppies.
Home-made chocolate cake and hot drinks are included too, to warm you up after your hike.
Make friends with some husky puppies
On this tour, you can help the handlers train the husky puppies who are too young to drive sleds.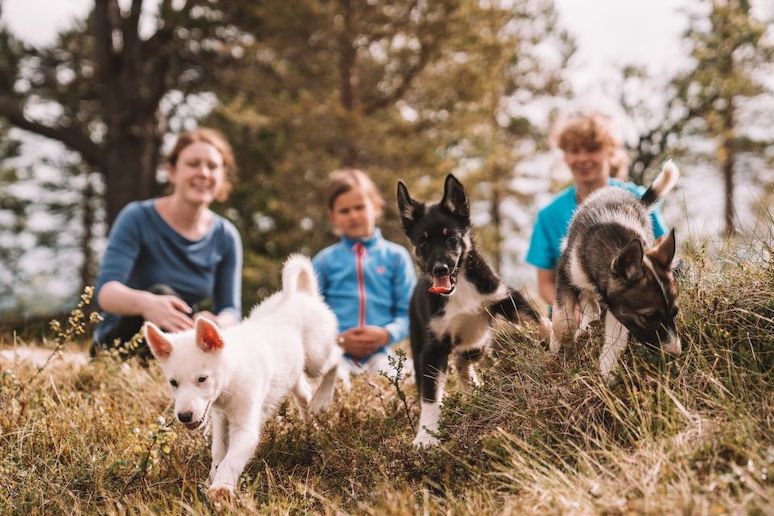 You'll make friends with these cute canines, then take them out onto the snow, teach them techniques and do training exercises with them.
Hike with huskies
If you'd rather not drive a dog sled yourself, why not head out into the beautiful Norwegian countryside for an energetic walk with some huskies?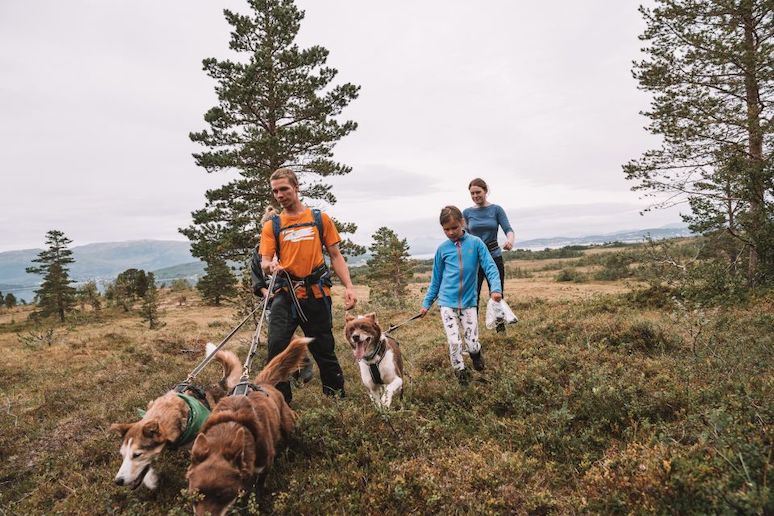 An experienced guide will take you and the dogs to some of the most beautiful countryside, before returning to the traditional laavo for lunch round the campfire.
Other tours in Tromsø
And If you don't fancy dog-sledding, Tromsø is a good place to try other tours, such as this reindeer sledding trip, where you get to feed the reindeer and learn about the traditional Sami way of life.
Or for a more high-adrenaline experience, there are snowmobile safaris, such as this one in the Lyngen Alps.
Dog-sledding in other Norwegian towns
Of course, other Norwegian towns run dog-sled trips too, such as Røros, Geilo, Ål, and Nesbyen in the centre of the country, and Gålå, Trysil, and Beitostølen in the east.
And if you're high up in the north of the country, this husky trip in Børselv takes you right out into the Arctic wilderness with a team of Siberian huskies.
See also:
Cheap places to stay in Trromso
What to see, do and eat in Tromso
10 tours you have to try in Norway