With 41 national parks, dramatic mountain scenery and miles of forest paths and walking tracks, Norway is one of the world's best countries to go hiking. It has trails and tours to suit all levels of fitness, from multi-day mountain treks to gentle strolls around spectacular viewpoints.
Even if you're not a hardened hiker and the most walking you usually do is to the train station and back, don't worry – we've got a hike for you. Grab your hiking boots, and head off on one of these tours!
Brave the Kjerag boulder
Around 100km east of Stavanger
This is a challenging full-day hike that demands a reasonable level of fitness. But your reward is the ultimate Instagram pic: you on top of the Kjerag boulder.
The trip starts in Stavanger, where you'll be picked up and driven through mountainous landscapes to the trailhead at Eagle's Nest. From here, it's a steep two-and-a-half hour hike up the mountain with spectacular views en route back over the Lysefjord.
Once at the top, those who are brave enough can step out onto the Kjerag boulder, which is wedged between two cliffs about 1000 metres (!) above the fjord. After lunch, it's a two-hour hike back down to the trailhead, where the minibus picks you up and takes down to Lysebotn for a cruise on the fjord and more spectacular views.
Climb the world's longest staircase
Around 60km east of Stavanger
You may not expect to climb a mountain using a staircase, but the Flørli wooden steps lead up from the Lysefjord to the Ternevass Dam, some 750 metres above sea level. The 4,444 wooden steps were built to service a former hydro-electric plant and run alongside old water pipes.
But this is not a trek for the faint-hearted – the steps are very steep in sections and the views back across the fjord and of the neighbouring mountains can be vertigo-inducing.
Once at the top, a wooded path leads to the ruins of the old Flørli village, then you can follow a slightly easier trail back down to the fjord.
Take the overnight hike to Trolltunga
Around 95km north of Kristiansand
This two-day hike to the Trolltunga (the 'troll's tongue') is a real wilderness experience. It involves a 28km hike, camping wild up by the rocky outcrop – and even a swim in an icy pond, if you're up to it.
The hike up to Trolltunga, some 700 metres above Ringedal Lake, provides great views of the Folgefonna Glacier on the way up. Once at the top, you can settle into a plate of warming reindeer stew, cooked over a campfire and admire the sunset from this dramatic vantage point.
Take on the Jotunheim long-distance trail
Around 220km north of Oslo
Serious hikers and mountain-buffs will love this week-long hike along the most spectacular section of the long-distance Jotunheim Trail, which runs from Oslo to Gjendesheim. It's the final leg of the trail, which starts from Liomseter, and ends down by the scenic Lake Gjende.
The tour is organised by the Norwegian Trekking Association, and all accommodation is in their network of self-service hiking huts (more on those in our guide to camping in Norway).
The distances covered range from 11km to 17km a day, with the final day's trek either following a dramatic trail over the ridge between Sikkilsdalshornet and Sikkidalshø summits, or taking a path along the lake Sikkilsdalsvatnet, depending on the weather conditions.
Go hiking with huskies
Tromsø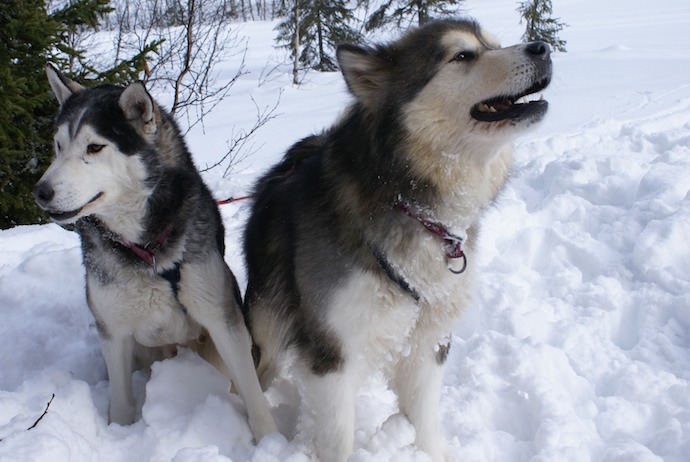 If you're looking for a more gentle walk, or have kids in tow, this husky hike hits the spot. Starting from Tromsø, you'll be taken out to the camp, where some 300 dogs live.
Here, you'll meet your furry walking friends, who will lead you out into the countryside, with views of mountains and fjords en route. You may even get to cuddle a puppy.
As the sun sets, your guide will light a campfire, so you can cosy up with your canine companions and look out for the northern lights to appear in the night skies above.
Hike onto one of Norway's glaciers
Around 85km southeast of Ålesund
Fancy a real adventure? Grab your crampons and ice axe and head out onto a glacier! This hike on the Tystig glacier has a real wow factor – you'll be kitted out with ropes, harnesses, and snowshoes as you venture onto the icy mountainous landscapes.
The excitement starts with a cable car trip up the mountain – the views from here are spectacular, over valleys, lakes and mainland Europe's largest glacier, Jostedalsbreen (you can find out more in our guide to Norway's best glaciers).
Once at the top, it's a 45-minute hike to the glacier, where your knowledgeable guide will provide you with all the kit you need to venture out onto the glacier. During the two-three-hour glacier walk you'll stop for a lunch – it's a surreal experience eating your sandwiches with blue ice or snow underfoot.
Try hiking with the family
Around 250km south of Trondheim
It may not be the most obvious type of holiday for children, but there are some great beginner-level day hikes in the Rondane National Park that are suitable for all ages – including relatively fit grandparents.
This four-day hiking trip through beautiful mountain landscapes in Norway's oldest national park, follows trails of 6–12km a day, overnighting at mountain lodges, where a three-course dinner is served. And you don't even have to carry your own luggage – it will be transported to the next lodge for you.
Hike to the Pulpit Rock
Around 60km east of Stavanger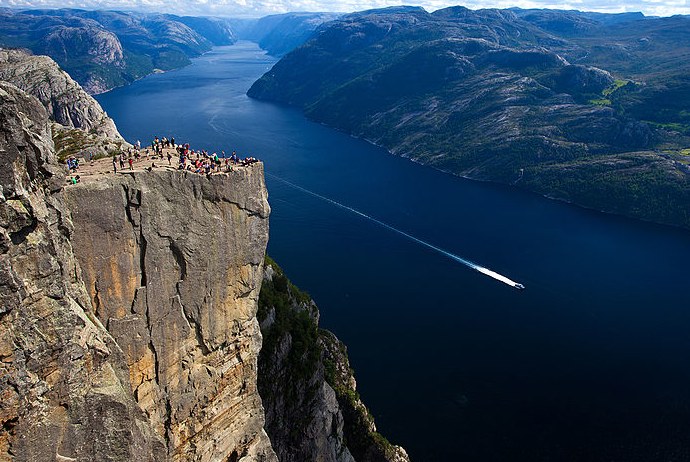 The route up to Preikestolen, more often known as Pulpit Rock, is one of Norway's most spectacular hikes. It's a four-to-six-hour trek along well-marked paths, though sections of it can be a bit steep and rocky. But the views from the top over the blue Lysefjord and surrounding mountains reward all the effort of getting here.
See also:

Norway travel guide
When's the best time to visit Norway?
Norway's best national parks
Camping in Norway
Like what you've been reading? Get our best tips by email!