​​Located in Northern Norway, Tromsø is a true winter wonderland that offers some of the best snowmobiling in the world.
With its snowy mountains, frozen lakes and breathtaking views, Tromsø is a must-visit destination for anyone who loves snowmobiling.
Where is Tromsø?
The city of Tromsø sits on the island of Tromsøya, just west of the Norwegian mainland.
To put that in context, Tromsø lies 350 km (217 miles) north of the Arctic Circle. One of the largest cities in Northern Norway, it's the eighth-largest city in Norway overall.
Tromsø is sometimes referred to as "the Paris of the North" and "the Capital of the Arctic" due to its vibrant culture, rich history, and stunning natural surroundings.
In addition, Tromsø is a popular starting point for excursions to the surrounding wilderness, including the nearby islands, fjords and mountains.
What makes Tromsø such a good place for snowmobiling?
Tromsø is an ideal place for snowmobiling because of its location high up inside the Arctic Circle. The area offers plenty of snow and a long winter season.
Surrounded by mountains, Tromsø also provides access to various terrains for snowmobiling.
You can ride through dense forests, up steep hills and across frozen lakes. You can chose a trip to a reindeer farm by snowmobile from Tromsø, or head out at night in search of the northern lights.
The city also makes a great base from which to explore the incredible Norwegian fjords.
The best part? Several tour operators provide guided tours and rental equipment, making it easy and convenient for locals and visitors alike to journey through the Arctic.
What's the best time to go snowmobiling in Tromsø?
December to April is the ideal time to go snowmobiling in Tromsø, Norway. During this time, the snowfall is the heaviest, and conditions are optimal for outdoor activities. Just be aware that the days are short during winter (and especially from November to February) with limited daylight hours for exploring.
Our 5 favourite snowmobile trips near Tromsø
So, whether you fancy a Tromsø Arctic reindeer experience or taking a snowmobile to the Norway/Sweden border, check out some of our favourite snowmobile trips from Tromsø.
Safari through the Lapland Lyngen Alps
On this snowmobile safari, you'll whizz across the snow in the scenic Lyngen Alps. Explore winding trails through dramatic landscapes with icy peaks towering above.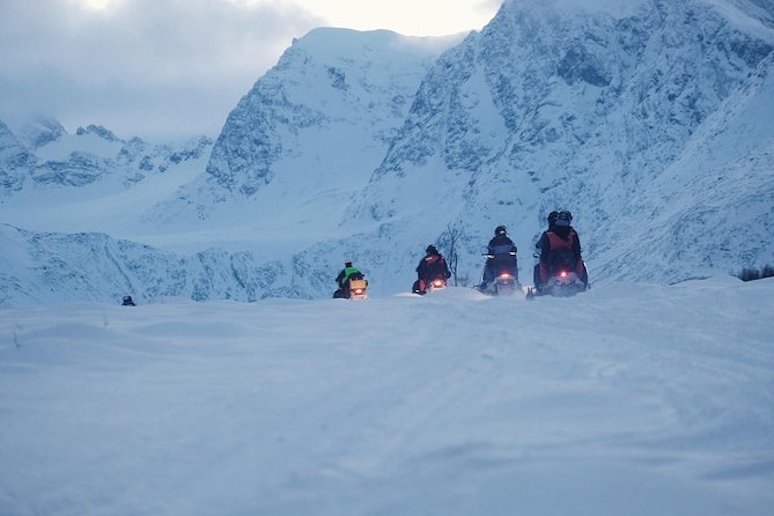 Also included in this trip is a ferry ride through the fjords that allows you to take in some breathtaking views of snow-clad hills and mountains.
Visit three countries by snowmobile
Spend an entire day out on snowy terrain with this snowmobile adventure. On this tour, you will explore frozen lakes, icy tundras and journey to the "most peaceful border in the world" where Norway, Finland, and Sweden meet.
On the way back to Tromsø, you can cosy up around a campfire and eat a nice, warm lunch.
Journey to the Ice Domes and reindeer farm
This snowmobiling tour takes you to the famous Tromsø Ice Dome, a large building that looks like an igloo from the outside.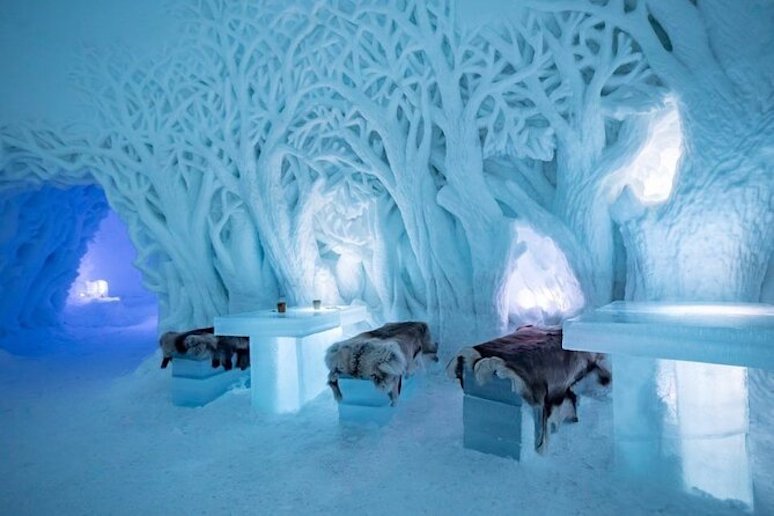 Inside are two ice bars, an ice restaurant, an ice theatre, plus an ice hotel. As you may have already guessed, everything here is made of ice!
You'll also get a chance to visit a reindeer camp and learn all about these majestic creatures that inhabit the local area.
Ride out to Camp Tamok
Ride across a plateau to the wilderness centre called Camp Tamok on this daytime snowmobile safari. Located in the serene Tamok Valley, Camp Tamok is an outdoor activity centre in a traditional Northern Norwegian setting.
You may even get a chance to see reindeer and meet some sled dogs at the camp.
On the way back to Tromsø, you'll be served with a warm lunch around a campfire inside a reindeer herder's tent.
Snowmobile beneath the moonlight
Provided its's a clear night, this evening snowmobile tour gives you a great chance of seeing the spectacular northern lights.
Your expert guide will know exactly where to take you for some of the best views imaginable.
This tour lasts for two hours, allowing you to enjoy the snowy night and gaze at the stars above while riding through the snowy landscape.
FAQ
How much is a typical snowmobile tour from Tromsø?
Tours usually start around US$200 per person for trips that last a few hours. Longer trips can go up to US$500 (that snowmobile fuel sure is expensive!).
In most cases, the price of the tour will include a professional guide, transport to the snowmobile base, warm suits and boots, safety equipment, thorough training – and sometimes even lunch and snacks too.
Where are the best spots for snowmobiling near Tromsø?
Tromsø and the surrounding area offer several great locations for snowmobiling. Some popular options that are easily accessed from Tromsø include the Lyngen Alps, the Tamok Valley and the Tromsø fjords.
How old do you have to be to drive a snowmobile in Norway?
You need to be at least 18 years old to operate a snowmobile in Norway, and you'll need to hold a valid driver's license.
What's a snow bike, and can you rent one in Tromsø?
A snowbike is a type of winter sports vehicle that combines the features of a snowmobile and dirt bike.
Snowbikes operate similarly to snowmobiles, and they look alike in appearance. However, a snow bike is smaller than a snowmobile and has a single ski in the front.
Snowbikes are not widely available, so you may not be able to rent one in Tromsø quite yet.
Can you see the northern lights on a snowmobile tour from Tromsø?
Yes, it is possible to see the northern lights on a snowmobile tour from Tromsø. Due to its location high up within the Arctic Circle, the Tromsø area is one of the best places in the world to see the northern lights.
For the ultimate view, you should head outside of the city limits where there is less light pollution.
What's the Norwegian word for snowmobile?
The Norwegian word for snowmobile is snøscooter.
Do you need special insurance?
Insurance is always recommended when participating in any winter activity or extreme sport. Many insurance policies can provide add-on cover for snowmobiling.
For many reasons, we recommend World Nomads. Get an instant quote here.  
See also:
10 of the best dog sledding tours in Tromsø
7 of the best snowmobile tours near Kiruna, Sweden
Snowmobile tours in Iceland