Norway has no shortage of epic sights, hikes and exciting experiences. From snowshoeing on mountain tops to dog sledding and feeding reindeer, here's our top pick of the must-do tours and most amazing adventures that Norway has to offer.
Hike and canoe to Pulpit Rock
Near Stavanger
The most impressive view of the Lysefjord is from Preikestolen (better known as Pulpit Rock), whose craggy overhang towers 600 metres above the water.
It's not a hidden gem, however, and you'll be jostling with half of Instagram to get the best selfie vantage point – all without getting too close to the unfenced, precipitous cliff edge, of course.
If you want to escape the hordes, try arriving on this guided canoe and off-the-beaten-track hiking trip.
Start by kayaking across Refsvatn lake, then follow your experienced guide along little-used trails, scrambling over rocks to get the best views of the towering mountain walls and blue-black fjord below.
Eat dinner with reindeer herders
Near Tromsø
Learn all about Sami culture and traditions by dining with local reindeer herders on this tour – you'l also get the chance to help feed their animals.
Leaving Tromsø, you'll be taken out to a traditional-style Sami camp, where up to 200 wild reindeer gather to be fed – some may even eat from your hand.
Inside a cosy candle-lit gamme (Sami hut), you'll be served bidos (a traditional Sami stew, cooked over an open fire), then settle into the lavuu (Sami tent) for an evening of Sami stories and songs.
If you're lucky, you may get to watch the northern lights play across the sky above the camp. You can check availability here.
Take a sunset hike to Trolltunga
Near Bergen
For a real wilderness experience, take a guided sunset tour to the stunning Trolltunga (Troll's Tongue) outcrop that juts out from the mountainside some 700 metres above Ringedalsvatnet.
The 28-km-long, two-day hike starts from Skjeggedal before heading up the mountain, for great views of the Folgefonna Glacier.
Pitch your cosy dome tent near the top, where the guide cooks you a tasty dinner before a short walk up to watch the sunset from the Trolltunga. Then, it's back to the camp for a session of Norwegian fairytales and sleep.
Go sledding with huskies
Near Tromsø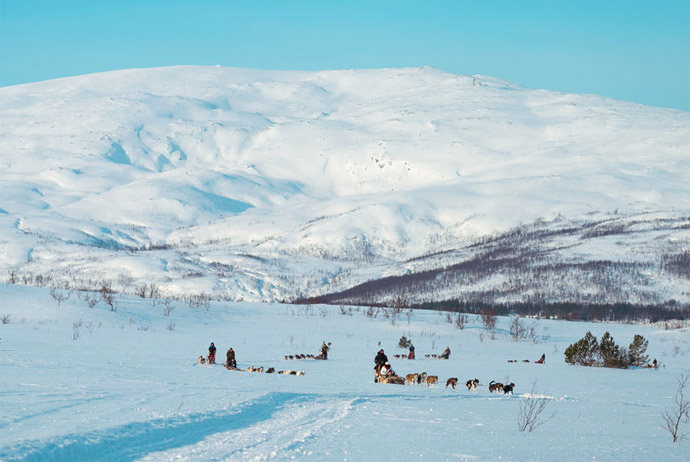 You can't come to the Arctic Circle and not spend some time in the snow with huskies.
Travelling by husky sled is the traditional, and still the best, way to get out into the wilderness.
You'll learn the skill of mushing and how to drive a team of dogs, before setting off an exhilarating sledge ride pulled by six dogs.
Afterwards, you can see how the huskies live – you may even get to pet some fluffy puppies – and warm up with a bowl of reindeer soup round the campfire. It goes without saying but the tour is available in winter only.
Alternatively, you can also try this dogsledding tour in Breivikedet.
Try kayaking on Eidfjord
Near Bergen
The best way to experience the grandeur of the fjords is on this epic speedboat tour.
You'll feel pretty close to nature as you whizz across the fjord, with the majestic mountains all around you.
Go snowmobiling to an ice bar
Near Tromsø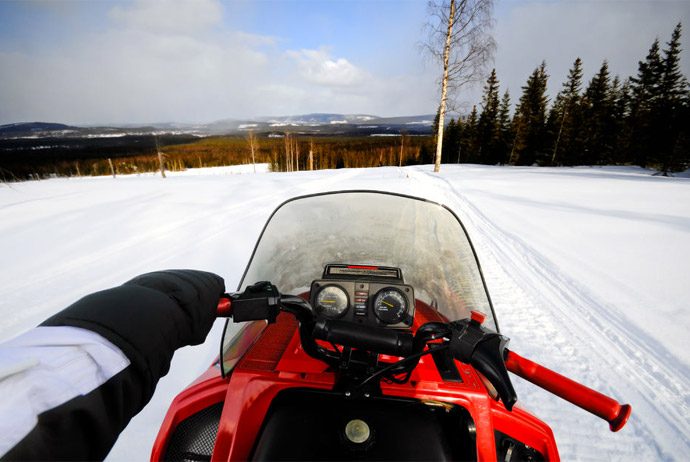 If dog sledding isn't your bag, you can always join a snowmobile tour and whizz around on the white powder in the beautiful Tamok Valley.
Then, you can explore the Tromsø Ice Domes, where a hotel, cinema, and restaurant are built every year out of ice.
Check out the ethereal ice sculptures and stop in at the ice bar for a shot or two (just don't drink and snowmobile!)
Rib ride on the Hardangerfjord
Near Bergen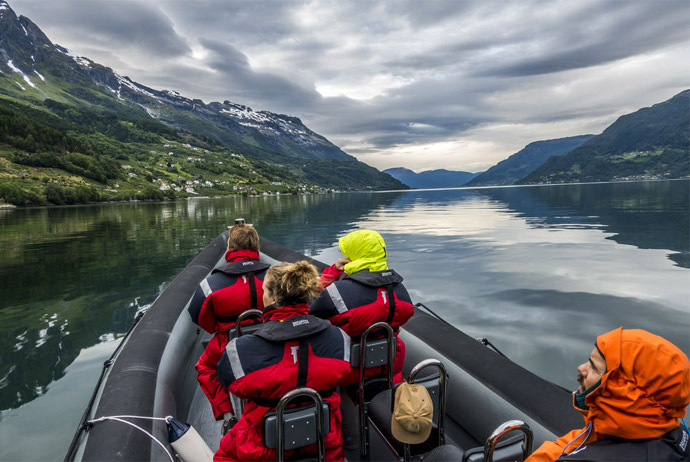 For the ultimate adrenaline rush accompanied by stunning scenery, sign up for a Rib ride on the Hardangerfjord.
Starting from Odda, this two-hour Rib tour gets you to the most picturesque spots fast.
From the boat, you can see hillsides planted with fruit orchards, towering mountainscapes and learn about the local culture and hydroelectric industry.
Look out, too, for local birds and wildlife – you may see goats and deer grazing on the hillsides, or seals basking along the shoreline and in the water.
Snowshoe to the summit
Near Tromsø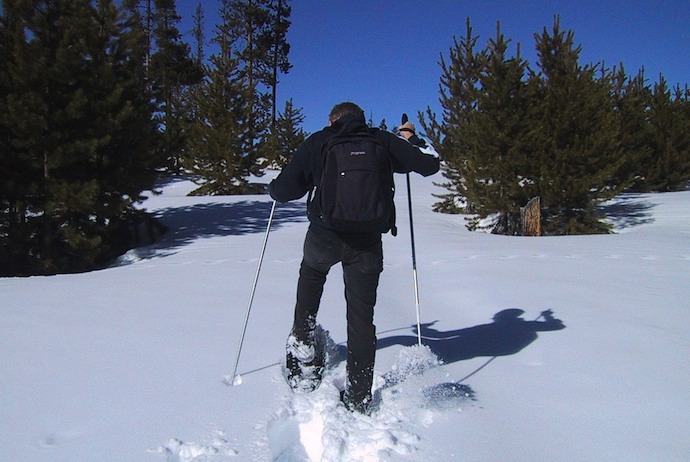 Want to get out into nature without hearing a big engine roaring? Try a snow-shoeing tour – it'll let you enjoy exhilaratingly clean mountain air and pristine scenery.
This tour treads more lightly than some of the others listed here, from an environmental perspective. You'll travel to the small mountain summit in a Tesla X electric SUV, with zero carbon emissions.
En route, look out for whales, seals and orcas in the seas below, and eagles and reindeer on and above the mountains.
You can't fail to be impressed by the awe-inspiring natural landscapes around you, and it's reassuring to know your trip here won't damage the very environment you've come to admire. This tour is a good option if you want to give it a try!
Zip-wire over Ringedal lake
Near Bergen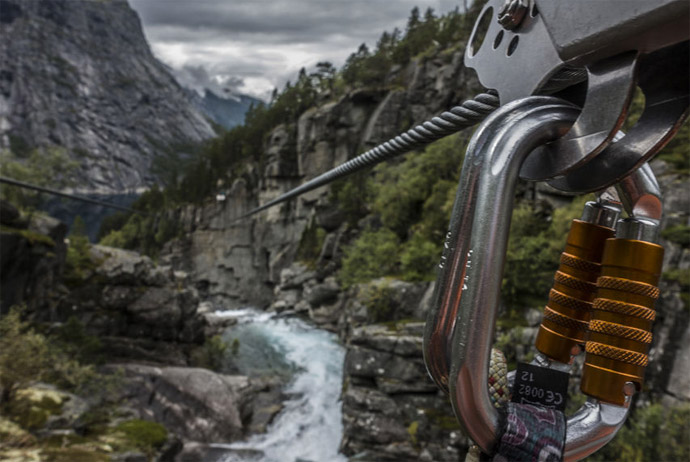 Real adventure-junkies will love this cycling, hiking and zip-wire trip. It starts with a seven-kilometre cycle ride along Ringedal lake, followed by an uphill hike to Tyssebotn.
After lunch, you'll launch yourself down a series of zipwires some 600 metres long and arrive back down at the lake. If there's time en route, you can take in the views of waterfalls, canyons gushing with water and the blue lake below.
Bergen Segway tour
Bergen
And if all the above trips seem a little too energetic and exhilarating, how about a gentle pootle around Bergen on a Segway?
They're great fun once you get the hang of them and a good way to see all the city's main sights in a hurry.
Take in the attractive Bryggen (old town), fish market, Nordnes Peninsula and the fortress – all with no effort whatsoever. There's more on what to see and do in Bergen in this guide.
See also:
Guided tours worth trying in Oslo
10 of the best fjords in Norway

Like what you've been reading? Get our best tips by email!