Despite the bone-numbingly cold temperatures, Norway's far north has become the place to be in winter. This is a beautiful area to explore with lots of fun activities to enjoy, but the main reason people turn up is simple: to see the magical northern lights, which dance across the inky black skies in beautiful swirls of colour.
This guide will give you tips on when to visit Norway for the best chance of seeing the northern lights, and will also give you some suggestions on the best places to see the lights – from Bodø and Alta on the Norwegian mainland to more remote places like Lofoten and Svalbard.
We've also rounded up some of the best northern lights tours, in case you fancy getting off the beaten track or simply want to learn how to photograph the aurora. Here's everything you need to know about seeing the northern lights in Norway.
Is Norway a good place to see the lights?
Well, it can be expensive. But there are loads of positive reasons for choosing Norway for your northern lights adventure. It's safe, it's easy to get around, and large parts of the country are far enough north to give you a good chance of seeing the lights.
There's a good selection of hotels and hostels in the north of Norway, too, so you'll never have too much trouble finding somewhere to stay. In northern Norway you also have the ability to mix aurora spotting with a look around fjords, or a trip up into the mountains.
If you're worried about the costs adding up, and your main mission is to experience the northern lights, our advice would be to consider Sweden instead – it's a little cheaper and you'll have just as much chance of seeing the lights.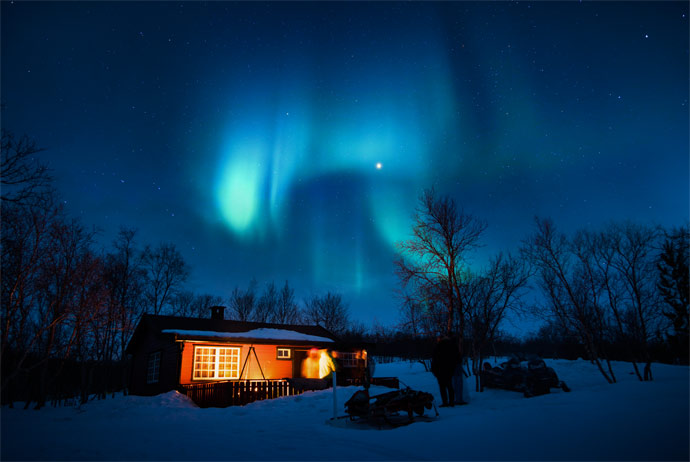 Where can I see the northern lights in Norway?
For the most part, you'll only be able to see the aurora in the northern part of Norway. Experts say your chances will increase the nearer you get to the so-called 'auroral zone', a band that stretches around the planet around 2000–3000km from the magnetic pole.
The good news is that lots of places in Norway fall under that band. As a very rough guide, the area between Bodø and Svalbard is usually considered the best for seeing the northern lights in Norway.
Tours to see the northern lights
Joining an organised northern lights tour in Norway can be expensive, but it makes a lot of sense if you want to get out into the countryside, learn some new photography skills or combine aurora-spotting with another outdoor activity.
On this amazing three-hour sailing tour from Tromsø, you'll glide out into a fjord aboard a catamaran and find the perfect place to watch the aurora, far from major sources of light pollution. Another option near Tromsø is this husky sledding adventure, which includes a campfire meal and the chance to meet some very eager doggies.
If you're visiting Lofoten, this small group minibus tour is ideal for first timers looking to catch a glimpse of the northern lights (it can be rebooked if the weather doesn't look good or if there isn't any sign of solar activity).
Of course, if the conditions are right, there's nothing to stop you catching the lights well outside that area. It's not unheard of to see them as far north as Svalbard or as far south as Oslo – but realistically, the chances of you seeing green skies over the Norwegian capital are very low indeed.
There are other factors at play, beyond your latitude. The intensity of overhead displays depends a lot on the amount of solar activity, and of course you won't be able to see any lights if it's still daylight (a serious consideration during Norway's bright summer). Then there's the weather to think about – even if all other conditions are perfect, there's a chance that clouds can ruin your view.
Needless to say, you'll need a bit of planning and a bit of luck: it really is possible to spend a long weekend (or even a couple of weeks) in the north of Norway without seeing the northern lights. For that reason, never let tour companies tell you that you'll definitely see the lights – they just don't know that the conditions will be right.
Despite all that, there are some things you can do to boost your chances of seeing the lights. The places we've picked out below are known for their clear skies and frequent displays, so it pays to visit one of those. You should also leave yourself plenty of time – you might get lucky, but only having one night in the north is going to cut your chances significantly. You should also aim to visit at the right time of year (read on for tips).
When's the best time of year to see the northern lights in Norway?
Theoretically, you should be able to see the northern lights whenever it gets properly dark. For northern Norway that means any time between late September and early April. You might get lucky and be able to see the aurora in early September or late April, but you will have far fewer hours of darkness to play with.
There's really not much chance of you seeing the northern lights during Norway's summer (roughly May–August). There might be solar activity but the sun barely sets in northern parts of the country, so it never really gets dark enough.
For the absolute best chance of seeing the lights, you should arrive during the middle of winter, when the sky is completely dark around the clock. In simple terms, less light means there's more chances for you to see the aurora.
The only downside to arriving at this time of year is the extreme cold – temperatures can stay well below freezing for weeks on end. You should also consider whether you want to do other activities, as the lack of daylight and warmth can make things like long hikes and husky tours very tricky indeed.
If you'd like a solid recommendation, our advice is to visit Norway on either side of the winter. The shoulder seasons of late-September–early November, and March–April will give you much milder temperatures. There's also more of a separation between night and day, with enough light to get stuff done during the daytime and enough darkness to enjoy the aurora in the evening.
Where are the best places to see the lights in Norway?
Tromsø and the Lyngen Alps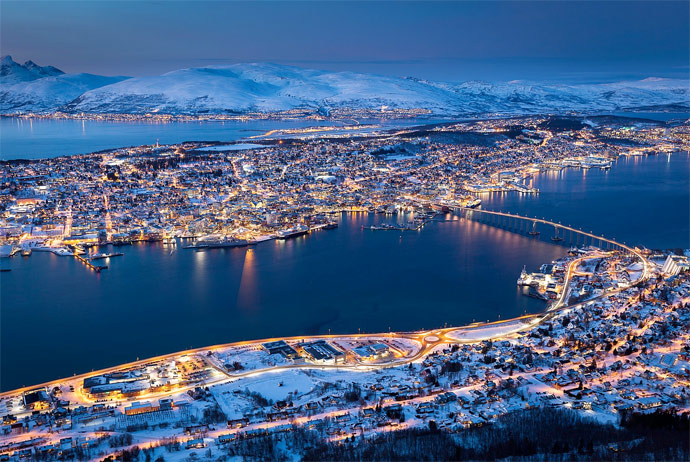 The biggest city in Norway's north – Tromsø – has endless opportunities for northern lights safaris and tours. Happily, Tromsø also has dozens of restaurants, cafes, museums and stores to check out during the daytime, and there's some great nature and wildlife on its doorstep.
For example, if you make the trip up here during the polar night (when it's dark around the clock) you might be able to spot some orcas or humpback whales out in the fjords. The Fjellheisen cable car is well worth a ride on to – not only does it offer a stunning view of the city from above, but it's also a great and unusual spot from which to view the northern lights.
The biggest advantage Tromsø can offer passing aurora hunters is its proximity to the Lyngen Alps, at the border with Finland. Only a two-hour drive from the city, this mountain range serves as a cover from bad weather coming in from the sea – making sure that your chances of spotting the aurora at the border are just a little bit higher than anywhere else around Tromsø. There's more on what to see and do in Tromsø here.
Getting there
A two-hour flight from Oslo, Stockholm or London, Tromsø is best reached by plane. There are no train connections but if slow travel is your thing, you can hop aboard the Hurtigruten coastal steamer and travel all the up way from Bergen.
Bodø
Bodø is not as well known as Tromsø and often tends to be overlooked, but this coastal city is a great alternative if you want to skip the crowds and explore off the beaten path. There are several national parks nearby, including Rago and Sjunkhatten (near Fauske). The Kjerringøy peninsula offers plenty of outdoor activities (and darkness!) as well.
Besides being a great playground for adventurers and northern lights photographers, the city of Bodø itself has some stunning street art and plenty of authentic Norwegian cuisine to offer, making it a great all-round destination.
Getting there
Like Tromsø, Bodø is best reached by plane from Oslo or by Hurtigruten cruise from Bergen. It's connected to the railway network, so you can take the train from Trondheim too. Even so, you'll want to rent a car to get the most out of your time in the area.
The Lofoten and Vesterålen Islands
Arguably the most beautiful place on this list, the Lofoten and Vesterålen Islands offer wild landscapes and plenty of darkness at night – perfect to watch the aurora dancing in the sky.
While the small town of Svolvær in Lofoten offers excellent restaurants and bars, as well as dozens of activities and tours to choose from, the smaller villages like Henningsvær and Unstad offer little but vistas and raw nature – perfect if you'd like to experience the true soul of northern Norway.
Andenes in Vesterålen then again is another great spot if you want to catch a glimpse of whales, in addition to the northern lights.
Getting there
To reach Lofoten, you can fly from Oslo, Tromsø and Bodø. Alternative you can take a ferry/express boat from Bodø, or take a Hurtigruten cruise from Bergen. Vesterålen can be reached by air from both Bodø and Tromsø.
Alta
Calling itself the city of the northern lights, this town in coastal Finnmark might be exactly what you're looking for.
Compact and with just enough cafes, stores and museums to keep you entertained, it's also pure and wild. Besides the unique Northern Lights cathedral (modelled on the wisps of colour that dance in the sky) Alta's highlights include the ancient rock carvings found at Alta museum, the grand Sautso Canyon, and the famous Igloo Hotel at Sorrisniva.
Getting there
You can fly to Alta from Oslo or Tromsø – there's also a bus from Tromsø. If you're on a wider trip through Finnmark, you can use the bus connections from Hammerfest, Honningsvåg and Kirkenes.
Svalbard
Situated halfway between the mainland of Norway and the North Pole, Svalbard is as remote as it gets.
If you like the idea of a polar night that lasts three months, and the thought of venturing out into polar bear territory doesn't scare you away, this place is for you!
Thanks to the archipelago's location at 78° north, Svalbard is one of the few places in the world where you can reliably see aurora during the daytime. This increases your chances of seeing the lights enormously, but you'll obviously have to dig a little deeper to pay for the trip.
Getting there
Svalbard can be reached by plane from Oslo or Tromsø. When booking accommodation, make sure to search for a hotel in Longyearbyen and not the Russian settlement of Barentsburg – although it may be cheaper, it can usually only be reached by snowmobile in winter.
Tips for seeing the lights
Find darkness
Light is the enemy so regardless of where you are, try to get away from sources of artificial illumination. Once you're away from streetlights and cars, let your eyes adjust to the darkness – even looking at a torch or a phone screen can make it trickier to see the lights. You might want to use a red light (like this one), which is less likely to affect your night vision.
Use an app
There are a few free services out there which monitor solar activity and let you know when it's likely you'll be able to see the northern lights. We usually use the aurora alerts from Soft Serve News – if you follow them on Twitter you can get free alerts. Usually there's enough warning for you to wrap up, head outside and get to a nice dark spot before the show begins.
Wait until there's activity
Rather than freezing outside, find a nice warm spot by a window (or in your car with the lights off) and wait for some activity. Once you see the first glimmer of green in the sky, it's time to step outside.
Be patient
The lights come and go, and may disappear for a long time or simply not show up at all. The best thing is to be patient (whatever you do, wrap up warm and carry a thermos with something hot in it).
Don't forget insurance
Norway is a safe place but our advice is very simple: you still need travel insurance. A good policy can make a world of difference if things go wrong when you're in the middle of nowhere watching the northern lights.
The best policies also offer trip cancellation cover, so that you could get the money for your tour back in the event that you have to cancel because you or a close relative falls ill. For lots of different reasons we recommend World Nomads – you can get a quote below, even if your trip has already started.
See also: Seeing the northern lights in Sweden
Like what you've been reading? Get our best tips by email!