High up in the Arctic Circle, Tromsø sits right on the coast. It's surrounded by beautiful fjords, making it an ideal place to go sea kayaking – and those majestic mountains provide the perfect backdrop.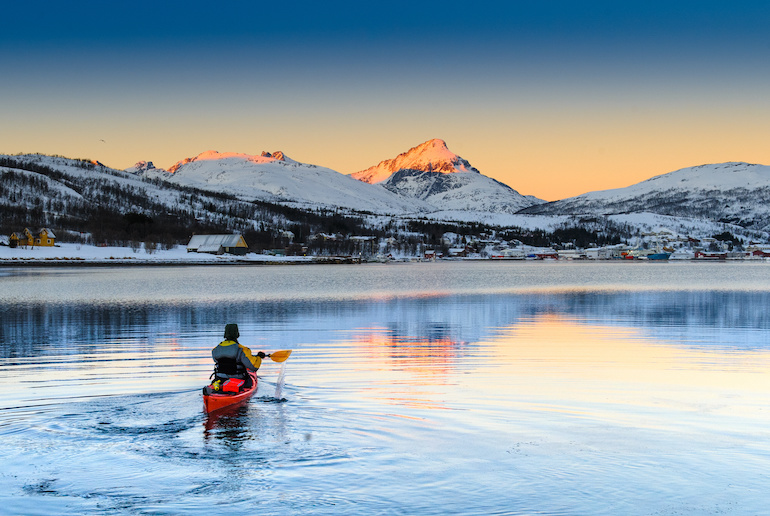 Paddling around the indented fjords is a magical experience, and there's a good chance of spotting seals and sea otters playing in the water too.
Here's all you need to know about choosing the perfect kayak tour from Tromsø. We've highlighted some of our favourites here!
Why kayak in Tromsø?
We think that Tromsø is one of the best places in Norway to go sea kayaking. But it's not just the stunning scenery that makes it so appealing.
For two months of the year the sun doesn't set this far north in Norway, so you can head out onto the water at any of time of the day or night – and go kayaking under the atmospheric midnight sun.
Tromsø's also a great place for wildlife watching, and because kayaks glide through the water silently, they offer an excellent way of spotting the area's marine life.
Sea eagles swoop overhead, while seals and sea otters often play in the sea. Long-tailed ducks swim by and you can sometimes see starfish and jellyfish floating in crystal-clear water below.
Despite being more than 200 miles above the Arctic Circle, Tromsø is a lively university city, with good connections to the rest of Norway, so you won't be bored when you stay here.
And there are plenty of other things to do here too, including whale-watching, dog-sledding, snowmobiling and riding on a reindeer sleigh.
BOX: Quick take: our 3 favourite tours
Kayak with seals on this wonderful winter kayaking tour that explores the fjords around Kvaløya island.
For a real wilderness experience, spend three days kayaking and camping around the beautiful island of Rebbenesøya.
Choosing the right tour
So you like the idea of sea kayaking (and let's face it, who wouldn't?) but which tour should you choose? And how long are the tours?
We think you should factor in about five hours for most of the basic tours, though not all this time will be spent out on the water. This allows for a transfer from Tromsø to the launching site, plus getting kitted out and initial tuition.
Of course, there are longer tours available too. You can take an overnight kayak trip, or spend up to a week exploring the fjords by kayak.
On the longer trips, accommodation and meals are included, often at campsites, in cabins or at an outdoor activity centre.
Most basic tours are suitable for beginners, and you won't need any previous kayaking experience to enjoy them.
Advanced level kayakers may prefer to go out in a group or on a private tour with others of a similar standard, so that the speed and distance is not dictated by those with less experience.
If you have any specific interests it's also worth looking out for specialty tours, such as photography-focused tours, that have an experienced photographer as a guide, or those that combine kayaking with cultural or historical activities.
5 of the best kayaking tours in Tromsø
Recently there's been an explosion in the number of kayaking tours you can join from Tromsø. Here are 5 of our favourites.
Sea kayak with seals
Sea kayaking is the most magical and eco-friendly way to see seals. As you glide silently across the fjords, the inquisitive seals often gather round the boats to play and see what is going on.
We love that this tour uses public transport to and from the start point to help reduce the overall impact on the environment!
Price: NOK 1500; US$135
Go wildlife-watching by sea kayak
Explore the Arctic fjords around Sommarøy by sea kayak and look out for an amazing array of wildlife including sea otters, white-tailed sea eagles and maybe even seals.
You'll also moor up on a remote beach for a warm drink and snacks. This tour is a good option if you're not experienced and feel a bit concerned about paddling your own kayak (you can double up with a more experienced kayaker in a tandem craft).
Price: NOK 1550; US$138
Experience an easy eco-friendly sea kayak tour
You'll take a public bus from the centre of Tromsø to Håkøybotn on Kvaløya island for this environmentally-friendly sea kayak tour. All tuition and gear is included, so it's ideal for first-time kayakers.
Price: NOK 1490; US$137
See the midnight sun by sea kayak
Paddle around Håkøya island by kayak under the magical midnight sun. On this evening tour, you'll experience the eerie late sun against a backdrop of majestic mountains and the Arctic.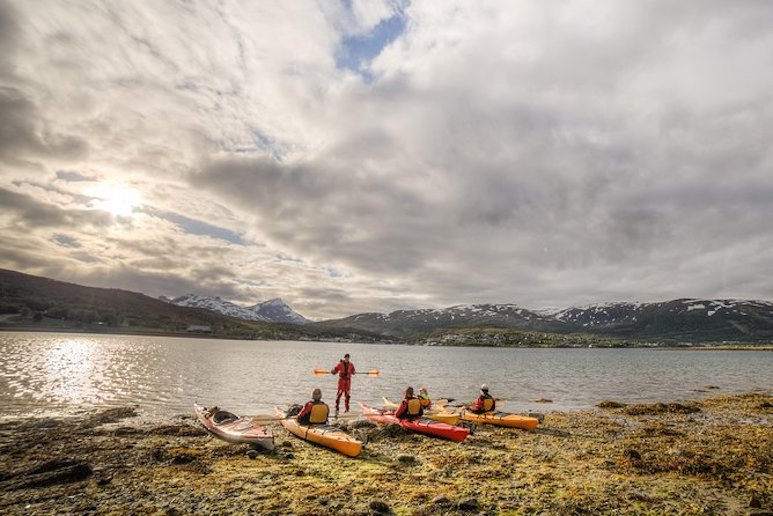 We really like that dinner round a campfire on a remote beach is included too, giving you a chance to enjoy the stunning scenery and meet other travellers too. This tour is only available in the summer.
Price: Check prices here.
Camp and kayak in the Arctic
For a real wilderness experience this three-day kayak and camping tour explores the Arctic fjords around Rebbenesøya, north of Tromsø, where you may see seals, dolphins and porpoises.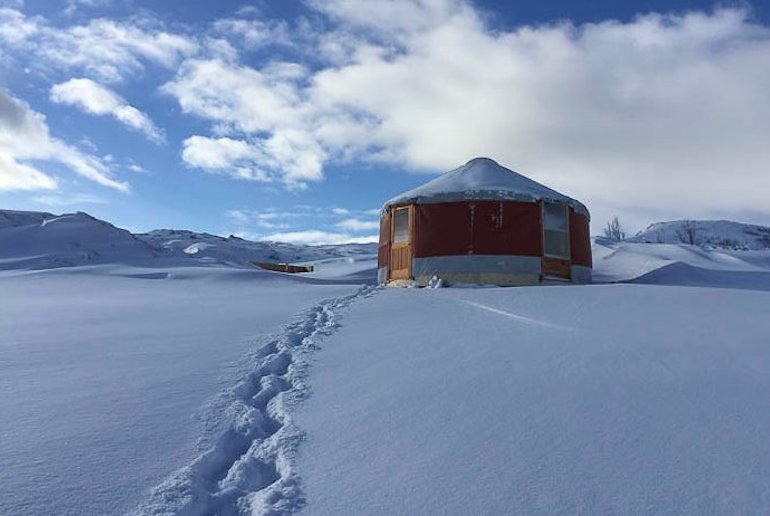 You'll camp in a comfortable yurt close to the seashore and eat dinner round the campfire.
Price: NOK 14,875 for a 1-2 person yurt, including guide, transfer from Tromsø, all gear and meals.
What to consider when booking
When you visit Tromsø will have a big impact on your experience. Summer is the obvious time to pick, when the days are longer and the temperatures milder.
And if you're in Tromsø from May 20th to July 20th, you can paddle around beneath the midnight sun.
But kayaking in winter can also be an amazing atmospheric experience. The scenery is particularly stunning in winter with the surrounding mountains covered in snow, ice forming on trees and bushes and crystal-clear water.
And, the recent advances in dry suit technology mean that you can head out onto the fjords in really low temperatures and still stay warm and dry.
Most winter tours will include high-tech dry suits, as well as kayaks, paddles and all the gear you need to get out on the water.
Make sure that your tour is led by a certified guide, which is especially important if you're kayaking in winter in the challenging Arctic conditions.
Personal recommendations are always the best way to choose a tour, but you should also check online reviews.
We like KaruArctic who run year-round kayak tours and get consistently good reviews, particularly for the main guide Jenni Antinaho.
Preparing for your tour
Whilst you'll be provided with a waterproof dry suit, you'll also need warm clothing underneath it, given the Arctic climate.
In winter, experienced kayakers suggest a thermal shirt with a thick wool/fleece jumper on top, woollen socks, a warm jacket, and a woollen or fleece hat and gloves.
Wearing layers is a good idea, particularly in summer, as you may get warm while paddling and want to shed a layer or two.
Make sure you also bring a reusable water bottle with you – not plastic. It's important to respect the pristine Arctic environment, leave no litter and take everything back home with you.
Also be mindful of the wildlife. You may be excited to see seals, but keep your distance, don't scare them and don't make unexpected noises.
Most of the basic tours are suitable for anyone over 10 and under 80, with a reasonable level of fitness. They are not recommended for those with heart conditions, serious medical problems or limited mobility.
What to expect during the tour
All tours will start with a safety and technique briefing, getting kitted out with all the gear, and some initial tuition if necessary.
You'll then take the kayaks down to the launching point, usually a beach or slipway. Most people will be in a double kayak, though more experienced kayakers can usually opt for a single one if they prefer.
The route will depend on where you're starting out from and the weather conditions – your guide may adapt the route if conditions dictate, or to see some wildlife.
Some tours include a rest stop on a beach for a snack and a warm drink, while longer overnight tours will moor up and camp at a suitable spot.
See also:
Cheap places to stay in Tromsø
What to see, do and eat in Tromsø
7 wild northern lights tours in Tromsø
Snowmobile tours from Tromsø
Reindeer tours from Tromsø