Norway is home to more than 200,000 reindeer and if you're driving around the north of the country, you'll almost certainly encounter some sooner or later.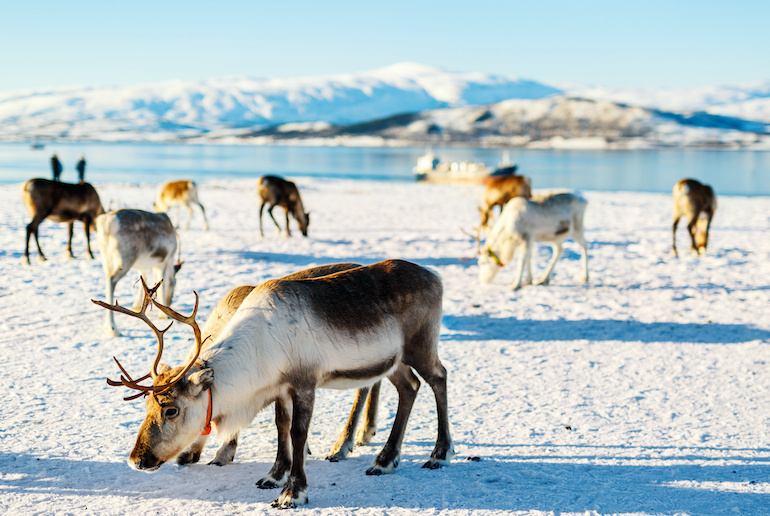 The vast majority of the animals live in Norway's central and northern reaches and many are semi-domesticated by the indigenous Sami people, who have lived and herded reindeer in Tromsø area for hundreds of years.
Why reindeer are so important
Reindeer aren't just pretty to look at. The animals are of huge importance to the local eco-system and have great cultural significance for the Sami too.
Of course, as a foreign visitor, it's always exciting to see reindeer in the wild for the first time.
But by taking some time to learn more about reindeer and how they interact with indigenous people, you can understand a lot about the traditions and cultures of the Sami.
Quick take: 3 fun reindeer tours from Tromsø
Getting up close and personal to a reindeer with its huge antlers and fluffy coat is an experience of a lifetime. And there are plenty of tours from Tromsø that allow you to do just this.
One of our favourites is this classic reindeer trip that includes that a sleigh ride and a chance to feed the reindeer.
We also like this fab overnight trip where you stay in a traditional Sami lavuu tent, feed the reindeer and take a sleigh ride.
But for the ultimate bucket-list experience our favourite tour is this night-time reindeer sleigh ride, with a good chance of seeing the northern lights.
If you've reached this far north in Norway and are even a little bit interested in these creatures, it's well worth taking a sleigh ride or visiting a reindeer farm to meet the animals.
Both kinds of trips will let you learn about their habits and behaviour – as well as the traditions and culture of the people who've interacted with them for centuries.
Why is Tromsø so good for reindeer tours?
The self-styled 'gateway to the Arctic', the city of Tromsø is probably the best place in northern Norway to go on a reindeer tour.
And Tromsø is not just interesting because of its beautiful setting – on an island surrounded by fjords and mountains.
It's Norway's largest city within the Arctic Circle and has plenty of tours on offer, from snowmobile trips to husky sledding, whale-watching to northern lights tours.
It also has a good range of accommodation – although, this being Norway, even the budget places cost more than in many European cities.
For help and hints on how to stay here on a budget, see our guide to Cheap places to stay in Tromsø.
Things to consider before joining a tour
So, you like the idea of taking a reindeer sleigh ride, but are they ethical? And is it an authentic experience? Here are some things to think about before signing up to a tour.
Are reindeer sleigh rides tours cruel?
Reindeer clearly don't pull sleighs in the wild, any more than horses pull carts, and the jury is out on whether it is cruel to train them to do so.
Unlike dog sled rides, where the dogs seem to enjoy running (for more on this, see our guide to dog sledding in Tromsø), most reindeer sleigh rides are fairly short, sedate affairs, with the reindeer plodding around at a gentle pace.
If you have any doubts about the ethics of taking a sleigh ride, our team recommends opting for a tour such as this one which doesn't include a ride, but where you get to feed the reindeer, learn all about their habits and can discuss their welfare and behaviour with the herders.
Remember, the Sami have been herding reindeer for hundreds of years and have a great bond with their animals. It's in their interests to look after the reindeer, care for them and treat them well.
Are reindeer sleigh rides tours only for tourists?
On the whole, yes. In the past, the Sami may have used reindeer sleighs to transport goods and people, but today they're more likely to use snowmobiles and even helicopters to move themselves around – leaving sleds predominantly for tourist use.
Traditionally nomadic reindeer herders, the Sami are now more likely to make a living from teaching tourists about their culture and traditions, taking reindeer sleigh rides and showing visitors how to care for and feed the reindeer. Plenty have 'regular' jobs too.
Whilst reindeer herding is still important to some Sami, it's a harsh life and it's very hard to make a living from it so the tours are an important source of income.
And they are also a chance to teach people about Sami life and culture and to pass on traditional stories and songs.
Do you really need to join a tour to see reindeer?
If you are driving around in northern Norway, you may well see reindeer from a distance roaming in herds around the countryside. However, they're shy creatures and you certainly won't be able to get very near them.
The advantage of doing a tour is that you can get much closer to the animals, and you'll learn all about how to approach them, and even feed them.
You'll also get a fascinating insight into the fast-disappearing traditional way of life of the Sami people.
Reindeer tours worth joining from Tromsø
So, here are some great reindeer tours where you can feed reindeer, ride on a sleigh and learn about Sami culture and traditions.
Ride a reindeer sleigh and meet the Sami
We really like this trip to a Sami camp, where you get to meet a herd of around 300 reindeer and have a ride on a sleigh pulled by reindeer. You'll also get a warm bowl of stew, served up round a campfire while listening to traditional Sami songs and stories.
Price: NOK 1590; US$145
Hand-feed a fluffy reindeer
If you want to get up close with the reindeer, feed them by hand, and learn all about their behaviour, habits and life, this trip provides a fascinating insight into how the Sami and reindeer interact.
The Sami guides are really knowledgeable and welcome you into their tents where you'll learn all about how they and the reindeer co-exist in this stunningly beautiful, inhospitable land.
Price: NOK 1395; US$127
Take a sleigh ride under the stars
This tour includes a short night-time reindeer ride across the snowy ground. If it's a clear night, you'll see the stars twinkling above and may get even get to watch the northern lights playing in the sky above.
It's a magical evening that ends up with a traditional Sami dish of bidos (reindeer stew!) for dinner, plus songs and stories round a campfire. If the thought of eating reindeer after feeding and cuddling these handsome beasts doesn't appeal, veggie options are available.
Price: NOK 1790; US$164
Visit a reindeer ranch
Visit a real reindeer ranch and learn how to be a reindeer herder. This fascinating tour explains all about reindeer husbandry and gives you the chance to feed the animals yourself.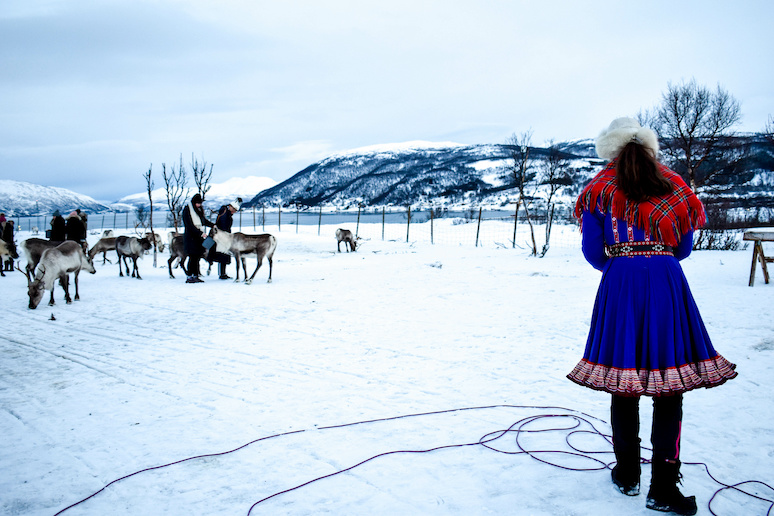 The Sami hosts will cook a delicious traditional meal and tell you all about their culture and traditions. If you're lucky they may sing you a Sami joik (traditional song) and tell you stories from their past.
This tour may not include a sleigh ride, but we like the fact that you get a real chance to interact with the reindeer and the Sami herders.
Price: NOK 1290; US$120
Explore the Ice Domes and meet the reindeer
Take a tour of the Tromsø Ice Domes, which are rebuilt each year out of frozen snow and ice. You'll see the themed ice sculptures and have a drink in the ice bar before meeting the herd of reindeer that live by the Ice Domes.
What we like about this tour is that the scenery around the camp is stunning and there's time built in to explore the surrounding landscape.
Price: NOK 1245; US$114
See also:
What to see, do and eat in Tromsø
5 of the best snowmobile tours in Tromsø, Norway
10 of the best whale watching tours in Tromsø, Norway