With its miles of pristine snow, frozen lakes and rivers and snow-laden forests, Finland is a winter wonderland for dog sledding.
You'll glide silently through the frozen landscapes, the only sound being the huskies' paws pattering along and the sound of the sled sliding across the snow.
Why Finland is an idyllic destination for dog sledding
Although dog sledding is not a traditional culture for the Sami people of Lapland, it has become a popular activity that is well suited to the Finnish climate and landscapes.
The lack of light pollution in Finnish Lapland and its location high up in the Arctic Circle make it a great place to experience the magic of the northern lights along with the fun of a dog sled ride.
The combination of untouched wilderness, traditional wooden cottages, frozen lakes and miles of pristine forest make Finland a great place to explore by dog sled.
And don't forget that this is a country with more saunas than there are people, so once you've been out in the cold on the dog sled you can warm up in a Finnish sauna.
5 unmissable dog sledding tours in Finland
Here are our five favourite dog sledding tours in Finland.
Drive the dogs on a husky safari
Take a thrilling 10km husky safari through the unspoilt Finnish countryside past snow-covered forests and frozen lakes.
You'll makes friends with the huskies first, then drive the sled yourself, while looking out for reindeer, elk and other wildlife en route.
Go on a snow-shoe trek plus reindeer and husky sled ride
You get the chance to ride on a sleigh pulled by two iconic Arctic animals on this fun tour that includes a reindeer sleigh ride and husky sled trip.
You'll also go on a fun snow-shoe trek along a scenic Lappish hiking trail.
Try ice-fishing and dog sledding in one trip
You get two Arctic experiences in one on this salmon fishing husky safari. Try your hand at ice-fishing and, with luck, catch an arctic salmon, before learning how to mush a dog sled and drive a husky pack across the snow.
Visit huskies and reindeer by canoe
And when there's no snow on the ground, you can canoe on a beautiful Finnish lake, feed the reindeer at a reindeer farm and make friends with huskies at a husky farm. You'll even get to experience dog sledding but in a wheeled carriage pulled by huskies.
Experience the ultimate Arctic adventure
Dog sledding, ice-karting, arctic skiing, winter fat biking, ice swimming, snowshoe trekking, trying a tent sauna, toboganning, northern lights viewing and snow scooters are all included on this bucket-list aurora adventure.
You'll spend the week exploring the Arctic wilderness and trying out all sorts of fun winter activities.
Top spots for dog sledding in Finland
Finland has many places where you can go dog sledding, as well as trying out a load of other Arctic activities. Here are some of our favourite dog sledding destinations.
Rovaniemi
Our top place for dog sledding in Finland is Rovaniemi, just inside the Arctic Circle. Known as the gateway to the Arctic and the official home of Santa Claus, it's got a huge variety of dog sled tours that can be combined with any number of other snowy activities.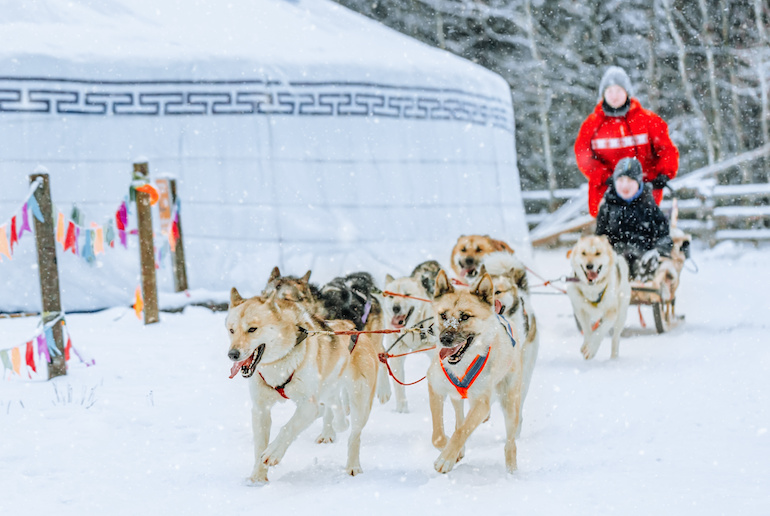 You can go ice fishing, take a snowmobile ride, hike to a frozen waterfall, have dinner and a sauna at the Arctic Snow Hotel and even cruise on an ice breaker and go ice floating.
We love this Apukka husky adventure where you'll meet the dogs, learn how to mush and head out to explore the forests on a husky sled.
For the ultimate festive experience, we suggest staying in a cabin with its own sauna at the original Santa Claus Village, where you can drop in and visit Father Christmas in his grotto.
For more on activities in Rovaniemi, see our guides to snowmobile tours in Rovaniemi and the best photography tours in Rovaniemi.
Ivalo
The village of Ivalo sits on the River Ivalo on the edge of the Urho Kekkonen National Park and close to the popular resort of Saariselkä.
It's home to Finland's most northerly airport and makes a good base for hikes out into the Hammastunturi Wilderness Area, one of Europe's remotest wilderness areas.
To really explore the area, we recommend this week-long northern lights tour that includes a husky tour, northern lights viewing, a trip to a reindeer farm, a smoke sauna and an insight into Sami culture, cooking and traditions.
And if you want to stay, we like the Aurora Village Ivalo with fun glass-roofed cabins in the forest by the river – perfect for northern lights spotting.
Inari
High up in the Arctic on the shores of Lake Inari, Finland's third largest lake, Inari offers the most authentic Lapland experience.
Known as the capital of Sami culture (in Finland, anyway), it's a great place learn all about Sami life, traditions and history at the Sami Museum and Nature Centre and the Sami Culture Centre. It's also a good place to buy authentic Sami arts and handicrafts.
In summer, you can go hiking, kayaking or take a lake cruise, while in winter there are reindeer safaris, snowmobile trips, skiing and, of course, dog sledding.
Our top accommodation choice is the Wilderness Hotel Inari & Igloos, right by the lake with log cabins and glass-domed igloos.
Kemi
Sitting at the top of the Gulf of Bothnia, close to the Swedish border, Kemi is just south of the Arctic Circle but still makes a great place to visit a husky farm and go dog sledding.
Or, why not head out onto the Bothnian Sea on an ice-breaker ship to go ice-swimming and visit the incredible Snow Castle, the world's only fortress made from snow and ice?
You can even spend the night here, but if your budget won't stretch to it, we like these lovely seafront cabins, with glass walls and roofs giving views out over the water.
Levi
Finland's largest ski resort, Levi sits high up in the Arctic Circle, and is well geared up for winter sports activities including skiing, snow-boarding, northern lights viewing, reindeer safaris, snowmobile trips and ice-karting.
We love this husky safari, where you visit a husky farm, learn how to mush and drive a dog sled yourself.
In summer, the ski lifts give access to a beautiful range of mountain walks and hikes.
The Golden Crown Igloos just outside Levi are our favourite accommodation choice. The glass igloos have beautiful views of mountains, woods and rivers – and some come with their own hot tub on the deck.
The costs of dog sledding in Finland
The price of a husky safari depends on its length and whether it includes any other activities. Tours are cheaper if you just want to ride on a sled pulled by the dogs. If you want to learn how to mush and drive the sled yourself, it usually costs more.
Prices start from around $100 (£85) for a two-hour trip to a husky farm to meet the dogs and have a sled ride.
Or you can pay up to $1400 (£1190) for a week-long Arctic adventure that includes accommodation, plus dog sledding, ice-fishing, tobogganing and winter trekking.
Best time of year to dog sled in Finland
There is generally snow in Finland from December to April, though the further north you go the longer the snow season.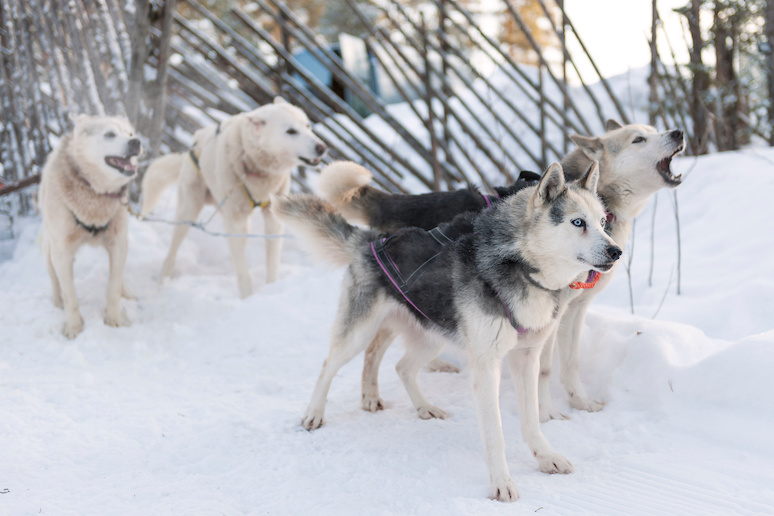 December and January offer the best chances of seeing the northern lights while dog sledding, due to the long dark nights.
In March and April, however, temperatures are milder and you get more daylight for doing other activities.
But you can go dog sledding year-round, even when there's no even snow on the ground. Tours such as this autumn husky ride offer the chance to drive a wheeled dog cart pulled by huskies.
Preparing for your Finnish husky safari
Most tours provide all the equipment you'll need to go dog sledding, such as warm overalls to wear on top of your own clothing.
However, you'll be expected to wear suitable clothes, such as a warm winter coat, woollen hat, scarf and gloves and sturdy waterproof shoes or boots.
Bear in mind that driving your own sled is energetic so you'll need a decent level of physical fitness – and you may get warm, so wearing layers in a good idea.
Sun cream and sunglasses are recommended too, as the sun reflecting on the snow can cause glare.
Animal welfare considerations
Just as with horse-riding and horse-racing, there is much debate as to whether husky safaris are cruel to the dogs.
Since dog sledding in Finland has become so popular over the last decade or so, new operators have sprung up to cater for tourist demand. Try and choose a long-established outfit with a good local reputation.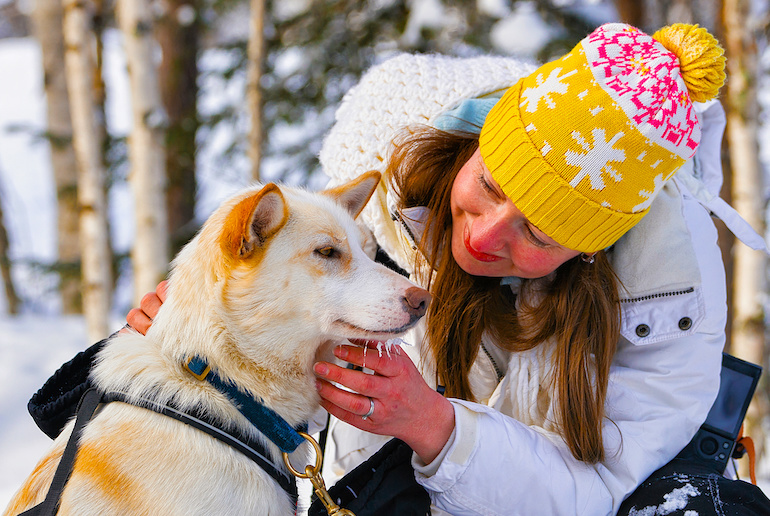 But how do you know whether your operator follows ethical standards?
First of all, look around. Do the dogs seem happy and well-kept? Do they respond well to their handlers?
Don't be afraid to ask questions about the dogs' welfare. Good managers will be only too happy to tell you all about their welfare standards and conditions.
Since dogs need regular runs, ask about their running schedules. Will they be taken out for a run even if there are no tourists?
And huskies need to run year-round, not just in the busy winter tourist season. So if you can go in the shoulder seasons, you will be helping the dogs to have a run at a quiet time of the year.
Alternative and complementary experiences
And once you've been dog sledding, there are plenty of other winter activities that you can do in Finland, including reindeer sleigh rides, learning about Sami culture, trying a traditional Finnish forest sauna, ice swimming and icebreaker cruises in Kemi.
For more on fun winter activities in Finland, see our guide to Finland's best winter tours
See also:
Dog sledding in Norway
Dog sledding in Sweden
The best dog sledding tours in Kiruna
The best dog sled tours in Tromso