Admiring the northern lights, seeing whales in the wild, or simply crossing the Arctic Circle – these are just some of the bucket-list experiences that make Tromsø such a big hit with tourists.
Visiting this beautiful part of northern Norway does come with one significant downside, though: it's anything but cheap!
If you've been travelling around Norway for a while you'll know that cheap hostels are a rare find – even in the capital of Oslo (although we did find a few here). Tromsø is just as expensive, but if you know where to look there are actually some nice, affordable places to stay. Follow our guide to help keep your accommodation costs to a minimum!
Tromsø Camping
Unless you've got friends living locally, camping will always be the cheapest way to spend a night in Norway.
If you'd like to save money and stay close to the wilderness, Tromsø Camping is an excellent choice. Situated on the mainland, close to the Fjellheisen cable car and the Arctic Cathedral, but still in a quiet part of the Tromsdalen valley, this campsite offers the best of both worlds and makes it easy for you to explore the city and the wild.
You can either bring your own tent and pitch up in the forest for around 165 NOK a night, or book one of the campsite's cabins. The smallest ones on offer, called 'economy' cottages, come with two bunk beds and basic cooking facilities.
There's no running water but for around 595 NOK per night (that's for the whole cabin), you'll get a warm place to sleep, along with access to bathroom and kitchen facilities over in the main building. With a little bit of luck, you'll get a chance to see the northern lights at night with this tour – otherwise, try these spots nearby.
Wifi is included in the price (albeit a rather slow connection), while bedding and towels cost an extra 100 NOK. You also need to pay a 150 NOK cleaning fee at the end of your stay, but if you're travelling with a partner or as a group, Tromsø Camping is without doubt one of the cheapest options available in town.
Enter Backpack Hotel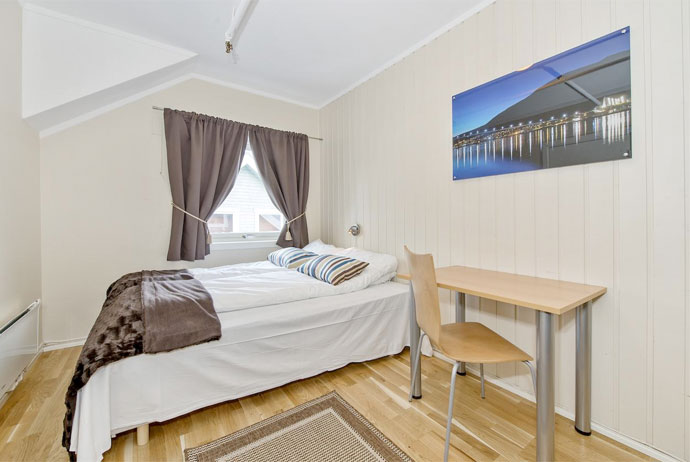 Situated on a hilltop overlooking the city centre and offering modern, private rooms, this place is central, clean and relatively cheap. For around 800 NOK you can get a single room with desk, a fridge and a sink. There are shared bathroom facilities and you'll also get access to a kitchen and a lounge. A double room of the same standard costs around 1000 NOK.
The hostel is bright and spacious, and as it's within easy walking distance of the city centre, we reckon it's an ideal crash pad for budget travellers – especially those who'd rather not stay in a dorm.
Despite the hostel being fully booked during our anonymous stay, we never experienced any bathroom queues or crowds in the kitchen. Note, however, that the kitchen has limited hours.
Comfort Hotel Xpress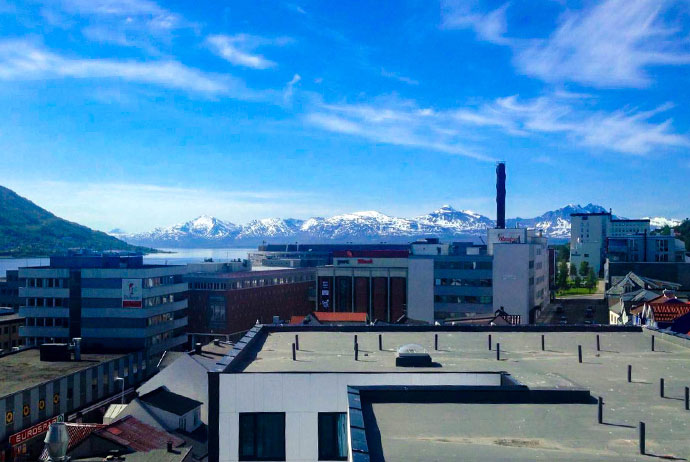 Located in the heart of the city centre, with a stunning view of the Fjellheisen cable car and the city centre from its upper floors, Comfort Hotel Xpress is the perfect place for anyone who wants to see as much as possible of Tromsø within a short space of time.
As the name suggests, this hotel is all about efficiency and quick check ins, so it seems to attract backpackers and business travellers alike. The rooms are relatively small but they are fresh and modern, and they all come with their own private bathroom.
The lobby is an okay spot for a drink, and the staff are friendly and welcoming. There are no kitchen facilities here but breakfast and snacks can be bought in the shop by the reception. Rooms start at around 625 NOK (depending on availability and the time of year).
Viking Hotell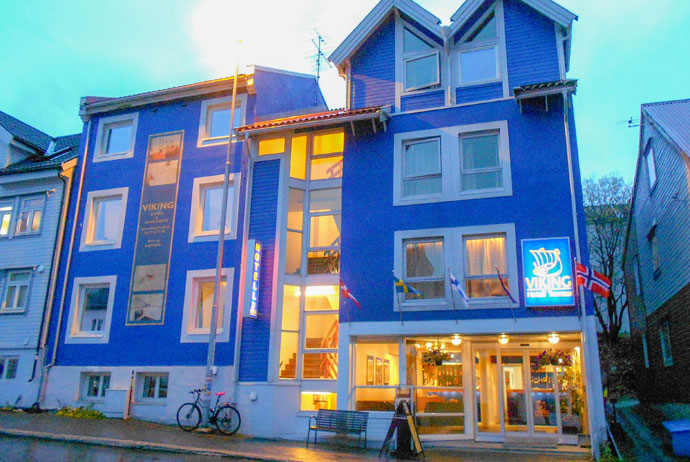 Stay here and you'll sleep much better than the Vikings probably did – in spacious, modern rooms, only a short walk from the city centre and the Polaria science museum. Single and double rooms are available, featuring plenty of space, plus heated floors and some nice local artwork on the walls.
A single room here can be booked for as little as 600 NOK in summer or 900 NOK in winter, while a double room costs between 900 NOK and 1200 NOK. A breakfast buffet is included in the price, and free waffles (!) are served in the lobby every night. All in all, this is a very cosy place to stay – perfect for budget travellers who fancy a bit of extra comfort.
City Camp
Strictly speaking, this is the only proper 'hostel' in Tromsø. City Camp (also known as Tromsø Activities Hostel) is a small, privately owned place in a charming, old wooden building, close to the city centre.
Rooms, bathrooms and the kitchen are all quite small, but so are the rates. For just 300 NOK, you get a bed in a dorm room. Just be mindful that the minimum stay is two nights.
The owners of the hostel also offer activities in the local, such as photography tours and hikes, often at significantly lower costs than other companies. You can't expect too much comfort at this place, but you'll have a hard time finding cheaper rates anywhere else in town!
Airbnb
Tromsø has really experienced a boom in tourism over the last couple of years. Cheap hostel and hotel rooms tend to sell out quickly in high season, which means you may struggle to get somewhere reasonably priced to lay your head at night.
A great backup plan is Airbnb; you can usually find a place with its own kitchen, which means you can save money by preparing every meal for yourself. You can get a 250 NOK discount on your first stay here!