Norway's fifth-largest city, Kristiansand, lies at the country's southern tip. A lively beachside town with good ferry connections to Denmark, it attracts more than 900,000 visitors each year.
Although Norway has a reputation for being pricey, don't let this put you off. We've compiled a list of 30 cheap or free things to do in and around Kristiansand. The most expensive activity in our list comes in at 320 NOK ($35), though there are plenty that cost nothing at all.
All the sights and activities below that don't have a price quoted are completely free to enter. To make this list as easy to navigate as possible we've divided the sections into:
Historic sights and attractions
1) Stroll through Kristiansand's Old Town. Also known as Posebyen, this part of town was all that survived after a fire destroyed much of the city in 1892. Today, the atmospheric streets lined with charming old white houses make for a romantic stroll through Norway's traditional past.
2) Visit Kristiansand Cathedral. This Neo-Gothic cathedral in the heart of the city was built in 1885. Pop in and catch one of its free daily organ concerts (from May until late August).
3) Explore Kristiansand's Fortress. Dating from 1672, the fortress has only been put to test once – during the Napoleonic Wars in 1807. It's located on the beach boardwalk, so a visit here is easily combined with a pleasant stroll along the seafront.
Fun and entertainment
4) Take a splash at the Aquarama Badeland Waterpark and Spa. Aquarama has six different bathing areas, including five pools of varying temperatures. If you just want to relax in the spa, tickets cost 175 NOK ($19); full use of all the pools and spa facilities cost 275 NOK ($30) per adult.
5) Journey through the stunning Norwegian landscape on a 100-year old locomotive steam train. The Setesdalsbanen heritage railway runs for 8km between Grovane and Røyknes stations in Vennesla, around 20km outside Kristiansand. An adult ticket costs just 170 NOK ($19).
Museums and galleries
6) Discover southern Norway's biggest historical museum, the Kristiansand Museum. This open-air museum is home to 34 traditional old houses and you can easily spend a whole day exploring the historic buildings, some of which date back to 1580. Entrance costs 100 NOK ($10) for adults.
7) Check out some great Norwegian art ranging from the 1800s up to today at the Sørlandets Kunstmuseum (SKMU). As well as the permanent collection, the museum hosts temporary exhibitions of contemporary art and crafts. Entrance costs 110 NOK ($12) for adults.
8) The world's second-largest land-based cannon was built by the Germans in World War II and can be seen at the Kristiansand Kanonmuseum, 12km from the city centre. Entrance costs 100 NOK ($10) for adults.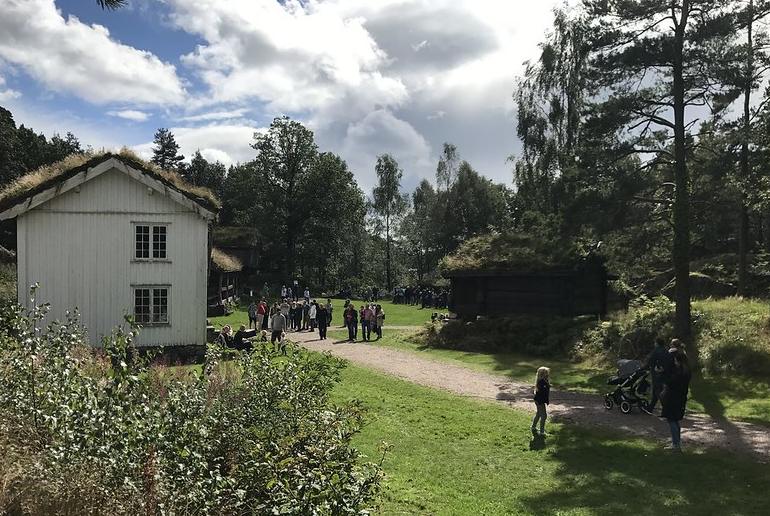 9) Take a look round one of Norway's largest private art galleries, Galleri Bi-Z, where you can view works by more than 200 artists both from Norway and abroad. Entrance to the gallery is free, though the works displayed are for sale – if you've got some cash to splash.
10) Learn all about the dark history of the German occupation of Norway during the 1940s with a tour around Norway's only existing World War II Gestapo Headquarters. Entrance to the museum and exhibitions costs 90 NOK ($10) per adult.
11) Explore a Norwegian stately home at the Vest-Agder-Museum Gimle Gård. This old manor house dates back to 1800 and is furnished with historical artefacts including paintings and antique furniture, and other treasures from Norway's past.
Combine your visit with a stroll through the rose garden and botanical gardens next door. Admission to the house is 100 NOK ($10) for adults, and 40 NOK for under 18s.
12) Admire the beautiful Nordic glass artworks at the Galleri Knapstad. You can even try your hand at glass blowing yourself, if you book in advance.
Window-shopping
13) Go window shopping along Kristiansand's two main pedestrian streets, Skippergata and Markensgate. One of the city's most charming roads, Skippergata is home to various galleries, cafes and fashion boutiques, while Markensgate is the main shopping street, where you'll find all kinds of stores and restaurants.
14) Check out what the local artists, and designers and entrepreneurs are up to at Kollektivet, where you can pick up everything from vintage clothes and jewellery to Nordic furniture.
Just chilling
15) Relax along the Strandpromenaden, Kristiansand's city beachfront. This Blue Flag beach is a popular destination for sunbathers in summer.
16) Marvel at the dramatic granite fountains designed by Norwegian artist Kjell Nupen in Otterdalsparken Park. Just five minutes' walk from Kristiansand's main shopping area, the park makes the perfect spot for a break from window-shopping.
17) Admire the striking exterior of the Kilden Performing Arts Centre. This stunning building has won many national and international awards for its impressive Nordic architecture. If you fancy seeing a concert or a play, check out its programme.
Eating and drinking
18) Have a browse around the lively Fiskebrygga fish market and sample local seafood specialities. In summer, live concerts are held here every Thursday.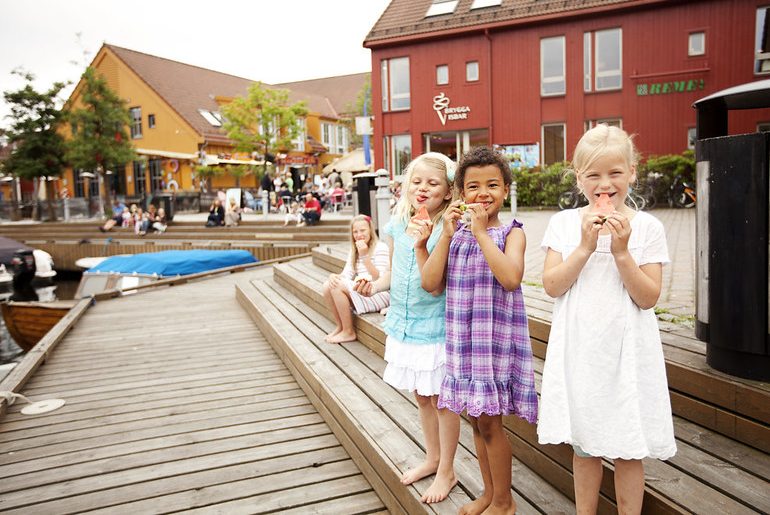 19) You can't come to Kristiansand without trying a pølser – pork sausage topped with mustard, ketchup and dried onions – at Snadderkiosken Ar. They've been serving up the local speciality for over 65 years – so they know what they're doing! This tasty snack will set you back about 35 NOK.
20) Dive into Kristiansand's thriving coffee culture. There's no shortage of cafés in the city centre – from third-wave coffee shops to traditional bakeries.
Parks and nature
21) Get active in the Baneheia Outdoor Area. This nature park is a great place for all outdoor activities from swimming in the lake, cycling along bike paths or going for a walk on the dedicated hiking trails.
22) Have a picnic in Ravnedalen Valley, one of Norway's most majestic parks. It's a lovely place for exploring or just chilling, and in summer it hosts concerts, festivals and outdoor theatre productions.
23) Go for a walk on Odderøya – an island just off the coast of Kristiansand. This former naval base has plenty of walking paths, secluded beaches and great views of the fjord. And although it's an island, it's connected to the city by a bridge so it's easy to get to.
24) Smell the roses in the Kristiansand Botanical Gardens and Natural History Museum. Here you'll find one of Norway's biggest collections of cacti, plus trees and various plants from around the world – the rose garden here dates back to 1850. Entrance to the museum costs 80 NOK ($9) per adult, but the gardens are free for all.
25) Stroll through the Henrik Wergeland Park, where more than 8,500 flowering bulbs make a stunning display in spring. The park is dedicated to Norway's national poet and writer, Henrik Wergeland.
Kids
26) Rent a rowboat, build a toy boat or try out a number of other maritime activities at the Odderøya Museumshavn (harbour museum). As well as plenty of water activities, you can also learn more about the maritime history of Kristiansand and the region. Entrance costs 100 NOK ($10) for adults, and 80 NOK for under 18s.
27) There's a café, gardens and gift shop to browse round, plus horses, goats, pigs and other farm animals for the kids to pet at the Holte Gård Farm in Randesund.
28) Visit one of Europe's largest mineral and stone collections at Mineralparken. There are plenty of creative activities here for kids – including a games hall, gold-mining in the river outside, and even a huge water slide! Entrance costs 215 NOK ($22) per adult in high season, 185 NOK in low season.
29) Go zip-lining at Høyt & Lavt Klatrepark. This climbing park has one of Norway's longest zip-lines and more than 122 tree-top obstacles. Admission to the climbing trails starts from 320 ($35) NOK for three hours (250 NOK for those between 110–140cm high).
30) Spend a day at Dryeparken, Kristiansand's zoo and theme park. There are dozens of native and exotic animals to see including chimps, wolves, lemurs and Siberian tigers, as well as a pirate harbour, haunted house and circus performances. Prices start at 199 NOK ($22) for children and 229 NOK ($25) for adults.
See also:
50 free things to do in Oslo
25 free and cheap things to do in Bergen
Like what you've been reading? Get our best tips by email!