Norway's 18 designated scenic routes (Nasjonale touristveger) take you off the main roads and through some of the country's most awesome scenery. The idea behind these incredible drives is to make it easy to see the country's best bits and give a boost to the rural economy at the same time.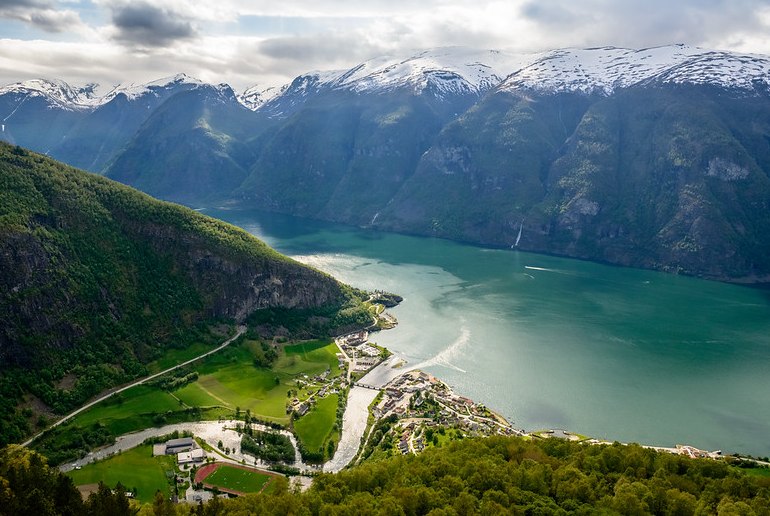 Many of the scenic routes include the bonus of cutting-edge architecture in the form of rest stops and viewpoints along the way.
From a loo-with-a-view to a platform hanging off the mountainside where you can snap pictures of waterfalls, fjords and distant glaciers, they give a focus to your drive and encourage you to get out of the car and explore.
Where do Norway's scenic routes go?
The 18 scenic routes (also known as golden routes) are spread across Norway, from the Fjord region to the Arctic Circle. They take you through an unbelievable variety of terrain.
Some such as the Aurlandsfjellet – aka the Snow Road – include a stretch across an icy landscape with the sun bouncing off the drifts on either side of the narrow carriageway.
Others like the 433km-long Helgelandskysten involve ferry crossings across sparkling inlets, and are even flat enough to be cycled in stages.
A full list of Norway's scenic routes
Varanger
Havøysund
Senja
Andøya
Lofoten
Helgelandskysten
Atlanterhavsvegen
Geiranger-Trollstigen
Gamle Strynefjellsvegen
Rondane
Sognefjellet
Valdresflye
Gaularfjellet
Aurlandsfjellet
Hardanger
Hardangervidda
Ryfylke
Jaeren
Can you drive them all year round?
Some scenic routes include steep mountain passes or stretches of road at high altitude, and these sections are shut in winter – so check the list of typical seasonal closures before planning a road trip.
And whatever time of the year you go, make sure you give yourself plenty more time than you think you'll need so that you can stop off and take it all in.
Can you travel Norway's scenic routes by public transport?
Some of the routes can be done by public bus (we've given details for those routes where this is feasible), but for the majority of the roads you'll need a car.
And travelling by bus sort of misses the point. The real joy of these routes is taking your time, getting away from the crowds and stopping whenever you fancy for a walk or just to wonder at the surrounding scenery.
How to hire a car
So, you'll probably be needing a car… Over 21 years old, and have held your driver's licence for 12 months? A yes to both, and you'll have no problem hiring one.
But, as car hire in Norway is expensive compared with other European countries, keeping costs down is a priority. Shop around and pre-book, making sure you pick a deal you can cancel without penalty with 24–48 hours notice so you can take advantage of better last-minute prices as they come online.
International hire companies such as Sixt, Avis, Rentalcars.com, Hertz and Thrifty all have good coverage across Norway. See our guide to Renting a car in Norway for the low-down.
10 of the best scenic routes in Norway
All Norway's scenic routes have something special to offer, but if you only have a short holiday and want the highlights, here's our pick of Norway's ten most scenic roads.
Aurlandsfjellet
Leave the fjordside cabins of Laerdal and the lush Erdalen valley behind and drive up to rolling moorland at Vedahaugane, where you'll find a rest stop and art installation inside the mountain.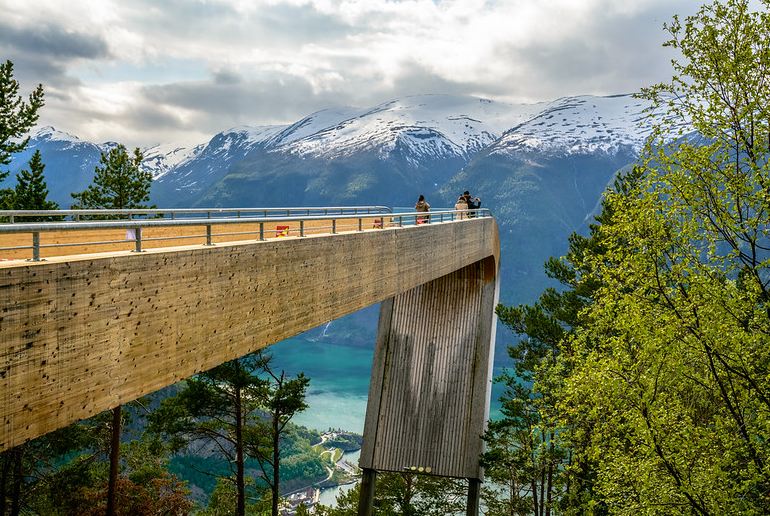 After crossing the snowy highlands with views across to peaks and glaciers in the distance, you'll reach the Stegastein viewpoint, a walkway jutting out 650m above the emerald water of the Aurlandsfjord.
The route ends at the village of Aurlandsvangen, an action-packed 47km from the start.
What to do: American artist Mark Dion has created an underground art installation at the Vedahaugane rest stop – a bear's winter lair-with-a-twist called Den.
Where to stay: Sanden Pensjonat is a cosy B&B in Laerdal in a traditional timber house dating from 1897.
Geiranger–Trollstigen
It's hairpin bends all the way on the first stretch of this 104km drive: the road snaking up the mountainside is called Trollstigen, or Troll's Ladder, and the viewpoint suspended in mid-air from the mountainside gives a bird's-eye view of an otherworldly terrain of silver threads of waterfalls plunging from mighty massifs.
This route runs between Sogge Bru, just outside Åndalsnes, and Langvatnet. Along the way you get to enjoy a brief ferry crossing and a leisurely stop at Geirangerfjord, the country's most famous fjord.
It is possible to do the Åndalsnes to Geiranger part of the route by bus – the journey takes three hours: see the Fram website for details.
What to do: Hike from Geiranger, and stop at 'gramworthy viewpoints at Ørnesvingen and the Flydalsjuvet gorge.
Where to stay: The Juvet Landscape Hotel, in a forested river canyon, is Scandinavia's most zen-like place to stay.
Hardangervidda
This drive takes you across Europe's largest mountain plateau, from the fjordside village of Eidfjord to Haugastøl, 67km away.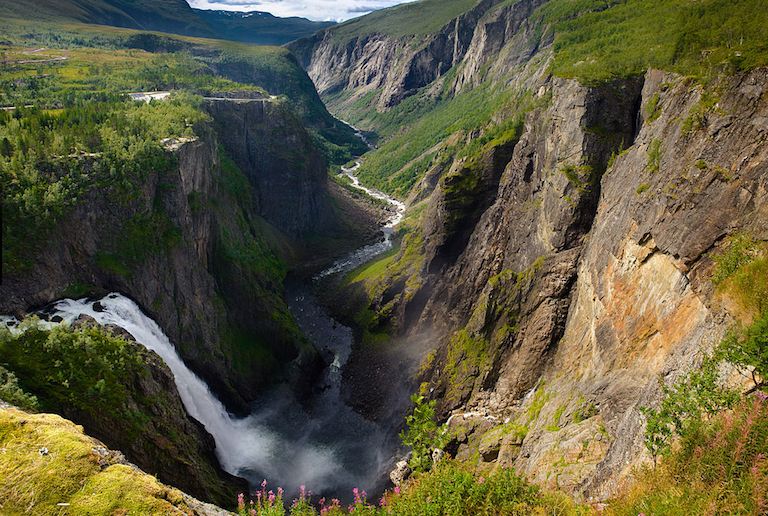 The route sets off through the Måbødalen valley, where a narrow, steep, scenic road built in 1916 climbs to a rocky wilderness that's home to herds of reindeer.
In winter, don't be surprised if there's a snowplough ahead of you, clearing your way. One public bus daily runs this route, taking 1hr 36min: for details visit the Skyss website.
What to do: Park at Fossatromma and follow the old road down to a 19th-century footpath leading to the thundering Vøringsfossen waterfall which cascades 182m off the mountainside.
Where to stay: Vik Pensjonat & Hytte is a modern B&B with cabins in the centre of Eidfjord, with a zero-food-mile café.
Gamle Strynefjellsvegen
The scenery is stunning along this 19th-century road that skirts the Jotsdalsbreen and Breheimen national parks. Marvel at brooding snow-capped peaks and tiny dots of farms in the valley far below on this 27km drive from Grotli to Videsaeter.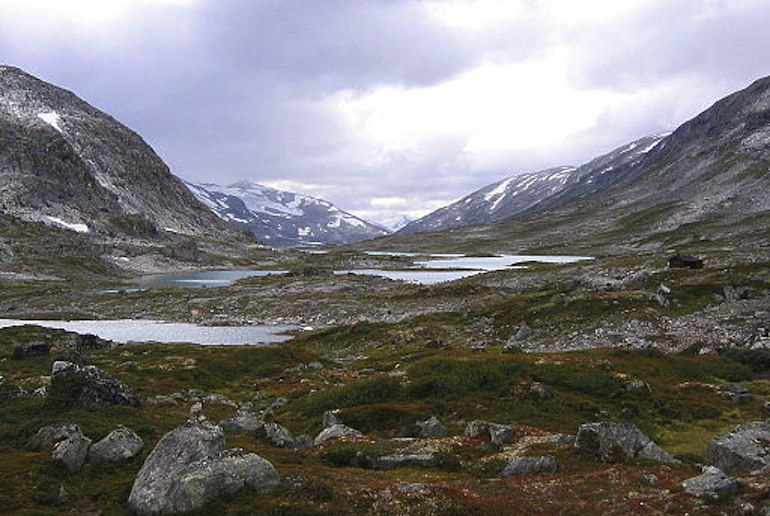 One bus daily covers this route, taking 20–30 minutes: for details visit the Nettbuss website.
What to do: Snap away at the Øvstefoss and Videfossen waterfalls, tourist hot-spots since the late 19th century, then drive down to Hjelle in an idyllic setting on Strynsvatnet lake.
Where to stay: Fossheim hotel in Lom is a special place, run by the same family for several generations. Rooms are spread between the main lodge and several cabins (one of them dating back to the 16th century) with ornately painted furniture and open fireplaces.
Atlantershavsvegen
The Atlantic Road is world famous, its swooping bridges and curvaceous carriageways making a fluid 36km route across islets and skerries from Kårvåg (nearest town Kristiansund) to Bud.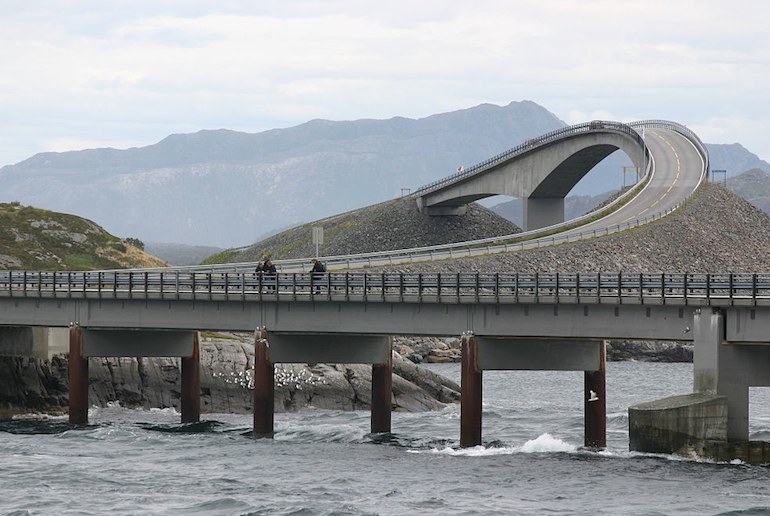 On calm days the water is limpid and there's a "Blue Remembered Hills" feel to the views across the archipelago. But when waves whipped up by a storm are lashing the road, the drama is like none other – in the 1980s the construction workers endured 12 hurricanes during the six-year build.
What to do: Go scuba diving, kayaking and birdwatching. Or try fishing from the pedestrian-only footways alongside the Myrbaerholm road bridge.
Where to stay: Try Håholmen, a cluster of sea cottages has been turned into a chic hotel.
Lofoten
Take the E10 from Å to Raftsundet through the Lofoten archipelago and soak up the scenery of mountains, fishing villages and beaches: with detours, you'll clock up 230km on this route, which gets very busy in summer.
Buses do this 4hr 23min journey twice daily; the Nordland fylkeskommune website has details.
What to do: Experience the midnight sun; feast on freshly caught fish cooked over a wood-burning stove; take a boat trip around the islands or go fishing, kayaking or hiking.
Where to stay: The Lofoten islands are famous for their rorbuer (wooden fisherman's shacks) accommodation; the Nusfjord Arctic Resort has rorbuer that have been refurbished in modern-rustic style complete with a wood-fired hot tub.
Andøya
This laid-back 58km drive from Bjørnskinn to Andenes along the wild Vesterålen coast combines well with one of Norway's other highlights – a trip on the Hurtigruten coastal express, which calls at Risøyhamn near the start of the drive.
Make time for a stop at Bleik beach, which looks as though it belongs in the Caribbean until you jump in the sea and the wake-you-up temperature sets you straight.
The tiny fishing village backing onto the strand and the 40,000 puffins on Bleiksøya island are equally photogenic – check out the latter on a bird safari.
Five buses a day travel the route, and the journey takes 1hr 5min; visit the Nordland fylkeskommune website for details.
What to do: Looking for a place to watch the midnight sun hanging low over the sea? Chill out on the giant lozenge-shaped slabs at Kleivodden or head for Bukkekjerka, a rocky promontory and an old Sámi sacrificial site – the name means "crevice in the rock" in Sámi.
Where to stay: Kristina Apartment & Alma House near Andenes harbour is a cluster of 19th-century buildings that includes a bright-and-breezy guesthouse, self-catering apartments, an art and crafts shop and a museum of fishing and farming life.
Varanger
This 160km ocean route starts in Varangerbotn near the north-eastern border with Russia, passing birch woods, wetlands and mountains.
An incredible spot for Arctic species, it's a magnet for birders and anyone who loves wild places: the northern light and the lunar landscape towards the drive's end at Hamningberg have a steely "land's end" quality.
This is a drive for summer or autumn – the road is usually open from May until early November.
What to do: World-renowned artist Louise Bourgeois and architect Peter Zumthor joined forces to create the 100m-long Steilneset memorial complete with burning chair to commemorate the 91 people who were burnt at the stake for witchcraft in the 17th century.
Birders have the design treat of a half-dozen shelters to protect them from the elements, including a beautiful asymmetric timber hide at Vadsø.
Where to stay: There's self-catering accommodation at Emelie House and apartments in the fishing community of Ekkerøy near Vadsø, with 1950s Scandi-style interiors and a birch-log sauna.
The Helgeland coast (Helgelandskysten)
This 433km road trip runs north along Route 17 from the village of Holm to the Godøystraumen whirlpool near Bodø, crossing into the Arctic Circle at 66 degrees north. This is not a route to be rushed – allow yourself at least three days to make the most of it.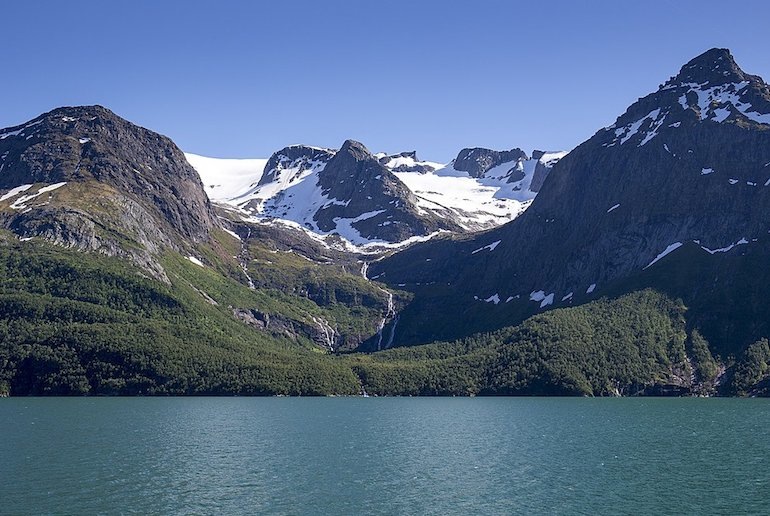 If you're the designated driver, you'll love the time out that the six ferry crossings provide, with a chance to focus on the scenery – on a clear day the view of hundreds of islands beneath jagged peaks and the Svartisen glacier is just stunning.
The closest you can get to travelling the entire route via public transport is on the Hurtigruten ferry.
What to do: This route's architecture is among the best and includes the famous wave-shaped concrete Ureddplassen rest room.
Other highlights include strolling along the wet-sand beach at Storvika and kicking back and admiring at the view of Engabreen, Europe's lowest-lying glacier, from the Braset viewpoint.
Where to stay: Norsk Havbrukssenter, Brønnøysund has modern red-painted cabins with loft bedrooms lined up along a waterside jetty.
Jaeren
This route is all about being buffeted by onshore winds from the North Sea as you wend your way for 41km from Ogna to Bore near Stavanger.
The flat landscape of farmland bordered by drystone walls made with rocks the size of small boulders, the superb sand or pebble beaches, and the changing light on the silvery sea as clouds skud across the sky make this drive special.
What to do: Beach combing and botanising on Orrestranda beach or surfing at Borestranda.
The Kvassheim lighthouse is open to visitors; built in 1912 it was fitted with a foghorn to help guide ships along the Jaeren coast, though unfortunately, it was not always successfully – the area is famous for historical shipwrecks.
Where to stay: Boretunet Hostel and tiny houses at Borestranda was built in 2018 from an upcycled oil-and-gas industry floatel and is a favourite with both surfers and Norwegian royals.
Planning an adventure? You need insurance
The Scandinavian countries are some of the safest places in the world to explore, and all have excellent health care systems. But even so, unexpected things can happen when you're travelling that could land you with a large bill.
So taking out travel insurance is definitely a good idea. It's always worth getting several quotes and shopping around for a policy that suits your trip best.
If you're planning to do any winter or extreme sports, such as skiing, white-river rafting or abseiling, make sure that the policy you pick covers you for these or that you can add them on as extras.
We recommend World Nomads – you can get a quick quote below, and they'll cover you even if you've already started your trip.
See also:
The Hurtigruten in Norway: all you need to know
Five of the best Scandinavian road trips