You may not have heard of the small town of Odda in Norway, but if you're a fan of the Netflix series Ragnarok, you will certainly have a good idea of what it looks like.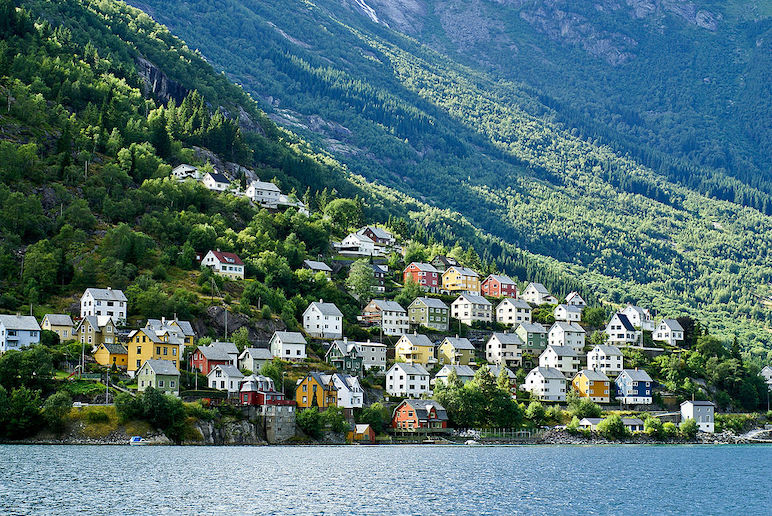 For the fictional TV series is set in this Norwegian town that is surrounded by some of the most dramatic, Insta-worthy scenery imaginable.
Where is Odda?
In the Ullensvang Municipality in Vestland county, Odda lies at the southern tip of the narrow Sørfjorden, a lesser-known branch of the Hardangerfjord.
Close to the Folgefonna National Park, it's around a three-hour drive from Bergen (slightly quicker if you take your car on the ferry over the mouth of the Harddangerfjord).
Is Edda a real place?
Sorry to say this Ragnarok fans, but no! Edda is the name of the fictional town where the Jutul family live in Netflix series Ragnarok – not to be confused with the 2017 Marvel film of the same name, which is Thor: Ragnarok.
Based on Norse mythology, the Norwegian fantasy drama series is filmed in the town of Odda and merges climate change activism with ancient Norse legends.
So, Edda isn't real. But Odda is. And Edda is really Odda. Got it?
Why visit Odda?
The Ragnarok connection aside, there are plenty of reasons to visit the town of Odda, not least its stunning location.
Surrounded by glowering mountains and perched at the edge of a pristine fjord, its scenic beauty is impressive.
Sandwiched onto a narrow piece of land between the Sørfjorden and the Sandvinvatnet glacial lake, with a gushing river running through it, the town is overlooked by snow-clad mountains and craggy rock formations.
It's also known as the "gateway to Trolltunga", the jumping-off point for the hike up to the top of the iconic Trolltunga.
Things to do in Odda, Norway
The Trolltunga hike is the thing to do in Odda, if you do nothing else. This dramatic rock outcrop juts out over the Ringedalsvatnet lake, some 700 metres above the surface of the water.
The huge granite slab makes for an iconic photo opportunity that you won't be able to resist.
There are plenty of guided tours from Odda up to Trolltunga (see below), or you can take the early morning public bus to Skjeggedal, the main trail head for the hike.
From Skjeggedal, it's a 27km return hike with an ascent of around 800 metres, so you need to allow a good 10–12 hours to complete the round hike.
For some other great hikes in Norway, read our post on Norway's six best long-distance hikes.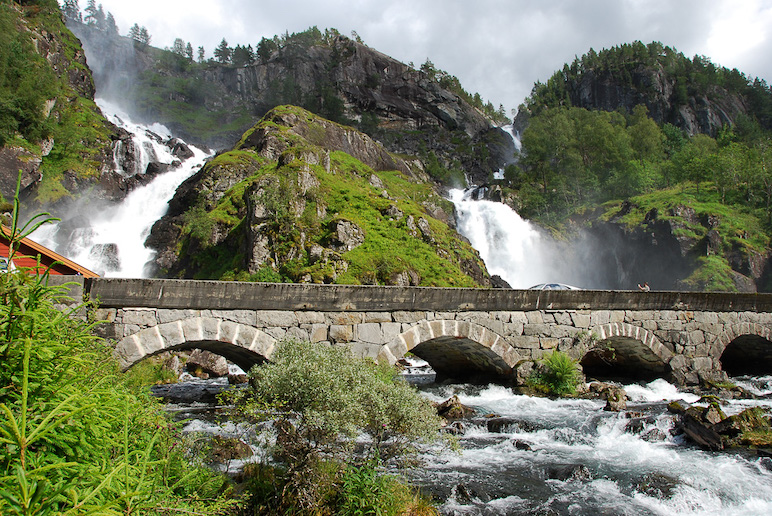 Less energetic attractions around Odda include a visit to the Låtefossen waterfalls, a fifteen-minute drive south of the town.
This dramatic double waterfall is where two streams gush down the mountainside then converge and run beneath an old stone bridge into the Grønsdalslona river.
Odda is also a good base for a hike onto the Buarbreen glacier in the Folgefonna National park. It's a fifteen-minute drive from the town to the trailhead at the Buerbreen carpark.
From here, it's about a three-hour round hike to the glacier, hiking alongside mountain rivers and through lush landscapes and scrambling up ropes onto the glacier.
For more on other glaciers in Norway, check out our post on Norway's best glaciers.
The best guided tours from Odda
The Trolltunga hike is a challenging and long day out if you do it independently, so many people opt for a guided tour.
This fantastic adventure involves cycling along Ringedalen Lake, climbing 250 metres up a via ferrata, and hiking to the iconic summit of Trolltunga – all in one day. Bikes, experienced guides and all climbing equipment are included.
Alternatively, you can spread the hike over two days, with this overnight camping trip that means you get to see sunset and sunrise from Trolltunga. You'll camp up in the mountains, and eat dinner over a campfire cooked by your experienced guide.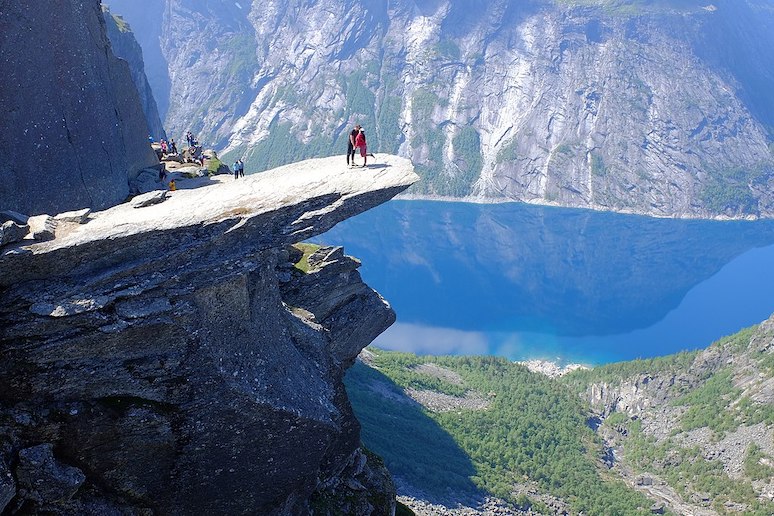 Once you've tackled Trolltunga, you may well fancy something a bit less energetic, such as this RIB ride on the fjord that leaves from Odda to explore the beautiful Hardangerfjord, with its steep mountain slopes, dotted with fruit orchards.
What about locations from Ragnarok?
If you liked the Netflix series Ragnarok, there are actually plenty of notable landmarks in Odda where scenes from the series were filmed, including the church and the town square. Here are some others worth checking out:
Boliden Odda
Boliden Odda, the real-life zinc-smelting plant located beside Sorfjorden, is instantly recognisable as the Jutul Industries factory from Ragnarok.
In the show, it's blamed for letting toxic waste enter the community's water supply.
And in real life, there have been widespread concerns about the amount of pollution caused by the smelting plant.
There's a very good chance you'll see or hear about this place if you visit Odda.
Odda Grillen
Scenes from the show's popular fast food restaurant (Edda Grillen) were filmed in a real life snack joint called Odda Grillen, and you can actually eat there.
It's a pretty basic place, serving kebabs, pizzas and the like, but it can be fun to visit if you enjoyed watching the actors hang out there.
The Netflix Stone
Okay, so this one isn't actually in Ragnarok, but it's certainly connected to the show.
Donated to the town by Netflix as a thank you to its citizens for the support they offered during filming (or simply placed there as a PR stunt, cynics may argue),
'Netflix Steinen' (the Netflix Stone) is exactly what it sounds like – a lump of rock engraved with the Netflix logo.
It also features some ancient looking runes which spell out an important message: 'Ragnarok is coming on 31st January 2020′
That was a while ago, but you can see the stone along the waterfront on Eitrheimsvegen, just west of the tourist office.
Odda Ungdomsskole
A lot of pivotal scenes from Ragnarok play out at Edda High School, whose real-life counterpart is located on the western side of town.
There's been a school here since the 50s and today the Odda Ungdomsskole building has a pretty cool look, with wide expanses of glass along its facade.
Apart from being famous on Netflix, the school has a strong reputation as a place where kids can excel at music.
As a visitor, the best thing about strolling past is the sheer beauty of the scenery. The kids who study here sure are lucky to have such an amazing backdrop to their studies!
The history of Odda
Odda has long been a popular tourist destination and its stunning location attracted its fair share of visitors in the nineteenth century including Kaiser Wilhelm II and Friedrich Engels.
In the twentieth century, however, Odda became something of an industrial centre, and was home to one of Norway's first hydroelectric power stations, a vast carbide and chemical fertiliser plant and a zinc smelting works (see above). 
None are in operation today though, and the former smelting plant has been preserved as an industrial cultural heritage site, while the hydroelectric plant is now the Kraft Museet, a museum of hydro-electric power and science centre, which makes a good rainy day visit!
Where to stay in Odda, Norway
There's a decent range of accommodation in Odda, including hotels, hostels and camping.
At the Trolltunga Hotel you can choose from rooms in the traditional villa or a contemporary annexe with views over the river.
For hostel accommodation in Odda, the Bakkegata Blue House has bunk beds in a large 12-bedded dorm, as well as self-contained apartments to rent.
And if you're looking for camping in Odda, the Trolltunga Camping is a few minutes south of the centre by the Sandvinvatnet Lake, with tent pitches, sites for camper vans and caravans plus simple wooden cabins and apartments to rent.
Where to eat in Odda, Norway
This being Norway, eating out is always expensive and Odda is no exception!
The cheapest food can be found at the usual fast food places and takeaways in town, including The Glacier for Asian and Middle Eastern meals, Kafe Pause for coffee, cakes and snacks, and the Thai Takeway Odda for Thai food and sushi.
But for a good sit-down meal with nice views over the river, the best option is the restaurant at the Trolltunga Hotel, which has a short menu of reasonably priced (for Norway!) local dishes such as salmon and venison stew, plus its own home-made cider.
The weather in Odda, Norway
Although Odda is only about 5 metres above sea level, it's pretty far north and is surrounded by huge mountains, which are snow-capped for much of the year.
If you're planning to go hiking, the best time to visit Odda is in summer. Odda's average temperature in July is around 13C, while the average temperature in January is a finger-numbing -5C!
See also:
The 15 best fjords in Norway
Camping in Norway: the ultimate guide
Norway's best national parks