Camping in some of the world's most dramatic terrain is one of the best things about a trip to Norway. And the bonus: it keeps costs down in what is otherwise an expensive country to travel around.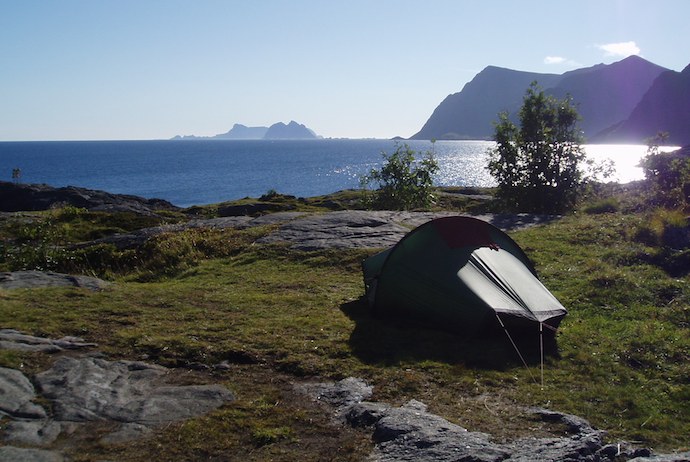 But it's not all about saving money. There's nothing like listening to the call of oystercatchers and lapping waves from the comfort of your sleeping bag.
Or waking up with the sun, sticking your head out of your tent and taking in the grandeur of your surroundings, fjords and all.
So what's the best way to go camping in Norway? And where should you pitch up?
The main choice to make is whether you want the facilities of an organised campsite, or whether you're prepared to rough it and carry more stuff with you, including food and water.
Wild camping in Norway
Wild camping is allowed almost everywhere in Norway, and with a fjord or a lake just a few steps away, you can freshen up with a dip in the morning – it gives an endorphin rush like no other to start the day.
A longstanding law called allemannsretten (loosely translated as 'the right to roam') allows everyone to wild camp virtually anywhere in open country, for free.
It gives fantastic freedom, with a few common-sense provisos, so that you don't upset the landowner or annoy other people enjoying the countryside.
The golden rules for camping wild in Norway
You can camp for up to two nights on any stretch of uncultivated land without asking permission from the landowner.
This right applies to camping in open country only, not farmland under cultivation, hay meadows, or young plantations and regenerating forest. If in doubt, look for another spot.
Your pitch needs to be 150m away from the nearest house, cabin or other building that's being occupied or used. You can't set up camp on someone's lawn or the plot around a holiday home.
In remote areas, you don't need to seek permission for longer stays as long as it doesn't cause inconvenience and you're not close to busy walking trails or touristy spots.
In return for pitching up in the wild, you're asked to respect nature and wildlife and leave no litter or other trace of your stay.
Frequently asked questions
Can I camp near cities?
Yes, as long as you respect the rules listed above. Langøyene island, a 15-minute ferry ride away from Oslo, has grassy glades to pitch up in, right next to the fjord. Sognsvann lake, north of Oslo, is another good spot.
Can I swim in lakes and fjords?
You can swim wherever you want in Norway, except in sources of drinking water, which are usually well signposted. Just respect the rules about not getting too close to people's houses or private jetties.
Can I go foraging?
The same right that allows everyone to camp wild also covers foraging; everyone's free to collect berries, herbs and mushrooms in the wild. One serious point: make sure you know what you're picking so you don't end up poisoning yourself.
Special rules apply to cloudberries, a highly prized, yellow berry that looks a bit like a raspberry and which grows in marshy areas of the Arctic Circle.
They fetch a high price per kilo and some landowners are entitled to fence off their land and forbid picking. In other places you can pick with prior permission: it's best to check with locals.
Can I go fishing and eat what I catch?
You can fish in the seas off Norway, as long as you use handheld tackle (so leave that trawler at home!). You can use these saltwater fish for your own consumption. There are however a few protected species which you're not allowed to catch.
For freshwater fishing, you should buy a permit locally. Alternatively, check out inatur.no before you arrive.
Can I bring a car or motorbike?
As long as you stay on public roads and park without causing an obstruction, cars and motorbikes are okay. Off-roading is generally a no-no.
Can I make a campfire?
From 15 April to 15 September, there's a general ban on open fires and disposable barbecues in the wild. But if your campfire clearly poses no risk of starting a wildfire – for example, if you're on a beach – it's allowed.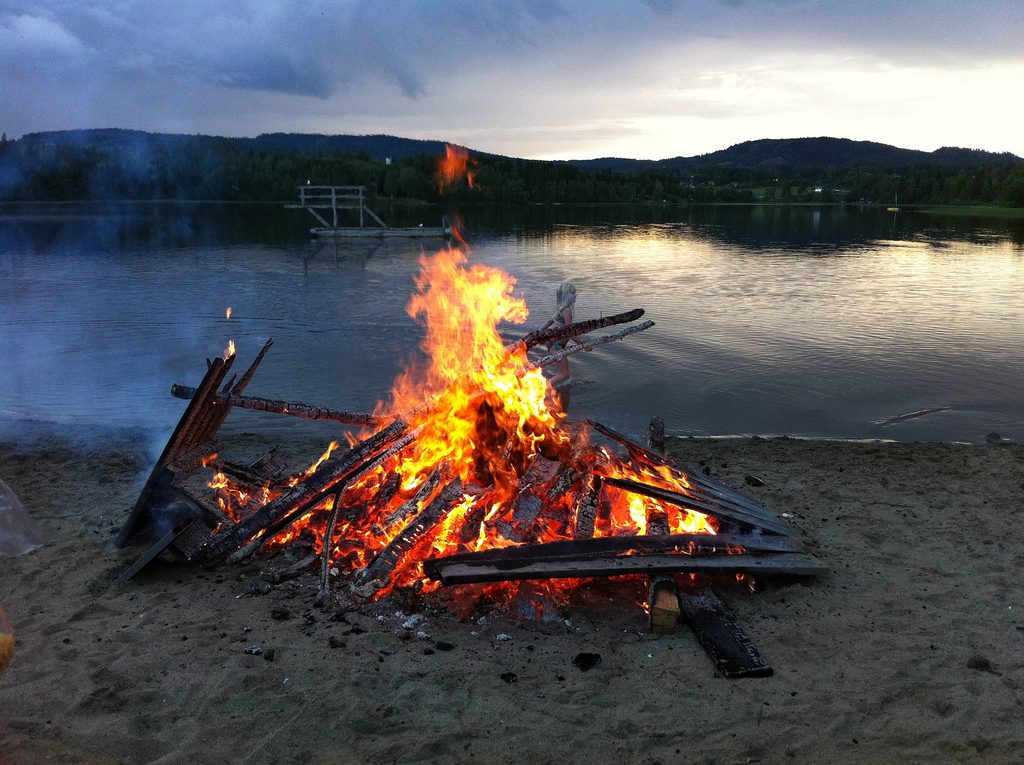 During droughts, there may be a complete ban on all fires including stoves, so check conditions at the weather site yr.no and ask around locally.
Am I free to cycle or ski wherever I like?
The 'right to roam' applies to mountain biking and skiing, too – but respect any local signs that forbid it. Additionally, skiiers have the right to roam on cultivated land from 15th October to 29th April, when it's covered in snow.
Is hunting allowed?
Wild reindeer, deer, wolves, beaver and elk are all hunted in Norway, with different district authorities allowing culls or setting open seasons at various times of year.
Check the state of play locally, because you can't wild camp during hunting seasons for safety reasons. The Norwegian Directorate for Nature can tell you more.
Do I really need travel insurance?
Norway is a safe place but you still need travel insurance. It can make all the difference if things go wrong when you're in the middle of nowhere. For lots of different reasons, we recommend World Nomads – you can get a quote below. Read more about buying travel insurance in this guide.
Is it possible to camp wild in winter?
Unless you're hardcore and have expedition-grade gear, you might want to think about 'indoor camping' in a DNT or campsite cabin instead – they're well set up for winter stays.
See below for more on the network of DNT cabins around the country.
Camping wild in the snow is definitely possible, but you should take survival courses before setting off, pack well, and make proper plans to ensure you stay safe.
Where do I go to the toilet while camping?
Hikers often drink from streams, so do your business at least 50m away from water sources. Make sure you bury any solids and the corresponding paperwork.
Where can I buy outdoor gear?
Biltema, Clas Ohlson and XXL are all good value and have stores in most Norwegian towns. If you run out of camping butane or propane, you'll often find it for sale in petrol stations.
What about RVs and caravans?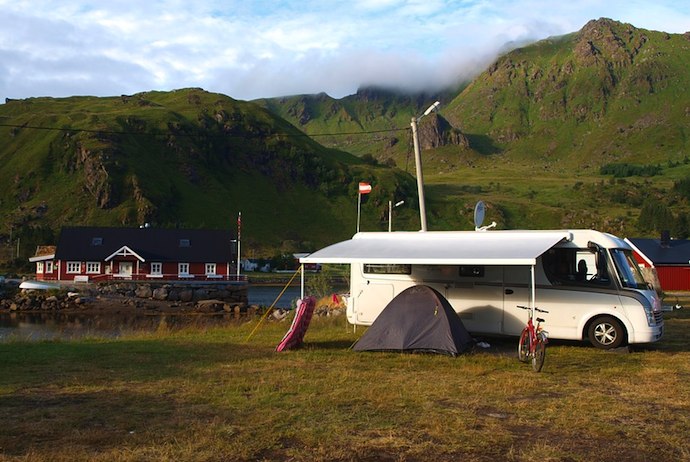 The 150m rule mentioned above applies to campervans and caravans too, as long as you're off the road.
There's a network of rest areas across Norway and you'll find allocated overnight parking places in most towns. Sites like Campstar let you book campervan hire in Norway.
Tømmestasjon or 'Dump stations', where you can empty chemical toilets and fill up with fresh water, are frequent and well signposted – you'll find them at most petrol stations and overnight parking spots.
Campsites in Norway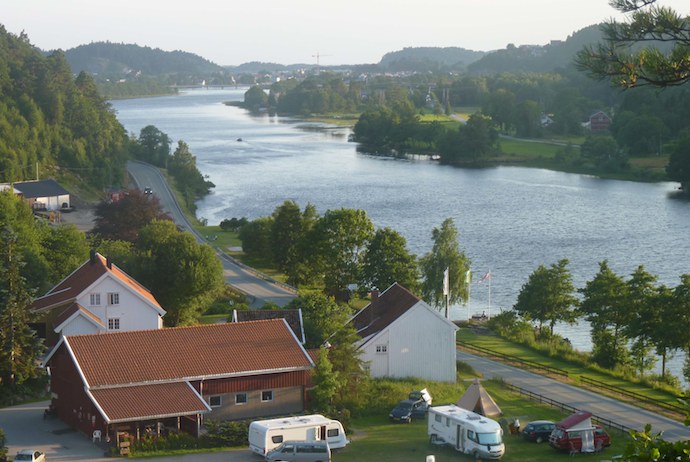 If the thought of a lonely night under the stars miles from anywhere – and anyone – fills you with dread, don't worry.
Norwegian campsites offer convenience and relative comfort. As well as pitches for tents, most campsites have a few cabins for rent sleeping two, four or more – handy if the weather's foul, your gear's soaked through and you need to dry off.
There are 1,000 or so campsites dotted across Norway, classified by a star system.
One-star sites are pretty basic, with self-catering facilities and hot and cold running water, while five-star sites come with shops, TV rooms, kids' play rooms, washing machines and other amenities.
One of the best options is to browse the campsites on Booking.com, which lists most of the country's best campsites and lets you book ahead online.
Also worth knowing about is the network of 550 huts run by the Norwegian Trekking Association (DNT).
Their stone bivvy shelters and self-service cabins are in the most beautiful areas for hiking, mountain biking and skiing. There's more on how to become a DNT member, when huts are open and how to get hold of a master key at dnt.no
How much do campsites cost?
A typical price for a tent and two adults is around 200–350 NOK per night including electricity and shower facilities. Sometimes hot showers cost extra (around 5 NOK for four or five minutes).
Five special campsites in Norway
Hammerstad Camping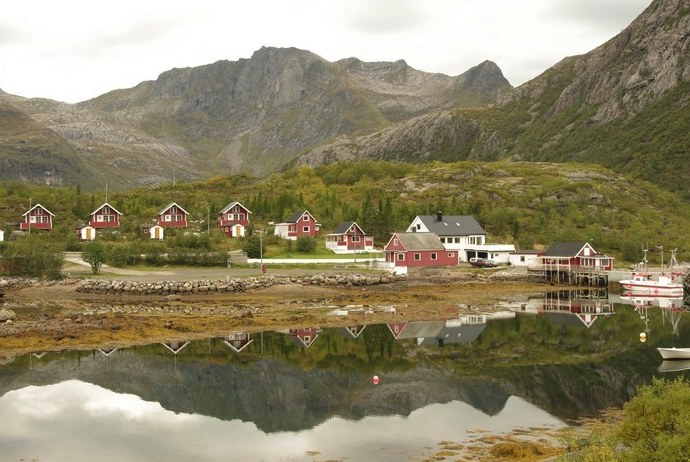 In a peaceful spot next to the Austnesfjord, Hammerstad Camping is a small site, a 10-minute drive from Svolvær, the self-styled 'capital' of Lofoten.
The fjord is teeming with fish, so attempting to catch them is what most people do here – or you can rent a boat with an outboard motor and tootle around the inlets.The site has cabins to rent with views of the sea as well as camping pitches.
Bøflaten Camping AS
With plenty of grassy pitches for tents and camper vans plus some comfortable wooden cabins to rent, this campsite is in an unbeatable location, beside lake Vangsmjøse.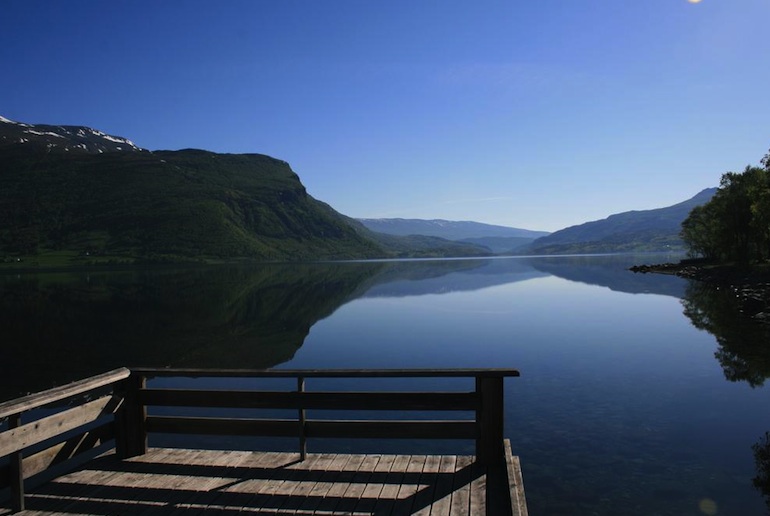 It's a good family site, with a private sandy lake beach, table tennis and woods for kids to play in, but you can also rent fishing boats and kayaks, as well as bikes for exploring the surrounding countryside.
Bøflaten makes a great base for setting out on some mountain hikes too, or even skiing in winter.
Melkevoll Bretun
There's plenty of space for tents and campervans on lush, green pitches or in turf-roofed cabins at Melkevoll Bretun, 190 miles from Bergen at Briksdalen on the doorstep of the Jostedal National Park.
A 'kitchen barn' and free sauna are among the facilities, with loads to do including bouldering (there's a natural course on site) and hiking – the Briksdal glacier is a 45-min walk away.
Rystad Lofoten Camping
With grass-roofed wooden cabins and wide open grassy spaces for camper vans and tents, this coastal campsite in the Lofoten islands couldn't get much closer to the beach if it tried.
With a backdrop of mountains, it's a peaceful spot with a wild and remote vibe – perfect for those who want to get back to nature.
There are picnic benches dotted along the shoreline so you can settle in and watch the midnight over the sea and mountains. Open May to mid-October.
Skrolsvik Kystferie
Senja in the Arctic Circle is Norway's second biggest island, famous for sea eagles in summer and whale watching in winter. Skrolsvik Kystferie is a glorious waterfront site here, with just eight pitches (plus a few cabins).
It's a 40-minute drive from the Ånderdalen National Park, a protected stretch of Alpine coastal forest, fjords and lava fields criss-crossed by hiking trails.
You can browse hundreds of other Norwegian campsites here.
See also:
Camping in Sweden
Seeing the northern lights in Norway
The best places to stay in Norway
Like what you've been reading? Get our best tips by email!