Camping can be an uncertain business even in summer, but if you're planning to do some winter camping you need to make sure your gear can withstand everything – especially if you're travelling somewhere like Scandinavia, where temperatures often plunge below zero.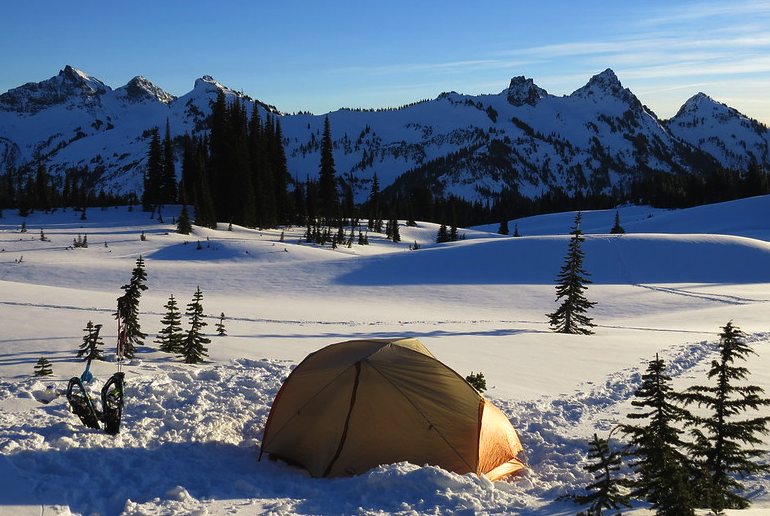 The most important piece of kit, of course, is your tent. It needs to be strong enough to withstand galeforce winds and heavy rain, and protective enough to keep you cosy in the most Arctic of conditions.
Four-season tents (the technical term for a tent that is suitable for use year-round) are usually more rigid than three-season tents – and they're dome-shaped to withstand any dumps of snow.
The fabric needs an HH (the waterproof rating) of 1000mm or higher, which means that it can withstand more than 1000mm of pooled water without leaking.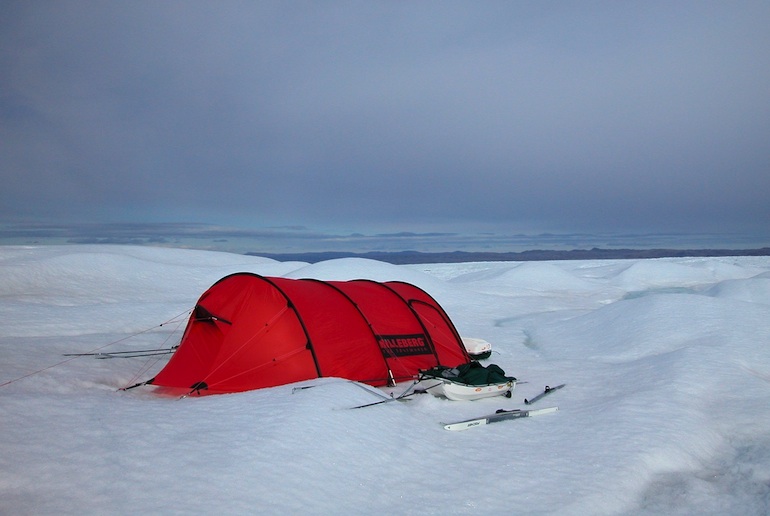 And ideally your tent will be light – the less weight you can carry with you when trekking through snow, the better!
But, of course, all this doesn't come cheap – you can pay anything from £100 up to £1000 for a decent winter tent. So how do you know which one to chose? And how much do you need to pay?
We've picked six of our favourite winter tents – from a cosy bargain two-man tent to serious mountain-trekking tents and fun family-sized shelters.
Jack Wolfskin Gossamer II
Around £100/$130
This cosy two-man tunnel tent packs up small, so fits nicely in a backpack or cycle pannier, but is very resilient in strong winds and easy to pitch.
Made of lightweight polyester and with aluminium poles, it weighs in at 2.3kg  – and with an HH of 4000mm, it will keep you dry on wet nights too.
It also has two handy entrances so you don't have to clamber over your partner on the way in and out!
Naturehike Cloud-up Ultralight tent
Around £110/$150
Quick to put up with a lightweight aluminium frame, this fab tent is silicon-coated with an HH of 4000mm to make it completely watertight. It can sleep two people – though if you're tall you may need to sleep diagonally so it would be more comfortable for just one.
It's a light grey colour so doesn't feel too gloomy if you're trapped inside by bad weather. Weighing just 1.5km, it's one of the lightest winter tents available at this budget, so perfect for taking on long hikes.
Geertop 4 Season waterproof dome tent
Around £115/$155
This Geertop tent is good value, easy to put up and comes with a built-in snow skirt. It sleeps two people and has good ventilation, with mesh panels to reduce condensation on cold nights.
All the tent's seams are double-stitched to ensure it's completely watertight, and it weighs in at a bearable 2.6kg.
The bright yellow colour may not be to everyone's tastes, but at least you'll be visible in a blizzard!
Vango Skye 500 5-man tent
Around £140/$190
If you're looking for a reasonably priced family tent that will keep you warm and dry in winter conditions, the Vango Skye 500 is worth looking at. Weighing in at 9.33kg, it's not a hiking tent but it packs up pretty small and can be thrown in the back of a car for a family camping trip.
With two compartments, it can sleep up to five people and there's enough headroom for an adult to stand up inside.
It's pretty robust with 10 guy ropes holding it down and an HH of 3000mm, so it can withstand strong winds and heavy rain – though it's not a dome tent so might not be suitable if you're expecting heavy snow.
All in all, it's good value for a tent of this size.
Black Diamond Eldorado tent
Around £530/$710
It may be pricey, but if you're doing some serious camping in the mountains, the Black Diamond Eldorado tent could be a good option.
With two poles, it's highly stable in windy and snowy conditions and is a good length for taller campers or those with lots of gear to store.
It's highly waterproof with good ventilation and weighs in at a manageable 2.3kg.
Terra Nova Southern Cross
Around £550/$730
If you're going really top-end and have plenty of cash to splash, you can't do better than a Terra Nova Southern Cross – these are the tents used by the BBC's Planet Earth crew, when they are out filming for months in Arctic conditions.
The Terra Nova Southern Cross 1 sleeps one, is freestanding and can be erected in a matter of minutes – useful if a sudden storm comes in.
Weighing just 1.5kg it's got a surprisingly spacious inner and good headroom in the porch – and it comes with an extra pole for additional stability.
And with an impressive HH of 6000mm, it's pretty much guaranteed to keep you dry in all conditions.
See also:
Like what you've been reading? Get our best tips by email!