Norway is a fantastic country for experiencing wildlife, whether you want to track polar bears padding across the pack ice off Svalbard on the hunt for seals, watch sea eagles soaring off the Lofoten islands, or pull on your hiking boots for a walking safari in one of the national parks.
Here's the lowdown on choosing a wildlife tour in Norway. We've picked eight of our favourite tours that you really shouldn't miss.
When to visit Norway for nature tours
The long, summer daylight hours are perfect for heading out into the Arctic Circle in search of wildlife. And in winter, you can combine whale watching or dog-sledding with chasing the spectacular northern lights.
December is probably the one month to avoid, as the days are so short; book for early November or late January instead, if you can.
Where are the best places in Norway for wildlife tours?
Tromsø in Northern Norway is a good base for dog-sledding day-trips as numerous tour operators run tours that pick customers up from the city and bus them out to kennels surrounded by pristine wilderness.
Tromsø is also a popular starting point for whale-watching – our dedicated whale watching guide gives you the inside track.
You don't have to travel this far north, though, to see interesting stuff. Of the 25,000 or so wild reindeer living in Norway, around 6000 of them live on the Hardangervidda plateau in central southern Norway, which is easily accessible from either Oslo or Bergen.
The rare musk ox hangs out inland between Trondheim and Ålesund in the Dovrefjell-Sundalsfjella national park – it's one of the few places left in the world where you can see it in the wild.
Despite their bulk – some weigh in at a hefty 400kg – they can run fast, up to 60km/hr, which is good to know as they get quite feisty during the summer rut!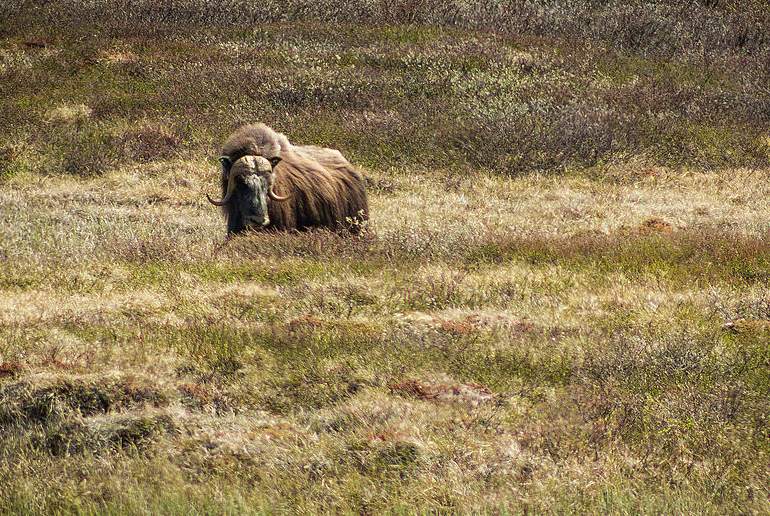 Birders, too, will love Dovrefjell for its capercaillie and black grouse, which get together in April and May for their respective communal courtship displays, and which you can observe from hides in the park.
Indeed, the bird life in many parts of Norway is quite astonishing. In spring, the country's wetlands burst into life with wildfowl and shorebirds, while the little island of Runde (reachable from Ålesund) becomes home to half a million nesting seabirds including puffins every year from February to August.
And, for sheer variety of unique Arctic and Scandinavian bird species, Varangerfjord in the far north, close to the Russian border, is one of the top birding destinations in the world.
Are the wildlife tours in Norway ethical?
The travel industry is getting a lot more serious about ensuring that wildlife tourism is ethical and doesn't harm the animals involved.
When it comes to whales and other wild animals, the basic rule is to make sure tours allow animals to get on with their life without being harrassed. The best operators keep noise to a minimum, don't leave waste behind and don't take selfies at the animals' expense.
Sled dogs are always raring to go, but responsible kennels look after their animals by starting to train for the winter season early, then carefully and gradually building up the dogs' stamina and endurance.
Something to be aware of is that once the pack gets too big, otherwise healthy animals can sometimes be euthanised. A good kennel and sled-dog operator will never put a healthy dog down and will keep older dogs to help train the younger ones, or rehome them with volunteers.
Ask your operator directly about their welfare policies, and look out for tours with the World Animal Protection or Jane Goodall Foundation logos, which guarantee that the operator has the animals' best interests at heart.
Norway's best wildlife tours
With such a variety of wildlife and so many tours available, it's hard to know which are the ones worth spending your hard-earned cash on. Here are eight of our favourites.
1) Paddling with wolves
This one-day tour in a two-person, Canadian-style canoe starts just 10 miles from Oslo at Lorenskøg – a Ruter bus will get you there from the city in 20 minutes.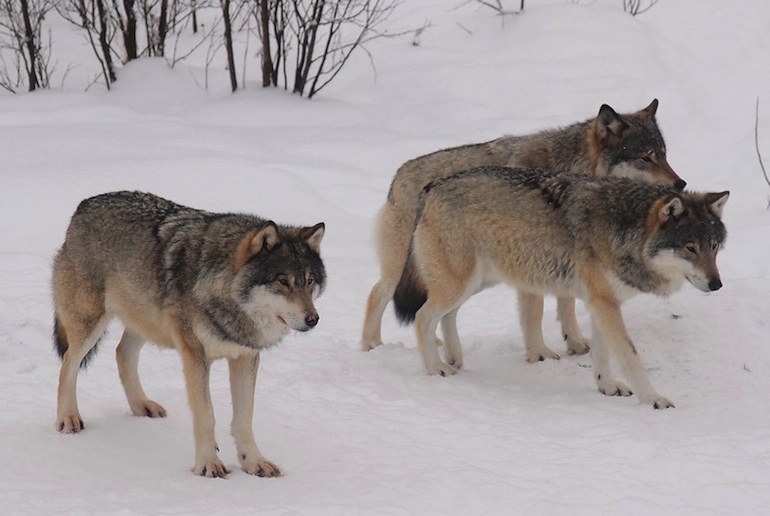 After an introduction to paddling techniques and safety, you'll glide across calm lakes in a nature reserve that's home to moose, beaver and a pack of wolves. The tour includes a hearty Norwegian alfresco lunch (not for the wolves, don't worry!).
2) Dog sledding adventure
On this tour, a minibus picks you up in Tromsø and takes you to the kennels on the island of Kvaløya, where you'll meet some fluffy Alaskan huskies.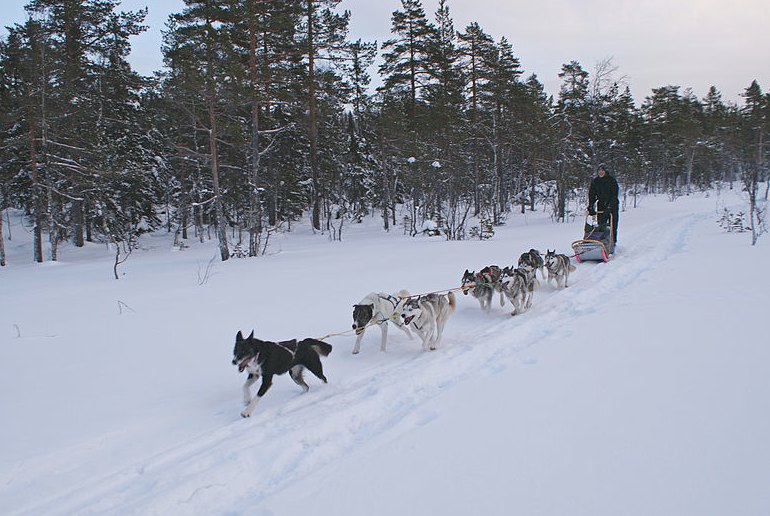 After being shown how to drive a sled, you'll pair up and take turns to mush on the 90-minute adventure, which is rounded off by chocolate cake and hot drinks in a lavvu (traditional Sámi tent).
3) Wildlife walking safari
Get right off the beaten track on this light-footprint, seven-day trip in the Fulufjellet National Park in central Norway on the border with Sweden.
You'll be tracking brown bears, lynx and wild elk with a qualified guide in this beautiful wilderness, and spending the nights in walk-in, teepee-style tents.
4) Easy bird-watching walks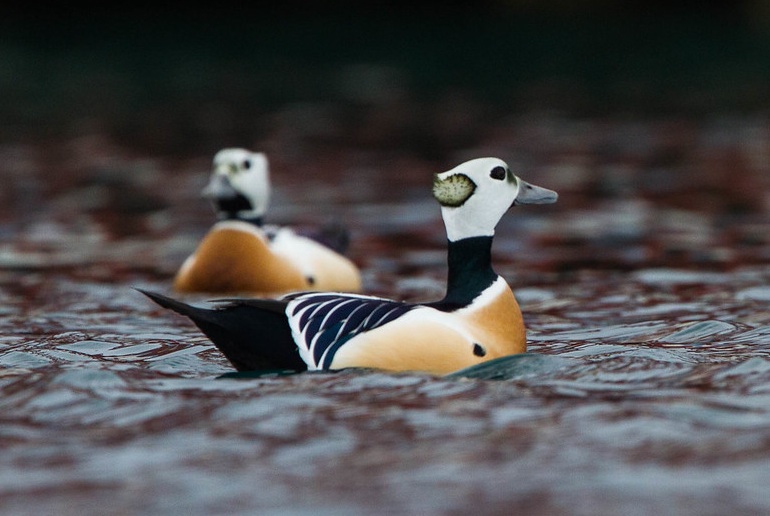 Birders will be in their element on this five-day trip to Varangerfjord, high up in the Arctic Circle. Here you'll get the chance to see huge gatherings of Steller's Eider and other seaducks, plus species like Siberian jays who live in the vast taiga forests.
5) Whale and sea bird cruise
The island of Skervøy is one of Norway's best whale-watching hotspot. This one-day tour picks you up from Tromsø and takes you out to Skervøy, where you'll head out on a safari boat to the feeding grounds of orcas and humpback whales, and see them in hot pursuit of great shoals of herring and plankton.
Your guide will tell you all about other marine species and birds too, including sea eagles, which you have a good chance of spotting as they soar along the coastline. This page will help you identify different birds of prey.
6) Hiking with goats
Fancy going hiking, but with a goat as your guide? This lovely goat hike is also accompanied by host Karina, who introduces you to the goats from her family farm in Moskenes on the Lofoten Islands and comes with you on the stunning, two-hour hike.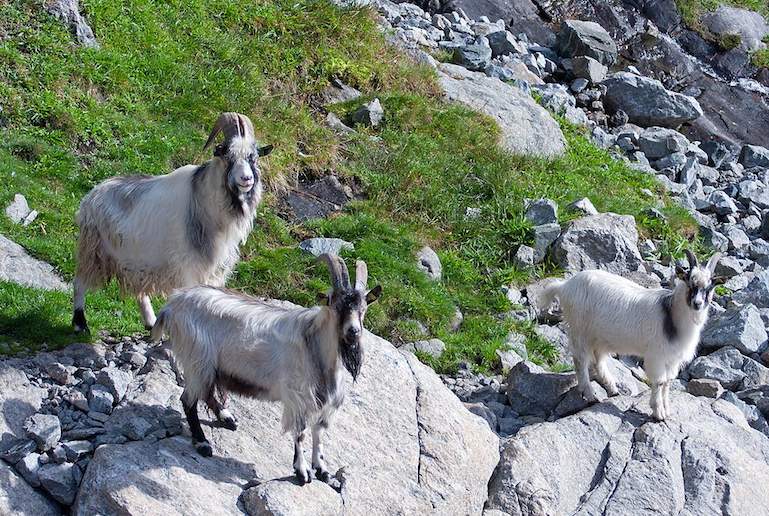 It's the goats themselves, however, who lead the way while munching on the scenery as you walk.
7) Realm of the Polar Bear tour
There aren't many places in the world where seeing wild polar bears is possible, but Svalbard is one of them.
This amazing eight-day Arctic wilderness tour, based in Longyearbyen, is led by expert guides, who'll take you on and around Svalbard in search of reindeer, seals, walruses, rare sea mammals and polar bears – not to mention a fantastic array of Arctic sea birds.
8) Reindeer feeding and sled ride
Who wouldn't want to feed a herd of reindeer, then have a ride on a sled pulled by the beautiful beasts? This tour from Tromsø is run by native Sámi, who have been working with reindeer in these parts for hundreds of years.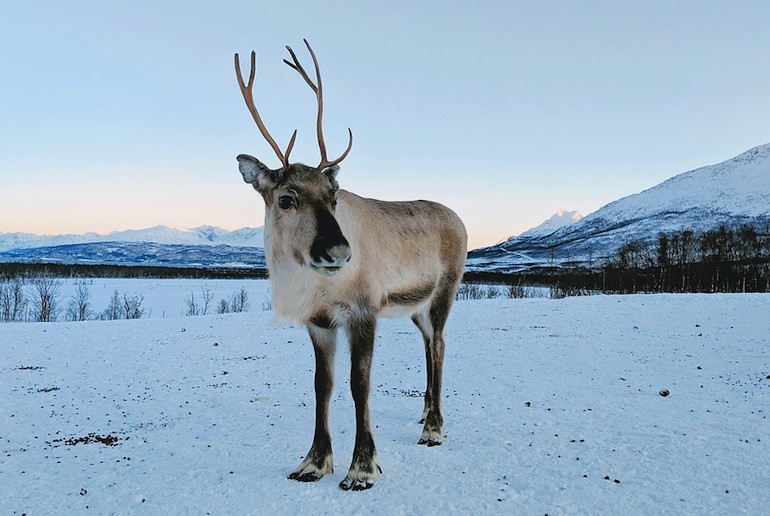 The reindeer are wild animals who go at their own pace so if they decide to stop, you just have to wait until they're ready to get going again – but after your sled ride, you'll warm up inside a traditional Sámi tent for a hot meal, followed by fireside singing and storytelling with your Sámi hosts.
See also:
The best wildlife tours in Sweden
Swedish wildlife: a reality check
Seeing the northern lights in Norway
Like what you've been reading? Get our best tips by email!