So you fancy going on a snowmobile trip, but don't know where's best? Well, Iceland has a fabulous range of things to see on a snowmobiling tour, from frozen lakes to glaciers and ice caves to lava tunnels.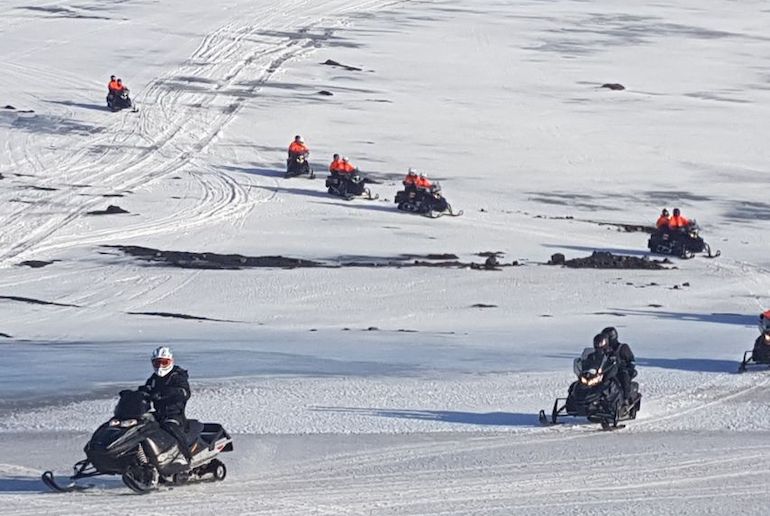 Here's all you need to know about snowmobiling in Iceland, along with some of our favourite snowmobile trips.
When can you go snowmobiling in Iceland?
The key thing you need for a snowmobile ride is ice and snow – and Iceland has plenty of both.
In fact, it can snow in Iceland pretty much any time from October to April. Even during the summer months, there can still be snow on the mountaintops.
And, of course, there's ice year-round on glaciers such as Mýrdalsjökull or Langjökull.
Which parts of Iceland are best for snowmobiling?
Well, you can snowmobile pretty much anywhere there's snow or ice! The biggest variety of tours leave from Reykjavik and take you out to suitable spots for snowmobiling.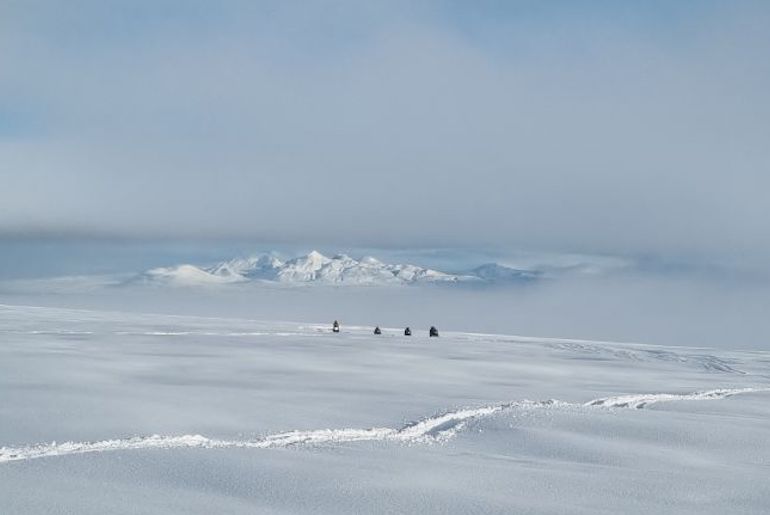 Snowmobile glacier tours in south Iceland are popular, while in winter, you can snowmobile on the frozen Lake Mývatn in the north.
Alternatively, Gullfoss waterfall is a great place to head if you want to go snowmobiling on the Langjökull glacier, where there's ice year-round.
How much will a snowmobile tour cost in Iceland?
A 90-minute snowmobile trip starts from around £130 (approximately $160) per person, while a full-day trip combined with a tour of some of Iceland's top sights will cost from around £210 ($260).
And if you want to splash out on your own private snowmobile tour in Iceland, you're looking at about £2000, though you can take up to five friends along with you for that price!
Is snowmobiling in Iceland worth it?
As you can see from the prices above, snowmobile trips in Iceland aren't aimed at those on a budget!
But there's little in Iceland that is cheap, and whizzing across the country's stunning other-worldly wintry landscapes on an adrenaline-fuelled snowmobile trip will certainly be a highlight of any trip here.
So in case you're tempted, we've picked out our top snowmobile tours in Iceland.
Our 5 favourite snowmobile trips in Iceland
Swim in a thermal pool and ride a snowmobile
This full-day tour includes two of Iceland's most iconic activities – a snowmobile ride on a glacier and a dip in a naturally heated hot pool.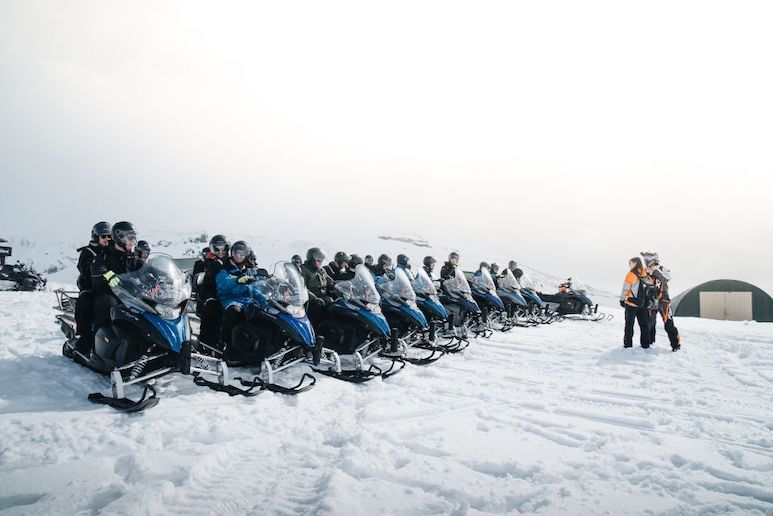 First, you'll explore the Langjökull Glacier by snowmobile, then on the way back you'll stop off at the Secret Lagoon near Flúðir to float around in the warm waters of Iceland's oldest thermal outdoor pool.
Take a snowmobile trip across the ice fields of Mýrdalsjökull
If you're looking for south Iceland snowmobile tours, this trip starts from Vik and takes you high up onto the Mýrdalsjökull glacier, from where you get great views over the south coast.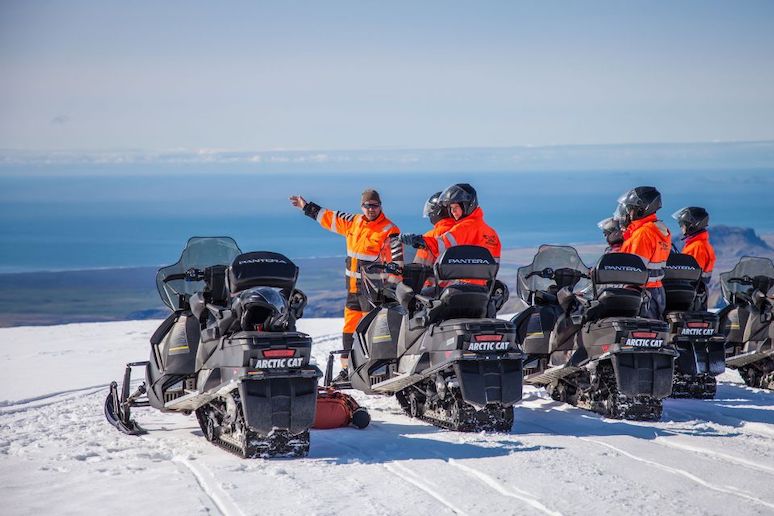 You'll snowmobile through the crevassed ice field – led by an expert guide, of course – above the caldera of the giant Katla volcano.
Ride a snowmobile across a frozen lake
Whizz around the frozen Lake Mývatn near Iceland's north coast on a speedy snowmobile. And if you're lucky you may get to see the northern lights too.
In summer, when the lake has melted, you can go snowmobiling on a nearby glacier instead.
Snowmobile to an ice cave
This thrilling Iceland ice cave tour by snowmobile rides out over Europe's second largest glacier, the spectacular Langjökull Glacier in the Icelandic highlands. You'll then get to explore an ice cave carved out of the glacier.
The Iceland snowmobile trip starts at Gullfoss waterfall, so you'll also get to see one of the country's most iconic sights.
Explore the notorious Eyjafjallajökull by snowmobile
This trip explores Eyjafjallajökull by snowmobile, one of Iceland's few stratovolcanoes, where an ice cap covers the caldera of a volcano.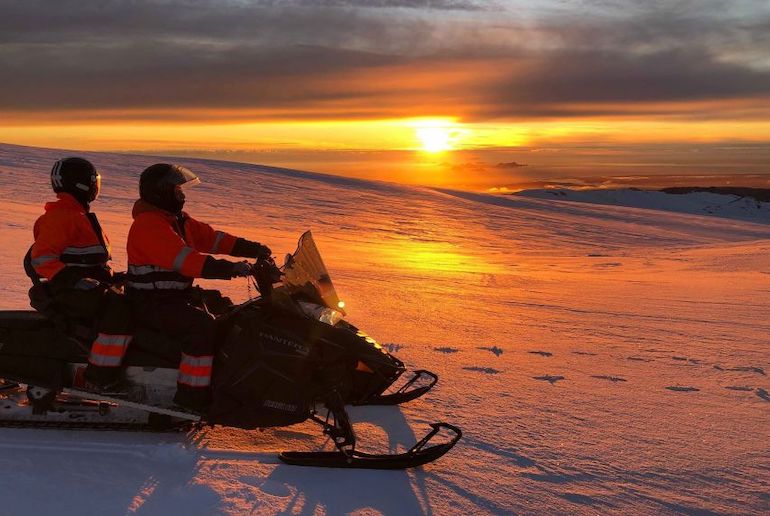 And this particular volcano is known the world over, when its eruption in 2010 sent a plume of volcanic ash more than 9km into the sky grounding flights around the world for more than three weeks.
Superjeeps will take you up to the glacier, when you'll snowmobile up to the top for fantastic views out over the sea as far as Ingólfsfjall and the Westman Islands on clear day.
FAQs about snowmobiling in Iceland
What gear do you need?
Most tours provide all the essential gear you'll need – snowsuit overalls, overshoes, gloves, balaclavas and helmets.
But, it's worth having your own gloves as well and make sure you come dressed in thermals, plenty of layers and warm, waterproof boots or shoes.
Can you drive your own snowmobile?
Yes, you can. Expert guides will give you a safety briefing and teach you how to drive the snowmobile and then it's up to you!
How many people can fit on a snowmobile?
Most snowmobiles take two people, so if you are in a couple you can take it in turns to drive and to sit back and enjoy the view.
Some companies will allow one person to drive a snowmobile on their their own for an extra supplement.
Can you see the northern lights on a snowmobile tour?
Sometimes, yes. There are some snowmobile aroura tours in Iceland, but you'll only have a chance of seeing the lights if you're heading out in winter when it's dark.
Can I snowmobile on Iceland's highest glacier?
Yes, riding a snowmobile in Iceland on Vatnajökull, the country's highest glacier, is possible.
Specialist companies such as Arctic Adventures run snowmobile trips in the far southeast of the country through some of Iceland's wildest and most rugged landscapes.
Can I do multi-day snowmobile tours in Iceland?
Yes, multi-day tours are available, but you have to be pretty fit and an experienced snowmobile rider. T
ours such as this two-day snowmobile trip to the Landmannalaugar Highlands are great for those who want to practise their skills on exciting new terrain.
Are snowmobiles reliable?
Provided they are well-maintained and looked after, snowmobiles are pretty reliable.
A reputable company will always make sure its snowmobiles are well-kept and that its guides have some mechanical knowledge so that if there are any problems, they will be able to sort them out for you.
Is snowmobiling safe?
Again, provided you go with an experienced, expert guide and follow his/her advice riding a snowmobile should be perfectly safe.
It's true that the most powerful snowmobiles can go up to around 100mph, but there's no way you'll be reaching those speeds on a guided tour!
Is Iceland always covered in snow?
No, it's not. Some high mountainous areas have snow year-round, but the coastal areas and cities such as Reykjavik rarely have deep snow outside the winter months.
Can you snowmobile in Iceland in September?
Yes, you can. Although there may not necessarily be much snow on the ground in September, Iceland's glaciers have year-round ice where you can snowmobile.
Can you rent a snowmobile in Reykjavik?
No, renting a snowmobile in Reykjavik is not really a thing. You can however, pick up a Reykjavik snowmobile excursion which will take you out of the city to where the snowmobiles are based.
How old do you have to be to go snowmobiling in Iceland?
Some companies will allow children over the age of six to ride as a passenger on the back of a parent's snowmobile; for other companies the age limit is 12 years old.
In order to drive the snowmobile yourself you have to be over 18 and have a valid drivers license.
Do you need special insurance for snowmobiling?
Most travel insurance policies don't include snowmobiling as standard, but cover can usually be easily added as a winter/extreme sports add-on. We recommend World Nomads travel policies: check out their site and get a quote below.
See also:
10 of the best private tours in Iceland
11 best hot springs in Iceland
Day tours from Reykjavik