Everyone makes a beeline for Stockholm when they visit Sweden – and rightly so, as it's one of Europe's most picturesque capital cities in a stunning setting. But Sweden has plenty of lesser-known cities that are worth visiting in their own right.
From lively Gothenburg, with a beautiful archipelago of islands on its doorstep, to historical Lund, home to one of Sweden's oldest cathedrals and universities, we've picked our eight favourite citites to visit in Sweden.
Stockholm
Population: 1,500,000
Best for: city sophistication, culture and fine-dining cuisine
Generally agreed to be one of Europe's most beautiful cities, Stockholm is built on 14 islands between Lake Mälaran and the Baltic Sea.
Sweden's capital city combines elegant waterfront buildings with an attractive medievel old town and a stunning location surrounded by mountains, islands and woodland.
Add in some world-class musems, top quality restaurants, stylish shops and a lively bar and café scene and you really have one of Europe's best cities to visit.
Recommended tours:
A great way to see the city's sights is on this three-hour guided bike tour, or to get a locals' insight into things, try this hipster tour of Stockholm's trendy Södermalm district.
Recommended reading:
8 cheap airbnb rentals in Stockholm
The best breweries in Stockholm
110 cheap and free things to do in Stockholm
Gothenburg
Population: 580,000
Best for: island-hopping and cool cafés
As Sweden's second city, Gothenburg is used to playing second fiddle to Stockholm. But this attractive port city with its grand Neoclassical buildings, wide boulevards, pretty canals and leafy parks can easily rival the better-known capital.
It also makes a great jumping-off point for exploring the pretty islands of the little-known Gothenburg Archipelago. In addition, the city's large student population means that that there's a vibrant bar, club, live music and nightlife scene year-round.
Recommended tours:
Why not explore the city's sights on foot or, if you want to head further afield, take a bus tour.
Recommended reading:
Our Routes North guide to Gothenburg
Five of the best islands in the Gothenburg Archipelago
Malmö
Population: 300,000
Best for: diverse culture and eco-friendly lifestyle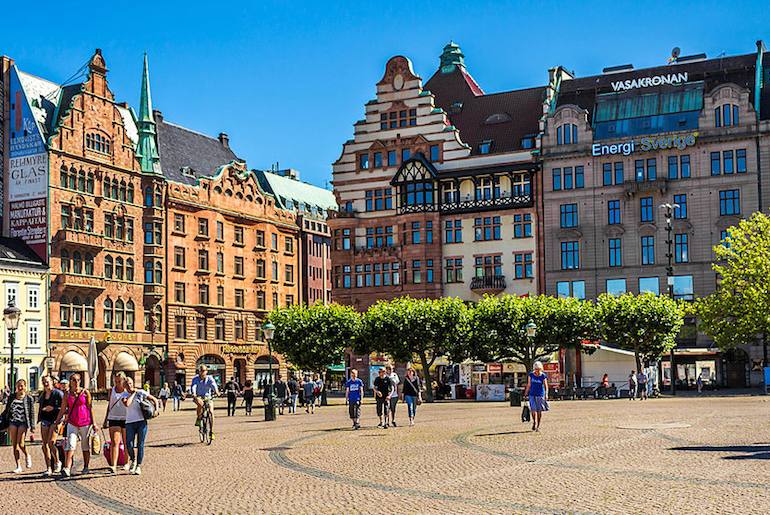 Nearer the Danish capital of Copenhagen than Stockholm, Malmö is a likeable laid-back place with an attractive medieval centre full of gabled brick buildings and cobbled streets.
The building of the iconic Öresund bridge – which played a starring role in the Scandi-crime drama The Bridge – has revived the city's fortunes, with Danes coming over to enjoy the lively bars and cafés on Malmö's attractive main square, Lilla Torg, and the nearby beaches.
Recommended tours:
Cycling is a great way to explore Malmö so why not take a private bike tour of the city or you can explore on foot.
Recommended reading:
Our Routes North guide to Malmö
Uppsala

Population: 150,000
Best for: parks, gardens and nightlife
Sweden's fourth largest city, Uppsala is a lively but laid-back place that stretches along the banks of the Fyris River. Home to Scandinavia's largest cathedral and known for its attractive parks and gardens, it makes a popular day-trip from Stockholm.
A university town since medieval times, Uppsala's large student population gives it a vibrant atmosphere and buzzy nightlife.
Recommended tours:
Uppsala is also to some important Viking burial mounds: see them on this fascinating Viking history tour.
Recommended reading:
Västerås
Population: 120,000
Best for: Viking remains and a charming old town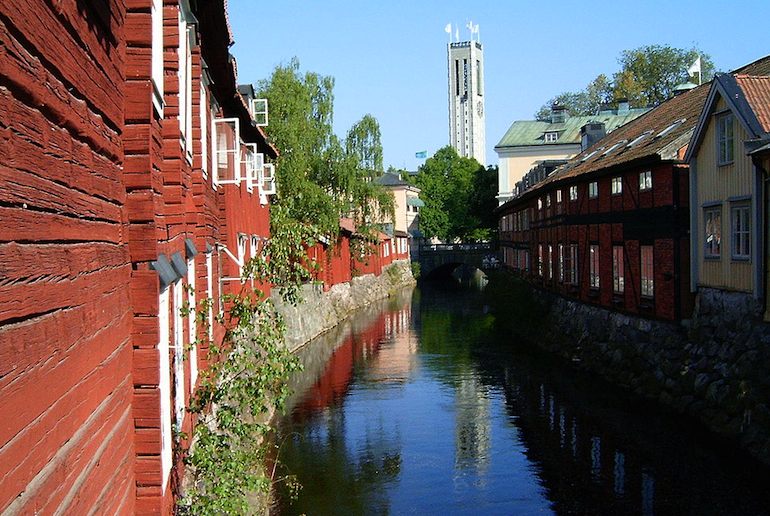 A mix of ancient and modern, the lakeside city of Västerås has an attractive old district with well-preserved wooden houses and cobbled streets – perfect for browsing.
But its history stretches back further to Viking times and the nearby Anundshög is Sweden's largest royal burial mound.
Ferries run regularly from the city to some of Lake Mälaran's best beaches and islands, making Västerås a thoroughly enjoyable place to spend a few days.
Recommended tours:
If you fancy exploring the countryside around the city, try this wildlife and farm hike.
Recommended reading:
What to see and do in Västerås
Örebro
Population: 115,000
Best for: biking and boats trips on the lake
On the shores of one of Sweden's largest lakes, Örebro is a pleasant laid-back city whose 13th-century castle overlooks an attractive river dotted with water lilies.
There are several lakes and nature reserves within an easy cycle ride from the city, making it a good base to explore the surrounding countryside.
Recommended tours:
To find out more about Örebro's castle and its history, try this spooky guided tour.
Recommended reading:
You never knew this about Sweden
Helsingborg
Population: 105,000
Best for: waterfront chilling and beaches
Peering across the Öresund strait to the castle of Helsingør in Denmark – home of Hamlet – the attractive waterfront town of Helsingborg in no way plays second fiddle to its better-known Danish counterpart.
It's a very pleasant town in its own right, with some great bars, cafés and restaurants, a maze of cobbled streets, the remains of a medieval castle, an attractive harbourfront, and some long sandy beaches nearby.
And, if the draw of Hamlet's castle is too much for you, it's just 20 minutes on one of the regular ferries that shuttle across the 4km stretch of water to Denmark – an easy day-trip.
Recommended tours:
And if you fancy spending longer on the water, why not try this boat trip out to the pretty island of Ven in the middle of the Öresund strait, half-way between Sweden and Denmark.
Recommended reading:
Magical Danish castles and palaces to visit
Lund
Population: 90,000
Best for: history and student life
Sweden's oldest city, Lund's origins stretch back to Viking times. Its univeristy was founded in 1666 and it remains today one of Sweden's largest universities, its student population imparting a vibrant, progressive feel to this ancient city.
With a 900-year-old cathedral and some excellent museums and galleries to boot, Lund makes a great place to spend a few days.
Recommended tours:
If you're short of time, why not try this two-countries-in-one-day tour, which takes in Lund and Malmö in Sweden and Helsingør in Denmark.
Recommended reading:
Free things to see and do in Lund
Our Routes North guide to Lund
Planning a trip? You need insurance
Wherever you're planning to go during your trip to Sweden, it's always worth making sure you have good travel insurance.
Although Sweden is a pretty safe country, with excellent healthcare, unexpected things can happen, and you don't want to be landed with a large bill at the end of your trip.
It's a good idea to shop around and do some research to find the best policy for you, but we recommend World Nomads – click below to get a quick quote.
Like what you've been reading? Get our best tips by email!