Do you have a long layover in Helsinki, but don't know whether you have time to see the city or not? Is a 3-hour layover enough time to leave the airport? And if not, what on earth is there to do at Helsinki Airport?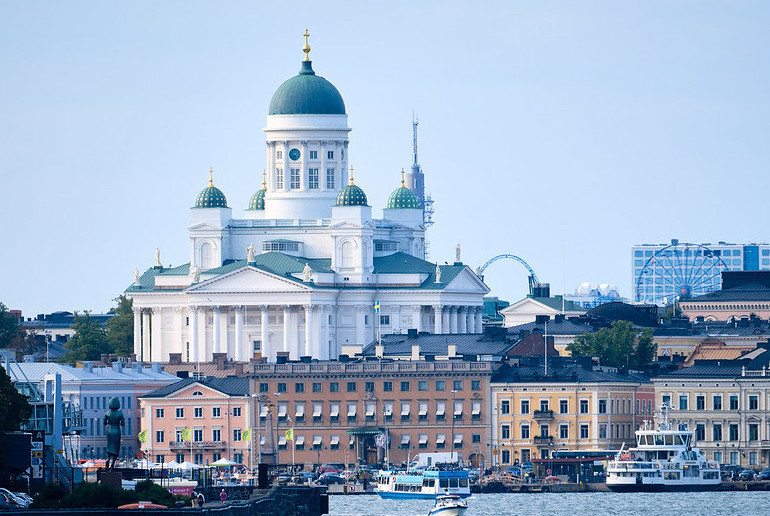 We've checked out the airport, its location and facilities, and looked into how to get from Helsinki airport to Helsinki.
So, read on to find out all the lowdown on what to do in Helsinki when you have long layover and how to survive a layover in Helsinki airport.
How many terminals are there at Helsinki airport?
Helsinki airport is just coming to the end of a decade-long renovation programme, which has increased its capacity and improved the facilities.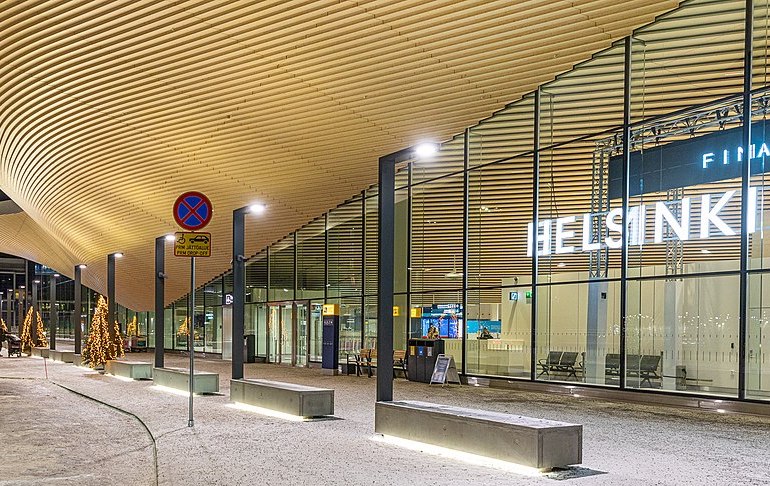 Previously, there were two terminals at Helsinki airport, but now there is just one large, contemporary terminal, on the site of the old terminal two.
Everything is centralised in one building, with the train station directly beneath the arrivals hall.
What is there to do at Helsinki airport?
Powered using wind and solar energy, Helsinki airport's smart new terminal building is carbon neutral, and has a good selection of shops, restaurants and cafés.
If you fancy doing some shopping, there are several cool Scandinavian design shops, where you can easily browse away an hour or two.
Look out for Finnish lifestyle brands such as Balmuir, Marimekko, Littala and Luhta which sell stylish Nordic clothes and designer homeware.
And, if you've got kids with you, you'll certainly want to visit the Moomin shop, for all things Moomin, from books to mugs, posters and even Moomin tea.
If you've got a few hours to kill, the most comfortable place to head is the Helsinki Airport lounge.
For just £33 you get access to a private premium lounge where you can relax, work or just watch the planes coming and going through the large runway-view windows.
There are also work stations, free wifi and showers as well as a bar with free food and drinks.
Is the Helsinki Card worth buying?
Read this guide to see how much you could save during your trip!
Where to overnight at Helsinki airport
If you're thinking about what to do late at night in Helsinki airport, your best bet is to book into a hotel where you can get a good night's sleep.
The only hotel in the actual terminal building is the comfortable GLO Hotel Airport, with direct access from the arrivals hall.
For a long overnight layover in Helsinki, you can book a standard room. If you're only staying for a few hours, however, they also have private resting pods, which can be booked for four–seven hours.
These are private lockable spaces with a sofa which converts into a bed, and they start at €40 for four hours.
Alternatively, the Hilton Helsinki Airport is just a short walk from the airport terminal via a covered walkway. It has a variety of rooms in a large modern building with an on-site restaurant and fitness room.
Just as close is the Scandic Helsinki Airport, with comfortable rooms, a light airy atrium, meeting and conference spaces and a restaurant and bar. And, of course, this being Finland it has a fitness space with sauna.
What to do at Helsinki airport for five hours
Five hours should give you just enough time to get into the city and back on a Helsinki airport layover tour.
You can get the train to Helsinki's central station (which takes around half an hour – buy tickets here), where you'll meet your guide for a three-hour tour of the city's main sights, before returning to the airport.
For more on getting into the city, see our guide on Getting from Helsinki airport to the city centre.
Alternatively, you can book a tour with transport into the city included and meet your guide at the airport. The guide will then come with you on the train and bring you back to the departures hall after your tour.
But if you're really short of time and don't mind splashing the cash, how about a thirty-minute helicopter tour of the city?
Running on sustainable aviation fuel, the helicopter leaves from the airport and flies over the city and the waterfront, with a glass of champagne included.
What is there to do in Helsinki for four hours?
Four hours gives you enough time for a classic layover tour that visits all the main city sights, including Senate Square, Helsinki Cathedral, the Church of the Rock, Uspenski Orthodox Cathedral, the National Library of Finland and the Presidential Palace.
If you want to include the island and fortress of Suomenlinna, however, you'll need to allow five hours, plus the time to get into the city from the airport and back.
But if you've got even less time, this ninety-minute boat trip takes in some of the main sights of the city from the water.
Or, if you've already seen the sights and fancy something completely different, why not go for a ninety-minute ice floating experience in Helsinki harbour?
You'll be kitted out in a full neoprene survival suit and float around in the freezing water on chunks of ice!
Helsinki Airport FAQ
If you want to know can you leave the airport during a layover in Helsinki, you'll need to factor in enough time to get through passport control and security, then into the city centre and back before your on-going flight.
So, we've answered a few questions about timings and fares below.
For a full detailed guide to all the different ways and costs of getting to the city, read our guide to Getting from Helsinki airport to the city centre.
How far is Helsinki airport from the city centre?
Helsinki airport is about 20km north of Helsinki city centre.
How long drive is it from Helsinki to Helsinki airport?
If there's no traffic, it's just a thirty-minute drive from the airport to the centre of the city.
But, like any capital city, congestion can be bad, particularly during rush hours, so make sure you allow for this when you consider whether you have enough time to leave the airport during your layover.
How much is a taxi from Helsinki airport to the city?
The taxi fare from Helsinki airport to the city costs around €45–50.
How much is the train from Helsinki airport to the city centre?
The train from the airport to Helsinki costs costs €4.10.
How long for passport control at Helsinki airport?
Delays at passport control and security depend on the time of day and year that you're travelling, and can be unpredictable.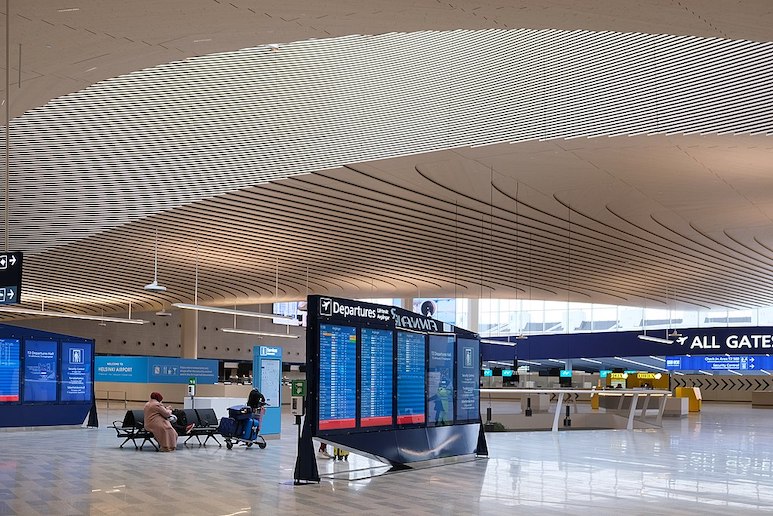 However, since the opening of the new terminal, the airport has doubled the capacity of its security equipment and introduced new technology so that electronics such as laptops and small bottles of liquid no longer have to be removed from hand luggage.
This has speeded things up, and the opening of a new baggage claim hall in Spring 2023 should improve things further.
See also:
One day in Helsinki: the ultimate guide
Getting around Helsinki
33 cheap and free things to do in Helsinki