Spending one day in Helsinki can give you a tantalising idea for what this city has to offer: abundant nature, a distinct culture, and world-class food and drink.
Here are the must-sees, must-dos, and must-eats for the time-pressed visitor. Follow our one-day guide and see for yourself why Helsinki is one of the Nordic region's best city-break destinations!
Start the day with coffee and pulla
Who makes the best Finnish cinnamon buns – korvapuusti or pulla – is a matter of fierce debate, but the original Fazer Café in downtown Helsinki is definitely in the running. Opened in 1891, it serves pastries and exceptional coffee in an old-world Finnish atmosphere. There's also a Fazer sweet shop attached; the classic Finnish chocolates and tiny liquorice boxes make great gifts.
If breakfast in a grand, 19th-century hall isn't your scene, the cosy, funky El Fant, off Senate Square, serves a very good, healthy breakfast and brunch. Reserve ahead in high season.
Or, for a fun, silly vibe, have breakfast with the Moomins at one of Helsinki's Moomin Cafés. There's one right off Esplanadi Park (see below). You don't know you need a Moomin character drawn in your cappuccino foam until you see it.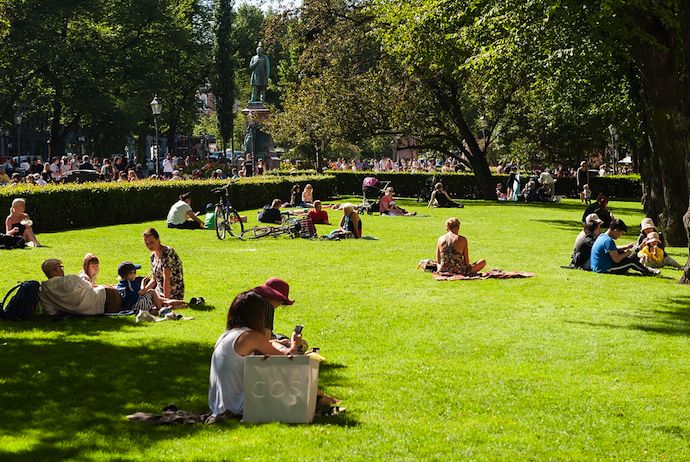 Is the Helsinki Card worth buying?
Read this guide to see how much you could save during your trip!
Take a stroll through Esplanadi Park
In spring and summer, Esplanadi Park is home to musicians, street performers and kiosks selling everything from reindeer horns (there's no harm done; the reindeer shed them every winter) to Italian ice cream. In winter, it's charmingly lit and still a lively public gathering spot.
Look out, too, for the mermaid statue sculpted by Viktor Jansson. He's the father of Tove Jansson, author of the Moomin books who was the model for the statue.
On the park's northern edge, the Esplanad Café is another contender for the best-in-Helsinki pulla prize. If not the best, they are certainly the biggest. And, be sure to pop into the breathtaking Arabia Shop, for a fix of Finnish design.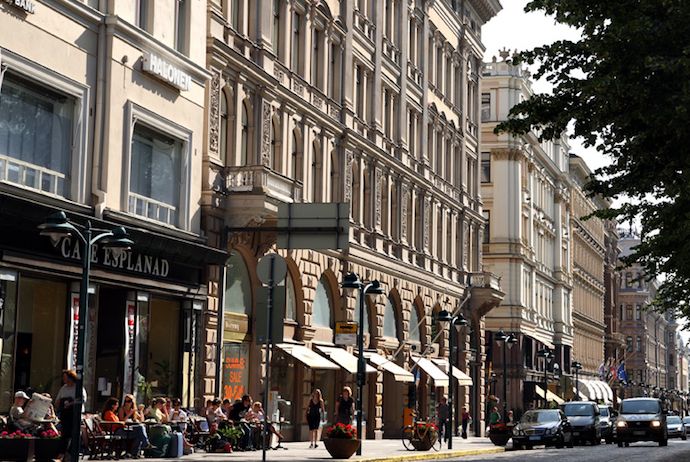 Helsinki Central Harbour
For the best views over Helsinki Central Harbour (also known as South Harbour), head up onto the roof terrace of the Allas Sea Pool. Order a drink and watch the locals emerge from the saunas and brave the freezing bay pool. Or join in, if you dare – you can rent suits and towels if you haven't brought your own.
There's almost always a small market in the harbour square selling fruit, vegetables, food and souvenirs, while the nearby Old Market Hall (Vanha kauppahalli), in a lovely historic building, serves excellent salmon soup.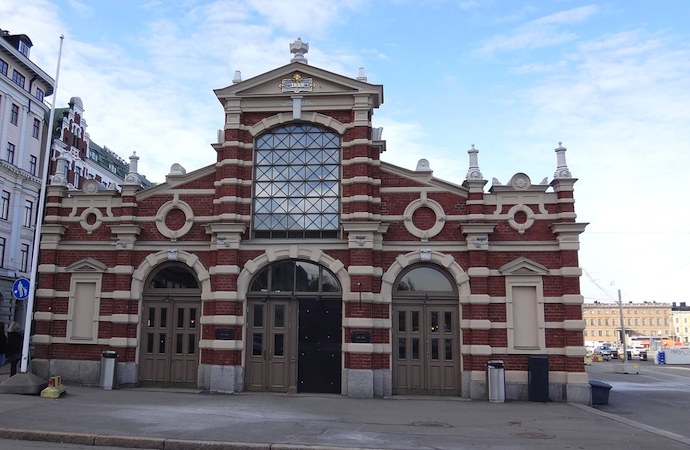 The harbour is also where you catch the Suomenlinna Ferry for the twenty-minute trip to Suomenlinna island. The ferry fare is included in the Helsinki Card, or you can buy a return ticket at the kiosk for €5. The island is a Unesco World Heritage site with an ancient Swedish fort, but if you're short of time, skip the museums and head for shores of the island for exhilarating views of Helsinki and the bay.
Drop by the railway station for a drink
Back on the mainland, Senate Square is home to Helsinki Cathedral and the excellent Helsinki City Museum, which is especially good for kids.
A short walk through the central shopping district takes you to Helsinki Central Railway Station, where iconic statues guard the historic 1919 structure. Drop in for a quick beer at the second floor Pullman Bar, inside the station. A Helsinki landmark, it has some of the best people-watching in town.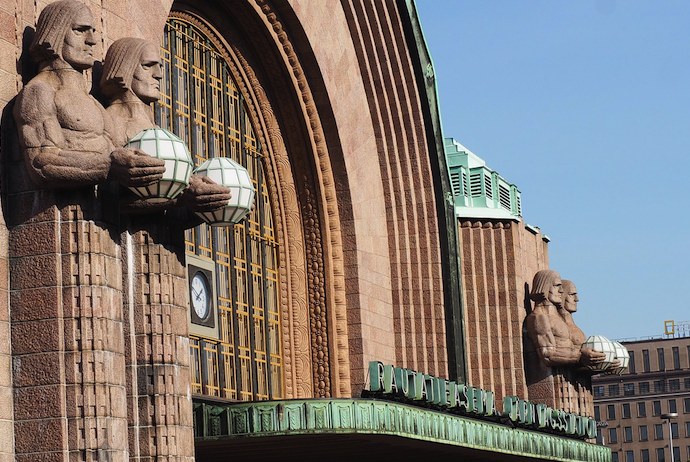 Grab lunch downtown
Across the street from the station, the Ateneum Finnish National Gallery displays some great art, but is also home to the Ateneum Bistro, which serves a fun Finnish-themed lunch buffet in a classic setting.
Alternatively, Social Burger in the Citycenter shopping mall serves up some of Helsinki's best burgers, while the ubiquitous local chain Fafa's is good for reliable falafel and hummus.
Just a few blocks away, Scandinavia's biggest department store, Stockmann has a basement food court dishing up a wide range of Finnish cuisine – and just about any other food you fancy.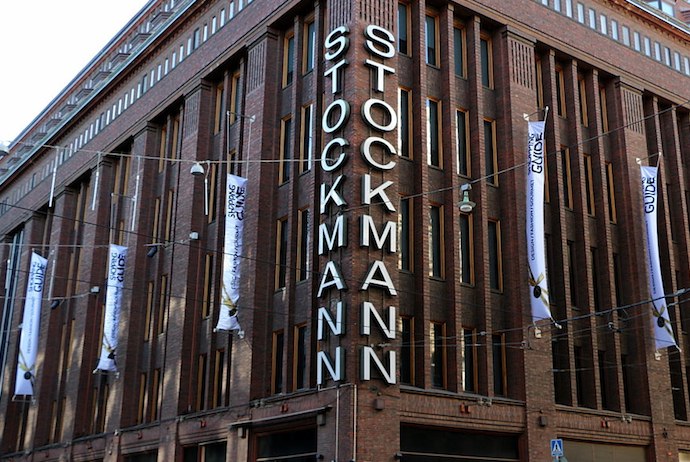 Get your afternoon culture fix
Near the station, the new Amos Rex Museum is a cutting-edge modern art gallery with constantly changing exhibitions. Buy tickets online, as there's almost always a long queue.
Behind the museum, you must check out its famous moonscape, and look into the wonderful Kamppi Chapel. Then head across the street, past the Kiasma modern art museum, to Oodi. It's Helsinki's main library, but also has workspaces, free-for-all sewing machines and 3-D printers, a music room and more – plus great views from the third-floor balcony.
Across from Oodi, check out the Finnish Parliament and the Finlandia Music Hall, designed by Finnish architect, Alvar Aalto.
Squeeze in some shopping before dinner
If shopping is your idea of fun, take the tram to Hietalahti Flea Market. It's outside from April to September, then moves indoors and around the corner in winter. Behind it, the Hietalahti Food Market is a great place for a bowl of steaming ramen at Fat Ramen, or maybe sushi, Thai or Finnish cuisine from one of the many other vendors.
Alternatively, take the tram up to the funky, edgy neighbourhood of Kallio, where the Hakaniemi Market Hall is a great place to browse and eat. Note that the historic hall is being renovated until January 2020, but the market continues in full swing next door and is still worth visiting.
Some of Helsinki's best vintage shopping can also be found in this district. Ansa Second Hand and Frida Marina are two standouts among many.
For dinner, Silvoplee serves up Helsinki's largest vegetarian food buffet, and is owned by Finnish actress and health-food fanatic Satu Silvo – sometimes the owner herself has even been known to appear.
Drinks (and saunas) after dark
In winter, dark can fall over Helsinki by mid- afternoon. In summer, daylight lasts almost all night. The city's nightlife, however, continues unabated, no matter the season.
For an upmarket nightcap, head to the Wintergarden Bar, at the St. George Hotel, and try one of their tasty, zero-waste cocktails. Another great cocktail spot is the Ateljee Bar, whose outdoor decks offer sparkling night-time views of the city and the dark sea beyond.
If jumping in the sauna is more your thing, Kulttuurisauna is a blissful, laid-back oasis of calm, though last entry is at 8pm. The famous Löyly sauna stays open later, and also has a very good restaurant with great views – you can have an all-season dip in the bay, too. You'll need to reserve ahead here, as it sells out fast, especially in high season.
And finally, no trip to Helsinki is complete without experiencing its vibrant live music scene. Helsinki has more metal bands per person than any other nation, but rock, indy and more are also alive and well. Two big venues to check out are Tavastia and Nosturi.
Like what you've been reading? Get our best tips by email!