With a population of around 600,000 people, Helsinki is not a large capital city and the best way to get around it is to walk, especially if you're sticking to the central sights.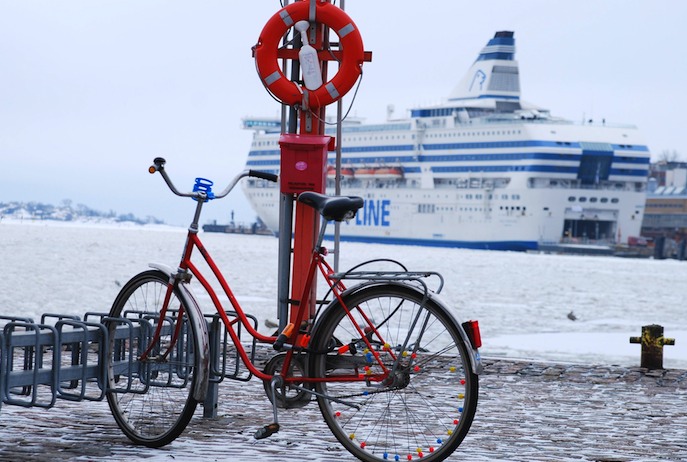 The main harbour, Senate Square, and almost all the major museums and shops can be reached on foot without much effort.
For destinations further afield, the public trams, buses, trains, and metro are all relatively cheap and easy to use.
But of course, if you really want to explore this archipelago city of 330 islands, you're also going to need a take a boat (more on that later).
Here's a quick guide to the different public transport options available to you in Helsinki! Use the menu below to hop straight to a section.
Tram
Bus
Metro
Train
Bike
Taxi
The ferry to Suomenlinna
Buying tickets
By tram
Clean, fast, and frequent, trams are the most useful – and charming – way of accessing Helsinki's main tourist areas. Without exaggerating, trams are the most important bit of public transport you'll need in central Helsinki.
Google Maps and the HSL App from the Helsinki Regional Transport Authority both supply accurate information on routes and schedules, and tram stops are clearly marked with electronic displays that indicate how long until the next one arrives.
Note that the stops are announced in both Finnish and Swedish, so don't let the two names for each stop confuse you.
You can't pay with cash on board a tram, so buy your tickets in advance (see the section on buying tickets below for prices and more details).
Board through any door and validate your ticket at the machine by selecting your zone and tapping.
Is the Helsinki Card worth buying?
Read this guide to see how much you could save during your trip!
By bus
Public buses, while not as quiet and picturesque as trams, are also clean, efficient, and easy to use. Board only through the front door and tap your card or show your phone to the driver.
You can buy tickets from the driver, but single tickets cost €4 on the bus as opposed to €2.80 if you buy in advance. You can, however, buy day or longer passes from the driver for no extra charge.
Check the HSL app or Google Maps for routes and times.
By metro
Transport fans, get this: Helsinki has the world's northernmost metro system. It has two lines, the Matinkylä–Vuosaari (M1) and the Tapiola–Mellunmäki (M2).
They follow the same route through most of the central part of the city, so either line will usually do.
The lines split for the last few stops in the east, while the Matinkyla-Vuosaari (M1) line goes a few stations further into the suburbs of Espoo in the west.
The metro is fast and is a good way to avoid bad weather. Also, venturing into the metro will introduce you to the Asematunneli, a vast underground network of shopping centres, stores and passages that can keep you warm and dry for blocks.
By train
Helsinki has an extensive commuter rail system, but as a tourist the main reason you might take the train is to get from the airport to the city centre, using the I or P ring trains, with an ABC zone ticket.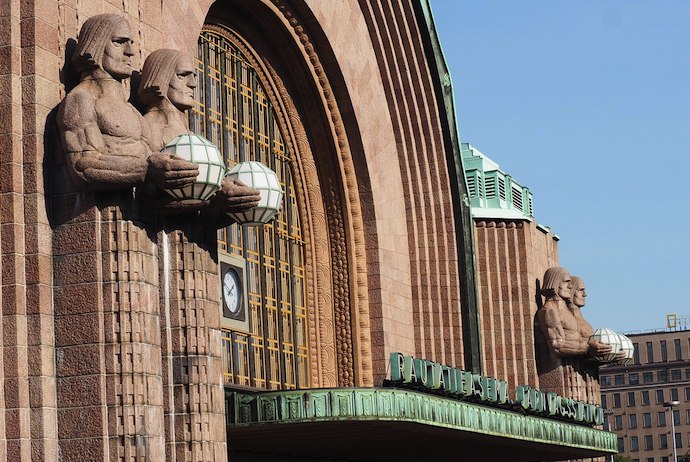 You must buy your ticket in advance from a machine, a convenience store, or on the HSL app.
Other options from the airport include taxis (about €40 to the city centre), public buses into the city and the very reasonable, comfortable Finnair private bus.
By bike
No matter the weather, you'll see Finns on their bikes. Cycle lanes are almost always separated from the traffic, with pedestrians and ice often being the cyclist's biggest danger.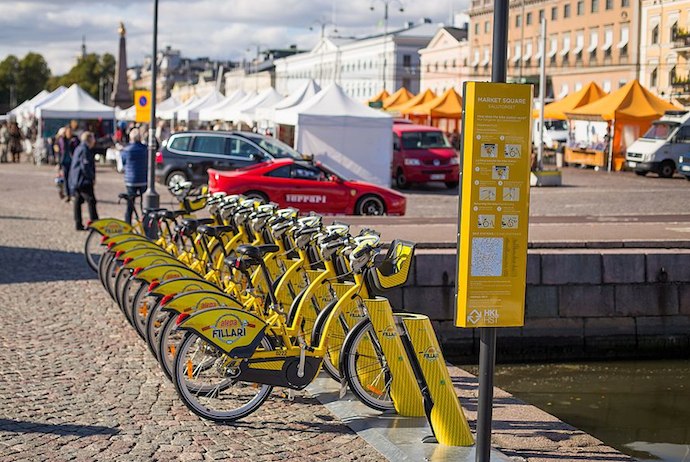 HSL runs the ubiquitous yellow City Bikes that you can rent for as little as €5 a day from bike stations all around town. Register in advance, so you'll be ready to ride.
By taxi
In theory, you can hail taxis on the street, but it's not common. Taxi stands are easy to find, though, or you can call a taxi, or try the TaksiHelsinki App.
Uber and Lyft exist in Helsinki, but they're often the same price, if not more, than a traditional taxi. Taxi drivers almost always speak passable English.
The ferry to Suomenlinna
HSL also operates the ferry from Helsinki's main harbour to Suomenlinna Island. For the price of an ordinary single ticket, you can not only visit the island, but you also get extraordinary views of Helsinki Harbour from the deck. Don't forget to validate your ticket before you get on board.
Buying tickets
HSL runs the trams, city trains, buses, metro and ferry to Suomenlinna Island. You can buy tickets from a ticket machine on the street, in a station, or at any R-Kioski, the Finnish convenience store.
Helsinki has a zoned transport system, but if you're staying in the city centre and not taking any day trips, you shouldn't need anything outside the main zone (AB), other than the airport (ABC).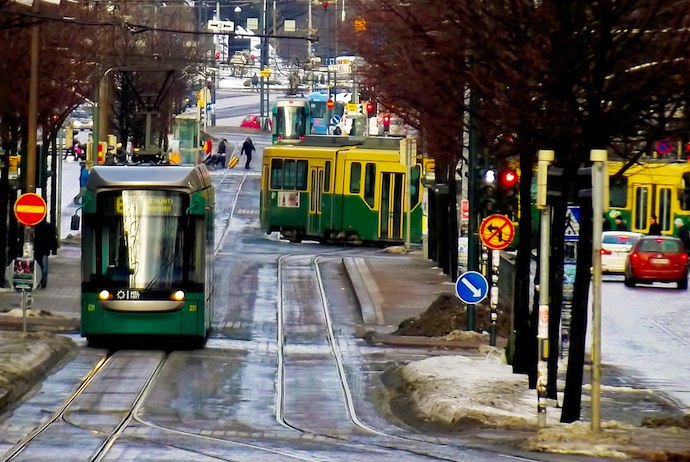 If you're travelling around a lot, you can buy a Travel Card and load on however many euros you like, or select whichever plan you need (a one-day pass, for example). Or you can buy mobile tickets with the HSL app.
Download it before you arrive, so you have your tickets ready. Single-trip tickets (€2.80), day passes (€8 for one day; €12 for two days), and weekly passes (€32) are all available.
One ticket gives you unlimited travel and transfers within the travel zone on a time-limited basis (80 minutes in zone AB). If the time has expired on your ticket, you can finish the ride you're on with no penalty, but not change to a different type of transport.
Another good option is the Helsinki Card which includes free, unlimited travel on all modes of public transport as well as museum entries and other discounts. Check out our guide to see it it's worth buying one for your trip.
When you board your transport, you need to activate your travel card or ticket by tapping a reader. Mobile tickets are timed, so make sure you set the right time before you board.
It's an honour system, so chances are, no one will stop you for not paying. But the "Blue Trolls," as the ticket inspectors are known locally, do appear from time to time. If you get caught, the fine is usually €80 – and a whole lot of shame.
TOP TIP: Ask the cashier for a reflective HSL ticket holder for €5. You can flash it to hail a bus or other vehicle in the dark, which in the northern winter can be from mid-afternoon to mid-morning. Plus, it makes a great souvenir.
See also:
Five fun day trips from Helsinki
33 cheap and free things to do in Helsinki
Boat trips to take from Helsinki
Like what you've been reading? Get our best tips by email!