From medieval castles to Moomins, and saunas to Santa, Finland is an unexpected country with plenty to discover. And its small size and inexpensive public transport make it easy to explore too – especially if you base yourself in Helsinki. Check out our five favourite day trips from the capital.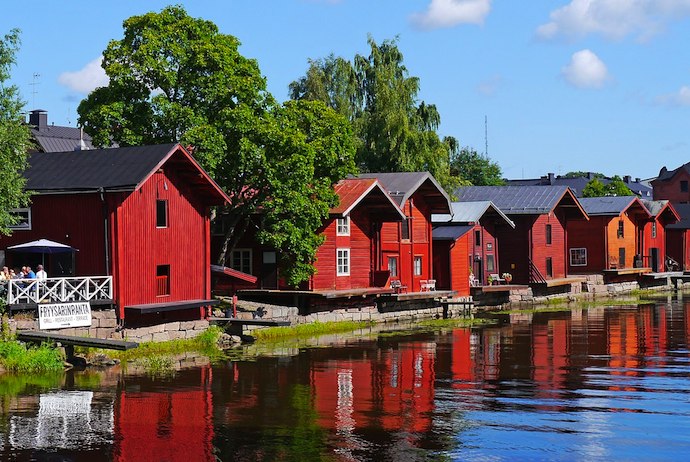 Porvoo
This charming city of iconic red wooden houses is definitely worth a visit for its meandering old town with narrow lanes and quaint shops. But leave time, too, to venture a few steps beyond the town to the forest. A hike up Iso Linnamäki (Castle Hill), where a medieval Swedish castle once stood, is like walking back into ancient times. The views are spectacular and the forest is otherworldly.
Later, meander back down the hill and across the Porvoonjoki River to get the best views of the shore houses, which were originally painted red in the late 1700s to celebrate a visit from Gustav III, the King of Sweden.
Getting there
The bus from Helsinki's Kamppi Station takes around an hour. A slower but more picturesque alternative, from May through the summer season, is to take a steamboat from Helsinki's central harbour.
Is the Helsinki Card worth buying?
Read this guide to see how much you could save during your trip!
Tampere
Tampere is the self-proclaimed sauna capital of the world. There's a public sauna for everyone here, from lakefront saunas to contemporary and historic saunas, including Rajaportin, the oldest, still-in-use public sauna in Finland (bring your own towel). A visit here may help you discover why Finns are among the happiest people in the world.
Tampere is also known for the astonishing symbolist murals by Hugo Simberg in its cathedral, and the Moomin Museum that displays memorabilia and art from the much-loved children's books. And don't leave town without trying the famous munkki (Finnish doughnuts) made at the Pyynikki observation tower.
Getting there
It's just under two hours from Helsinki by commuter train or you can take the bus from Kamppi station in about two hours, 30 minutes.
Turku/Åbo
Finland's oldest city, Turku, has a decidedly Swedish feel. It's known as Åbo in Swedish, and often Swedish comes before Finnish on signs and menus, indicating the dominant language and culture in this former capital city.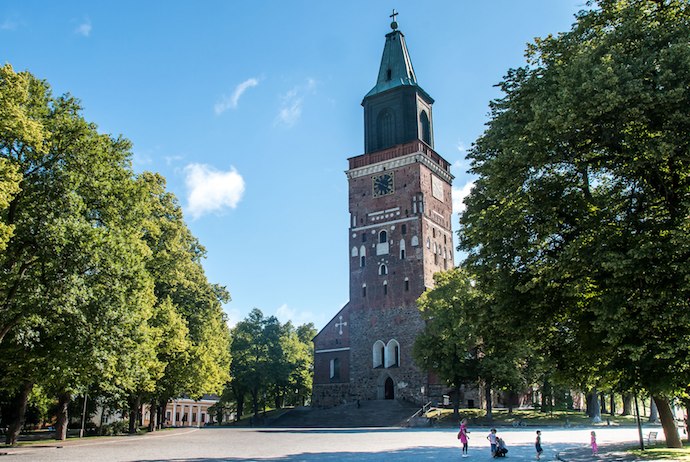 Start your exploration with the medieval Turku Cathedral, one of the oldest cathedrals in Finland. Then head to one of the excellent restaurants along the charming River Aura for lunch. The cosy Nera, and its two sister restaurants, are worth a splurge.
Continue along the cobblestone canal path for a lovely walk (or catch bus #1) to the medieval Turku Castle. You could spend the whole day here, but make sure you save time for one of the most unique museums in Finland, the Aboa Vetus (Old Turku), which combines contemporary art with the remains of six medieval buildings.
Getting there
The bus from Kamppi Station, takes two hours 20 minutes, or it's just under two hours by train from Helsinki Central Station. A good way to see the sights of Turku, and to enjoy the river path, is to rent a bicycle by the hour or the day.
Tallinn, Estonia
Estonia's capital city, Tallinn, is just a short hop across the Bay of Finland – and getting there is half the fun. The ferry from Helsinki provides spectacular views of the scenery and of your fellow passengers, whose… enjoyment of the on-board duty-free beverages adds to the party atmosphere.
A fifteen-minute walk from the ferry terminal takes you to Tallinn's Old Town, a well-preserved medieval city. Head to Town Hall Square for lunch at one of the outdoor cafés, then wander up the hill to take in the cathedral, churches, and views. For more great views and a whole lot of history, the 15th-century artillery tower museum, Kiek in de Kök is well worth a visit.
Tallinn is also famous for its Music Week at the end of March, a great time to visit if you get the chance.
Getting there
Three ferries run from Helsinki to Tallinn. The Eckerö, Viking, and TallinkSilja are all big ships that take about 2–2hr, 30min each way. Special deals can be found for under €30 return, so shop around. Viking sails from the central Helsinki harbour, though the Tallinksilja and Eckerö lines are arguably nicer and more fun.
Top tip: if you're staying in Finland for a while, make like a local and buy a handcart to take advantage of the duty-free beer and wine on your journey back to Finland.
Rovaniemi, Lapland
Okay, so this isn't exactly a day trip, but an overnight in Rovaniemi, an hour-and-a-half by plane from Helsinki, can be an inexpensive way to experience Finnish Lapland.
Since Lapland is all about nature, your trip will depend on the time of year you go. In winter, you can spend a fortune booking expensive day trips to mush sledge huskies and see reindeer. Or, you can take the public Santa Express bus in Rovaniemi for a few euros and do both things much more cheaply at the Santa Claus Village. Make sure you step over the Arctic Circle while you're there.
Then, you can spend all that money you've saved on a night at a lakeside sauna for fantastic views of the northern lights. In theory, they're to be visible from late September to early March, weather permitting.
Getting there
Norwegian Air flights from Helsinki to Rovaniemi start at €70. Or, save the cost of a hotel room and book the night train (tickets available here) to arrive fresh and raring to go in the morning.
Like what you've been reading? Get our best tips by email!