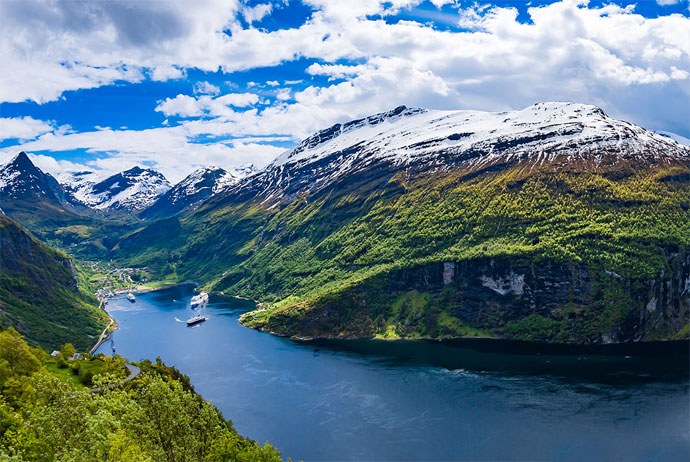 In association with Celebrity Cruises
If you're a fan of cruises and feel like trying something a little different, consider Scandinavia. It might not be able to compete with the Caribbean when it comes to sunshine and tropical temperatures, but it still has tonnes of unforgettable sights on offer – from frozen fjords and cool capital cities to the dancing northern lights.
Arriving on a cruise also gives you the chance to try a few Scandinavian countries in one trip, without having to worry about finding your own way around or booking overland transport. So what can you expect to see? And what should you consider before booking your cruise?
What to expect
When to go
Where to stop
Costs

What to expect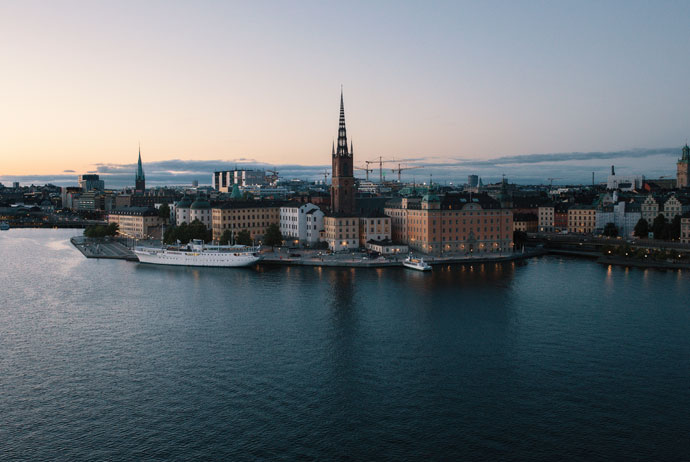 Scandinavia has a surprisingly lively cruise industry, thanks in part to the fact that some the region's biggest cities – like Stockholm, Copenhagen and Oslo – are surrounded by water.
These three capitals tend to show up on a lot of Scandinavian cruise itineraries, but there's a lot more to see further afield, including quaint port towns, the epic fjords along Norway's west coast, and even the Arctic Circle.
Because the distances between Scandinavian destinations are generally quite small, you'll normally only spend a day or two at sea before getting a chance to explore a new destination on land.
If you want to extend your trip and explore more of northern Europe on the same cruise, there's often the option to add on destinations that aren't strictly in Scandinavia – like Russia, Estonia or even Iceland .
Most cruises depart from UK ports like Dover and Southampton, or from one of the Scandinavian capitals mentioned above. There are also some voyages leaving from Dublin, Amsterdam and other European cities.
If you're in North America, you'll almost certainly find it cheaper and easier to fly to Scandinavia first, rather than taking a transatlantic crossing.

When to go
Cruise lines tend to set their departure dates and itineraries a long way in advance, so to a certain extent you're tied to their schedules.
As a general guide, cruises that visit the Scandinavian capitals and the Norwegian fjords usually depart in spring and summer, when the weather is milder and the days are longer, making it easy to sightsee and shop when you reach the ports of call.
Northern lights cruises leave during the other half of the year (in other words, when it's dark enough for the aurora to be visible). Aurora season in Scandinavia runs from late September to early March, so all of the northern lights cruises will be timed to suit.

Where to stop
You're really spoilt for choice when it comes to choosing a Scandinavian cruise. The best advice is to think about what you want to see and how much time you have, and then plan accordingly. Here are some of the most popular stopover points in the region, to give you an idea of what's possible:
Within Scandinavia
Stockholm
Sweden's capital is one of the most beautiful cities in Europe, if not the world –it's a seriously good-looking place that stretches across separate 14 islands, with pretty church spires scraping the sky. Cruise passengers have a lot to enjoy here, including superb art museums and some great shopping (including some ace Swedish fashion stores).
Copenhagen
With world-class restaurants and one of Europe's best design scenes, Copenhagen is a highlight on any Scandinavian cruise. If you're comfortable spending some of your shore time on the water, then you're in luck – the Danish capital is also a hub for canal tours and boating excursions.
Oslo
Lots of international cruise ships stop at Oslo, but it's mostly used as a jumping off point for tours to see the fjords on Norway's west coast. The city is definitely worth a look if you have time – try bargain hunting at Oslo's second-hand markets, stop for a drink at one of the many local breweries, or search for The Scream at the Munch Museum.
Bergen
From the water or from dry land, the gateway to the fjords is a bit of a looker. The brightly painted houses at Bryggen will have you snapping pictures to send back home in no time, and there's bags of scenic nature right on the city's doorstep. Compared with Oslo and other big cities, the whole place can feel surprisingly quiet, even when the cruise ships arrive.
The Norwegian fjords
Travelling up Norway's west coast by boat is popular for a reason. This is where you'll find some of the world's most dramatic scenery, with jagged peaks plunging down towards inky-black fjords that seem impossibly beautiful. Trips run by companies like Celebrity Cruises stop at Geirangerfjord, the country's most famous fjord, where you'll find several jaw-dropping waterfalls.
Beyond Scandinavia
One of the great things about cruising in Scandinavia is being able to tack on additional destinations – the location means that places as diverse as Iceland and Russia are easily reachable within a one- or two-week cruise. Other options include Amsterdam (Holland), Riga (Latvia) and Helsinki (Finland).

What cruises cost
As with most cruises, amount you spend depends more on the type of accommodation you go for than the destinations you visit. To a certain extent you'll be immune from Scandinavia's high prices, as most meals and drinks will be taken on the ship.
The good news is that a Scandinavian cruise can be pretty affordable – as an example, an 8-night trip to the Norwegian fjords with Celebrity Cruises starts at around £1070 (approx. $1400), based on two sharing. You can see full details of all Northern Europe voyages on the Celebrity Cruises website.
See also:
A guide to Scandinavian rail passes
Visiting Stockholm in winter
Boat tours in Copenhagen