Getting into central Helsinki from the airport is fast and inexpensive, no matter how you travel. Train, bus and taxi all have different benefits, so we'll help you decide which is best for you.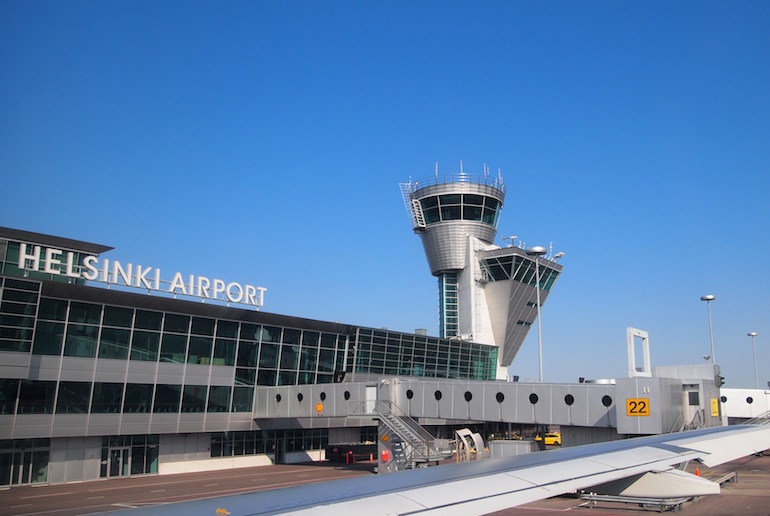 And even if you're just passing through, there's good news – a layover of just a few hours is enough time to get for a feel for one of Scandinavia's most rewarding capital cities.
So, read on and we'll show you how to get from Vantaa airport to Helsinki city centre.
By train
By public bus
By taxi
By private transfer
By rental car
What to do on a layover
The fastest option: take the train
The train station is beneath the terminal, with a direct elevator from the arrivals hall – just follow the railway signs.
Trains leave from the airport every ten minutes during peak hours and run from early morning until late at night. The journey from Helsinki airport into the city centre takes around 30 minutes.
To get to Helsinki Central Railway Station, which is in the heart of the city centre, you can take the I or P train. It's a loop train, so it makes no difference which line you choose. Just hop on whichever is at the terminal when you arrive.
You must buy your ticket before you get onto the train from the machine at the station, or you can use the HSL app, which is slightly cheaper.
If you want to use the app, it's a good idea to download it before you arrive so you're not relying on the spotty wifi in the airport.
Some of the station's ticket machines only take cards, so if you want to pay cash, look out for the HSL machines in the airport terminals, or buy your ticket at the R-Kioski convenience store in the airport.
You'll need to buy an ABC ticket, as the airport is in travel zone C.
How much is the train from Helsinki airport to the city centre?
A single ticket, which is valid for ninety minutes' travel in zones AB&C, costs €4.10.
A day or multi-day pass only includes airport travel if you buy the ABC pass, so it's unlikely to be cost-effective unless you're travelling a lot outside the city.
Remember to validate your ticket before you get on the train!
The public bus
Public bus #600 leaves from outside the arrivals hall and will also take you to Helsinki Central Railway Station.
The journey takes about 45 minutes and costs the same as the train. You can buy tickets from the machines, the R-Kioski shop or via the HSL app. 
Since the train costs the same and is quicker, the public bus only really makes sense if one of the stops is more convenient to your destination. You can check the map and timetable here.
Is the Helsinki Card worth buying?
Read this guide to see how much you could save during your trip!
Is the Helsinki Card worth buying?
The Go Helsinki Card: Region covers public transport within zones AB&C, so includes the train or bus from the airport.
If you're thinking of buying a Go Helsinki Card, you'll need to work out whether it's worth getting the Region card or just buying the City Card (only includes zones A&B) and paying the extra for the journey to and from the airport.
Check out our guide to see if buying the Helsinki Card makes sense for you.
Taking a taxi
If you have lots of luggage or want to be dropped right outside your accommodation, jump in a cab. The taxi rank is right outside the arrivals hall. 
There are three official airport cab companies, which use taxi lanes 1–3 and charge the official rate. Other taxis, Uber etc, use rank 4 and will charge pre-agreed fares.
Helsinki taxi drivers are some of the most relaxed and friendly in Europe. Most speak (serviceable) English, but be prepared with a written address just in case.
How much for a taxi between Helsinki airport and the city?
The fare costs around €45–50 and it takes about half an hour into the city centre.
How much is Uber from Helsinki airport to the city centre?
There are also Ubers in Helsinki, but they sometimes cost more than metered taxis and aren't always available.
Uber's advertised rate from the airport to the city centre starts at around €35.
By private transfer
If you fancy splashing out, you can always book your own private airport transfer. If there's a group of you, it doesn't work out too expensive. Expect to pay around £86 for a private transfer for up to seven people.
Renting a car
You won't need to rent a car if you're just staying in the centre of Helsinki. However, if you're planning to travel further around Finland, it makes sense to rent a car from the airport.
All the main international car rental companies have offices at the airport including Hertz, Sixt, Avis and Enterprise.
Prices start from about £150 a week for a basic small car. For more on renting a car in Scandinavia and to get a quote, click here.
Have a leisurely layover
Because the city is so close to the airport, even a short layover can be a chance to see some of the city. Layover tours will pick you up at the airport, show you around the city, and bring you back in time for your next flight.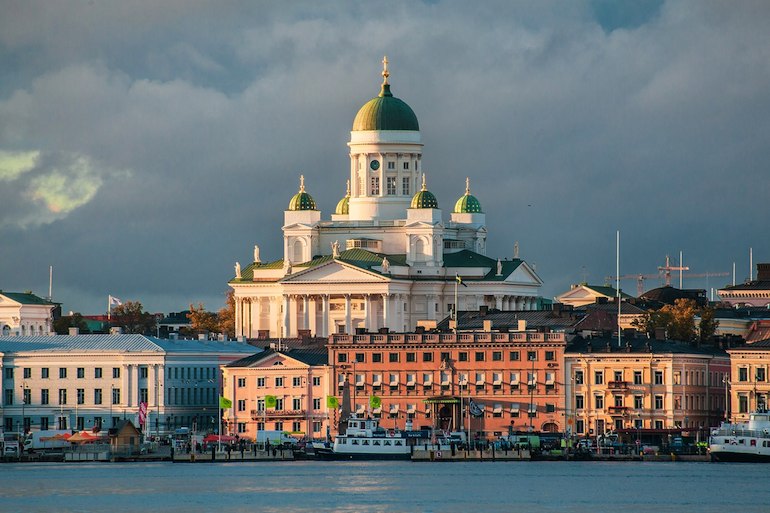 Three hours is enough to see to the main sights, while four hours is plenty of time to get a real feel for the spirit and soul of this beautiful, unique city. Make sure you insist on stopping for a cinnamon bun!
And if you've just got a few hours between planes but not long enough to get you into the city and back, why not relax in the premium airport lounge. 
For £33, you get showers, wi-fi, free food and drink, comfortable seating and views of the runway.
Where to overnight at Helsinki airport
If you have an early morning flight, you might want to stay overnight at the airport.
The comfortable GLO Hotel Airport is the only hotel in the actual terminal building, while the Hilton Helsinki Airport and the Scandic Helsinki Airport are both just a short walk from the terminal.
Helsinki airport FAQ
Helsinki airport has undergone a decade-long renovation programme, so if you haven't been through it for a few years you'll notice some changes.
Here's our quick guide to all you need to know about Helsinki airport.
How far is Helsinki airport from the city centre?
Helsinki airport is about 20km directly north of Helsinki city centre.
What district of Helsinki is the airport in?
Hesinki airport is in the neighbourhood of Vantaa, hence it's also sometimes known as Vantaa airport.
How many terminals are there at Helsinki airport?
Until the summer of 2022, Helsinki airport had two terminals. Now it has just one large terminal where terminal 2 used to be, from where all passengers depart and arrive.
Work on the new terminal will continue through to Spring 2023, when a new baggage claim hall will open. The terminal is powered using wind and solar energy and is carbon neutral.
How long does it take at Helsinki airport customs?
Like all airports, how long it takes to get through security, customs and passport control is very difficult to predict, and varies according to the time of day and where you are travelling to/from.
However, Helsinki airport has recently doubled the capacity of its security equipment and introduced new technology so that electronics such as laptops and small bottles of liquid no longer have to be removed from hand luggage. 
It is hoped that these measures will reduce the waiting times though, of course, you should always follow the advice of your airline on when to arrive at the airport.
What are some cool things to do in Helsinki airport?
If you've got a spare hour at the airport, you might want to check out some of the cool Scandinavian design shops.
Finnish lifestyle brands such as Balmuir, Marimekko, Littala and Luhta all have outlets as the airport selling cool Nordic clothes and designer homeware. 
There are also two branches of the Moomin shop selling all things Moomin, from books to mugs, posters and even Moomin tea.
See also:
Getting around Helsinki
Unusual places to stay in Helsinki
33 free and cheap things to do in Helsinki
6 fun boat trips to take from Helsinki
Like what you've been reading? Get our best tips by email!